Summary
An iPhone is a wonderful device that makes our lives more enjoyable. You can keep your favorite tunes and listen to them whenever you want in the comfort of your home. But, when you keep a lot of songs on your iPhone, it may soon run out of storage. One way to solve this problem is to delete some of your music files. But, if they are your favorites, it might be hard to do so. A great way to handle such an issue is to transfer music from your iPhone to a PC for free.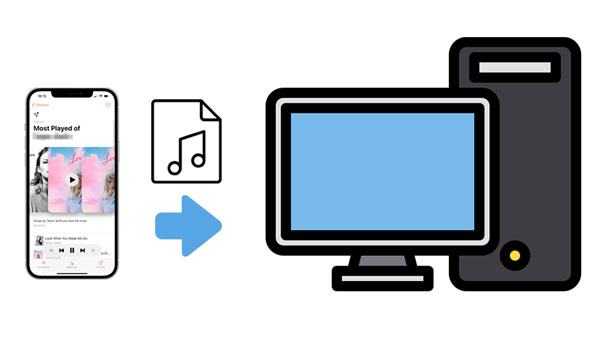 Part 1: Transfer Music from iPhone to Computer via iTunes
iTunes is a media library, iOS device management, and a player tool provided by Apple. iTunes helps in syncing music, pictures, and video to your computer. Besides, you can easily manage your iOS devices, including iPhone and iPad. Also, you can download songs from iTunes to your computer for free.
But, you can only transfer purchased music files using iTunes. All the downloaded songs on your iPhone aren't transferable. iTunes limits the music files to be transferred, but you may still go ahead if you wish to transfer your purchased songs.
Follow the below steps to transfer songs from your iPhone to the computer using iTunes:
Step 1: Use a USB cable to connect iPhone to the PC, and open iTunes but ensure you're using the latest version
Step 2: Tap "File" from the upper section of iTunes windows, and choose "Devices" from the drop-down menu.
Step 3: Tap "Transfer Purchases from [Name]" to move the purchased music files to the computer.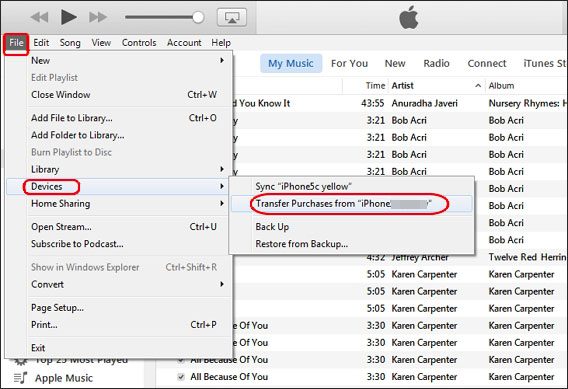 Part 2: Transfer Music from iPhone to Computer via Freeware Dropbox
With the help of Dropbox, you can extract music from the iPhone to PC free of charge. Freeware Dropbox is a service for saving, sharing, and transferring files on the cloud or to other devices.
Here's how to move music from an iPhone to computer via the freeware of Dropbox:
Step 1: Install and then launch Dropbox on the computer and iPhone.
Step 2: Sign into Dropbox on your devices using the same account.
Step 3: Upload music files you wish to copy from your iPhone to Dropbox. After finishing, you can now access and download music from Dropbox to the computer.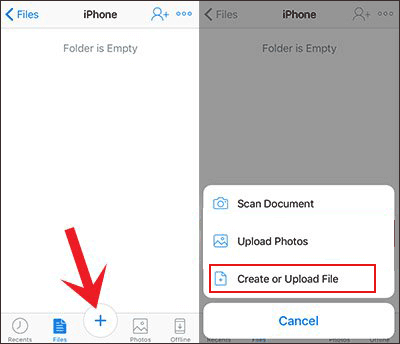 Read also:
How to Add Music to Google Pixel without Effort | 4 Reliable Methods
How to Transfer Music from iPad to iPod with/without Computer? (iOS 16 Supported)
Part 3: Transfer Songs from iPhone to Computer via Email
It's also possible to share music as attachments in a mail. It's quick but it has size limitation. You can only send music files within 50MB at a time. Thus, this is an easy but not efficent way.
Use the free Mail app to transfer music from an iPhone to a PC:
Step 1: Open an app for mail on your iPhone and click on the "Compose" tab to open a new window to send an email.
Step 2: Enter the email address in the recipient field and click on the "Add Attachment" icon. Then upload songs you wish to transfer and click the "Send" button.
Step 3: On your computer, log into the email (the recipient email) you used to send files, and ownload the sent music files to move them to your computer.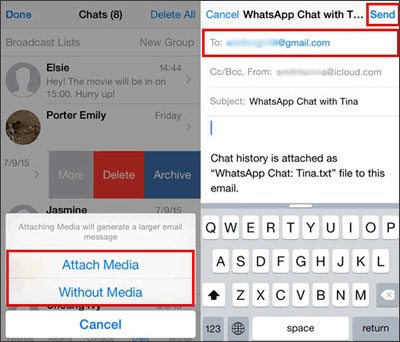 Further reading: With a powerful music manager for Android, you can enjoy your Android songs on your computer without a hitch.
Part 4: Download Music from iPhone to Computer via iCloud
iCloud is a cloud storage service offered by Apple and works seamlessly with iOS devices. It saves automatic copies of all content, such as photos, files, and music. Also, you can restore your content even when you reset your phone. But because there is no music option on the iCloud list, you can only back up all the data to iCloud.
Download music from your iPhone to your computer using iCloud:
Step 1: On your iPhone, navigate to the Settings app, and go to "[your name]" > "iCloud" > "iCloud Backup". Then tap the "Back Up Now" icon to back up all the content to iCloud, including your songs.
Step 2: On your computer, go to the website of iCloud, and sign into your account with the Apple ID you normally use on your iPhone.
Step 3: Click "iCloud Drive" > "Storage" to check the backup app data. Then find the music app included your songs, and save them to your computer.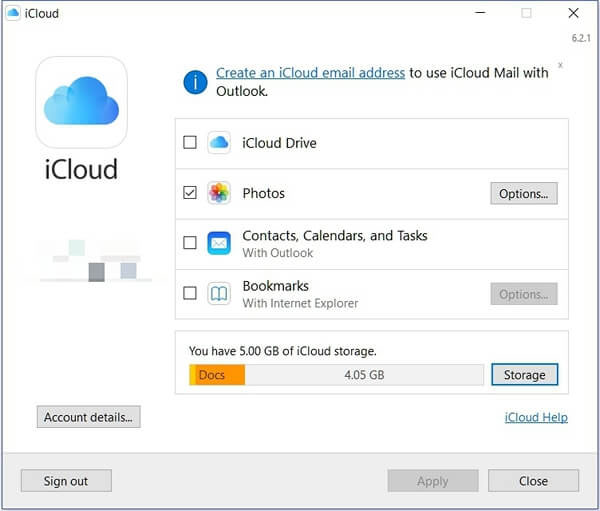 Read also: How can you easily copy music between Samsung mobile phones? If you are confused about this, open this guide to get useful methods.
Part 5: Copy Music from iPhone to Computer via iPhone Transfer (Unlimited)
Are you looking for the simplest way to move music from an iPhone to computer free unlimited? This iPhone Music Assistant is your tool. This is a powerful management app for all your data needs. What makes this tool special is that it can transfer unlimited songs from an iPhone to a computer at a time without data loss. It's a great tool for sending music to PC or Mac from iPhone. It can also help you with other data management tasks.
Take a look at its main features:
- Allow you to preview and select songs stored on your iPhone on the computer before transferring them.
- Transfer unlimited songs with original quality and formats.
- Display the details of every song on the interface, including artists, album, genre, etc.
- Back up and restore iOS data between iPhone and the iTunes default backup folder on your computer with 1 click.
- Support most iOSes, like iOS 5 and upper, including iOS 16.
- Work for iPhone 14 Pro/14 Pro Max/14 Plus/14, iPhone 13, iPhone 12, iPhone 11, iPhone X, iPhone 8, iPad Pro, iPad Air, iPad mini, and the like.
Download this music backup software below.

Use this software to copy music from an iPhone to a computer:
Step 1. Install the Program on the Computer
Once you download the app on the computer, install and launch it. A primary interface w ll then be shown shortly.
Step 2. Connect your iPhone to the PC
Use a working USB cord to connect the iPhone to the computer. The app will begin to recognize the iPhone automatically. After a successful connection, you'll see the main interface showing all the data available on your phone.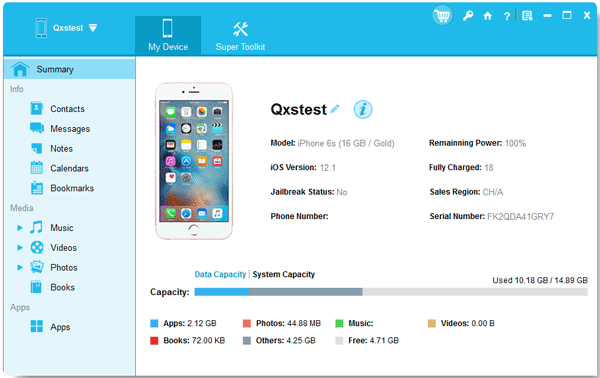 Step 3. Copy Music from iPhone to PC
Choose the "Music" tab in the left panel to show all songs available on your iPhone. Tap the desired song and hit the "Export" icon from the top section to send it to the computer.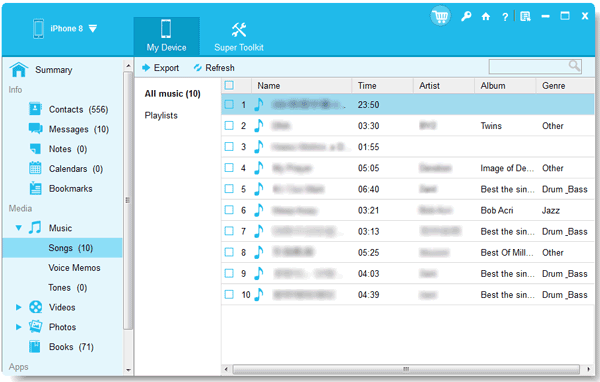 See more: Want to move music from an iPod touch to an Android phone? Then, don't miss these 4 ways.
Extra: How Do I Transfer Apple Music from iPhone to Computer
Apple Music has been regarded as one of the best music streaming services. Its smart features, such as creating a playlist, adjusting equalizers, and many more, make it unique. But, for most people, transferring Apple Music from an iPhone to a computer is still a problem.
Here is how you can transfer Apple Music from your iPhone to PC:
Step 1: Open Settings on your iPhone, and go to "Music". Then enable the "Show Apple Music" and "Sync Library" options.
Step 2: Then open iTunes on your PC, and click "Edit" > "Preferences". Next, go to "General" and enable "iCloud Music Library".
Step 3: Click "OK". Then you will sync your songs on Apple Music to your PC.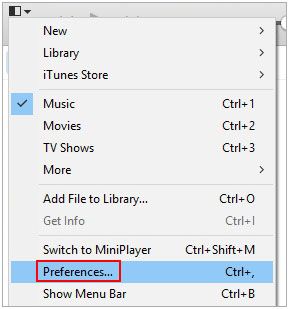 Conclusion
Transferring music from an iPhone to the computer shouldn't give you a headache anymore. Besides, everything is completely free. You won't have to pay a dime to safely store your favorite tunes on a computer. With the ways above, you can extract music from the iPhone to PC for free. However, if you don't want a stressful time, the iOS music transfer is here to help. It allows you to transfer and manage multiple data types on your iPhone using the computer.
Related Articles
How to Transfer iBooks from iPhone to iPad with 5 Hassle-free Methods
How to Transfer Data from iPhone to iPhone After Setup - 3 Useful Ways
Expertly Transfer Large Videos from iPhone to PC in 7 Ways (Newest)
How to Import Photos from iPhone to HP Laptop with 7 Trustworthy Methods
How to Work Out the iPhone Transferring Data Stuck Issue [Easy and Reliable]
How to Transfer Files from iPhone to Android in 6 Ways [Original Qulity]