How to locate your phone after you misplace it, or somebody has stolen it, can be a stressful process without Google phone finder. A couple of weeks ago, my wife lost her a phone, and we got it within a short duration of time. The advantage is that she had activated her phone finder on Google. In any situation you lose your Android phone, don't worry anymore as you only need to communicate with Google and trace your phone back. Conversely, the process can be complicated with no positive result at the end if you didn't activate it on Google phone finder.
Anyway, this article will show you how to track Android phone if it is lost or stolen just in case the bad luck happens to you. Here we go!
Part 1. How to Locate Your Android Phone Using Google Find My Device
Google can quickly help you track your phone at any time you lose your phone. After you lose your cellphone go to your laptop or friend's phone and sign in to your Google account, you will be able to locate its last location. After you get the location, you can decide to lock the home screen and erase data if you think somebody has stolen your phone. The most important thing is to activate your phone finder on Google before it gets lost; otherwise, you won't be able to trace your phone.
(1) Enable Find My Device on Android Phone
You can follow the following process to enable Find My Device on your Android phone:
1. Open Settings on your Android phone and select Security & lock screen.
2. Select Device Administrators and tab Find My Device.
3. Select the back button and then on your Settings still put on your Location.
4. Tab Mode, select High accuracy and go back and select Google Location History.
5. Click on the switch beside Location History, and you will be able to access the past location history of your phone.
(2) Track Android Phone with Find My Device
In a situation, you happen to lose your phone, you can determine your phone location by signing in to your Google account from any computer. You only need to follow the following three steps:
1. Open your browser from any phone or tablet or computer.
2. Search google.com/android/find.
3. Enter the email and password.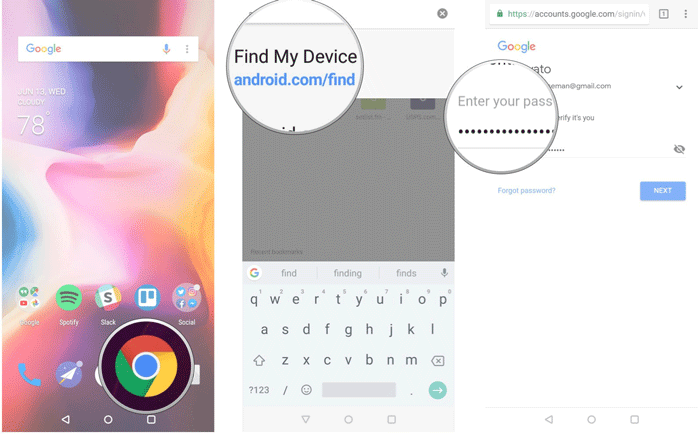 The method gives three options. It can play an alarm, secure your home screen or erase your phone data.
It is secure to choose all the three because it is hard to know when it has been stolen or misplaced. The method has a limitation that not all the times you can find the phone, the third party might flash the phone before you find it. Therefore, you should aim at backing up your data to Google drive accounts to be on a secure side when this happens.

Part 2. How to Locate Your Android Phone with Google Home Speaker
Finding your phone using Google Home Speaker is the most straightforward process among all the tracking Android process. It is possible to track your device with this process when you have a Google Home Speaker account.
For you to follow your device with this process:
1. You need to sign in to Google Home Speaker account.
2. Also, you should link your Google account to Google Home Speaker using the Google home application.
3. For the tracking process to be successful, you must have turned on your phone and connected it to an internet connection.
4. The only thing you need to do is to say, "Okay Google, Find my phone."
Google would locate your phone and ring a loud alarm even if you had turned your phone into silent mode. The only limitation of this tracking process is that it is limited to distance, you can only use it at a short distance like within your house.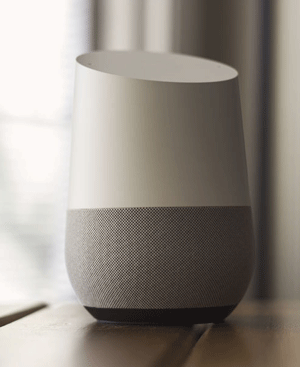 Part 3. How to Locate Your Android Phone via Google's Android Device Manager
It is free to use Google's Android Device Manager to locate, ring and wipe an Android device remotely. Also you don't need to install any app to track your phone, however, it is necessary to meet the requirements as below:
- You can sign in to the Google account associated with your Android device.
- Your Android phone or tablet is turned on and has Internet access.
- The theft did not reset the smartphone to the factory default settings.
- You have not changed your Google settings to prevent Android Device Manager from finding your device. The default value is "Allow" (or "On").
- You have changed your Google settings to lock your device and delete its data. Locking or erasing (or turning off) is not allowed by default.
To track your lost Android phone with Google's Android Device Manager, you can:
1. Login to your Google account associated with your phone.
2. Go to the Android Device Manager.
3. Choose to tap "Ring" or "Enable Lock & Erase" option according to your need.
Tips: You can either access to Android Device Manager on a computer or on the mobile browser on your friend's phone or on the Android Device Manager app on a smartphone. You can log in using guest mode credentials using guest mode.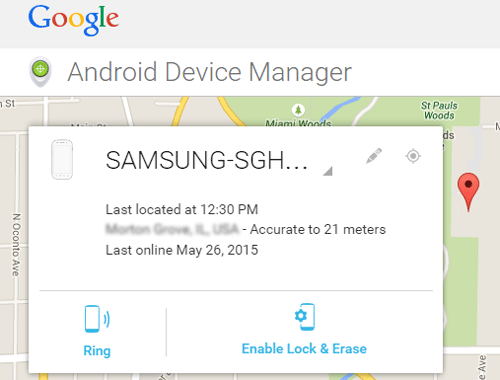 Part 4. What to Do Before and After Losing Your Android Phone
Before losing your Android device, you need to open a Google drive account. It can be OneDrive, Google cloud then back up all your data daily when connected to a Wi-Fi connection. Backing up Android data will help you to clear your information easily after you lose your phone.
Then after you have lost your device entirely or the third party has stolen the phone, you should remotely lock your device or permanently wipe out data from Android phone so that no one accesses your data. You would have lost the phone but recovered your data and prevented the third party from obtaining your details.
You May Like: How to Sync Android to iCloud?
Conclusion
Technology has changed the world we live in both a positive and negative way. As we implement the changes, some of us are using them to harm others. Good applications like phone finder have been innovated but, the hackers on the other side are looking for means with this technology to invent ways of unlocking them.
We cannot avoid technology change but taking the necessary precautions can be a better way of living. Technology can be both a benefit and hazard depending on how we use it. Nothing can be invented in this world to miss a limitation, therefore let us not fight change but learn to cope with it as change is inevitable.
Related Articles:
[Solved] How to Recover Data from Water Damaged Android Phone
How to Recover Samsung Data After Factory Reset
How to Recover Deleted Videos from Samsung Galaxy
How to Access iCloud on Android Phone [3 Solutions Offered]
How to Restore iCloud Backup to New Phone Effectively [Solved]
[3 Ways] How to Recover Lost Screenshots on Android Phones?