Summary
Have you ever accidentally dropped your Android phone into water and get crazy about it? Some people have reported that they have mistakenly fell their phone into the swimming pool, beer glass, buckets, closestool and even a washing machine with the phone in jeans's pocket, or they got wet in the rain as well as the mobile phone. So what to do if you meet these situation? And how to recover data from water damaged Android phone or tablet? Let's learn the full guide to deal with water-damaged Android phone together.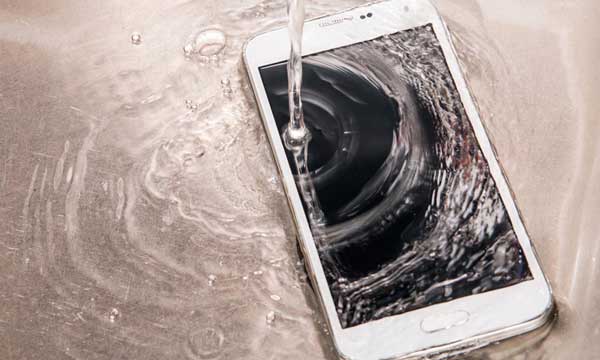 Part 1. What to Do When Your Android Phone Fell into Water
It is far more problematic that a phone fell into water than on the floor. Because if not handled in time, a wealth of problems will come out for the water-damaged mobile phone, such as broken screen, short circuit, corrosion of spare parts (microphone, loudspeaker, camera and etc.).
This part will show you some useful tips to desiccate your phone in the first time you accidentally have your phone fell into water inside, either Android phone or Apple device. To dry out your phone is aimed at protecting hardware and personal data on Android device from damaging or missing.
However, if it doesn't work, the most urgent thing is to restore your data from the water damaged Android phone or tablet, the way of which will introduced in Part 2. Now, let's move on to see how to save your Android phone step by step once it fell into water.
Tip 1. Take your Android phone out of water as soon as possible.
Of course it is quite important to get your Android phone out of water in the first time. Besides, you need to remove the battery immediately if you can to prevent short circuits, and take out of SIM card in case of losing contact information. The longer the phone stays in the liquid, the more damage your phone will suffer in life. But please don't try to take apart your phone by yourself when it is waterish.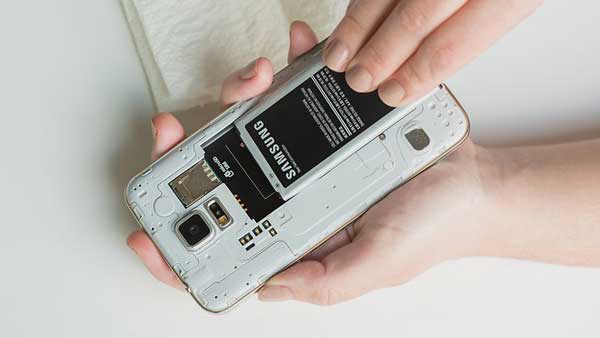 Tip 2. Don't turn on your phone or press any button.
Please do not try to turn on or turn off your phone, or press any button on your device after it gets water inside. Otherwise your phone will easily lead to short circuit.
Tip 3. Hope the water is not saline water but drinking fresh water.
You'd better pray that it is drinking fresh water but not saline water that your Android phone fell into, because the brine might form a "salt crust" in the delicate internal components of the phone. So if unluckily, your Android phone fell into sea water or salt water, you need to wash it gently with fresh water -- of course it is after taking out the battery and SIM card and before the drying process begins.
Tip 4. Dry your phone with clean and dry cloth or tissue.
Please get a clean and dry cloth or tissue to dry out every part of your phone, but try not to move or shake your phone redundantly in case the water travels around inside the phone. And wrap your phone in a cloth or tissue for a few minutes, trying to suck out excess moisture from your phone as much as possible.
NOTE: please do not try to dry out your Android phone with hair dryer or oven, which might easily damage some components of your phone.
Tip 5. Put your phone into rice jar to exsiccate it.
Now, please put your phone into a jar or bag that filled with dry uncooked rice for at least 24 hours. During the period, please don't try to turn on your phone. Rice is good at absorbing water, which can help you to save your damp mobile phone.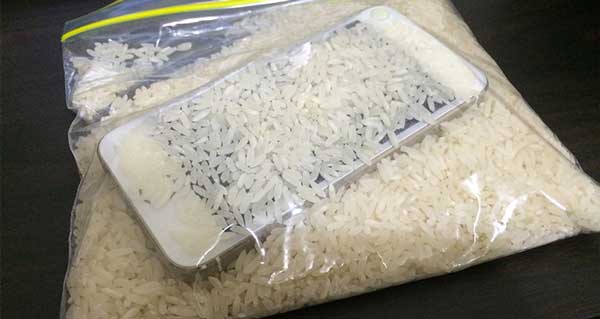 After 24 hours, you can try to power on your Android phone now, hoping there is no residual corrosion or short circuit problem on your device. If the charger works but the battery does not work, and you will have to replace the parts.
Tip 6. Check whether the water damage sensor changes colors or not.
The water damage sensor is the white dot next to battery box, if it turns red, the serviceman will know that this is not a matter of equipment quality but the water damage caused by your improper use for your phone. If so, your device will not be insured and repaired in repair shop for free, and you need to pay for repair.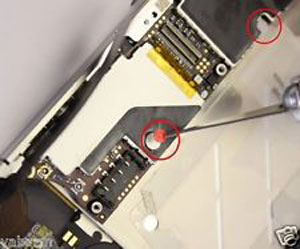 You May Like: How to Recover SMS on Android with Black Screen [Solved]
Part 2. How to Restore Data from Water Damaged Android Phone Safely
If unluckily the above methods can't help you get your Android phone back to normal and you can't turn on your android after trying the all above solutions, the most urgent thing is to recover your data from your water damaged Android phone safely. However, please be noted again that don't try to turn on your Android phone to transfer the Android data to other place until your device gets completely dry. But how to restore data from water damaged Android phone without turning on it and enabling USB debugging?
Actually, to restore water damaged Android phone, you can totally rely on the third-party Broken Android Data Extraction, which is a professional broken Android data recovery tool to help you recover contacts, messages, message attachments, call logs, WhatsApp, WhatsApp attachments, photos, videos, audios, documents and many more.



For now, Broken Android Data Extraction only supports to work with Samsung phone but it will be compatible with more Android phone soon, including Huawei, LG, HTC, Sony, Motorola, ZTE, OPPO and etc.


Supported Devices: Samsung Galaxy S6/S5/S4, Samsung Galaxy Note 5/Note 4/Note 3, Samsung Galaxy Tab Pro 10.1 and more device models.
This recovery tool is designed to rescue data for broken Android phone or tablet, including water damaged Android phone, Android phone with cracked screen/black screen, Touch screen doesn't work on Android and etc. So please don't hesitate to download and install the Broken Android Data Extraction on your Windows computer and get your personal files back from your water damaged Android phone with ease.

[User Guide] Steps to Retrieve Data from Water Damaged Android Phone or Tablet:
Step 1. After downloading and installing, please launch the Broken Android Data Extraction on your computer, and connect your water damaged Android phone to computer via a USB cable, then the program will automatically detect your device without enabling USB debugging on your device.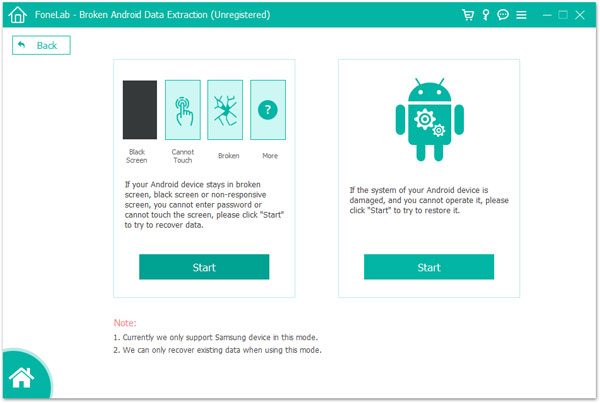 Step 2. On the left panel, please select "Broken Android Phone Data Extraction" tab and click the first "Start" button to recover data from Android phone. On the next screen, choose your phone's name and model and click "Confirm" button to move on.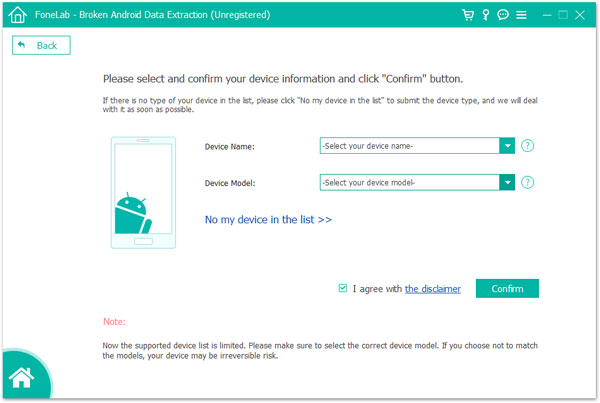 Step 3. Now please put your Android phone into Download Mode with the guide on screen. After that, click "Start" button and it will automatically scan your device for Android files.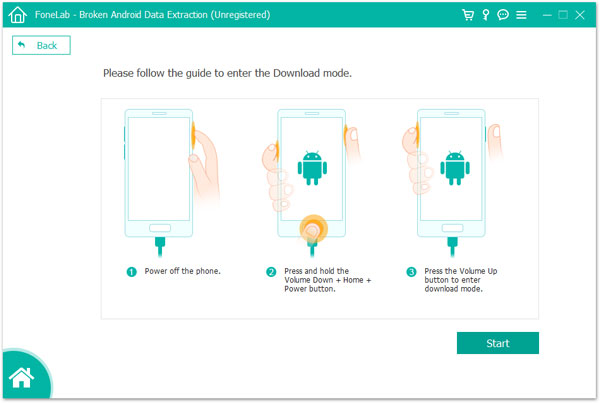 Step 4. After quick scanning, the program will show all the recoverable file types on the left panel. Just tick off the box before different file types that you want to recover, such as Contacts, Messages, Picture Library and etc. and click "Recover" button to save them on your computer right away.
Note: To recover contacts from water damaged Android phone, you need to root your Android phone to access permission at first.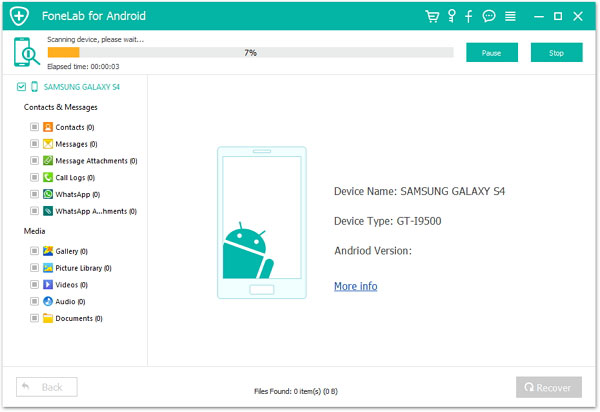 Well, that's it. So easy, right?
You May Like: How to Restore Data from Bricked Android Phone?
Part 3. Tips to Prevent Data Lost or Water Damage on Android
Tip 1. Backup your personal file on Android.
It is strongly recommended to back up your Android data regularly so that you can easily extract your personal files from backup files without so many troubles.
Tip 2. Get a waterproof bag for your phone.
How to prevent the phone from getting water damaged? Actually, you can buy a waterproof bag for mobile phone, which can effectively prevent your Android phone from accessing water if you put it on a waterproof bag. It is quite useful especially when you are going to swimming or drifting.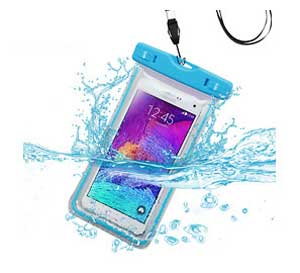 Tip 3. Don't use your phone nearby water.
The most effective way is that don't use your Android phone when there is water besides you if you can. Or if it drops into water, you may need to get a new one. It is unworthy.
Now, you can have a try of the Broken Android Data Extraction to get your Android data back now.

Related Articles:
Effectively Retrieve Lost Files from Android Phone/Tablet
Recover Contact from Broken Samsung Galaxy S9/S8/Note 8/7
How to Transfer Photos from Computer to Android?