Summary
Do you wish to upgrade your HTC phone and are now worried about the contacts in the old device? All of us love getting the latest phone models so that we can get to experience the new features and specs released. This means you must transfer lots of data, including contacts, from your previous device to a new one. It can seem tricky to transfer contacts from HTC to HTC, but that shouldn't worry you.
There are different approaches you can use to transfer contacts between HTC smartphones. Continue reading to learn how to transfer data from one HTC phone to another.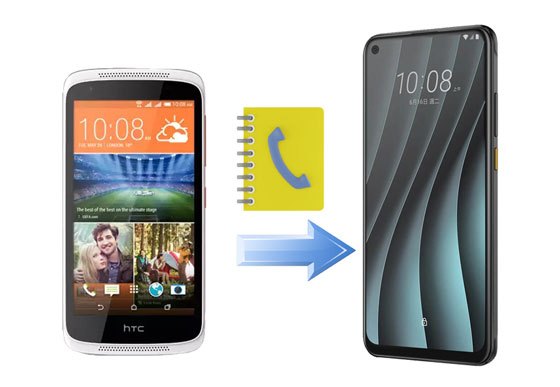 Part 1: Transfer Contacts from HTC to HTC in One Click
If you're looking for the most reliable and fast method of transferring contacts between two HTC devices, then this HTC to HTC transfer tool - Samsung Data Transfer, is your go-to solution. With millions of users around the globe, it is a renowned tool for data transfer purposes. The three-step procedure lets you transfer contacts, photos, videos, SMS, and more between devices without any problem.
Besides, it supports transferring files between Android and iOS devices, even though they run with different operating systems. Thus, you can also use it to copy contacts from HTC to an iPhone without effort.
Main features of this Android data transfer software:
- Fast transfer data from HTC to HTC, including contacts, videos, SMS, apps, photos, etc.
- Enable you to copy iOS files to Android in 1 click.
- Support most Android OSes and iOSes.
- Allow you to select files by category before the transmission.
- No file loss during the transfer process.
Download this HTC transfer program.
Here is how to transfer data from HTC to HTC in 1 click:
Step 1: Download the program on a computer, install and launch it. Once done, choose "Mobile Transfer" from the primary interface.
Step 2: To start, connect smartphones to the computer with USB cords and follow the instructions on the screen to turn on USB debugging. Once you do this, the software will automatically recognize both of your devices. Then it will show the connected interface as below.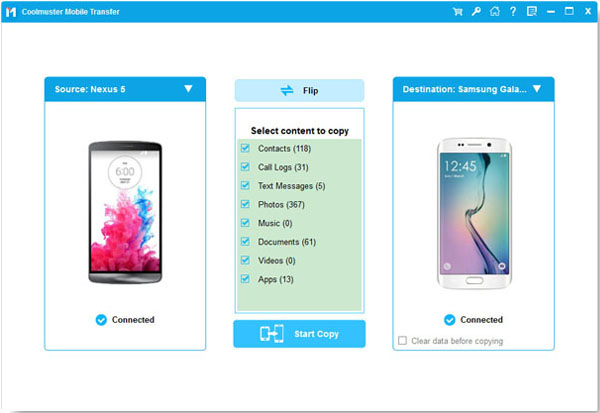 Step 3: Before you start the transfer process, ensure your devices are in their correct positions; or you can click "Flip" to change the positions. Next, check the "Contacts" option on the screen and tap "Start Copy" to transfer your contacts to the target HTC device.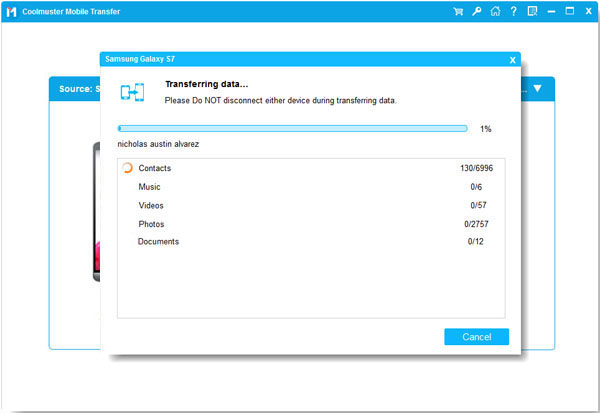 Read also: 8 Ways about How to Transfer Photos from HTC to PC (Quick & Simple)
Part 2: Transfer Contacts from HTC to HTC Using Bluetooth
If the files to be transferred are few, you can use Bluetooth to transfer them. Android devices have in-built Bluetooth, so there is no need for third-party apps. While Bluetooth offers an efficient way to transfer media files between HTC phones, it cannot be used when transferring applications. That being said, if you've the time and want a quick solution for small amounts of content, here are steps for HTC to HTC transfer via Bluetooth:
Step 1: Unlock both HTC phones and head to "Settings", then switch on "Bluetooth".
Step 2: Take the devices closer to each other, then wait for the new phone to be detected on the other phone. Choose your new device and pair it with a code.
Step 3: After the devices are paired successfully, head to the "Contacts" app on the old HTC and choose the contact you want to send. Then click the "Share" > "Bluetooth" icon.
Step 4: Choose another HTC phone. Then the contact will be sent to it.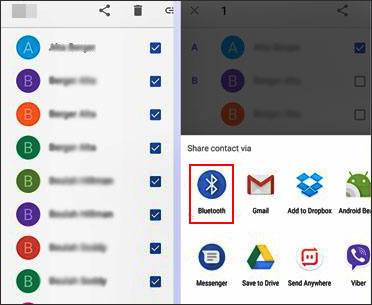 Note: If your phone doesn't support sharing multiple contacts at a time, please export all your contacts to your phone as a VCF file. Then send this file via Bluetooth.
Further reading: How about transferring contacts from Samsung to HTC? Can you make it effortless?
Part 3: Transfer Contacts from HTC to HTC via Xender
With millions of installations on Play Store, Xender is one of the best apps for transferring files between Android phones. You just have to connect the phones through Hotspot and start to share any files quickly. As a bonus, up to four devices may be linked simultaneously, working across multiple platforms. Xender's cutting-edge technology makes contact transferring easier. Here are the steps for HTC contact transfer via Xender:
Step 1: Install Xender on both phones and ensure your "Personal Hotspot" is turned on.
Step 2: Now open it on the old HTC, click the "+" icon, and select the "Create Group" option. Then open it on the new HTC and click "Join Group".
Step 3: Find the group and click on it. After the phones are connected, you can begin transferring data quickly.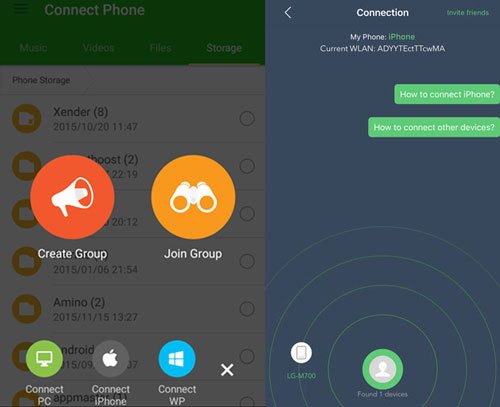 Maybe you need: HTC to Mac Transfer | Efficiently Transfer Files from HTC to Mac in 5 Ways
Part 4: Transfer Contacts from HTC to HTC via Google Account
With the power of Google, transferring files between devices is now a breeze. Whenever you have an account with Google on any Android device, all your data will be backed up and stored in one place. Thus, when you log into this same account from another device, your content will be ready to be downloaded onto your new gadget. Follow the guide to sync contacts from one HTC phone to another via a Google account:
Step 1: Head to "Settings" and choose "Accounts" > "Google", then select the email address to which you wish to back up contacts.
Step 2: You'll see types of files showing; choose the "Contacts" file. Tap on the three-dot menu and choose "Sync now".
Step 3: Enter the same account to your new HTC phone, and repeat the previous step. The contacts will appear.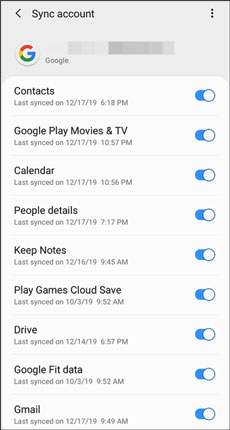 Part 5: Transfer Data from HTC to HTC Using HTC Transfer Tool
Another way to transfer data from HTC to HTC is through an HTC transfer tool. This is a free tool that will get the transfer done easily. You can use the tool to transfer files like contacts, pictures, messages, music, calendar, etc., from one HTC phone to another. Besides, the tool can transfer files over Wi-Fi at a higher speed. Furthermore, it is designed to only transfer files on HTC phones running 2.3 or later. The app cannot be used on other devices apart from HTC phones. Here are the steps:
Step 1: Open the new HTC device and head to "Settings", then select "Transfer content" and "HTC Android device". Once done, download the HTC transfer application from Play Store to the old HTC.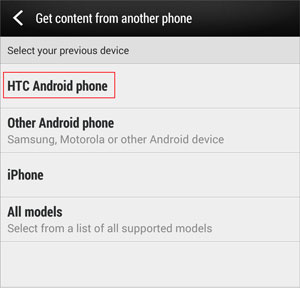 Step 2: Check for the PIC on both devices to ensure it's the same. Then click the "Next" button.
Step 3: Now tick the contacts and other file types to transfer to the new HTC and hit the "Start" button to start the transfer.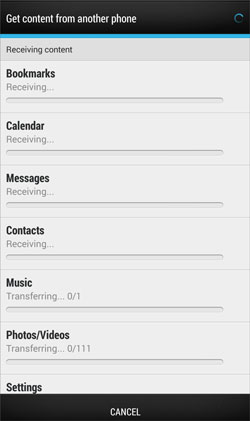 Conclusion
Transferring contacts from HTC to HTC is now easier than before. Popular applications like Samsung Data Transfer, make the process faster and effortless. This tool allows you to transfer data, including contacts, SMS messages, music, videos, photos, and more, within minutes. It works with a wide range of HTC phones and other Android and iOS devices.
Related Articles
[Practical Guide] Transfer Files from Android to iPhone with 8 Tips
How to Unlock HTC Phone If I Forgot Password? Easily Unlock It Now
HTC Transfer Tool: Full Guide for HTC Users [Contain Powerful Alternatives]
[Latest Guide] Rapidly Transfer HTC to iPhone with 4 Reliable Ways
How to Retrieve Deleted Text Messages from HTC Phone with 3 Easy Methods
HTC Backup and Restore: Back Up and Restore HTC Data in 4 Reliable Ways