Summary
Do you remember those times when you had to manually write down innumerable contact details then save them on SIM cards later? Those were the days of trial and error - no one knew if the contacts got saved successfully. Good news - technology has improved exponentially since then. But how to transfer contacts to a SIM card?
While it can seem daunting at first glance, it's not as difficult as it may seem. This blog post will walk you through the different ways to transfer contacts to a SIM card. So sit back, relax and get ready to find out all the details– no more mystery on contact swapping!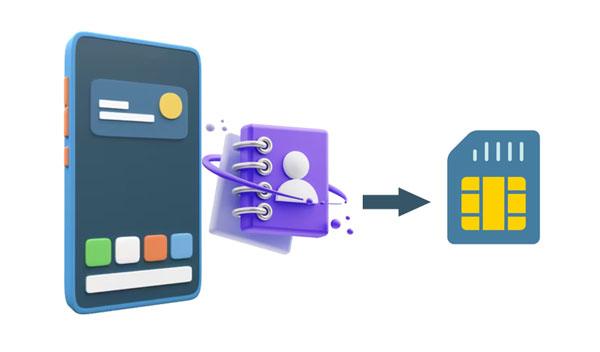 Part 1: Why Transfer Contacts to SIM Card?
Many of us like saving our contacts to SIM cards, and the reasons are obvious. Here are some of the reasons why we might decide to do that:
1. Backup: Data stored on SIM cards is very safe unless you format the device without removing the SIM card. This makes it the perfect place to store important information like phone numbers in case you ever need it.
2. Easy Accessibility: By transferring contacts to a SIM card, you can easily access them on any other device, even if your Android phone has stopped working. This ensures that important contacts of your family members, emergency numbers, and business associates are always within reach.
3. Other Circumstances: For people who frequently switch phones, this is a great way to avoid the hassle of re-entering all the contact information every time.
Bonus: Can you recover deleted contacts from an Android device? Here're 3 recovery methods for your reference.
Part 2: How to Transfer Contacts to SIM Card on Android via Contacts App
Do you prefer storing your contacts on your phone's SIM card rather than on the phone itself? The Android Contacts app that comes pre-installed on the device allows users to do just that!
Here's how to transfer contacts to a SIM card using the Contacts app:
Step 1: Open the Contacts app on your Android phone and tap on the three vertical dots in the upper right corner of the screen, which can sometimes be marked as "More". Then head to "Manage Contacts".
Step 2: Select "Import/Export contacts" > "Export contacts" and choose the location to keep the contacts. Choose "SIM card" as the destination and press "OK".
Step 3: Wait for a few moments for the contacts to be successfully transferred to the SIM card.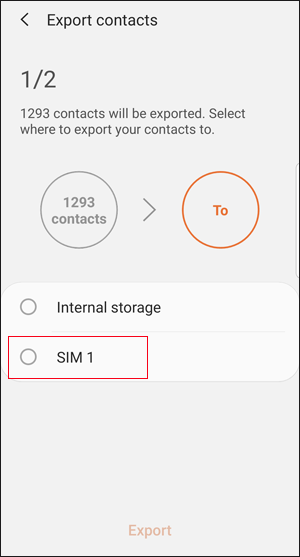 Part 3: How to Save Contacts to SIM Card on Android via Settings
Aside from utilizing the contact application installed on your mobile phone, you can access a helpful "Import/Export" feature within the device's Settings. This is particularly useful when other methods fail to deliver satisfying results. But this feature only works on some old Android phones.
Check the steps to see how to transfer contacts to a SIM card on Android via Settings:
Step 1: Launch the Settings application on your Android phone.
Step 2: Click "Phone" and proceed to the "Contacts" > "Import or Export" option.
Step 3: Press "Export to SIM" and choose the files you wish to move. You can choose "Select all" to copy all contacts to your SIM card.
Further reading: How to back up Android music in easy ways? This article will tell you.
Part 4: How to Copy Contacts to SIM via Easy Backup App
Numerous third-party apps can allow you to move contacts from your Android phone to your SIM card, and Easy Backup is helpful. This handy application can offer an easier backup way and easily transfer contacts from Android devices. Downloadable on Google Play Store, this nifty utility is incredibly simple to use, taking only a few minutes of your time.
Here's copy contacts from the phone to a SIM card via the Easy Backup app:
Step 1: Download the app from Play Store on an Android phone.
Step 2: Now backup your contacts to the cloud. Click on "Backup" from the interface of the application. Now choose the "Tap to Upload" option, then move the files from the phone to the cloud.
Step 3: Recover the contacts from the cloud to your SIM card. Make sure the SIM card is in your targeted device. Open the app on the phone and hit "My Backups".
Step 4: Next, choose the cloud backups you wish to migrate to the SIM card and press "Tap to Download".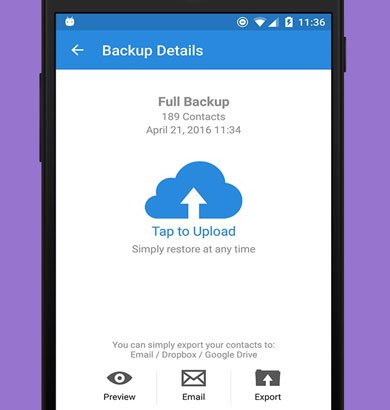 Read more: Back Up Android to SD Card Swiftly: 4 Easy Approaches Here
Bonus: How to Export Contacts from Android to VCF
Want a comprehensive contact manager to export your Android contacts? Then you can use Samsung Messages Backup. This is a professional and simple-to-use tool that works for most Android phones and tablets. With it, you can transfer, manage, back up and restore Android contacts seamlessly on your computer. This software support saving contacts in different formats, including VCF, CSV, XML, Outlook and more.
Also, it can help you transfer your videos, music, text messages, call logs, books, and more from Android to the computer. If you want to back up all the Android data at once, you can use the "Super Toolkit" feature to achieve it. Whenever you plan to restore your contacts to Android devices, you can do it without hassle.
Key features of this contact manager:
- Enable you to export many contacts in one go, and save them as a VCF file.
- Copy contacts to a computer for backup.
- Edit your current contacts' info easily, such as phone numbers, groups, addresses, emails, etc.
- Back up and restore Android data with original quality.
Download this software to transfer your contacts.
Here are steps to export Android contacts as a VCF file via this software:
Step 1: Download the software on your PC or Mac, and open it. Choose "Android Assistant" from the toolbox.
Step 2: Use a USB cable to connect an Android device to a PC and enable USB debugging. Then grant the permission on the phone when asked. Wait for the software to detect the phone, and you'll now see the primary interface of the tool showing on the screen.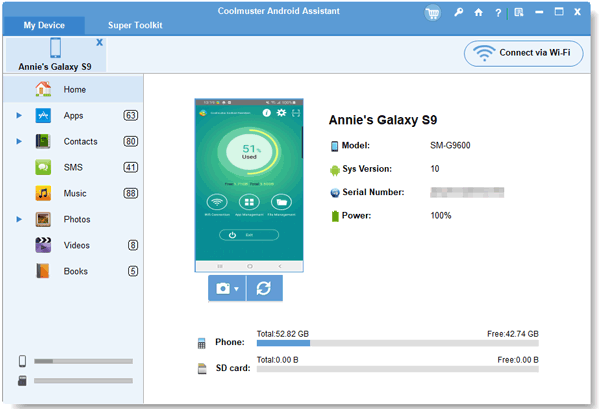 Step 3: Click on the "Contacts" file from the left sidebar to open all contacts on your device. Select the contacts to move to the computer and hit "Export" > "Export to VCF" to save the contacts to the computer as a vCard file.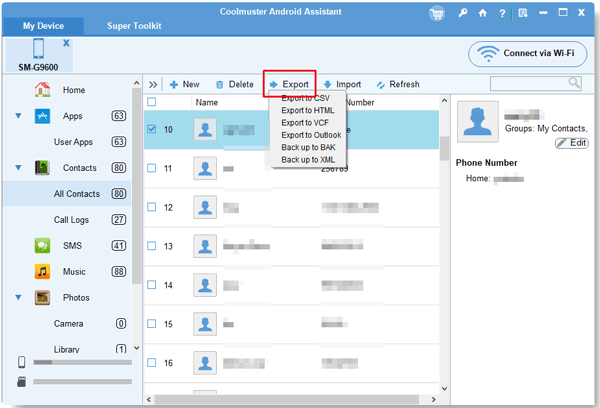 Conclusion
Transferring contacts from Android to SIM card can be done in several ways, from easy and quick, to more complex routes. All the above-mentioned methods are simple and convenient, offering different functions or usability. If you have a lot of contacts and want to back up the contacts, you can choose Samsung Messages Backup. This tool can save contacts in multiple formats on a computer. It's fast and allows for the transfer of many contacts at once.
Related Articles
HTC Backup and Restore: Back Up and Restore HTC Data in 4 Reliable Ways
How to Wipe a SIM Card with Android Completely? 3 Tips You Need to Know
SIM Card Data Recovery: Recover SIM Card Data on Android (3 Tips)
How to Transfer Contacts from Android to Outlook via 3 Essential Ways
How to Recover Deleted WhatsApp Contacts Android in 3 Valid Ways
Where Are Contacts Stored on Android? Find and Export Contacts Easily