Summary
We are accustomed to using WhatsApp to chat and share, and it has become one of the indispensable apps in our daily life. It is convenient to keep in touch with others using WhatsApp. However, some of us have lost WhatsApp contacts by mistake or mysteriously. To help these people, today, we'll pay attention to how to recover deleted WhatsApp contacts on Android. If you also need it, you can go ahead with us to explore the solutions.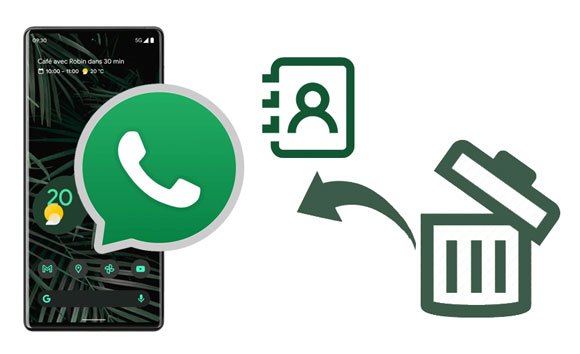 Part 1: How to Recover Deleted WhatsApp Contacts on Android via Android Data Recovery
This Android Data Recovery software is a pro in recovering deleted phone numbers from WhatsApp. It can scan your deleted WhatsApp messages and WhatsApp attachments from Android internal storage. Thus, you can utilize this program to find your deleted WhatsApp phone numbers.
This comprehensive recovery software supports various file types, like messages, contacts, call logs, galleries, audios, etc. In other words, you can recover deleted Android contacts and other Android data without backup.
But one thing you'd better be aware of is that root is required when you want to recover lost data from internal memory, even though this software doesn't explicitly require this. If you don't root your device, the software will have trouble finding your deleted WhatsApp contacts.
Key features and highlights of this Android data recovery program:
- Find and list your deleted WhatsApp data on the interface.
- Allow you to transfer existing and deleted WhatsApp messages and attachments to your computer for backup.
- Recover deleted files from your Android external memory card.
- Widely compatible with different Android devices, like Samsung Galaxy S22/S21/S20/S10/S9, HTC Desire 21/Desire 20 Pro/Desire 19s/Desire 12s, Sony Xperia Pro-I/Xperia 1 III/Xperia 5 III/Xperia Pro/Xperia 5 II/Xperia 5, LG, Google, and more.
Download the WhatsApp contact recovery tool for free below.

Here's how to retrieve deleted contacts on WhatsApp via this software:
Step 1. Launch the Recovery Software
After downloading the Android recovery software, please install and launch it on your computer, and choose the "Android Data Recovery" tab.
Step 2. Connect Your Android Phone to the Computer
- Please use a data cable to make a connection between your Android phone and PC, and choose the "MTP" option. Then it will guide you to turn on the USB debugging mode on Android.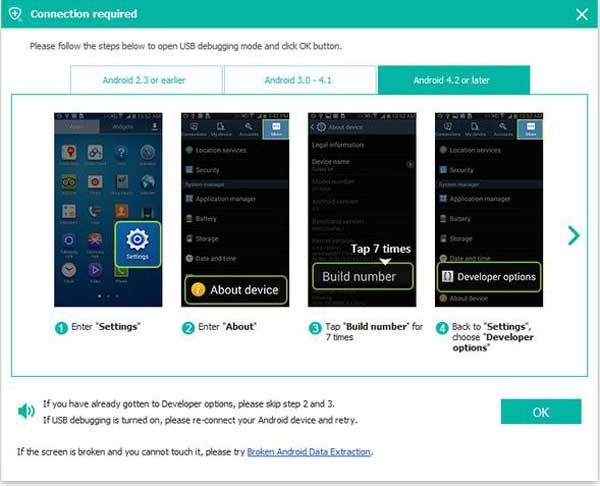 - Once connected, please check the "WhatsApp" and "WhatsApp Attachments" options, and tap "Next". Then it will remind you to install a rooting tool.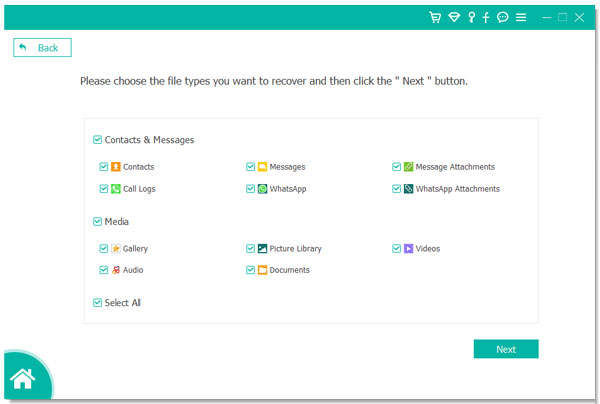 Step 3. Recover Deleted WhatsApp Contacts
- Please follow the on-screen guide to authorize the tool to access your Android phone. Once authorized, tap the "Continue to scan authorized files" icon.
- Tap the "WhatsApp" or "WhatsApp Attachments" category to find the WhatsApp phone number you want, and add these contacts again on your Android phone. If needed, you can recover your deleted WhatsApp messages and media files by tapping the "Recover" icon.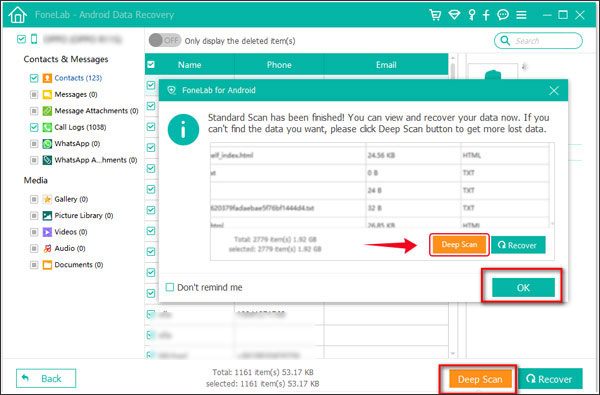 Notes: If the standard mode cannot find your deleted WhatsApp contacts, you can use the "Deep Scan" mode.
See also: It is easy to print your Android text messages, because this article will tell you 4 ways.
Part 2: How to Recover Deleted Phone Numbers from WhatsApp via Android Contacts App
Have you checked the built-in Contacts app on your Android phone after losing your WhatsApp phone number? As we know, we can add new contacts to WhatsApp via a phone number. So, why not make use of your Android device's address book? However, if you haven't saved the phone numbers on your Contacts app, this way will be ineffective.
Guide on how to get back deleted contacts in WhatsApp via the Android Contacts app:
Step 1. Allow WhatsApp to Access Contacts App
Please make sure you have allowed the WhatsApp app to access your contacts on your Android phone. You can set it via the Settings app, and tap "Apps" > "WhatsApp" > "Permissions". Then turn on the permission of reading and modifying your contacts.
Step 2. Open WhatsApp to Check Contacts
Run the WhatsApp app, and tap the contact list. Then refresh it, and check if your phone contacts appear on WhatsApp.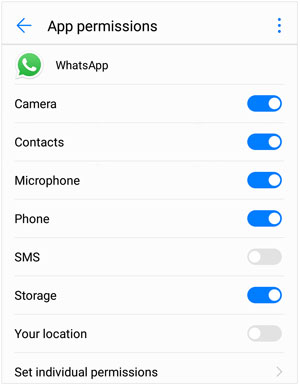 Read also:
You can also recover your deleted photos from the SD card on your Android phone. Let's see this updated guide.
Here is the guide to teach you to eliminate duplicate songs on an Android phone. If needed, you can check it out.
Part 3: How to Retrieve Deleted Contacts on WhatsApp via Google Backup
Backing up data to Google Drive is one of the most common ways for Android users. Furthermore, it comes with WhatsApp (Android version). There is no denying that you can handily complete the backup of your WhatsApp data with Google Drive. Therefore, you can find lost contacts on WhatsApp with your Google backup.
Here's how to recover deleted WhatsApp numbers using Google backup:
Step 1. Uninstall WhatsApp
From the beginning, please remove WhatsApp from your Android device. Then reinstall it via the App Store.
Step 2. Enter Your Phone Number
Input your phone number to sign in, and agree to the terms and conditions.
Step 3. Restore Your WhatsApp Contacts
The app will automatically detect your WhatsApp backup on Google Drive, and you can tap the "RESTORE" button to import the backup to your WhatsApp account. Once done, your WhatsApp contacts will be back.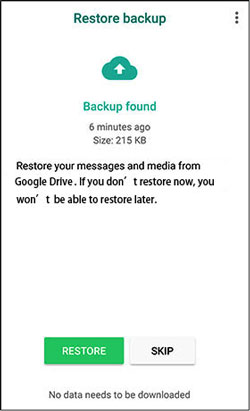 Bonus: How can you restore WhatsApp contacts on an iPhone? If you are an iOS user, you can restore WhatsApp contacts with your iCloud backup. The steps are similar to Android's, but please confirm that there is a WhatsApp backup on your iCloud Drive.
Conclusion
As you read, there are possibilities to recover deleted WhatsApp contacts on Android. Even if you don't have a backup, you can use the professional Android recovery program to get your WhatsApp contacts back. It is an explicitly effective desktop app for WhatsApp and Android data recovery, but we still remind you that backup is vital and it will make the restoration easier.
Related Articles
Back Up Android to SD Card Swiftly: 4 Easy Approaches Here
How to Recover Deleted WhatsApp Images on Samsung | 5 Functional Approaches
[Can't-Miss!] How to Transfer WhatsApp Messages from Android to Android in 2022?
How to Back Up WhatsApp Messages from Android to PC Fast [4 Great Ways]
How to Recover 1 Year Old WhatsApp Messages without Backup (Android and iOS)
WhatsApp Backup Stuck on Your Android or iOS Device? Safe and Effective Fixes