Summary
Apple ID is closely related to iPhone, meaning that, to be able to use an Apple ID, you should have signed into your iPhone. You can now purchase music, back up the device, download applications, and do a lot more.
However, Apple does not allow users to migrate files directly between Apple IDs. But, at times, you may want to share those lovely songs with others. Or, you may just have created another Apple ID for your device and now wish to transfer Apple ID information. So, read to learn everything on how to transfer data from one Apple ID to another.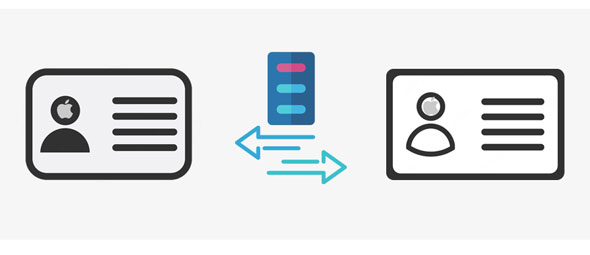 Part 1: FAQs on Transferring Data from One Apple ID to Another
Q1. Can I transfer data from one iCloud account to another?
You may want to migrate your files from an old Apple ID to a new one for various reasons like work or study. However, you can be disappointed since Apple will not allow it. Apple doesn't allow direct transfer of files from one iCloud account to another for various reasons. But it doesn't mean you can still not do it. You can still get your files transferred to another iCloud account.
Q2. Will I be able to keep something when I get a new iCloud account?
After you create another iCloud account, all files related to an older account won't be shared with another automatically. You might lose all files if you do not move them with a tool.
Part 2: How to Transfer Data Between Apple IDs in Just a Click
To effectively transfer files from one iCloud account to another stress-free, you should use a computer. This advanced Apple data transfer tool - Samsung Data Transfer, can help you transfer files between iOS devices signed into different Apple IDs. Supports transfer of files like notes, calendars, contacts, books, etc., from one iOS device to another.
Mobile Transfer is undoubtedly the efficient software that can help transfer your files at lightning speed. Its simplicity of data transfer is unmatched. Besides, it can transfer photos, videos, music, and more from an Apple device to an Android device.
Key features and highlights of this software:
- Easily move files from one iOS to another iOS with different Apple IDs.
- Allow you to select the file types you want before starting the transmission.
- Support various files, including contacts, calendars, bookmarks, books, and notes.
- The transfer process is very simple and stable.
- Work for most generations of iOS devices, like iPhone 14 Pro Max/14 Pro/14/13/12/11/X/8, iPad Pro, iPad mini, iPad Air, etc.
Download this transfer program.
How to transfer data between Apple IDs via this software:
Step 1: Launch the program on the computer after downloading it. Tap "Mobile Transfer".
Step 2: Use USB cables to connect the two iPhone devices to the computer. Click "Trust" on the devices to ensure the software detects the devices.
Step 3: After detecting the devices, it will display them as a "Source" or "Destination" device on the interface. Make sure they are correctly set.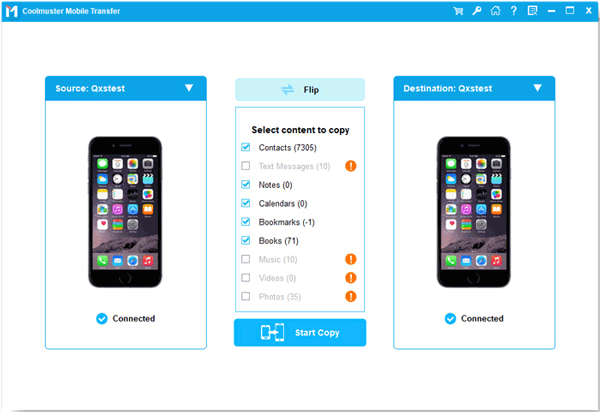 Step 4: Select the files to transfer from the interface and hit "Start Copy" to start the process of syncing.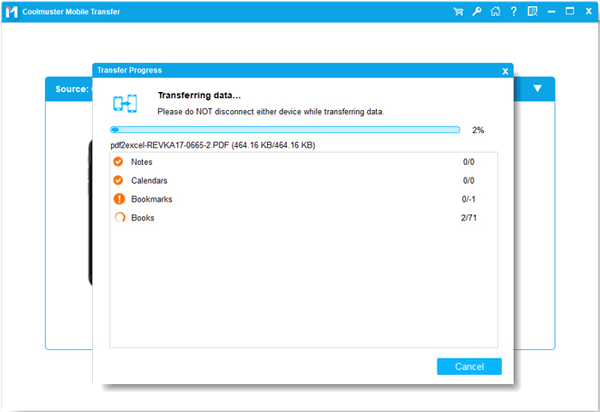 Read also: Ultimate Manual: How to Sync iPhone to iPhone Like a Pro
Part 3: How to Transfer Apple ID Information via iCloud
One way of transferring data between two Apple IDs is through iCloud. However, unfortunately, this technique requires you to download files to your computer first and then upload them to another Apple account, which is slightly time-consuming.
Here are simple steps to move data between two Apple IDs through the iCloud:
Step 1: On a computer, open iCloud and log in with your Apple ID credentials for the account with the data you want to transfer.
Step 2: Select all files you wish to transfer. Next, click the "Download" option to save the files to the computer. Once done, sign out of this account.
Step 3: Log in to your new Apple account if you wish to transfer your data.
Step 4: Select the data type you wish to upload to this Apple account. You can click on "iCloud Drive", "Contacts", "Photos", etc.
Step 5: Next, hit the "Upload" symbol and then select all the data you imported from the old Apple account to import them to this account.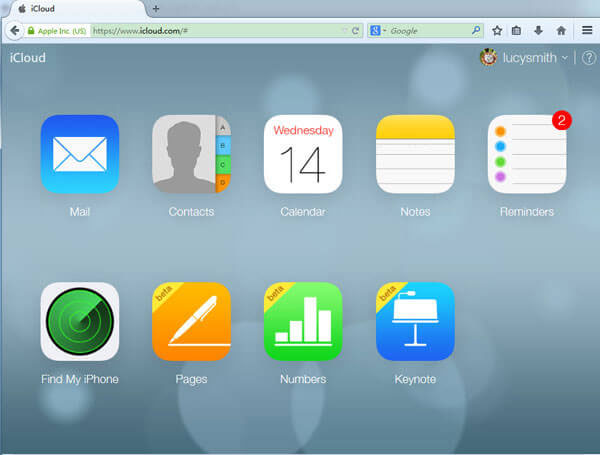 Further reading: Can you transfer files from an iPhone to an Android phone using Bluetooth? Open this guide to get the answer.
Part 4: How to Transfer Data from Old Apple ID to New One on iPhone Directly
The other way of moving data between two Apple accounts is to do it directly on your iPhone. However, like the above-mentioned technique that uses iCloud, this method only allows you to transfer limited data. It involves logging out of the current Apple account on your device and logging in to a new one, then syncing your iPhone data to the new account.
This method allows you to transfer several types of data, including Stocks, Safari, Keychain, Health, Contacts, and Calendars.
Here are the steps:
Step 1: Open your iPhone "Settings" and tap on the Apple banner that displays your profile.
Step 2: Next, select the type of data you want to transfer, and then turn off data sync to your iPhone by clicking the toggle switch next to it. Once you do so, you will be asked whether you want to store the data on the iPhone. Save the data to your device.
Step 3: Next, scroll through and tap on the "Sign Out" option to sign out of your current account. You will get a pop-up notification on your iPhone screen asking you to confirm that you want to delete your iCloud account from your iPhone and also warning you that the process may take some seconds. Just tap on Sign Out and wait until the process is completed.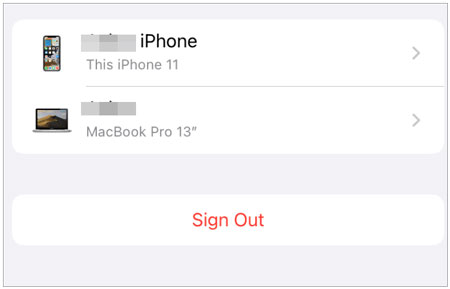 Step 4: Once you have done so, you'll be requested to input your ID and password. Enter your new account's credentials and tap "Next" to continue.
Step 5: You'll now be asked to authenticate using the 2-Factor Authentication code sent to the device synced to this account, also known as 2FA. Check the message containing the code on the other device, and input it to your iPhone.
Step 6: Next, input your iPhone password to access your saved passcodes and other important data saved on iCloud. You can now sync your iPhone data to this iCloud Account. Just turn on the data types, and tap the "Merge" option to transfer the data to the new Apple Account.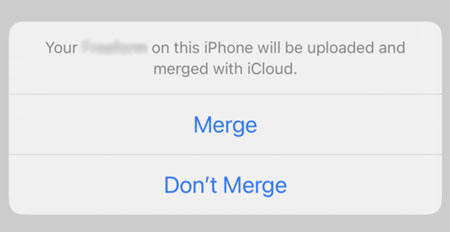 Conclusion
That's all for transferring files between two Apple IDs. Though the process isn't that direct and can be challenging, you will still get your files on your new iCloud account. The transfer software - Samsung Data Transfer can copy data from one Apple ID to another without a hitch as long as you log in with two iOS devices. Furthermore, it supports a wide range of iOS devices, so you can get your data onto the new Apple account with ease.
Related Articles
Best iPhone Transfer Software: 11 Excellent Tools for File Transfer
Couldn't Download Video from WhatsApp on iPhone? 6 Useful Solutions
Fast Mirror iPhone to iPad | Show You All Details
Fast Transfer Music from iPhone to Computer for Free (Quality Guide)
How to Transfer Photos from iPhone to Flash Drive | No Quality Damage
How to Transfer iBooks from iPhone to iPad with 5 Hassle-free Methods