Summary
In this era of technological advancements, switching between mobile devices has become common. And the two most popular mobile operating systems we use are Android and iOS. So, when switching from iPhone to Android, you will have to transfer your files as well. But since they run on different platforms, most people are concerned about whether they can use Bluetooth to transfer their data from iPhone and Android. How to transfer files from iPhone to Android via Bluetooth?
Even though you cannot Bluetooth from iPhone device to Android, there are apps to help you share files wirelessly. Below are the workable techniques that can give you a seamless wireless iPhone-to-Android file transfer. So, read till the end.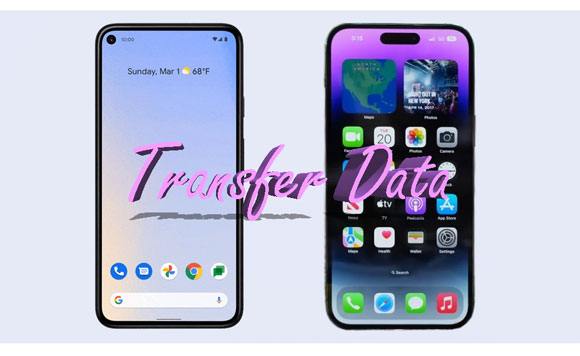 Method 1. Use Google Drive to Send Files to Android from iPhone
If you wish to share data from iPhone to Android, you may do that using Google Drive. Thanks to its easier to use functionalities designed by Google, it is a piece of cake to migrate your files whenever you shift from iPhone to Android.
You just have to back up iPhone data to the Drive before you can switch to an Android. This way, you can get all your files to Android immediately after you log into the same Google account. Steps on how to transfer files from iPhone to Android:
Step 1. Download Google Drive application on the iPhone. You should now open the app after installing it.
Step 2. Go to "Menu" option located at the upper part of the screen and press on "Settings" option then click "+" and "Upload."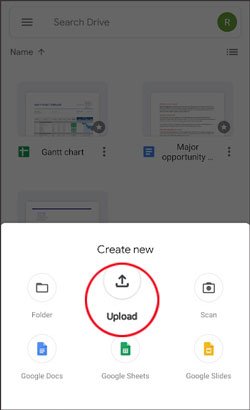 Step 3. Wait as the backup process continues till it finishes.
Step 4. Log into the new Android phone using the same account. Now all the backed-up files will appear on Android.
Bonus:
Transfer Text Messages from Android to iPhone Fast [iPhone 14 Is Supported]
How to Transfer Photos from Android to iPhone in 2023? [6 Practical Methods]
Method 2. Use Snapdrop to Move Files to Android from iPhone
You can also share files between iPhone and Android through the Snapdrop app, which works like AirDrop and Bluetooth over WiFi. So, you must ensure both mobile phones are signed into the same network beforehand. Follow the steps below:
Step 1. Download Snapdrop on Android from Play Store. Open it and grant permissions. You will not require to download the application on your iPhone.
Step 2. Now, on iPhone, head to Snapdrop website on a browser like Chrome or Safari and open the application. You will see a random name assigned to iPhone.
Step 3. On Android, the app will update the devices showing the names assigned to other devices.
Step 4. Click on the name/icon of Android. You will see a list with various options.
Step 5. Click on "Photo Library" or other option to choose the files to send. Click "Save" on Android.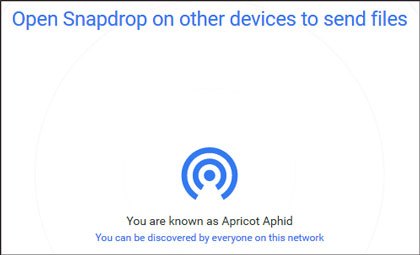 Read Also:
Top 4 Ways to Transfer WhatsApp from Android to iPhone 14 [Detailed]
WhatsApp Backup Stuck on Your Android or iOS Device? Safe and Effective Fixes
Method 3. Use SHAREit to Transfer Data from iPhone to Android
SHAREit is a tool that lets users share files between mobile devices. You can use it to transfer data to Android from iPhone. It's a reputable cross-platform sharing app that supports various devices. It can work on computers and mobile phones effortlessly.
This tool lets you share contacts, apps, media files, and more from iPhone to Android. Follow the below steps to share your files:
Step 1. Start by installing SHAREit app on phones from Play Store on Android and App Store on iPhone. Grant the necessary permissions after that.
Step 2. Run the app on iPhone (the Source device), and click "Send." Choose the data you want to send.
Step 3. Open the application on Android, which is the destination device, and click "Received."
Step 4. Your Android will start searching for the iPhone. When it shows, press on its icon, then confirm. The transfer process will begin instantly.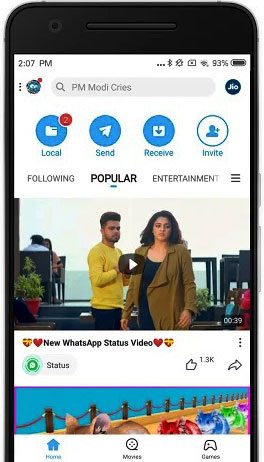 Method 4. Use Switch to Android to Send Files to Android from iPhone
Google just released the Switch to Android app to assist people in switching from an iOS device to Android. It works on Android 12, but the Android phone must be new. Here are the steps to follow:
Step 1. Install the application on iPhone, then link it with Android using a USB. Or you may select "No cable." Once done, tap "Ok" and follow the onscreen instructions.
Step 2. Choose the files to move to Android, such as Photos, Contacts, Calendar, and more.
Step 3. Wait for the process to finish.
Method 5. Use Email to Move Data from iPhone to Android
How do I transfer from iPhone to Android wirelessly? You can use email to share your files. Though email limits the file size, it is straightforward to use, and you can effortlessly access your files on an Android. Here are the steps:
Step 1. Run the Mail application on iPhone, compose a new email, and attach a document to the email by clicking an icon with a paperclip.
Step 2. Next, click on "Send" to send an email to yourself.
Step 3. Log into the same email account on Android. You'll see an email in your inbox. Open email, then save the document to your internal storage.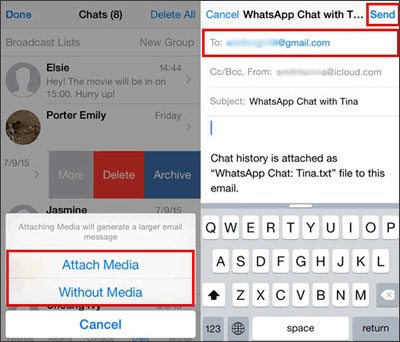 Method 6. How to Migrate Data from iPhone to Android Effortlessly
There's no way of transferring data from iPhone device to Android using Bluetooth. Also, transferring files wirelessly can take a lot of time, so you should consider sharing your files over a wired connection. A dedicated software that can help is Samsung Transfer. This powerful iPhone to Android transferring tool allows a seamless transfer of data from iPhone to Android without much hassle.
This software supports transferring files across various platforms, such as iOS to Android, between iOS devices, Android devices & Android to iOS. You can transfer files like contacts, SMS, music, videos, and photos from iPhone to Android.
This iPhone to Android Transfer is a top-rated app that supports multiple devices. The transfer process is not time-consuming; it only takes three steps, and you are done. It doesn't matter the size of your files; this app can move your files quickly from iPhone to Android.
Key Features of iPhone to Android Transfer
- Transfer files from iPhone to Android quickly.
- Transfer data from iPhone to Android, Android to iPhone, iPhone to iPhone, and Android to Android.
- Moves files without losing quality.
- It supports various data types such as call logs, messages, videos, contacts, apps, audio, etc.
- Supports the latest iOS 16 and Android 13.
- Fast and stable process.
Steps to transfer files from iPhone to Android in 1 click:
Step 1.Download and install this iPhone to Android Transfer. Launch the software after that and select the "Mobile Transfer" option. Now link the iPhone and your new Android to the PC with USB cables. The app should recognize the devices automatically.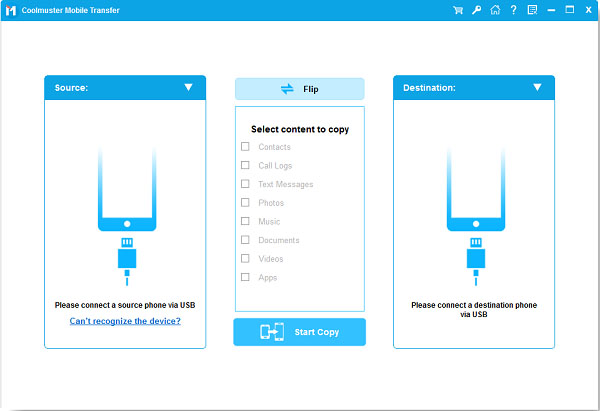 Step 2. You will see them displayed on the interface. Enable USB debugging on Android and trust this PC on iPhone. Ensure the iPhone is in the Source position.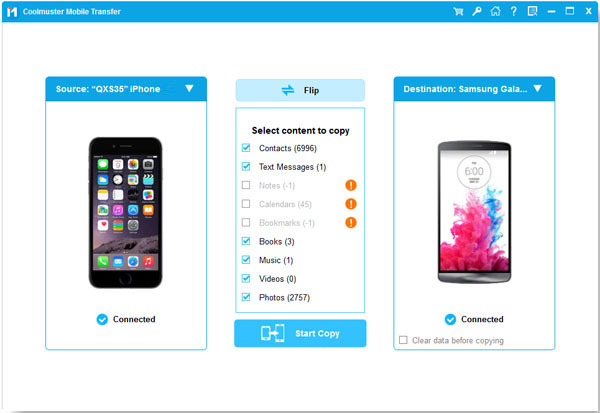 Step 3. Choose the data to send. You can select contacts, messages, photos, videos, music, etc. Click on the "Start Copy" button.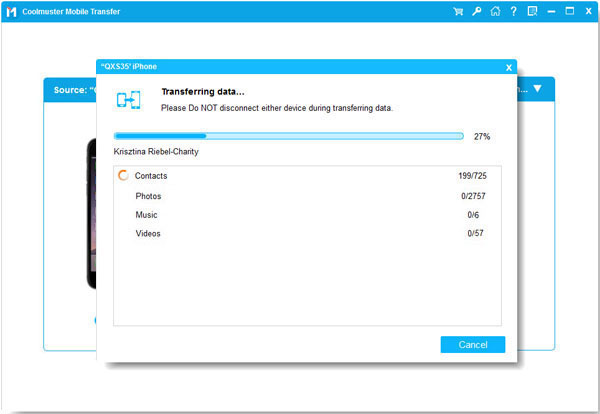 Extra Tip. Why iPhone Does Not Support Bluetooth Transfers
Despite the fact that iPhone devices have Bluetooth features, they cannot use Bluetooth to transfer files. The reason may include:
1. Security problems- Enabling Bluetooth on your device makes it vulnerable thus easy for hackers to hack it and control it. They may therefore steal your files or spread malicious software to other nearby devices.
2. For copyright protection of songs and other files- Apple does not want those pirated music and other files to be moved to iPhone so that you purchase the original songs on iTunes/Apple Music. This may in turn promote iTunes.
Final Thoughts
You can't transfer files from iPhone to Android using Bluetooth. However, you can still move your files wirelessly or use wired transfer with the help of professional software.
By following the step-by-step instructions this article provides, you can seamlessly migrate your important files to your new Android device. But the easier way to migrate your files is using Samsung Transfer. It's a safe option to move data from iPhone to Android. It doesn't compromise any of your existing files on both phones. Besides, it has higher transfer speeds and supports multiple file types.
Related Articles
How to Restore WhatsApp Backup from Google Drive to iPhone with Ease
iTunes to Android Transfer - How to Transfer iTunes Files to Android Phone/Tablet
Cross-Platform Search and Rescue: Find My iPhone from Android Phone
Where Are WhatsApp Messages Stored on Different Devices? [Latest Guide]
Transfer iPhone Data to Xiaomi Swiftly with 5 Methods [Can't Miss]
How to Transfer Photos from Samsung to iPhone 14? - 4 Tips