Summary
WhatsApp has turned into a well-known cross-system messenger application. It's utilized by a large number of individuals, as it has a ton of advantages when compared to other applications. Amidst such huge fame, some people couldn't download videos from WhatsApp on iPhone.
This genuine issue impacts clients while they endeavor to share an image or video. What will you do if you encounter such a problem? This post will discover the causes of WhatsApp's inability to download media files and the best solutions to settle it. Continue reading through this article to learn more about it.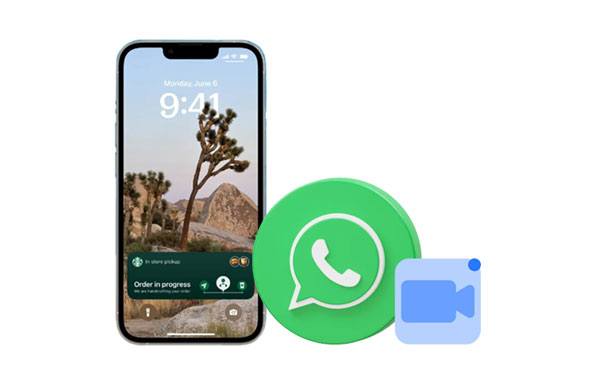 Part 1: Possible Causes of WhatsApp Couldn't Download the Media Problem
"Why can't I download media on WhatsApp? It could download those media files automatically in the past." Quite a few people have encountered the problem of WhatsApp media not downloading. But why does it occur? There are a couple of aspects that cause this issue, and they will be discussed briefly below:
- Crashes and bugs that result from an old WhatsApp.
- Limited space for storing videos, images, and other media files.
- Lack of permission for the WhatsApp application to save media files on your phone.
- Poor internet connection.
- The WhatsApp server is temporarily down.
That's why you can't save pictures from WhatsApp. You will learn more about them in the next part of this article.
Part 2: How to Fix It When WhatsApp Couldn't Download Video
You may have already tried to fix WhatsApp couldn't download the media files issue without success. If yes, you are in good company, as thousands of individuals have done the same thing and didn't get any positive results.
The best solution to deal with this problem is to follow a systematic approach and use genuine solutions provided by experts. The solutions mentioned below will help you settle this issue without much difficulty. Take heed of the following methods and apply them accordingly.
Method 1: Ensure You are Connected to an Internet Connection
Why isn't WhatsApp downloading images? For your WhatsApp application to function properly, it must be connected to an internet connection. You can only download media files if you have a solid internet connection. Most WhatsApp features do not function if your internet connection is unstable or completely down. If this is the cause of the problem, then the problem will instantly be solved once you restore your internet connection. Ensure that you have not turned on the data limit feature on your iPhone.
Follow the below steps to check the network when WhatsApp can't download media:
Step 1: Launch your "Setting" application, and choose the "Cellular" option.
Step 2: Enable the icon of WhatsApp to allow the app to use mobile data when there is no Wi-Fi.
Step 3: Make sure your iPhone is connected to an available network. Once done, open WhatsApp, and try to download your videos, pictures, and other media files.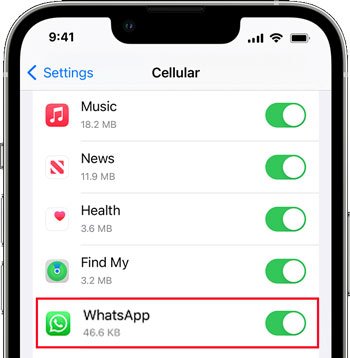 Maybe you need: When WhatsApp fails to download media files on your Android device, you can use these flexible methods to fix it.
Method 2: Set the Dates and Times of Your Device Correctly
Incorrect date and time on your phone can be the cause of photos on WhatsApp not downloading problem. Set your device to detect the time and dates automatically. There are some chances of inaccuracy if you manually set the dates and times of your device. Wrong times and dates make WhatsApp fail to work properly since the WhatsApp server is time sensitive.
Follow the below steps to set your phone's time and dates accurately:
Step 1: Launch the "Settings" application on your phone.
Step 2: Scroll down and tap on the "General" > "Date & Time" option.
Step 3: Turn on the automatic time zone by sliding the sidebar to the right.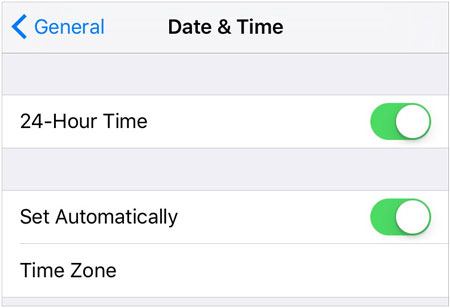 You might need: Want to recover your WhatsApp photos from your Android device? Please refer to this post.
Method 3: Free Up Storage Space
Is WhatsApp unable to download images or videos on your iPhone? Please check if the phone has enough internal storage space. Ensure the internal storage is enough to store the media files you want to download. If there is enough space, then WhatsApp can download media files.
Check your iPhone storage when WhatsAll fails to download media files:
Step 1: Launch the "Setting" application, and go to "General".
Step 2: Scroll down and tap on the "iPhone Storage" option.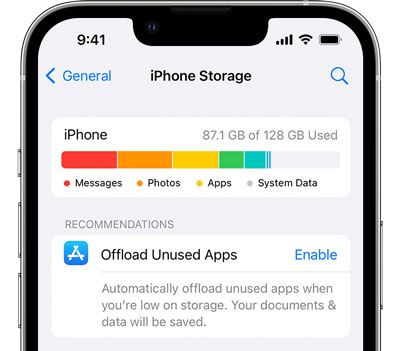 If you have run out of storage space, please delete those unwanted files and apps from your iPhone, and back up your important but less frequently used files to iCloud. Then you will release some memory.
Learn more: WhatsApp Backup Extractor: Top 6 Options to Extract WhatsApp Easily
Method 4: Update Your WhatsApp
How do I fix WhatsApp media not downloading? One of the most useful ways is to update the outdated WhatsApp app to the latest. It will solve most WhatsApp problems.
Update your WhatsApp application to fix WhatsApp download not working:
Step 1: Launch App Store on your iOS device, and search for "WhatsApp" on the search bar.
Step 2: Tap the "UPDATE" button next to the WhatsApp app. After that, run WhatsApp to check if it can download media files.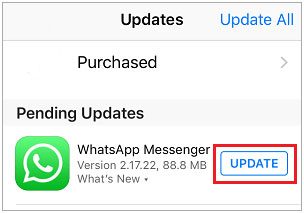 By the way, if you are an Android user and find that WhatsApp download failed on Android 11, you can also update your WhatsApp app to solve the problem.
Method 5: Grant WhatsApp Media/Storage Permission
This is another possible cause of the WhatsApp media not downloading problem. You should check this storage related issue to ensure that you have permitted the WhatsApp application to access your phone's storage. Follow the steps described below to allow WhatsApp to access your iPhone or Android phone.
On your iOS device:
Step 1: Launch the "Settings" app, and choose the "Privacy" option.
Step 2: Select the WhatsApp application from the list.
Step 3: Select "All Photos" from the list, and the WhatsApp application can access photos on your iOS devices.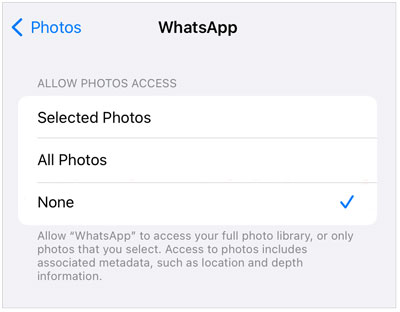 On your Android device:
Step 1: Launch the "Settings" application, and tap on the "Apps" button.
Step 2: Scroll down and tap on "Manage apps", and then select the "WhatsApp" and "App permission" buttons.
Step 3: Tap on the "Storage" button and click on the "Allow" option to allow WhatsApp to access your device's storage.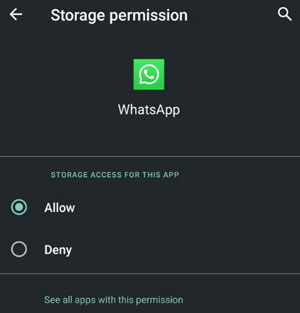 Method 6: Force WhatsApp to Close
In many circumstances, forcing WhatsApp to close is one way of eliminating some snags that cause the application to malfunction. Force closing the application helps close all the processes running in the background, including the media downloading process. Follow the below steps to force close WhatsApp:
On an iOS device:
Step 1: Double-click your phone's "Home" button for iPhone 8 and earlier.
Step 2: Swipe the screen of the device up from the bottom, and release the finger after seeing the application's preview cards on your phone screen.
Step 3: Swipe the WhatsApp preview to close it forcefully. Then launch your WhatsApp application again to check if you can download media files.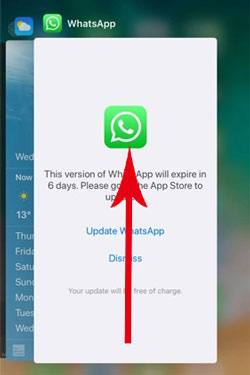 On an Android device:
Step 1: Launch your "Settings" application, and tap on the "Apps" button.
Step 2: Click on the "Manage app" button and select "WhatsApp" from the installed applications list.
Step 3: Tap the "Force stop" button to stop it from working. To confirm the action, click on the "OK" confirmation prompt.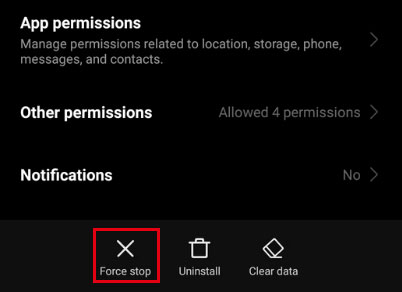 Read also: Where Are WhatsApp Messages Stored on Different Devices? [Latest Guide]
Bonus Tip: Use WhatsApp Transfer to Move WhatsApp Media Data
Whatsapp Transfer is a powerful tool for easily transferring WhatsApp history. Thus, you can use it to transfer all media data and chat history from WhatsApp to your computer for backup. Also, you can restore your WhatsApp backup data with ease. You can even transfer WhatsApp data between iPhone and Android.
What's more, this software not only supports WhatsApp but also transfers WeChat, Kik, LINE, and Viber from an iPhone to a PC. It can save all the media files from your social app to your computer with original quality.
Download the WhatsApp Transfer software.
Transfer WhatsApp media data to a computer with this software:
Step 1. Download the Software
Begin by downloading and installing the WhatsApp Transfer program on your computer. After that, launch the application and choose the "WhatsApp Transfer" option from the available list.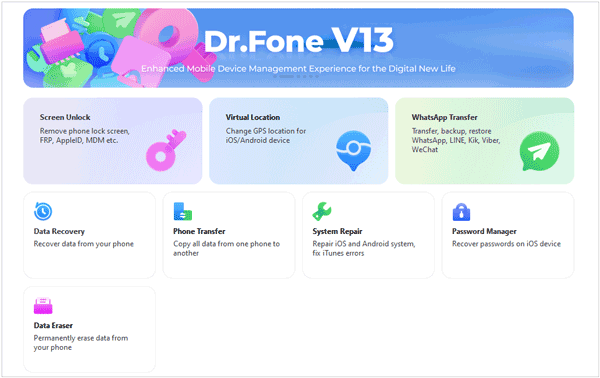 Step 2. Connect Your Phone to the Computer
Use a USB cable to connect your Android phone or iPhone to the computer, and the program will detect the device automatically.
Step 3. Back Up WhatsApp Files to the Computer
Choose the "Backup WhatsApp messages" option on the interface to start the backup. Then all your WhatsApp chats and media files will be stored on your computer. And you can view the data directly.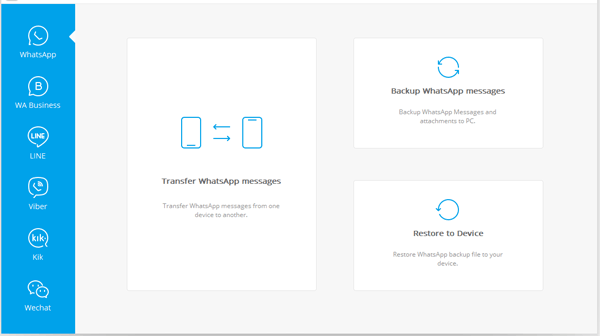 Conclusion
By following the above steps, you can fix the problem of downloading WhatsApp media files on your Android, iOS, and Windows Phone devices. If you follow each step carefully, you can fix problems that prevent it from downloading media files. You can also use WhatsApp Transfer to transfer all your chats from one device to another. This software can save all kinds of media files from WhatsApp.
Related Articles
Export WhatsApp Chat to PDF via 4 Effective and Reliable Methods
WhatsApp Backup Stuck on Your Android or iOS Device? Safe and Effective Fixes
How to Retrieve Deleted Kik Messages on Android without Trouble
How to Back Up LINE Chat on iOS and Android Devices (4 Efficient Ways)
How to Send Large Videos on Android in Hassle-free Ways [Must-read Guide]
How to Recover Deleted Videos from Mi Phone | 5 Secure and Effective Solutions