Summary
Nowadays, smartphones are becoming more and more popular. Although there is some chat software built in mobiles, Texts are still very important media to communicate info in our daily life. For instance, you need to enter the verification code within the specified time when you sign up for a vital online education course. Additionally, you may need to use text messages as some kind of evidence to print after exporting them. In these cases, You will probably want to know how to recover deleted text messages on Android without PC, if you wrongly delete SMS in your Android due to some inadvertent operations such as cleaning the memory of your handset.
If that's the problem, focus on this passage to learn solutions to retrieve deleted text messages from Android with or without computer please.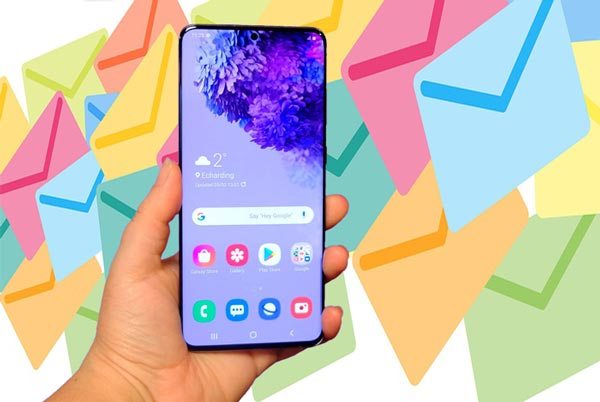 Part 1: FAQs before You Recover Deleted Text Messages from Android without PC
After Android texts are deleted by mistake, you may repeatedly switch on and off your Android phone, searching for methods from your mobile browser, or even wait for a miracle to happen. From a scientific point of view, this operation is inappropriate. So, in addition to trying to recover those deleted messages, what other issues need to be considered? Well, here are the FAQs for you.
Q1. Is it possible to retrieve deleted text messages from my Android phone?
After your messages are deleted, they are not eliminated immediately, but labeled as useless data by the phone system and stored in a certain location in the memory of your Android. Although they cannot be viewed, they can still be recovered.
Q2. What should I do before recovering the lost texts?
First, it is recommended that you don't panic. You'd better not to perform any operation on the mobile (do not operate the phone settings or cellular data, etc.) to avoid writing data to the memory, so as not to cover these messages. If possible, turn off your phone, and then find reliable restoration software for texts recovery.
Q3. How can I choose recovery software to retrieve deleted texts successfully?
There is such software to choose from. For example, some can run directly on the phone, and some need to connect the mobile to the PC for operation. To improve the odds of success, suggest you find an app for recovery as soon as possible. In terms of security, convenience, the following will provide you with some references.
See more: Do you know how to cope with the situation of WhatsApp backup stuck? Anyway, you can click the link to learn some useful solutions.
Part 2: How to Recover Deleted Text Messages from Android without PC
Many people may say: what's the difference between recovering deleted text messages from Android without PC or with PC? As far as I know, the former may be easier to run on the phone surface, but it may increase the running load of the memory of your phone and expose your Android files to others. And the latter is not necessary to install software directly on your handset, which probably runs offline on PC, so as not to disclose the privacy of your computer or mobile phone. Generally speaking, the benefits of recovering text messages with PC may be even greater.
2.1 How to Retrieve Deleted Texts on Android without Computer - Google Drive
For many Android users, Google Drive may be a familiar service. The free memory space of this service has been increased from 5G to 15G. It is similar to Samsung cloud indeed. When using this kind of product, you need to back up the mobile phone files first, including text messages, and then you can restore them after the texts are deleted. Of course, you can also restore the deleted photos or videos and other data from Google Trash (recoverable within 60 days).
Let's see how to how to retrieve deleted texts on Android without computer or root:
1. Unlock your Android handset and go to Settings > Backup & Reset. Next, tap Factory Data Reset to empty your phone files. Afterwards, the Android will reboot.
2. After that, enter in Google Account with your Gmail username and password to set your phone. You will now have the option to recover the deleted files from the latest backup.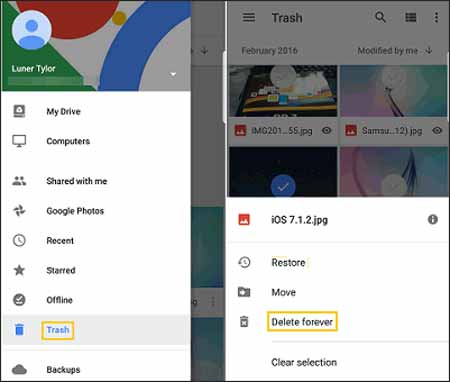 Note: This method only applies to the data that have been backed up to Google Drive before. If you do not have a backup or are unwilling to restore the factory settings, please take the following means.
2.2 How to Recover Deleted Texts on Android without a Computer - GT Recovery
Being able to help you recover and undelete texts, GT Recovery is another practical choice for you. In addition to supporting recovery of SMS, photos, contacts, texts and passwords deleted by mistake, it can also retrieve the data deleted on SD card. After the mobile downloads and opens it, it will automatically scan your phone data like text messages, and then retrieve them. Moreover, it has a Windows version aside from Android one, but both of them are installed requiring several permissions, and could be buggy sporadically.
Now, Take Samsung phone, for example, to get how to recover deleted text messages on Samsung without a computer:
1. Download, install and open GT Recovery program on your Samsung and select Recover SMS tab.
2. Click Start new scan to detect your deleted texts. After that, please choose your needed text messages and press Recover selected SMS to recover deleted messages on Samsung without computer.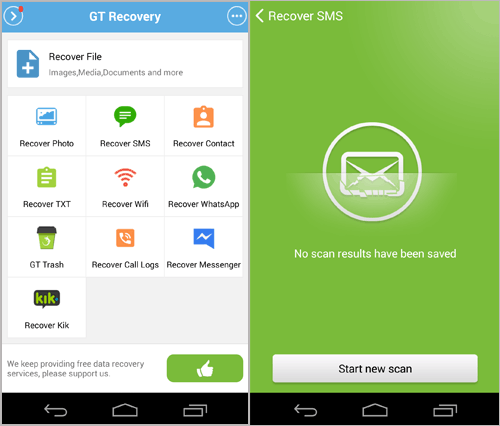 Tips: Want to find out your recovered texts? please click View the Result to check them on your Samsung mobile.
Besides, if you want to cast your Android screen to the PC, you can take a look at this article.
2.3 How Can I Retrieve Deleted Text Messages from My Android without a Computer - SMS Backup & Restore
As a program that can back up and restore text messages and call records of mobile phones (Android 5.0 or above), SMS Backup & Restore supports the selection of regularly scheduled time for automatic backup of files, as well as the viewing and extraction of local and cloud backups. It can be used to backup files as SMS, MMS and call records in XML format. Those data can be created on SD card. Besides, this app can also transfer data directly between two Android phones via WiFi.
Here, take Samsung phone as an example again, and follow me to learn how to retrieve deleted texts on Samsung without computer:
1. Download, install and launch SMS Backup & Restore on your Samsung mobile. Then find the Backup icon and hit it from the main interface.
2. Select Text Messages as prompted and then select a location - Local Backup only or Local Backup and Upload for backup. (choose Upload to Google Drive, or Upload to Email, assuming that you want to upload them.
3. Touch BACK UP to sync your Samsung messages. After that, to recover your deleted texts, please tap Restore from the main interface and select your messages to press Restore again to recover deleted texts on Android without a computer.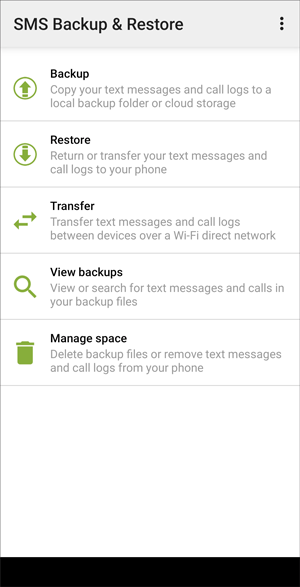 See also:
Want to know more about how to recover deleted messages from Android phone? Let's see these 4 useful methods.
Here is a full guide on Recuva software for Android, and you can get effective recuva alternatives.
Part 3: How to Recover Deleted Text Messages on Android with PC - Samsung Data Recovery
As we said in Part 2, to some extent, it is safer to recover text messages with a computer, because it only needs to run on PC instead of being installed your Android gadget, yet some apps may need to run online, but the software described below can run offline on PC, so as to ensure the safety of your mobile phone and your computer as well. It is Samsung Data Recovery, which is easy to use, green and efficient. So it's trusted by many Android users.
More importantly, it can recover deleted text messages from Android phone without backup. So what are its characteristics?
Here's why I recommend Samsung Data Recovery:
- Do well in working with nearly all Android phones with the latest models, such as Samsung Galaxy S11/S11+/S10/S10+, Huawei P40/P40 Pro/P40 Pro Plus, Moto G8/G7/G6/G5, LG G8/G7/G6+/Q8/Q7/Q7+, Sony Xperia XZ2Compact/XZ2/XA2, etc.
- Recover deleted call logs, contacts, photos, documents as well as text messages from Android phone.
- Restore SD card data like videos, photos, music, and documents.
- Preview the specific of deleted data and the existing ones before restoration.
- Backup files from Android to PC in case that the data are lost.
Give it a download and try it right now?
After you download it, here's how to recover deleted text messages on Android without a computer:
1. Install and start it and plug your Android into PC via a USB cord. Then switch on USB debugging on your phone when prompted. Follow the prompts to tap OK or Allow to get permission for the virtual connection.
2. All the file categories will be on the window. Now, tap Messages and click the Next to scan out all your deleted texts.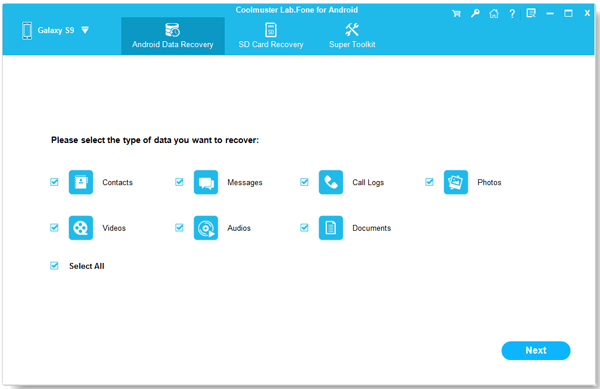 3. Choose the deleted text messages that you need to retrieve them on Android. After that, tap Recover to move them to PC.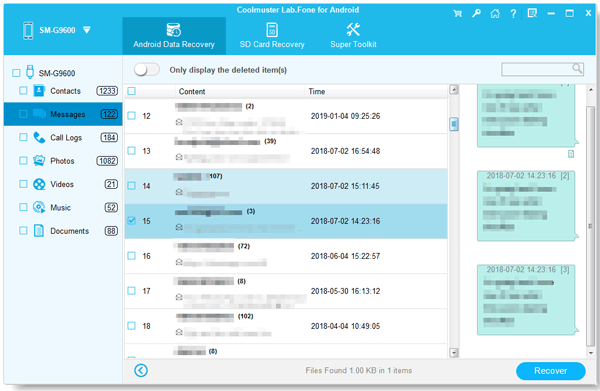 Part 4: Tips to Avoid Losing Text Messages from Android? (Significant)
What's the first thing you can think of after the text recovery? Well, as a wise man, you should not refuse a good backup software, which is Samsung Messages Backup. It can not only give you a hand when you are in need of help someday, but also ensure the security of your mobile files. On top of that, it can also help you develop a good habit of backing up and managing Android data. In addition to data backup, this software can also transfer messages, contacts, call logs and other data between your computer and Android phone. What's more, some other operations can be conducted. Why do I say that? download it as it worth a shot.
This is how to backup Android data to PC with Samsung Data Recovery:
1. Download, install and run it your computer. Then connect your Android handset to PC via a USB cable. Next, enable USB debugging on your mobile to authorize the connection.
2. Click Super Toolkit tab at the top of the menu. Then the window will show you Backup and Restore sections.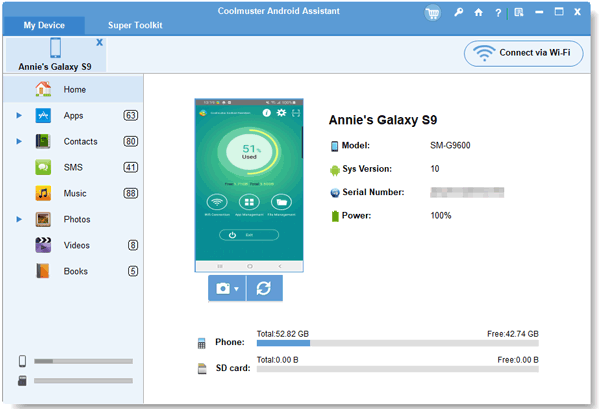 3 Tap Backup to choose Messages or other file types you need. Then press Browse to choose a Location to house your backups on PC. Next, hit Back Up to backup your Android data to PC.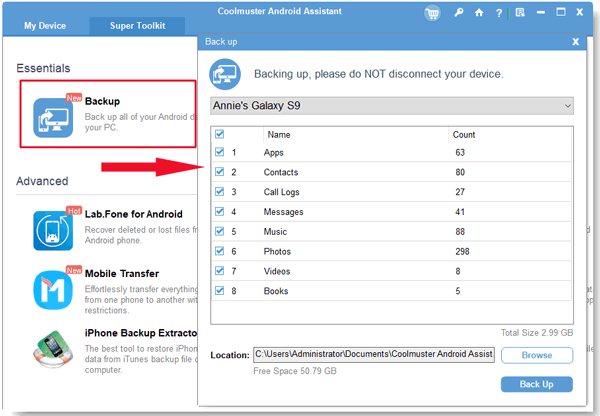 Tips: Click Restore below Super Toolkit to choose a backup type like Messages and tap Restore again to retrieve deleted texts on Android (you can choose to tick "Clear data before restoring" option as required).
Closing Remarks
That all for how to recover deleted text messages on Android without PC. In general, there are 4 methods and some tips of doing that without or with computer. The advantages and disadvantages with PC or without have been mentioned in this post. Thus, Samsung Data Recovery and Samsung Messages Backup can be your all-right Android manager.
Definitely, you can choose appropriate solutions to recover your deleted text messages on your Android in accordance with your needs. At last, you are welcome to let us know if there are other problems in the use process. Your inadvertent sharing may be of great help for other Android users.
Related Articles
How to Retrieve Deleted Text Messages from LG Cell Phone in 2021 [Solved]
Best Ways to Recover Deleted Contacts from Android Phone in 2021
[Incredibly Easy] Recover Deleted Photos on Android with 3 Effective Methods
SIM Card Data Recovery: Recover SIM Card Data on Android (3 Tips)
How to Backup Android Phone before Factory Reset without Losing Everything
Android to Android Transfer - How to Transfer Data from Android to Android?