Summary
With Android phones offering a baseline storage capacity of 128GB, some people find this insufficient for their needs. For those who require additional space, there are plenty of options to free up and manage stored data on your phone. One of the options is to learn about how to transfer files from Android to PC. In this way, you can not only move your Android files to release more storage but also back up your important files.
However, with many methods available, it can be difficult to determine which one is best for you. To make this as effortless as possible, we have compiled 6 straightforward methods that allow you to copy files from Android to PC. Let's go right ahead.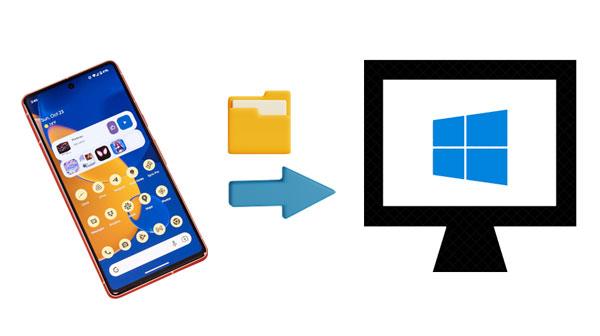 Part 1: How to Transfer Files from Android to PC via Android Data Assistant - Recommended
This data assistant - Samsung Messages Backup, is an essential tool for data transfer from a phone to a computer. You can quickly and transfer the data that you'd like to move from an Android device to your PC. With its convenience and simplicity, there's no job too big for it. The software can handle large numbers of files without any difficulty!
What's more, it lets you connect your Android phone or tablet to a computer via USB or Wi-Fi. Thus, if there is no workable cable around you, you can transfer your files wirelessly. Besides, the software can export your Android contacts, photos, videos, apps, text messages, music, and more to a computer without losing quality.
Main features of this phone to PC data transfer tool:
- Fast connect Android to PC via Wi-Fi and USB.
- Copy Android files to PC seamlessly.
- Allow you to preview your files on the interface.
- Back up and restore Android data in 1 click.
- Help you manage your Android files on your computer with practical features, like editing, moving, deleting, etc.
Download this file transfer tool on your computer.
A step-by-step guide on how to transfer data from Android to PC:
Step 1: Install the program on a PC and launch it. Then choose "Android Assistant" on the primary interface.
Step 2: Connect your Android phone to the PC using a USB cable and follow the on-screen prompts to make the device recognized by the software. After connecting successfully, you'll see your device displayed on the screen, with all files on the left sidebar.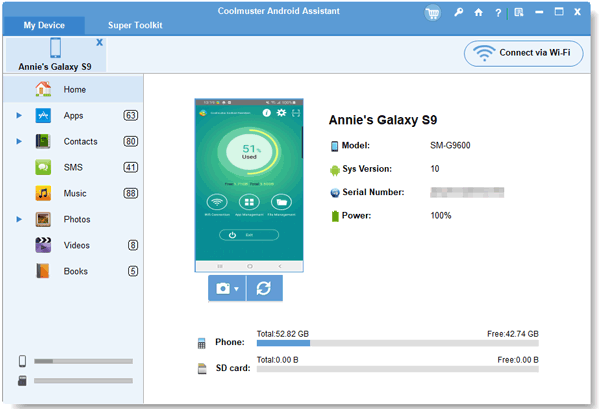 Step 3: Browse and select the files to be shared to the PC and hit the "Export" button to save them to the PC.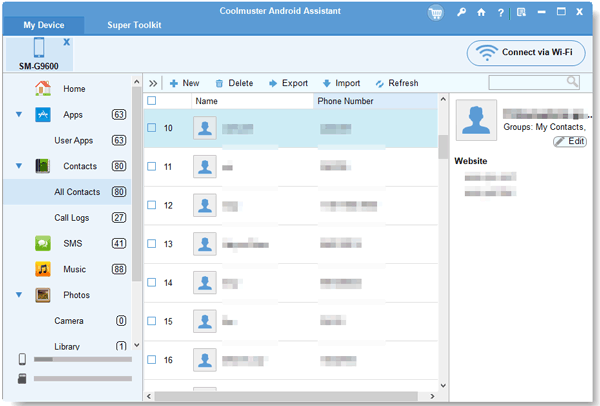 Bonus: Best Transfer - Transfer Files from Android to PC Using USB Cable in 6 Ways
Part 2: How to Transfer Data from Android to PC Using USB Cable
Using a USB cable is perhaps the easiest method of moving files from an Android to PC. All you need is to connect your Android device to the PC via USB cable and set up the connection. Once that is done, you can easily transfer files ranging from photos and videos to documents and music. Cool right? Just plug in the cable and start transferring!
Since most laptops have USB ports, moving your files will be very convenient. However, the transfer speed depends on cable type and the storage available on the computer and Android. For instance, the transfer speed tends to be slow when the phone is using eMMC storage and faster when using UFS.
Here is how to transfer files to a PC via a data cable:
Step 1: Unlock the device, and connect it to the PC with a USB cable.
Step 2: The device will recognize the connection and display the notification on the screen. Next, click on the notification to show the options. Choose the "MTP" or "File Transfer" option.
Step 3: Now, the device will show in the computer's File Explorer. Click on it to see the files available on the phone. Open one folder at a time as you check the files you want to transfer. Press the Ctrl key as you select all files. Once done, copy and paste them into a folder on your PC.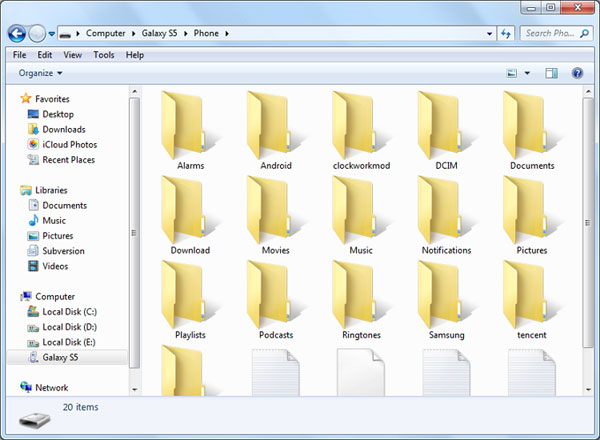 Read also: Can you back up your Android messages to a computer? Yes, of course, you can. Let's take a look at this helpful guide.
Part 3: How to Transfer Files from Phone to Computer via Bluetooth File Transfer
Bluetooth file transfer for Android and PC is a useful method if you don't have a good USB cable. However, the data transfer speed can be incredibly sluggish; therefore, it's best suited when transferring smaller files. If you have long videos or a large collection of photos you want to transfer, the process might take too long and fail to complete.
To start the process, you must first enable Bluetooth on your PC and Android.
To enable Bluetooth on a PC, do this:
Press the Win + I keys on the computer and go to Settings.
Click on the "Devices" option and proceed to "Bluetooth and other devices".
Turn Bluetooth ON, and tap "Add Bluetooth or other devices" > "Bluetooth" to scan for compatible devices.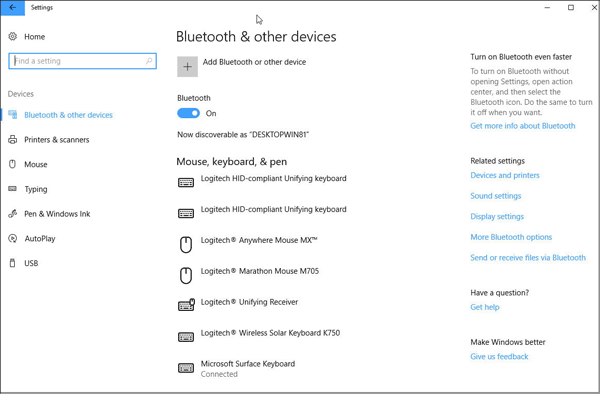 Now enable Bluetooth on an Android phone:
Swipe down on Android to open the notification panel.
Long press on the Bluetooth icon.
On the next screen, choose the name of your PC on the "Available devices" and click on it.
Confirm pairing when asked by pressing "Yes" on the PC and "Pair" on the phone.
When done with pairing, you are ready to send files from the Android device to the PC:
Step 1: With the connection established, you may look for the Bluetooth icon on your PC's "System Tray" located at the lower right corner. Right-click on the icon, and choose "Receive File" > "Next" to start the data transfer.
Step 2:
Open "
File Manager
" or "
Gallery
" on your Android phone to choose the files to transfer. Hit the "
Share
" button, and pick "
Bluetooth
" as a transfer mode. Then find your PC from within the list of available devices.
Step 3: After the data is transferred, you will be notified that it has been completed and asked to select where to save it. Simply navigate your way to the desired destination and press "Finish".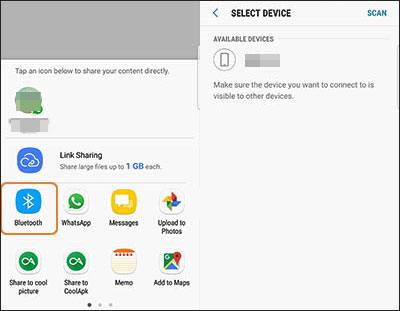 Part 4: How to Copy Files from Android to PC Using Google Drive
For easy file sharing, you can consider using cloud storage. Normally, you get 15GB of free Google Drive space when setting up a Google account. Google Drive helps you store your files securely and make them accessible in the cloud, no matter what device you are using.
Plus, you can transfer multiple files quickly and with ease through Google Drive. The best thing is that it's readily available on Android devices.
Below are steps on how to do phone-to-computer transfer via Google Drive:
Step 1: Install and open the Google Drive application on your Android smartphone.
Step 2: Log in with your account, and tap the "+" button in the bottom right corner and hit "Upload".
Step 3: Choose those files you wish to transfer and wait as they are uploaded. Large files are likely to take more time.
Step 4: Now go to "drive.google.com" on the PC and ensure you log into the Google account you used on the Android. You'll find the uploaded files ready to be downloaded.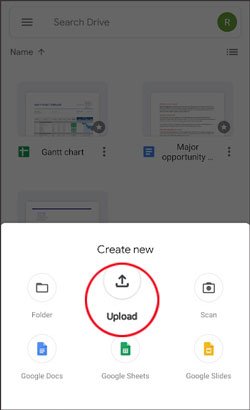 Part 5: How to Perform Data Transfer from Phone to Computer with AirDroid
If you are a person who prefers wireless transfers, you shouldn't miss AirDroid transfer. AirDroid is an absolutely handy app for Android users. You can get started by creating an account or simply logging in using Google or Facebook. With its notification and tethering tools, you will have a seamless time while doing phone to pc data transfer.
Here is how to go ahead with Android file transfer to PC using AirDroid:
Step 1: Download the AirDroid app on your PC and Android phone, and configure it for data sharing.
Step 2: Open the AirDroid mobile application of the phone and grant permissions by clicking on "Continue" and turning on "Allow access for managing files".
Step 3: Click "OK" and view various "Security and Remote Features". Then enable data transfer to the PC by opening the "Security and Remote Features". Then check "Files" to ensure it's "On".
Step 4: Now start file transfer but ensure both devices are connected to the same network. Head to the "Transfer" tab in AirDroid and choose the name of your PC.
Step 5: Click on the paperclip button to view files to transfer. Select the files and click "Send", and then you will receive the files on your computer.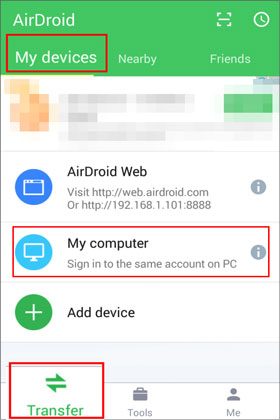 Part 6: How to Transfer Files from Phone to PC via Snapdrop
Snapdrop is an easy-to-use solution for transferring data between Android and PC without cables or wires. You are only required to open the Snapdrop app on your phone, then open a web browser on your computer, connect the devices on the same Wi-Fi, and start the transfer. It's that simple - no USB cords, Bluetooth connections, or additional devices required. Whether you need to transfer photos, videos, music files, or documents - Snapdrop lets you do it quickly and easily.
Here is how to do file transfer to PC with Snapdrop:
Step 1: Install the Snapdrop app on the phone, and head to the Snapdrop website on the PC.
Step 2: Connect the phone and PC to the same Wi-Fi. Open the application on Android, and you'll see your desktop showing.
Step 3: Click on the "Desktop" icon and choose those files to be transferred. The app will now easily transfer data from Android to PC.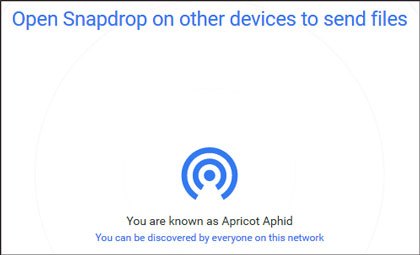 Recap
Transferring photos from Android to PC is a piece of cake with the effective workarounds mentioned above. But if you're seeking something more advanced that can quickly transfer any type of file to a PC, then Samsung Messages Backup is just what you need! The tool will give you an unprecedented experience since it can transfer countless files at once. Why wait any longer? Install this remarkable software on your computer and start a hassle-free transfer.
Related Articles
Music Transfer - How to Transfer Music from Android to Computer in 2023? [3 Easy Ways]
How to Move Files to SD Card on Android Rapidly (Latest Tutorial)
Transfer Video from Android to Android in 7 Fast Ways [Original Quality]
Handily Back Up Android Tablet with 5 Reliable Approaches [Detailed Guide]
Transfer Files from Android to USB Flash Drive with or without OTG
How to Transfer Photos from Mac to Android in 5 Expeditious Ways