Summary
Whether you want to back up your files or free up more memory from your Android phone, you can transfer files from Android to a USB flash drive. Using a USB stick effectively saves and transfers data, such as 4K videos and HD pictures, and you can free up your Android internal storage.
Besides, with a USB flash drive, you can share files with your colleagues and friends with a network. Anyway, there are indeed many advantages to using a USB stick. But now, you need to move your Android files to your thumb drive first.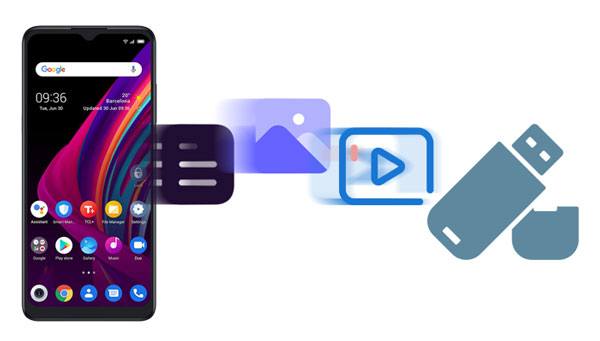 Part 1: Transfer Files from Android to USB Flash Drive with OTG
Some USB flash drives can be connected to a computer but not a mobile phone, so it is inconvenient to import your Android files to the drive. Nevertheless, you can ask an OTG adapter for help. This gadget can help you plug your USB stick into your phone for connection. Once connected, you can access the drive on your mobile device, and move the files you want from Android to the flash drive.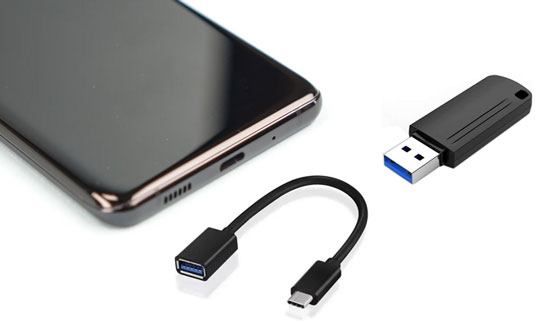 Bonus: Searching for a tool to move data from Android to an iOS device? You can check this list.
Part 2: Transfer Files from Android to USB Flash Drive without OTG
What if you don't have an OTG adapter? It's not a big deal. You can use the following methods to move your photos, videos, and other files from Android to your USB stick.
2.1 How to Transfer Files from Phone to USB via Computer Manually
To transfer files from a phone to a USB drive, you can use your computer as a transit point. In this way, what you need is a USB cable for your Android device, and you can start the transfer.
Step 1: Plug your USB flash drive into your computer, and connect your Android device to the computer via a data cable.
Step 2: Choose the "Transfer files" or "MPT" option on Android, and access your USB drive on the computer desktop.
Step 3: Open your Android folder on the computer, and drag and drop your desired files from your Android phone to the USB stick. Please patiently wait for the transmission.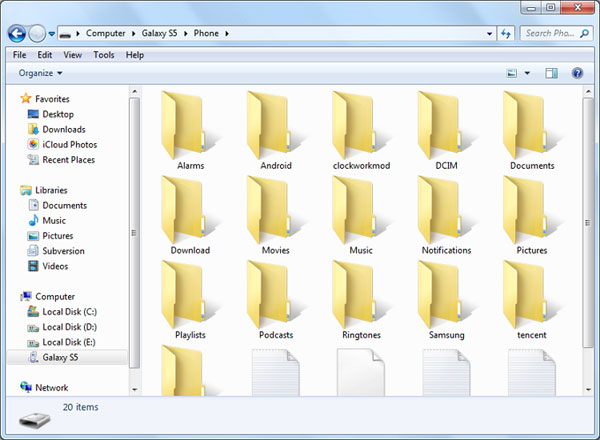 See also: With this guide, you can seamlessly transfer photos from an Android phone to a USB flash drive.
2.2 How to Transfer Files from Android to USB Stick Directly
If your USB stick has a Type-C port, you can directly insert it into your Android phone to make a connection. But please check if your phone port is Type-C in advance. By the way, there are kinds of USB sticks on the market; please pay more attention to their port types, transferring speed, etc.
Step 1: Plug your USB stick into your Android phone, and your phone will detect it quickly.
Step 2: Open the File Manager, and copy those files you want.
Step 3: Go to the USB drive, and paste your files to it. After that, you will complete the transfer.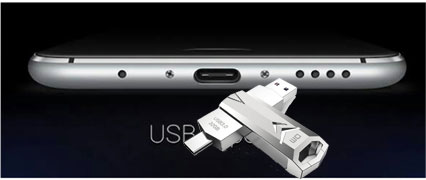 Learn more: You can also easily copy the files from your SD card to a PC in these 5 ways. Let's take a look.
2.3 How to Move Files to USB Storage from Android via Android File Manager (Most Files)
This Android file manager - Samsung Messages Backup,can also help you copy files from Android to the USB storage space. It supports not only media files but also contacts, call logs, SMS, and applications. Thus, you can transfer more file types with this program.
What's more, you can preview all files on the interface, which is handy to check the files you like before the transfer. Besides, its one-click backup feature can back up all files from your Android device to your USB stick.
Key features of this file manager program:
- Copy your Android files to a USB flash drive without losing quality.
- Transfer almost all kinds of data from an Android phone or tablet to a computer or an external USB stick, such as contacts, text messages, photos, videos, music, etc.
- Allow you to manage your contacts and other files on your computer with multiple functions, like editing, deleting, exporting, and more.
- Enable you to receive and send SMS on your computer, so you won't miss your important messages.
- Directly take screenshots of your Android mobile device and save them to your computer.
- Compatible with most Android devices running Android OS 4.0 and upper, and no restrictions on phone brands.
Download this software below.
Use this program to effortlessly transfer videos and other files from Android to the flash drive:
Step 1: After downloading its package, please double-click it to install the program on your computer. Then launch it and choose the "Android Assistant" tab.
Step 2: Establish the connection between your Android phone and your computer, and plug the USB drive into the computer. If prompted, please allow the USB debugging on Android. Then the software will fast recognize your device.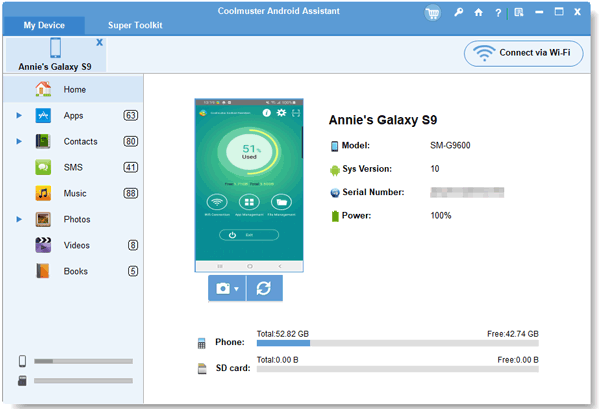 Step 3: Choose a category from the left panel, and select the files you want to move. Then click the "Export" icon, and select your USB flash drive as the destination. The software will copy the files to the thumb drive.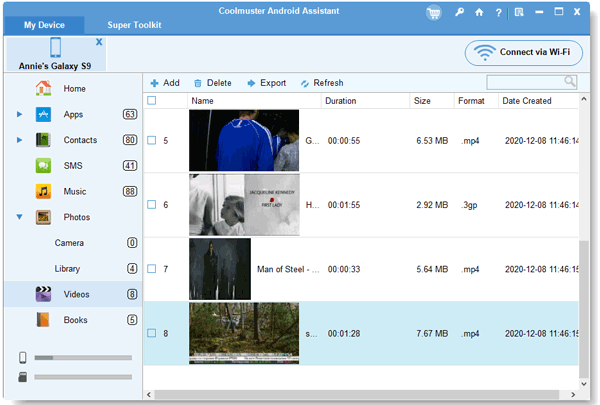 Tips: How to back up Android data to a flash drive in 1 click? There is a backup feature that you can find by clicking the "Super Toolkit" icon. Then click the "Backup" option, and pick the data types you want. Next, tap the "Browse" icon to select your USB drive, and click the "Back Up" button. The backup process will start.
Conclusion
You now have 4 approaches to transferring files from Android to your USB flash drive, and they are all easy to use. If you want to transfer more file types and manage your Android files handily on your computer, you can select the file management software - Samsung Messages Backup. With it, you can transfer those files that you cannot view on your Android internal folders. Try it if you want.
Related Articles
How to Transfer Contacts from iPad to Android Smoothly | 6 Wise Methods
Control Android from PC Conveniently | 7 Powerful Tools
How to Find Android Recycle Bin and Recover Deleted Files Easily
6 Ways to Transfer Files from Android to PC via WiFi [New Guide]
How to Transfer Photos from Mac to Android in 5 Expeditious Ways
Effortlessly Transfer SIM Card Data to Computer without Data Loss