Summary
Have you bought a new Android device, and you are wondering how you can transfer videos from your old Android device to your new device? Data transfer between Android devices is easier compared to iOS. You do not undergo troubles when planning to transfer videos from Android to Android since Android is an open and free platform.
But choosing the best method of transferring data between android devices can sometimes be challenging. This article provides a detailed guide on sending videos between Android devices, containing 7 different methods. Let's go further and select a way to transfer videos.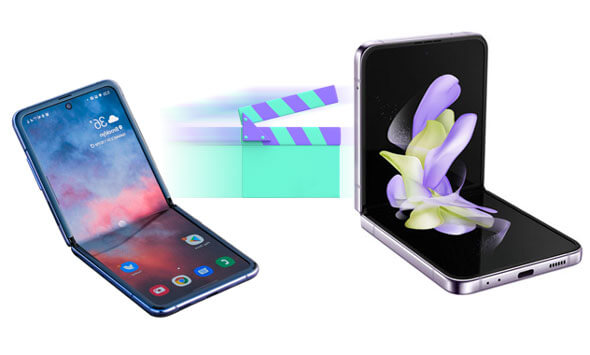 Way 1. How to Transfer Video from Android to Android Directly
Need an easier way of moving videos from one Android phone to another? A good way of doing that is by using a video transfer tool - Samsung Data Transfer. This tool is a platform for direct transfer between mobile phones. It is not only good at transferring videos but also copying music, photos, contacts, and more.
If you want to transfer your Android data to an iPhone, you can also use this software. In a nutshell, it is a comprehensive prorgram for Android and iOS devices. You can use it to move data between them without losing quality.
Key features and highlights of this video transfer software:
- Copy your videos from one Android device to another with original quality and formats.
- For Android to Android data transfer, USB and Wi-Fi connections are available.
- Enable you to transfer all data you want at once, such as images, songs, call history, SMS, etc.
- Support Android 4.0 and upper, and iOS 5.0 and higher.
Download this transfer software.
How do I transfer videos from one Android to another via this program?
Step 1. Download and Install the Program
The first step is downloading and installing this transfer tool on your computer. After that, open it and proceed by selecting "Mobile Transfer".
Step 2. Connect Your Android Devices to Computer
Now you should connect both phones to your computer using USB cables. Ensure that you enable debugging mode on both devices. Then the connection is ready.
Step 3. Copy Videos in 1 Click
- Select the "Videos" option on the middle panel, and then click on the "Start Copy" button to send the videos from one Android device to the other.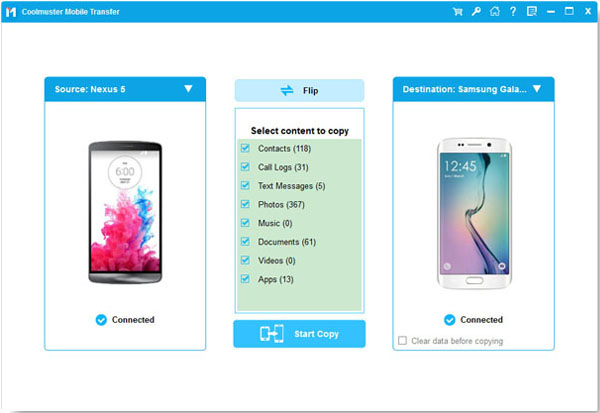 - Once finished, remove the connection safely, and check if the videos are on your receiver.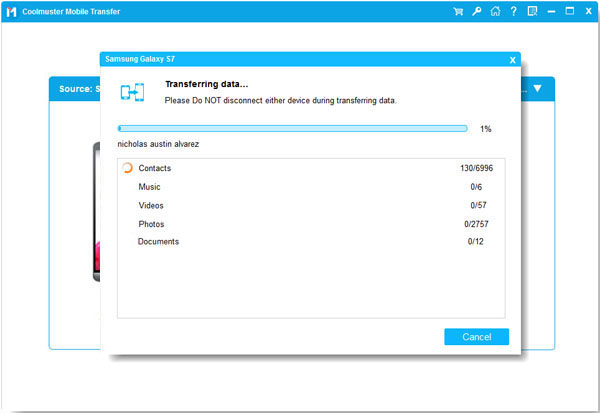 Bonus: How to Send Large Videos on Android in Hassle-free Ways [Must-read Guide]
Way 2. How to Send Videos from Android to Android Using Gmail
People are currently accustomed to using emails on their Android devices. Many Android devices have Gmail applications, making Gmail an excellent option for transferring data between Android devices. But your video file cannot exceed 50MB at a time.
Here's how to send videos between Android devices via Gmail:
Step 1. Set Up Your Gmail Account
Download and install the Gmail app on both Android gadgets. Then sign up with a Gmail account if you don't have one.
Step 2. Select Videos
On your source Android phone, click on the Gallery application or File Manager to select all the videos you need to send. Put them into a folder, and compress the folder to a ZIP file that is within 50MB. If exceeded, separate them into two or more folders.
Step 3. Share the Videos via Email
- Compose a new email with Gmail on your sender, and click the paperclip-like icon to add your video file. Then type your email address in the recipient blank, and click "Send".
- Sign in to the same Gmail account on your target Android smartphone. Then you will receive the email with your video. Download the video on the phone.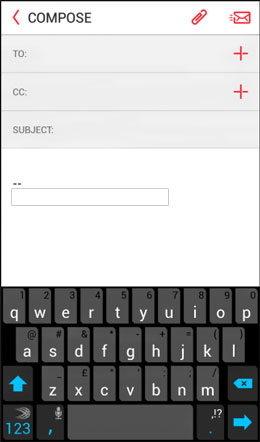 Read also: These 9 apps can help you move data from Android to iOS without trouble. Let's open it.
Way 3. How to Transfer Videos from Phone to Phone via Dropbox
Dropbox is another excellent way of transferring data between two Android devices. Many people choose to save their data on cloud services like Dropbox. You can use it to sync your videos between two phones via a stable network.
Here is how to use Dropbox to sync videos between Android phones:
Step 1. Install Dropbox
Please install Dropbox on your two Android phones, and register an account. If you have one, log in with it.
Step 2. Upload Your Video Files
Tap on the "+" icon at the bottom of your device's screen, then click on the "Upload files" button. Select all the video files you want to transfer and upload them to your Dropbox.
Step 3. Save the Videos on Another Android Phone
Sign into your Dropbox account on the targeted device. After that, you will be able to see all the videos that you uploaded to your Dropbox. Download the videos on this device.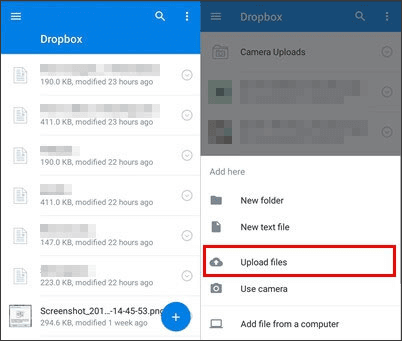 NB: It is also advisable to note that Dropbox provides 2GB of free storage per account. In addition, it relies on the network throughout the process.
Way 4. How to Transfer Videos from One Phone to Another Using Google Backup
Google backup is one of the great ways of effortlessly transferring videos from one Android device to the other. You needn't download an app on your device because you can complete it via the built-in settings app.
Synchronize videos between Android devices using Google backup:
Step 1: Add Your Google Account to Your Android Phone
Please open the Settings app on your source device, and click "System" > "Backup" > "Google" to import your Google account.
Step 2. Back Up Videos
Navigate to the "Accounts and backup" > "Backup and restore" button. Then enable the "Back up my data" icon, and click your account to make sure the "Videos" option is turned on. Besides, you can switch off other data types.
Step 3. Restore the Videos to Another Android Phone
Add the same account to your target device, and click the account. Then tap the "More" menu, and click "Sync now" to import the backup videos to this phone.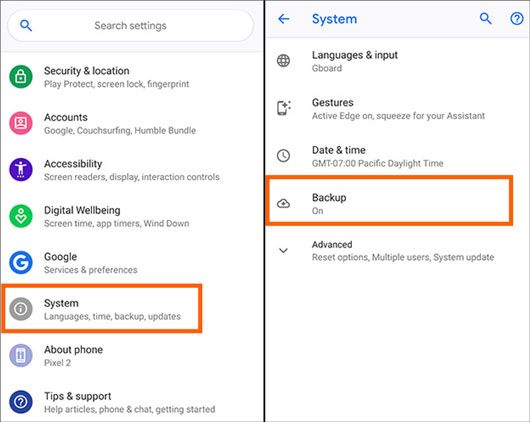 Tips: You can also restore the Google backup videos when setting up a new Android device.
Way 5. How to Share Videos from One Android Phone to Another via SHAREit
SHAREit is an android application capable of sharing video files between android devices. SHAREit enables you to share big files more securely and faster. This application uses a Wi-Fi connection.
Below are steps to transfer video files from one Android device to the other via SHAREit:
Step 1: Download and then install the application on both devices.
Step 2: Tap on the "Send" button on the sending Android device. After that, you will be prompted to select the videos. Select them and click on the "Next" button.
Step 3: Click the "Receive" button on your receiving device. Once your device shows up on the search screen, click it, and the app will send the selected videos to the receiving phone after connecting successfully.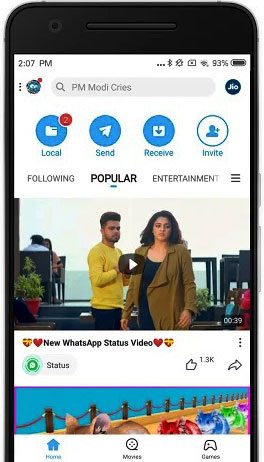 See more: Wonder how to delete contacts fast on your Android phone? Read this guide, and then you will know how to cope with it.
Way 6. How to Send Videos Between Android Devices via WhatsApp
Another great way of transferring video files between Android phones is through the WhatsApp application. WhatsApp was mainly created for messaging, but it became an excellent file transfer tool with time.
Use WhatsApp to send videos between Android devices:
Step 1: Open the WhatsApp app on Android devices and select the other Android device from the contact list.
Step 2: Tap the attachment icon and select all the locations of your videos, and select them.
Step 3: Click the "Send" button to finish the process. Transferring data between Android devices is a simple and easy process.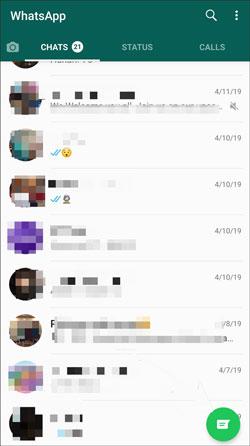 Way 7. How to Share Videos from Android to Android with Bluetooth
Bluetooth is a way of sending files between Android devices without the need to download third-party software, but it is slower than using an app. If you have sufficient time or have no network, Bluetooth is a useful option.
Follow the steps to transfer videos between Android phones using Bluetooth:
Step 1. Turn on Bluetooth on Both Devices
Please pull down your phone's screen or go to the Settings app to toggle on "Bluetooth".
Step 2. Pair the Two Android Devices
Choose your device to pair your two Android devices using a passkey. After pairing the devices, select the video files you want to transfer on the sending device and click on the "Share" > "Bluetooth" button. Then choose your target device.
Step 3. Accept the Video
Click on "Accept" to save the video on your destination phone.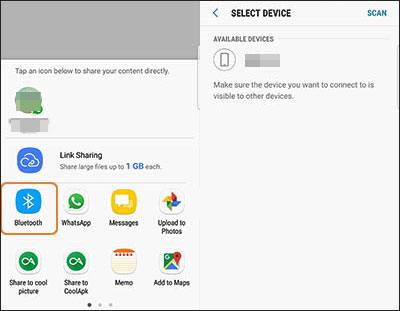 Conclusion
These are the main ways of transferring videos from one Android device to the other. If you like a one-stop transfer mode, Samsung Data Transfer is an ideal choice. It can copy your videos to another device without a hitch, and it also supports other file types, like photos, songs, apps, etc. To make the transfer fasfer and safer, this software is worth a try.
Related Articles
How to Transfer Photos from Mac to Android in 5 Expeditious Ways
How to Transfer Videos from Android to iPad without Losing Quality
Transfer Files from Android to USB Flash Drive with or without OTG
How to Remove Duplicate Songs from Android Phone [Tips and Methods]
8 Fabulous Moborobo Alternatives to Transfer and Manager Android Files
Easily Clear Temp Files on Android Devices [Step-by-step Tutorial]