Summary
When you get to know a new person, one of the first things that usually happens is exchanging contact information, but do you know how to add contacts on Android phones? Learning about adding contacts is essential for keeping your contact list up-to-date and ensuring that you always have the right person's name and number when needed. There are several effective ways of creating contacts in this article, so let us continue to read.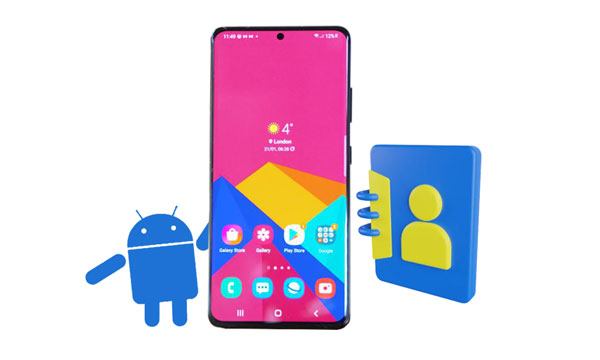 Part 1: How to Add Contacts on Android Device?
Let us discuss the five main ways how to add phone contact on your Android device:
Method 1: How Do I Add a Contact to Android Phone Using the Dial Pad
Need to jot down a phone number quickly? The speediest solution is the dial pad in your Phone app. Start by opening the Phone app, which typically appears in your Home screen's Favorites bar at the bottom of your device or can be found on All Apps.
Not only do certain smartphones provide a direct way of accessing the dial pad, but many also feature an icon representing this function in their lower-right corner. All you need to do is tap on it!
Learn how to add contacts to the Android phone using the dial pad:
Step 1: To insert the desired number, access your dial pad screen and click "Create new contact".
Step 2: By tapping on "Add to contacts", a new window will appear where you can fill in some necessary data for your number. If desired, you can add more information by selecting the "More" button. Finally, hit the "Save" button to add a contact to your Android device.
Step 3: Once you save the contact, a confirmation message will appear before redirecting you to the dial pad.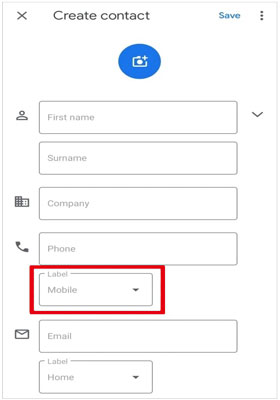 Learn more: Share Contacts on iPhone without Trouble (5 Fabulous Approaches)
Method 2: How to Add New Contact to Phone Using Call History
Utilize the call history feature in the Phone app to quickly add any person you've had a conversation with.
Here's how to add phone contacts on Android using the call history:
Step 1: To start, open your home screen and launch your "Phone" app. You will now see your call histories, such as received calls, missed calls, and calls made using your Android device.
Step 2: Press and hold the number in your list to bring up a dropdown menu. From there, select the "Add contact" option. For Huawei smartphone users, click on the small "i" icon and choose "Create New Contact".
Step 3: Enter any necessary details on the "Add to contacts" panel. Finally, remember to hit "Save".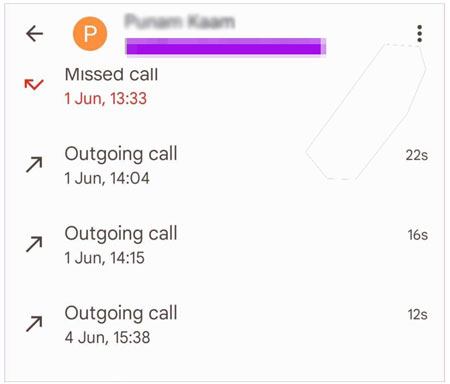 Maybe you like: Where Are Contacts Stored on Android? Find and Export Contacts Easily
Method 3: How Do I Add a Contact to My Phone from Messages
You can be able to add contacts to your Android device from messages. Here are the steps how:
Step 1: Start by accessing the "Messages" app. Once you open the next screen, you can view all messages sent and received on your device. Seek out the chat with the contact of your choice that needs to be added.
Step 2: Choose the contact that you would like to add. To select the contact, you need to touch and hold on to it and tap the "Add contact" icon.
Step 3: Tap on the "Create a new contact" button. You will be directed to a form where you can add the contact's basic information. Click the "Save" button to save your contact from the message application.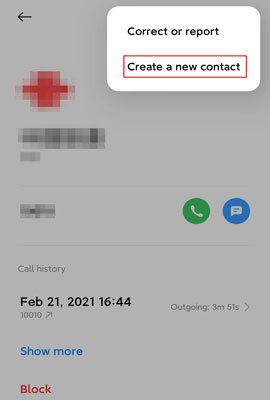 Method 4: How to Add Phone Contacts via Google Contacts
Google Contacts is the surefire way to add contacts, thanks to its seamless look across any Android device you're using. Using the Contacts application is an easy task. You must swipe up to access the Apps screen or tap the application button.
Guide on how to add a contact to your phone via Google Contacts:
Step 1: Locate the Google Contacts application on your Android device.
Step 2: Sign in with your Google account. Your Contacts application will open and display a list of all the contacts saved on the Google Account. On the lower-right corner of your Android device screen, tap the "+" button to start adding your contact.
Step 3: On the "Create contact" panel, click on the available fields and add the contact details. The arrow next to the first name represents additional information. You can get more fields by tapping on the "More" option. You can also add the "Contact photo" using the Add contact photo icon that is located at the top.
Step 4: Click on the "Save" button when you are done with inserting the required data.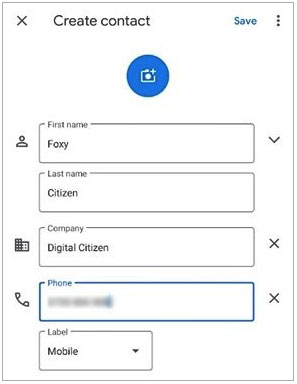 Part 2: How Do I Add Contacts to My Phone with Android Contact Manager (Professional)
Suppose you have many contacts to add or need to access the contact information from other platforms or services. In that case, it's best to use professional software for managing contacts. This Android contact manager - Samsung Messages Backup, is the perfect choice to add contacts on Android phones and tablets.
It can also help you easily transfer contacts between Android devices and computers. Besides, you can remove those useless contacts from Android at once, and edit the info of every contact on your computer. If you want to back up and restore Android phone in 1 click, this backup software can help you make it.
Useful features of this contact manager:
- Add, delete, modify, export, and import contacts on PC or Mac.
- Create groups to move your Android contacts on the computer without trouble.
- Not only transfer contacts but also move photos, music, videos, call logs, SMS, apps, and more from Android to the computer and vice versa.
- Conveniently back up all Android data to a computer.
- Restore the backup files to any Android device on the computer.
- Support most Android devices and Android OSes.
Download this software.
Here's how to add new contacts to a phone via this Android data assistant:
Step 1. Download the Android Management Software
Launch the application after installing it on your computer. Proceed by clicking on the "Android Assistant" option.
Step 2: Connect Your Android Phone to the Computer
Use a USB cable to connect your phone to the computer. Enable the USB debugging mode on your phone, and the program will recognize your mobile phone.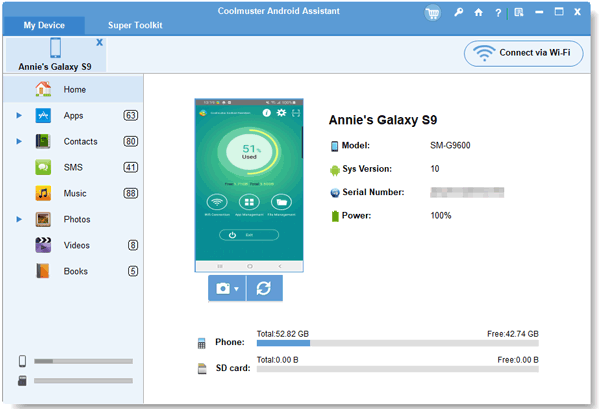 Step 3: Add Contacts to the Android Phone on the Computer
- Go to the "Contacts" tab on the left panel and tap on a small triangle. Select the "All Contacts" option to access the contact managing window.
- Click on the "New" button on the top menu to create new contacts and enter the info. Once done, save the contact, and it will appears on your phone.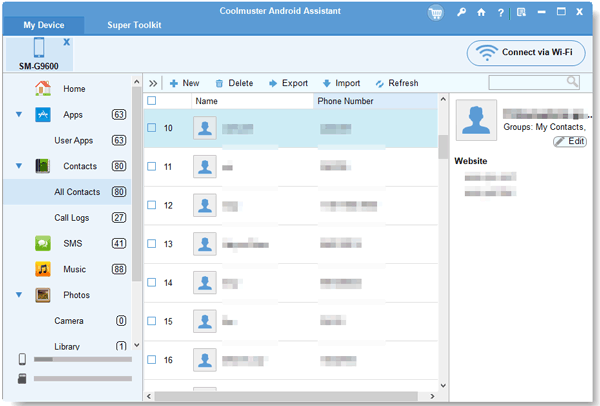 Read also: Fast Back Up and Restore Contacts on Android Phone/Tablet [4 Methods]
Part 3: FAQs of Adding Contacts to Phone
Q1: How do I add a contact to an Android phone?
You can add a contact to your Android device by launching the "Contacts" application from the app drawer, tapping on the (+) button, and entering the contact details. Alternatively, you can also use Samsung Messages Backup to add contacts to your phone with a few clicks.
Q 2: How do I edit a contact on an Android phone?
Editing an existing contact on your Android Phone is fairly simple. You can either use the native Contacts app or professional software such as Coolmuster Android Assistant to make managing contacts easier.
Conclusion
This article has answered the question on "how do I add contacts to my phone". Whether you use the native Contacts app or professional software, both options allow you to add contacts on your Android Phone. We recommend using Samsung Messages Backup if you want to add many contacts to the Android phone. Also, the software will enable you to transfer data between Android and PC easily and securely.
Related Articles
Transfer Contacts from OPPO to Samsung Efficiently [5 Proven Methods]
How to Recover Deleted WhatsApp Contacts Android in 3 Valid Ways
Transfer Contacts from iPad to iPhone with 5 Powerful Ways in 2023
How to Add Music to Google Pixel without Effort | 4 Reliable Methods
How to Recover Deleted Photos from LG Phone with 3 Professional Solutions
How to Recover Deleted PDF Files on Android | 3 Approaches and Extra Tips