Summary
While music streaming services are taking over the internet, music lovers prefer to download their favorite songs and save them locally. iTunes is still one of the great ways to save your songs. Unfortunately, it's not possible to sync Android music via iTunes. The main reason being iTunes is an Apple product, and it only works best on iOS devices.
Then, is it cumbersome to sync Android music to a computer/tablet and vice versa? Of course not, and the reality is that you easily sync your songs with multiple devices. Even though a little more effort will be needed, it is worth a shot.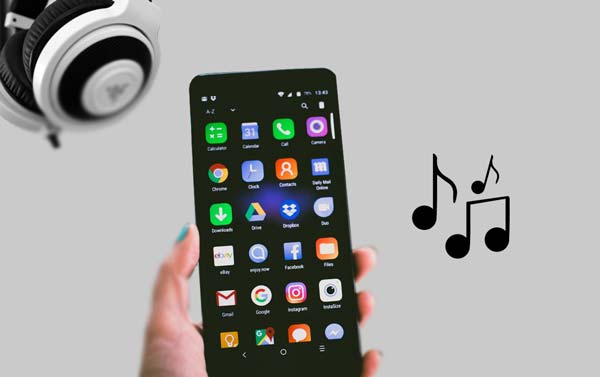 Part 1: Easiest Way to Sync Android Music with Samsung Messages Backup
When you have this Android music sync tool - Samsung Messages Backup software, you can sync Android music without a hassle. The software can add, delete, import, and also export Android music on your computer directly. Besides, it is a great program for managing Android files on the computer, including contacts, SMS, photos, videos, apps, etc. Simply put, this is a must-to-have tool for you to sync music between PC and Android easily.
Practical features of this music synchronization software for Android:
- Sync music between PC and Android phones and tablets in 1 click.
- Selectively transfer music from a computer to an Android device and vice versa.
- You can create, edit, and remove playlists to manage your songs.
- Allow you to preview your music files on the interface.
- Back up and restore your Android data on the computer without damage.
- Support most Android phones and tablets, such as Sony Xperia 1 IV/Xperia 5 IV/Xperia 10 IV/Xperia Pro-I/Xperia 1 III/Xperia 5 III/ Xperia 10 III, Google Pixel 7 Pro/7/6 Pro/6/5/4/3/2, Samsung Galaxy A7/Tab S7/Tab S7 FE/Tab A 8.4/Tab S6/Tab S/Galaxy Tab 4, Xiaomi, Honor, ZTE, LG, Motorola, OPPO, and so on.
Download the Android music assistant for free below.
1.1 How to Sync Android Music to Computer
This Android music manager is the perfect software to sync Android Music to your computer easily. It is a highly efficient tool. Follow the below steps to sync your Android music to the computer:
Step 1: Download and install the Coolmuster Android Assistant software on your computer.
After installing the software, connect your Android device using a working USB cable. Enable USB debugging on your phone for the program to recognize it.
Step 2: Scan the data on your Android device.
Follow the prompts on the screen to allow the program to detect the device. Once done, the main interface will be displayed.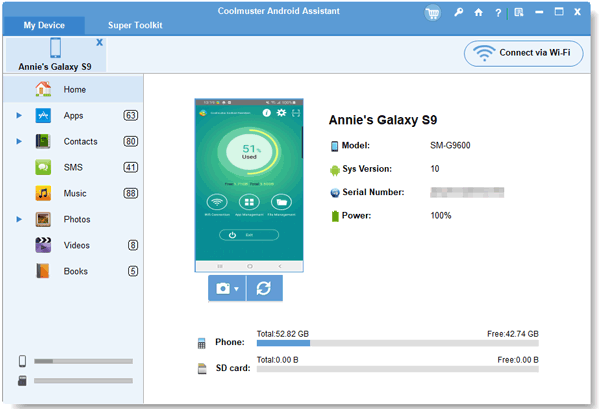 Step 3: Sync music from Android to your computer.
On the left panel, go to the "Music" folder, to find your songs. Choose the ones you wish to transfer to the computer and click the "Export" button to transfer them.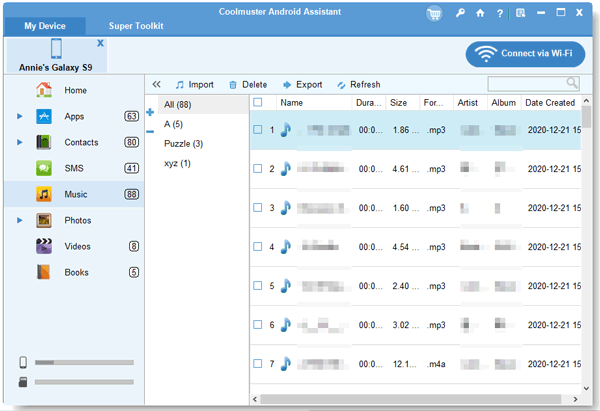 1.2 How to Sync Music from PC to Android Phone
Here's the easiest way to sync music to Android from the computer:
Step 1: Connect your Android device to the computer.
First, launch the software on the computer. Then connect the Android phone to your computer using a USB cable and enable the USB debugging for the connection.
Step 2: Scan the data on Android.
After connecting the device, the software will show the interface and start detecting the data on the phone.
Step 3: Sync music from the computer to Android.
- After you notice the phone data has already been scanned and shown on the left menu, click the "Music" button to display all songs on the phone. Tap on the "Import" button in the upper column and choose the songs you want from the computer.
- Confirm and wait for some time for the selected songs to be synced to your Android device.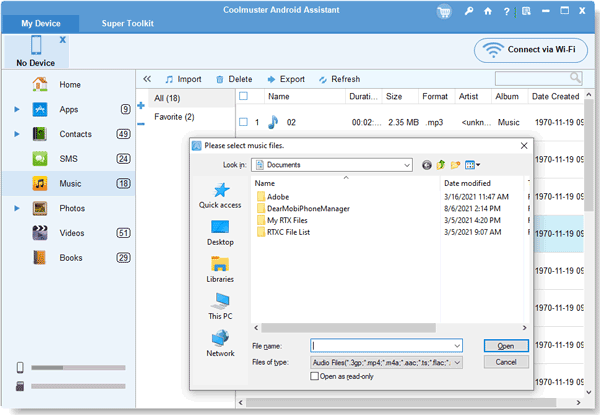 Bonus:
You can also copy music from one Android device to another without losing quality.
You can breezily complete the data migration from Android to iPhone 13. Let's take a look at this useful tutorial.
Part 2: How to Sync Music to Android Wirelessly with Cloud Apps
You can sync music to Android wirelessly using cloud apps like Dropbox. If you prefer to stay out of the Google ecosystem, but at the same time, you like the idea of a cloud solution for your favorite songs, use a Dropbox service instead. It comes with 2GB free storage, enough for multiple songs. To download the entire Dropbox, you should have a Dropbox Plus subscription. But, if you don't want to pay for the subscription, you should use Dropbox with an Application like CloudBeats.
To sync music to Android using Dropbox, do the following;
Step 1: Install Dropbox on the computer.
Install the Dropbox app to your computer, then sign in with your account.
Step 2: Move music to the Dropbox folder.
Start to move songs to the folder within the Dropbox main folder. If you're using Windows, you can find the Dropbox folder by choosing "Dropbox" on the left sidebar of the Windows File Explorer.
After the files have been uploaded, you can use CloudBeats to play them on your Android device.
Step 3: Sync music to Android wirelessly.
- Open the CloudBeats app, scroll left to the "Files" and tap the "Add Cloud" option. After that, choose "Dropbox" and log in using the Dropbox login credentials. Click "Allow" once asked to give ClouBeats access to the Dropbox folders.
- The Dropbox folders will appear in the app. Locate the folder that has music, then tap the menu icon next to the folder and then click the "Download" icon.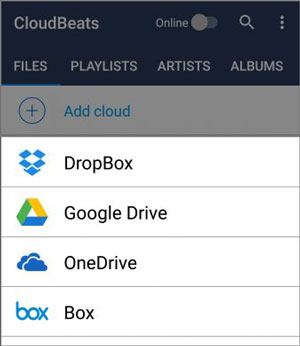 Read also:
With these tips, you can send music from an iPhone to an Android phone with ease.
This article offers practical ways to block spying on mobile phones. Check it out if needed.
Part 3: How to Sync Music between PC and Android with Windows Media Player
Music downloaded to the computer can also be transferred to your Android device with Windows Media Player. Here is a step by step process to achieve that:
Step 1: Connect Android to the PC.
Connect the Android to the computer using a USB cable, and place your Android handset in Sync Mode.
Step 2: Access the Windows Media Player.
Open the Windows Media Player. To do this, go to the "Search" icon like a magifier, and type Windows Media Player. Then you can open the app on the desktop.
Step 3: Sync music to Android.
Tap the "Sync" tab on Windows Media Player, and choose the music you want to sync from the drop-down list. Then choose the location to sync the files, and tap "Start Sync" to synchronize the files.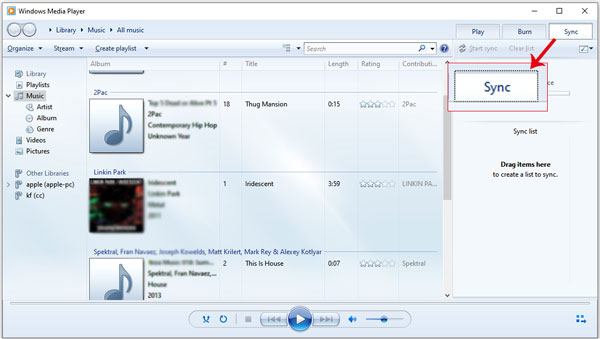 Part 4: How to Sync Music from Android Tablet to Phone via Bluetooth
Syncing music from an Android tablet to a phone can also be done via Bluetooth. Actually, it is one of the easiest ways to sync music to Android. Below is a step by step guide to sync music from tablet to phone:
Step 1: Turn on Bluetooth on both devices and pair them via Settings.
Go to phone settings and choose Bluetooth. Turn it ON on both devices. Establish the connection between your Android tablet and phone to pair and also exchange files.
Step 2: Share the files.
Go to "File Manager" on the Android tablet and choose the music you wish to transfer, and press it for like 2 seconds to share to the phone through Bluetooth.
Step 3: Receive the music files on the Android phone.
The receiving message will pop up on the screen on the smartphone. Click on "Accept" to receive the music files.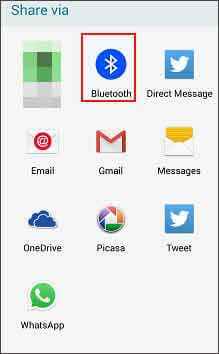 Maybe you need: It is easy to transfer music files between Samsung and a computer.
Part 5: 3 Optional Apps to Sync Android Music
5.1 AmpMe
This is the best free application for synchronizing music into different devices. The app is available for both iOS devices and Android devices. Using this application, you can stream video and music from Spotify, YouTube, and SoundCloud. The best thing about this application is that it also allows streaming music to Bluetooth speakers.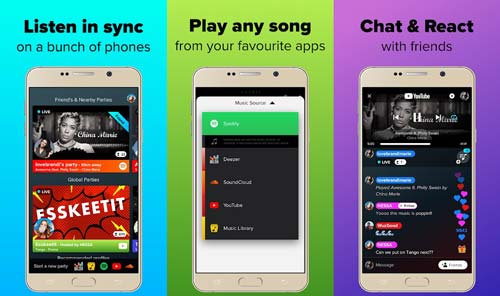 5.2 Party Speaker
A Party Speaker application allows you and your friend to create and edit your playlist and control the playlist so that no one will feel abandoned at the party. The app is very convenient as it allows you to create a new playlist with seconds. To use Party Speaker, ensure all your friends have installed the app and then invite them to create a playlist together.
5.3 Rave
Using the platform of this app, you can be able to enjoy music with your friend worldwide. Rave is primarily created for streamlining services. Using Rave, you can be able to watch videos from YouTube and TV series from Netflix. This app is also a great option for sharing music. You can be able to effectively talk or text your friends while watching or listening to music.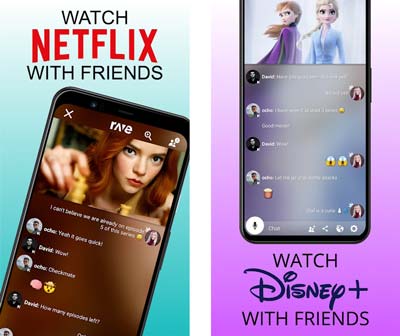 Conclusion
The above are the easy ways to sync android music. Remember, you can't use iTunes to sync files on an Android device, but these ways can be your right-hand man, especially Samsung Messages Backup. This software supports you to effortlessly sync Android music to your computer and reversely. What's more, it can help you transfer other important Android data, like videos, contacts, call logs, text messages, applications, etc.
Related Articles
[Easy and Safe] Transfer Music from iPod to Samsung Phone and Enjoy It Directly
How to Add Music to Google Pixel without Effort | 4 Reliable Methods
4 Powerful Solutions on How to Download Music to LG Phone (Detailed Steps)
Sync Android with Mac Automatically in 2023 [Updated]
Sync Android to PC in 2022: 6 Trustworthy Ways You Can Select
How to Sync Contacts from iPhone to iPad Seamlessly? 5 Fixes Here!