Summary
In this digital life, backing up your data is very important. No matter the data type you may have, you should back them up in case you encounter an unexpected data loss. Similarly, Outlook contacts are very important since they normally include email addresses, phone numbers, and other important information. Thus, losing them can be a disaster.
In that case, backing Outlook contacts regularly is a great idea. This will help keep your data safe from getting lost after a factory reset or device damage. Keep reading to learn the applicable methods to backup Outlook contacts.
Part 1. Reasons to Back up Outlook Contacts
There are numerous reasons you may want to export your contacts from Outlook. One major reason is to avoid data loss or corruption, as data loss can be costly. Your contacts in Outlook may be lost due to external threats, mistakenly deleting them, etc. When you back up data, it will help you avoid reputational and financial risks.
Moreover, outages and disruptions of Microsoft services may catalyze downtime for the organization, thus leading to huge financial loss. Sometimes, the service may be heavily affected due to disruptions. Most probably, you may never recover your files. The same can happen when you permanently delete data in Microsoft 365. This is why Outlook contacts backup matters.
As you know, it is important to back up your Outlook contacts to prevent data loss. Here are some applicable methods for backing up contacts in Outlook.
Read More:
How to Transfer Contacts from Android to Android in 2023? [Solved]
How to Transfer Contacts from iPad to Android Smoothly | 6 Wise Methods
Part 2. How to Back up Contacts in Outlook with Import & Export Wizard
Outlook has an in-built Import & Export Wizard, which can help backup contact information from Outlook. This Wizard will help you export all your contacts or only selected contacts from Outlook to a .pst or .csv file. After that, you can backup your file to an external USB drive, hard drive, or any location you prefer.
Option 1. Backup Contacts to CSV
One of the best ways to backup Outlook contacts is by first saving them in Comma Separated Values (CSV) format. Outlook supports CSV formats, one commonly used data type for numbered contacts. This procedure may take some time since it is a manual operation, but you may back up your CSV files later to your desired location.
Here is how to backup your Outlook contacts to CSV:
Step 1. Launch the Microsoft Outlook app, then sign in using your account. At the upper part of the screen, tap on the "File" button from the taskbar.
Step 2. Tap on the "Open & Export" option from the left side panel.
Step 3. Hit the "Import/Export" icon, then head to the next window. From the windows, click on "Export" to a file from the Import & Export Wizard. Hit "Next" to proceed.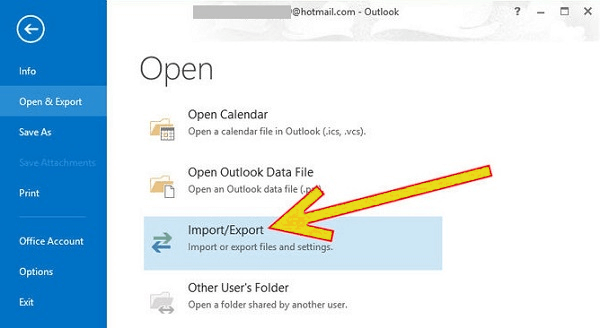 Step 4. Select "Comma Separated Values" and hit the "Next" tab to proceed. Select the "Contacts" folder beneath the source use account. Tap on the "Next" button after that.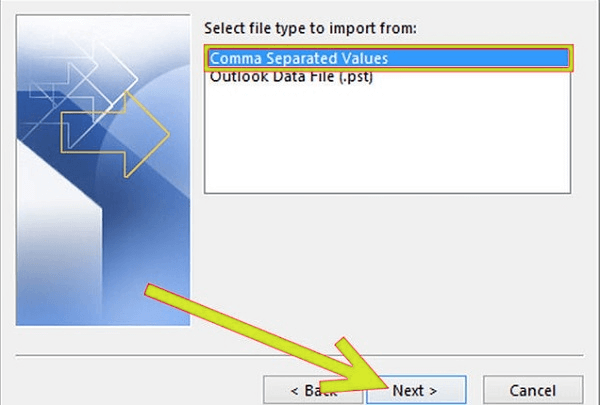 Step 5. Enter the file name for Contacts in the correct field and tap "Finish". When the progress bar appears, wait for it to complete.
Step 6. Open MS Excel, then access the CSV file. When it opens, the transfer process will be a success. You can now backup your CSV contacts to cloud storage, hard drive, etc.
To back up your CSV contacts:
1. Open your Google account and tap on the dots icon.
2. Choose "Google Drive" and "New", then "File Upload".
3. Select the CSV file you want to upload, then save it to the account. (How to import contacts from Outlook to Android?)
Option 2. Backup Outlook Contacts to PST
Another way to backup your Outlook contacts is by directly saving them as a .pst file and import the file again when you wish to add contacts to the account. Backing up your contacts as .pst is one of the easiest options for storing all the available contacts to use later on in case of an unfortunate event.
Step 1. Run the Outlook app, then tap on the File option from the taskbar at the top. Select "Open & Export", followed by "Import/Export".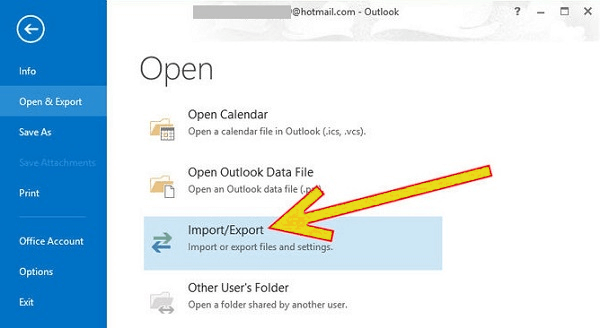 Step 2. Select the "Export a file" option at click "Next". Choose "Outlook Data File (.pst)" to save the contacts to PST format. Tap "Next" to continue.
Step 3. Select the "Contacts" folder below and select a folder to export window. Rename the file, then select the location to save the file.
Step 4. Tap on the "Finish" button. Change the Password settings for your file to block unauthorized access, then tap "OK" to finish. Now, back up your contacts to a cloud storage.
Learn More:
[Total Guide] How to Transfer Contacts from iPhone to Samsung? - 7 Ways
[Fixed] 4 Ways to Transfer Contacts from Samsung to Computer in 2023
Part 3. How to Back up Contacts from Outlook via Outlook Web App
You can back up your Outlook contacts directly through Outlook's Web application. It's an easier way to export your contacts from Outlook. Here are the steps: (Also read: how to transfer contacts from Android to Outlook?)
Step 1. Head to the Outlook 365 website and log into your account. Tap on the "People" tab on your left.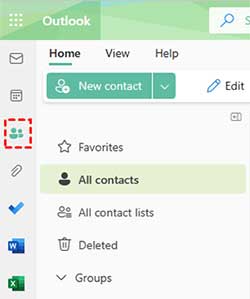 Step 2. From the toolbar, choose "Manage Contacts" and "Export Contacts".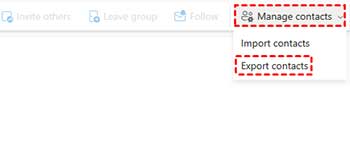 Step 3. Choose the "All contacts" button or the folder containing the contacts you want to save and hit "Export".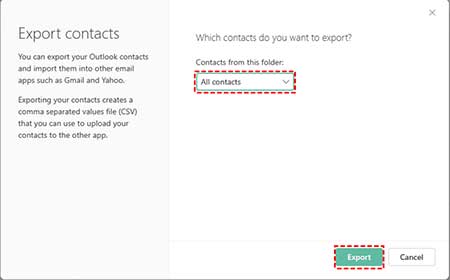 Step 4. All your contact info will be exported to a CSV file. After the file downloads, open it in a local folder with Excel and check if the contacts are saved there.
Part 4. How to Back up Outlook Contacts from Android to Computer via Android Assistant
To easily back up your Outlook contacts, you can turn to a reliable tool such as Android Assistant, which is a formidable data transfer software. Ultimately, it does much more than just transferring files between Android and computer. You can edit and manage Android data with ease. So, if you fancy apps, this is the tool you can't miss.
The best part is that the backup process is not manual, which saves you time and effort. You can backup Outlook contacts and then restore them. Apart from contacts, you can also export/import SMS, music, call logs, photos, videos, books, and more. You don't need technical skills to use this tool.
Hot Features of Android Assistant:
- Export Outlook contacts from Android to computer.
- Transfer contacts, photos, call logs, SMS, music, videos, etc. between Android and computer.
- Repay, send, or forward messages from the computer directly.
- Edit contact info and delete contacts or group contacts on the computer.
- Install and uninstall applications from the computer.
- Simple and very safe to use.
- Works well with Android devices operating on 4.0 to 14 and up.
How do I back up my Outlook contacts? Follow these three simple steps to backup Outlook contacts to the computer:
Step 1. Install and then open the Android Assistant on the computer, then enter "Android Assistant" from Toolbox.
Step 2. Plug in your Android to the computer using a USB. Enable USB debugging on the phone after unlocking it.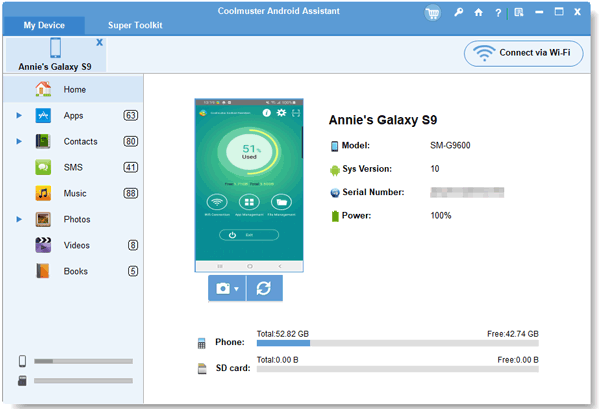 Step 3. From the left panel, select "Contacts" and tap "Export" to move your Outlook contacts from Android to your computer.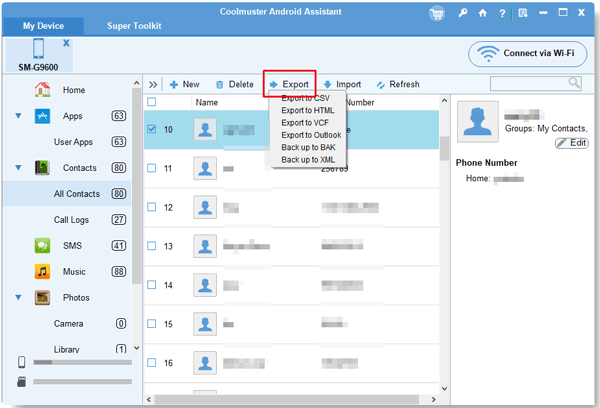 Conclusion
This guide has illustrated different solutions to back up your Outlook contacts. You can back up the contacts in CSV and PST formats. Also, you can use the Outlook Web application to export your contacts from Outlook. However, these methods have disadvantages, which may bring backup failure or even data loss.
To back up your contacts from Outlook to a computer without limitations, we recommend using Android Assistant. It is very easy to use and does not need any professional knowledge. Besides, you can back up all your contacts at once or selectively.
Related Articles
[Fast Transfer] How to Transfer Your Photos from iPhone to Android Effectively?
Export/Save Android Phone Contacts to Excel (CSV & XLS)
How to Completely Remove Contacts from Android SIM Card
Guide to View Call Logs on Android Phone in All Situations
How to Recover Deleted Call Log in 3 Simple Solutions
How Can I Move Data from Android?