Summary
Generally speaking, Apple releases the latest iPhone every year, so that many iOS users will switch to a brand new iPhone, especially loyal iPhone fans. If you intend to purchase a new iPhone, maybe you need to move files from your old iPhone to the new one. So, it is helpful to master the methods of how to clone an iPhone fast.
For your convenience, we have listed 5 cloning approaches as follows. Thus, if needed, please feel free to select one method and follow detailed steps to clone your iPhone.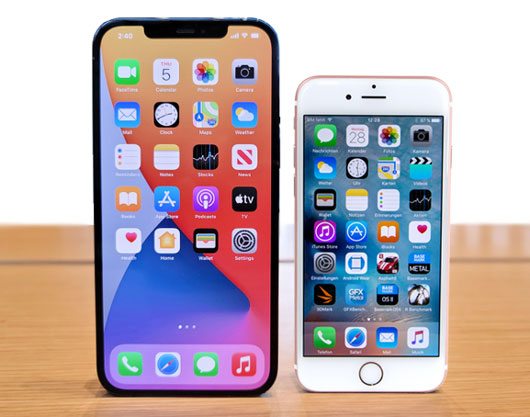 Way 1: How to Clone an iPhone via iPhone Clone Software? (Data Remain)
Cloning an iPhone is not a big deal because you can now make it in 1 click. This iPhone clone software - Samsung Data Transfer, can move multiple data from one iPhone to another without hassle, including contacts, notes, calendars, books, and bookmarks. This means that you can copy these files to your new iPhone at once.
More importantly, this software supports almost all generations of iOS devices, such as iPhone 12 Pro/12/11 Pro/11/XS/X/XR/8/7/6, iPad Pro, iPad Air, iPad Mini, iPod Touch, and more. Besides, it also works for Android devices, like Samsung Galaxy S21/S20/S10/S9/S8, Vivo X60 Pro/iQOO 7/iQOO Neo5, Google, Motorola, Xiaomi, ZTE, and so on.
Hallmarks of this iPhone cloning program:
- Copy data from iOS to iOS without losing data.
- Swiftly transfer data from iOS to Android, including contacts, videos, text messages, photos, music, and books.
- Also support Android to iOS and Android to Android data transfer.
- Transferred data will not overwrite the existing data on the target device.
- Allow you to select data types easily on the panel.
Download the iOS cloning program for free below.
Steps on how to clone an iPhone in 1 click:
Step 1. Install the Cloning Software
To begin with, please download and install the software on your computer.
Step 2. Connect iPhones to Computer
Link your iPhones to the computer via USB cables, and make them trust your computer. Then the software will recognize your devices.
Step 3. Clone Data to New iPhone
- Make sure your new iPhone is on the "Destination" side. If not, please tap the "Flip" icon. Then select file types, and click the "Start Copy" button to begin transferring files.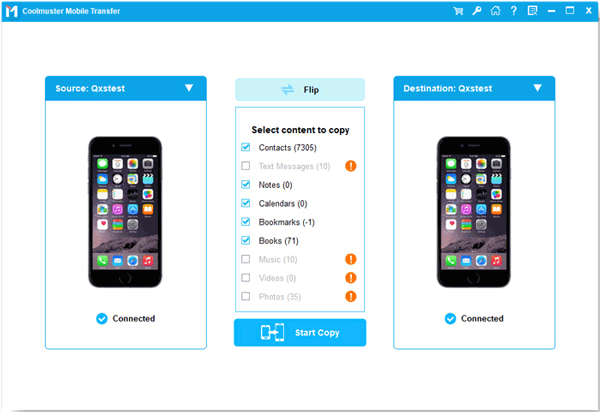 - Once done, you have completed your iPhone cloning. Please view the files on the target iPhone.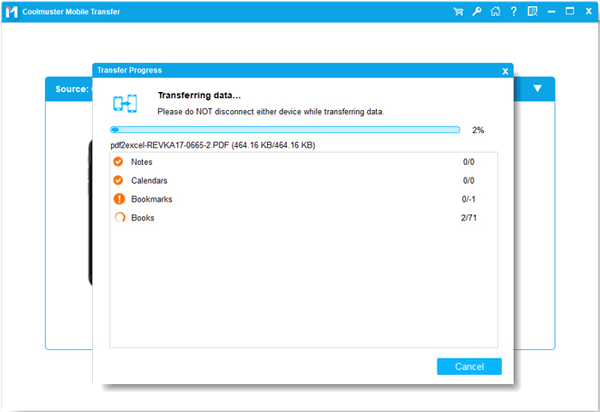 See also:
These 6 ways will help you efficiently transfer contacts from an iPhone to an Android phone. Please feel free to take a look.
Click this link, and learn useful approaches to export photos from an iPhone to a flash drive without effort.
Way 2: How to Clone iPhone with Quick Start?
How do you clone an iPhone via a built-in feature? Please don't forget Quick Start. It is a practical cloning way for iPhones and iPads. With it, you can quickly set up a new iOS device, and transfer data from your current iOS device or iCloud wirelessly. But the device-to-device migration requires both your iPhones is running iOS 12.4 or upper.
Here's how to clone an iPhone to another iPhone via Quick Start:
Step 1. Set Up Your New iPhone
Place your current iPhone near your new iPhone, and turn on the new device. Then enable Bluetooth on both devices, and the Quick Start screen will show up.
Step 2. Make a Connection
- It will use your Apple ID to set up your new iPhone. Please confirm that it is the Apple ID that you want to use, and click the "Continue" icon. Then hold your old iPhone to center the animation on the new iPhone for connection.
- Then it will require you to enter your passcode, and set up Face ID or Touch ID on the new phone.
Step 3. Copy Data to New iPhone
- Choose the "Transfer from iPhone" option on the new device, and allow it to access your device. Next, follow the prompt to start the data transfer.
- Besides, please place your iPhones together until the transfer is over.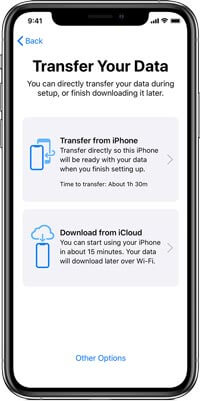 Read also:
Want to move data from OnePlus to an iPhone? Let's check it out to complete the transfer without a hitch.
With this guide, you can fast extract music from an iPhone to a PC. Go ahead.
Way 3: How Do You Clone an iPhone Using iCloud? (Data Overwritten)
Want to duplicate an iPhone effortlessly? We know you are eager to clone your iPhone data to another as simple as duplicating paper files via a copier. Thus, using iCloud is an easy way so long as you have adequate cloud storage on iCloud. However, if you restore data from iCloud, the backup data will overwrite the existing files on the device. But if you intend to restore data to a new device, you can do it without worry.
Guide on clonig an iPhone via iCloud:
Step 1. Back Up Data to iCloud
Go to Settings on the old device, and tap your name > "iCloud" > "iCloud Backup" option. Then it will automatically back up your data to iCloud.
Step 2. Restore Data to Your New iPhone
- Please switch on your target iPhone, and connect it to a stable Wi-Fi network. When you get the "Apps & Data" screen, please choose the "Restore from iCloud Backup" option.
- Then sign in to your iCloud with your Apple ID, and select the most recent backup. Finally, you will restore the data to the new device.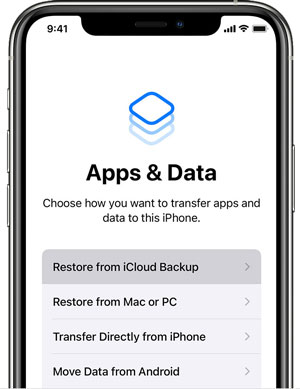 Further reading: After learning this post, you will know 5 approaches to transfer contacts from iPads to iPhones.
Way 4: How to Duplicate iPhone via iTunes? (Data Overwritten)
Can you clone an iPhone via iTunes? Certainly, you can. Using iTunes can back up and restore your iPhone data on your computer. Therefore, you can store all your data on your computer without limitation. By the way, iTunes will keep the last backup, and the previous backup will be overwritten by default.
Tutorial on how to complete iPhone X cloning via iTunes:
Step 1. Launch iTunes
Launch iTunes on the computer, and connect your old iPhone to the computer. Then iTunes will detect it soon.
Step 2. Do a Backup
Click the iPhone icon, and choose the "Summary" option. Then select your computer as the backup location, and hit the "Back Up Now" icon. Next, it will transfer your iPhone data to your computer.
Step 3. Clone the Backup Data to New iPhone
After that, disconnect your old device, and link your new device to the computer. Then navigate to the "Summary" option, and tap the "Restore Backup" icon to transfer data to your new iPhone.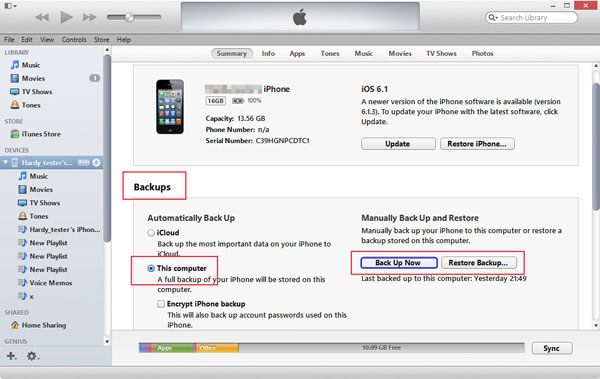 Maybe you need: If you are an Android user, you can clone your Android phone with these 7 dedicated tools.
Way 5: How to Clone an iPhone to Another iPhone via Finder? (Mac)
If your computer is Mac that is using macOS 10.15 or higher, using Finder can also help you clone an iPhone to another. Thus, you needn't install iTunes on your Mac. Additionally, please do not move or copy the backup folder, and do not modify, extract, rename, or relocate the files. Otherwise, the backup may become invalid.
Here's how to clone your iPhone via Finder:
Step 1. Back Up data via Finder
- Connect your source iPhone to Mac with a data cable, and select the device in the Finder sidebar.
- Then click the "General" option on the top menu, and choose the "Back up all of the data on your iPhone to this Mac" option. Next, click the "Back Up Now" button to save the data on Mac.
Step 2. Import the Data to Another iPhone
After backup, please connect your new iPhone to Mac, and go to Finder > General. Then click the "Restore Backup" icon, and pick the backup you want. At last, tap the "Restore" icon to import the backup data to your new iOS device.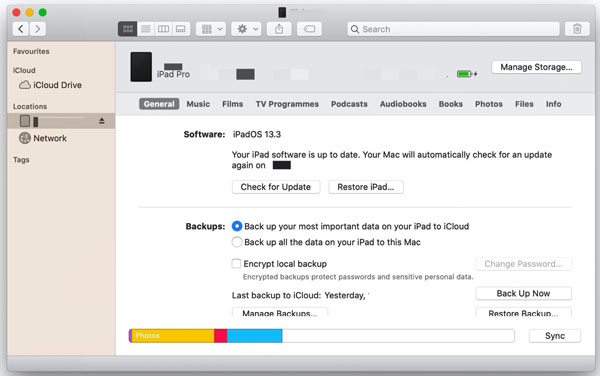 Final Words
As you can see, it is easy to clone an iPhone with the methods mentioned above. You can clone data from an iPhone to another using USB cables or wirelessly. Using iCloud, iTunes, or Finder is convenient, but they will cover your current files. Quick Start has high system requirements. If you want to keep the data on the target iPhone, please choose this iOS cloning software - Samsung Data Transfer. Moreover, it can work for iOS 5.0 and upper.
Related Articles
How to Transfer Photos from iPhone to Huawei in 5 Effective Ways?
How to Transfer Data from iPhone to iPhone 12 without iCloud [5 Solved Ways]
How to Transfer Notes from iPhone to iPhone without Hassle? Check It Out
How to Transfer Data from Android to iPhone 12/12 Pro/11/11 Pro Max (Easiest)
How to Transfer Files from Android to Android in 2021?
Phone Clone Troubleshooting: How to Fix Huawei Phone Clone Not Working Issue? (Proven Tips)