Summary
As long as the files of the old Android phone migrate to the new phone, you can use the new device conveniently. This is also the destination of this post. It will tell you how to clone Android phone with 7 different approaches. Then you can choose a way to complete the phone copy for Android without any hassle.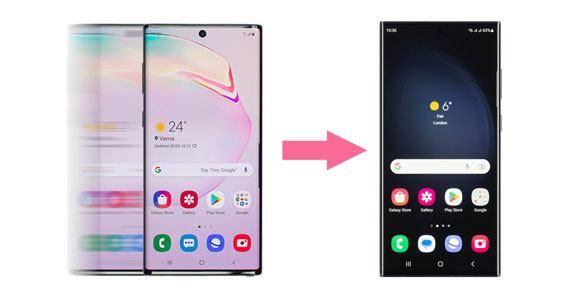 Part 1: How to Clone Android Phone with Android Cloning Software (Swiftly)
How to clone an Android phone quickly and safely? This Android cloning software - Samsung Data Transfer, can give you support. It can transfer various file types from one Android phone to another with original quality.
What's more, it is compatible with most Android devices, such as Samsung Galaxy S21/S20/S10/S9, Samsung Galaxy Tab S/Galaxy Tab 4/Galaxy Tab S5e, Xiaomi Mi 11/10/9/8, Motorola Moto G 5G/Moto G9 Power/Razr 5G, Sony Xperia 5 II/Xperia 5/Xperia 1 II, ZTE, Google, OnePlus, HTC, and more.
Hallmarks and advantages of this phone clone program:
- Transfer music, photos, videos, contacts, apps, and more from Android to Android in 1 click.
- Allow you to connect the Android device to another via USB and Wi-Fi.
- The simple interface lets you complete the transfer effortlessly.
- Support to transfer files from Android to iOS, iOS to Android, and iOS to iOS.
- Work with Android 4.0 or upper, and iOS 5.0 or higher.
Download the Android file clone software for free below.
Tutorial on how to clone the Android phone with this tool:
Step 1. Install the Program
In the beginning, please download and install the desktop application on the computer.
Step 2. Connect Devices via USB
Connect your Android devices to the computer via USB cables. Then enable the USB debugging feature on both phones.
Step 3. Select and Transfer Data
- Identify the Source and the Destination devices, and check the data types on the panel. Next, begin copying data by clicking the "Start Copy" icon.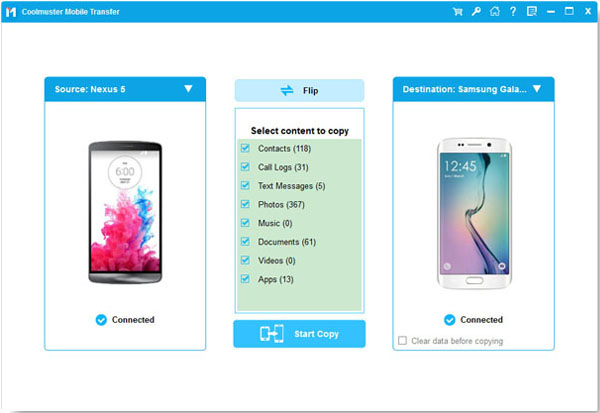 - The program will immediately transfer the selected files to the receiving device.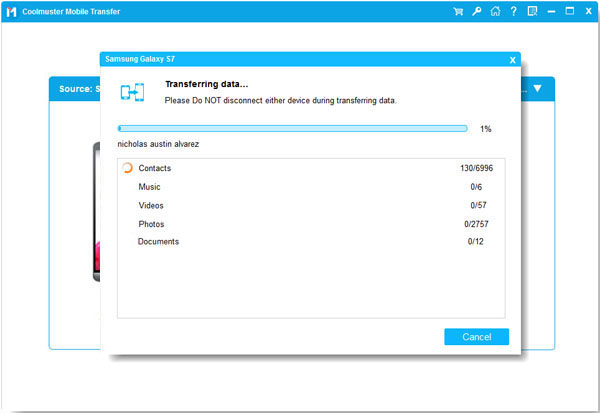 Bonus:
Can't wait to use your new iPhone? Well, you can transfer files from Android to the iPhone in 8 different ways.
You can move your photos, videos, and other files from an Android device to a thumb drive. Then you can free up the internal storage space.
Part 2: How to Clone an Android Phone with Phone Clone
If your new Android phone's brand is Huawei, the Phone Clone app will be an excellent assistant. It can clone your recordings, calendars, notes, call history, etc. Then, you can breezily finish the data migration and use your new phone. Moreover, it lets you connect both handsets by scanning a QR code or via a local hotspot.
Guide on how to clone Android phone to the replacement via Phone Clone:
Step 1. Download the App
Please download this utility on your old Android device.
Step 2. Launch It and Connect Your Mobile Phones
- Launch it and tap the "This is the new phone" feature on the receiver. Then choose the "This is the old phone" on the sender.
- Establish the connection between both smartphones by scanning the QR code.
Step 3. Send Data to the New Phone
To clone the data to the new phone, please pick the data you want on the old phone, and tap the "Send data" icon. When the "Transfer complete" feature appears, you will achieve the data transfer.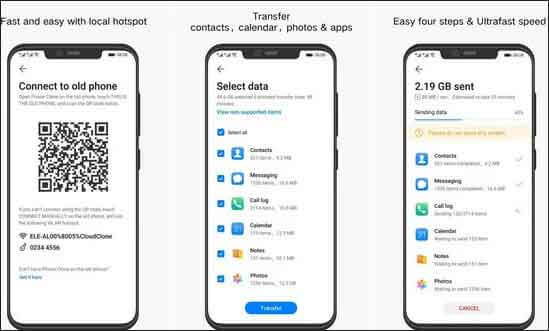 Read also:
Take a look at this link, and you will get 5 handy tips to transfer files from the PC to the Android phone without USB.
You can get an iSpoofer alternative for Pokemon Go from this guide.
Part 3: How to Clone a Phone with Android Using CLONEit
CLONEit, a simple clone phone app, is capable of backing up and transferring 12 data types on your mobile device. It can also transmit the files of your SD card to another phone. Besides, it can help you uninstall the preinstalled apps from your phone.
Clone Android phone to another using CLONEit:
Step 1. Run the App
Ensure you have installed this app on both mobile phones, and then run it.
Step 2. Set Up the Connection
- Choose the "Sender" on the old handset, and click the "Receiver" on the new one. They will detect and look for each other.
- When your device shows up on the screen, please choose it and click the "Tap to Scan" icon. Then you can connect them via a QR code.
Step 3. Clone Data to the New Phone
- Select the old phone's files on the new phone, and you can preview the detailed files by hitting the "Click here to choose details" icon.
- Finally, tap the "Start" and "OK" buttons. It will send your files at once.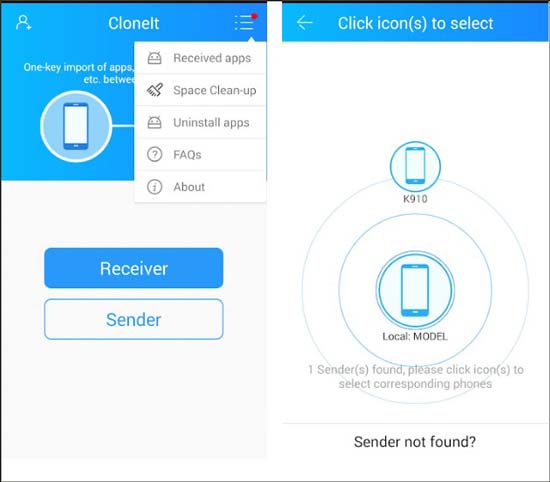 Further reading:
6 Android storage managers that can help you free up your Android space.
Have no idea to exit Android recovery mode? You can follow this guide.
Part 4: How to Clone Android Phone to Replacement with Google Drive
How to clone a phone via cloud storage space? Don't worry. You can choose Google Drive. As long as you turn on the auto-backup feature, you can upload your Android files to the cloud space without effort. Whenever you want to sync the backups to any other device, you can log in with your Google account.
Steps on how to clone my phone to another via Google Drive:
Step 1. Back Up Data on the Old Phone
- Please go to the Settings on your old Android phone. Then click the "System" > "Advanced" > "Backup" option, and tap the "Back up to Google Drive" switch to enable it.
- Go back to the Setting screen, and tap the "Accounts" > "Add account" icon.
Step 2. Sync Data to the New Phone
Now you can restore data with the same Google account to the new device when setting it up. If you have finished the setup, you can also add your account on the Settings app. It will synchronize your data.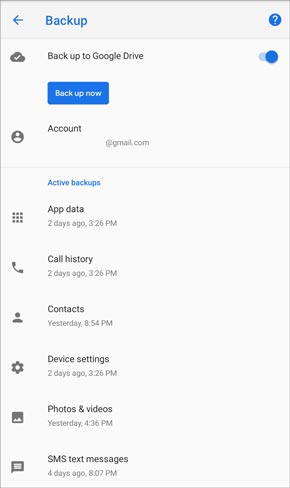 Maybe you need:
Want to swiftly move videos from the PC to Android? Then please don't miss this post.
Want to work out the problem of OneDrive not syncing data? Let's read this helpful tutorial.
Part 5: How to Clone Android Phone to Another via Smart Switch
Smart Switch is a helpful assistant for Samsung Android phones. It can directly transfer files from one phone to another wirelessly or via USB. More importantly, it works for a wide range of files, such as settings, messages, contacts, app data, and so on.
Here's how to copy Android files to another with Samsung Smart Switch:
Step 1. Open the Application
Please open the app on both mobile devices after installing.
Step 2. Make a Connection
Choose the "Send data" on the new phone, and the "Receive data" on the old device. Then select to connect them via the "Cable" or "Wireless" feature.
Step 3. Move Content to the New Cell Phone
Choose what to bring on the new phone, and tap the "Transfer" icon on the screen. Then wait for the transmission to complete.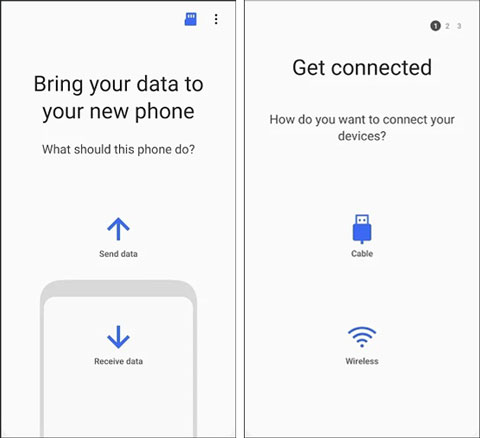 You might like:
Here is the 9 best Android backup software for PC that you can refer to.
How to Transfer Files Between Android Devices via Wi-Fi | 4 Easy Ways
Part 6: How to Clone My Phone to Another with SD Card
If you have an SD card, and both your phones support inserting an SD card, you can use it to clone your phone to another. Please note that you can copy multimedia files to the SD card but not system files, like contacts, call logs, and text messages.
Clone your Android phone to another with a micro SD card:
Step 1. Plug the SD Card Into the Old Device
Plug your memory card into the old phone first, navigate to the File Manager, and copy the data you want to the card.
Step 3. Take Out the Card
After the copy finishes, please take out the card carefully.
Step 3. Insert the Card to the New Phone.
Now you can insert it into the new device, and open it on the File Manager. Then you can view and transfer the files to your new phone.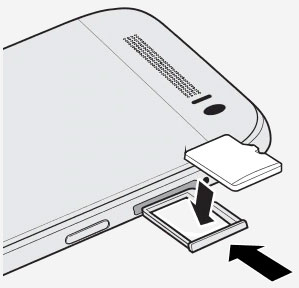 Tips: How do you fast back up and restore contacts on your Android phone? If you have no idea about that, please scan this article.
Part 7: How to Clone Android to PC with Android Backup Manager
What if you want to clone the Android phone to the PC? In this case, please use this Android backup manager - Samsung Backup and Restore. This software at least supports 8 types of files and diverse file formats. Thus, you can clone all the Android data to the computer at a time.
Follow the steps to clone your Android device to the PC:
Step 1. Download the Program
You can download this tool for free below. Then double-click its icon to install it on your PC.
Step 2. Connect Mobile Phones to PC
Open the software and connect both phones to the PC with their respective data cables. Then the program will detect your phone.
Step 3. Back Up and Restore
- To back up your old phone data, please tap the "Backup" option and check the categories on the interface.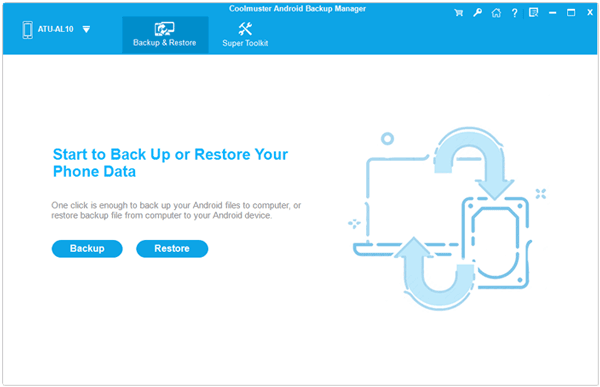 - Then click the "Back Up" button to start transferring files to the PC.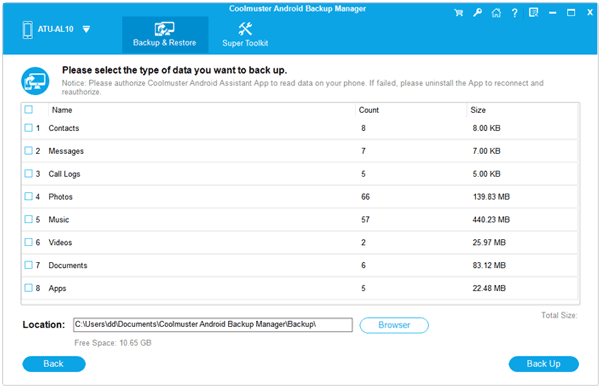 You might like: This article has listed 8 options of practical mobile cloning software. If you want, you can directly take a look.
Conclusion
It is the best time to clone your Android phone with these approaches. Whatever you choose, you can follow the related steps to complete the cloning without a hitch. But this Android cloning software, Samsung Data Transfer, will clone your phone most efficiently among all tools. So, why not have a try?
Related Articles
How to Transfer Photos from SD Card to Computer Successfully - 5 Proven Tips
How to Uninstall Apps on Android Phone from Computer Easily? (The Easiest Way)
How to Recover Deleted Photos from SD Card on Android Phone with or without Backup? (2022 Updated)
How to Transfer Messages from Android to Mac Easily? 4 Helpful Tips Here
Looking for the Best Contact Recovery Software for Android? You Cannot Miss These Details
Android to Android Transfer - How to Transfer Data from Android to Android?