Summary
Your Android phone got bricked? Does it have no response all the time? If so, how to recover data from the bricked phone? Is it feasible? Fortunately, with the development of technology, you can get data from a bricked Android phone. And we'll show you the exact guide today in Part 3.
If you also want to know the accurate definition of a bricked phone, please don't miss Part 1. Besides, we also have summarized the main reasons and effective preventions in Part 2 and Part 4.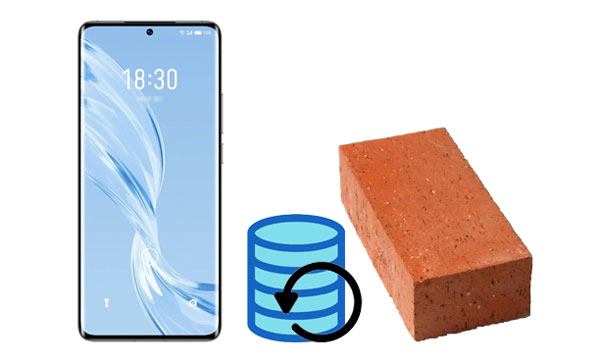 Part 1: What Does a Bricked Phone Mean?
A bricked phone means that the device has become a brick without any response, so you cannot power it on. Maybe you will say that a soft-bricked phone is not as severe as a hard brick phone. Yes, you are right.
A soft-bricked phone means that you can turn it on, but it fails to perform normally. It is probably temporarily in the recovery mode or boot loop, and you can generally fix the soft-bricked device. As for a hard-bricked phone, you can't do anything on it except send it to a repair store.
You might need: It is easy to recover deleted documents from your Android phone or tablet. If needed, please take a look at this guide.
Part 2: Why Does Your Android Phone Get Bricked?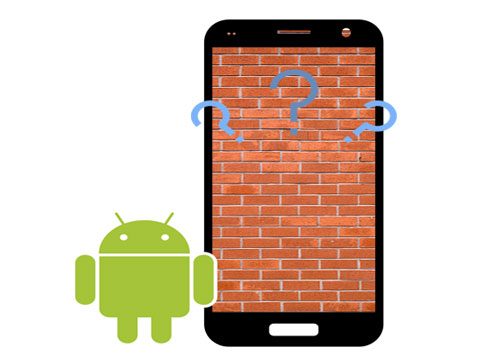 Flashing a ROM is one of the most common reasons that cause the device to be bricked. Android is an open system so that Android users can modify and custom the OS to form a more suitable style. That is fantastic for tech-savvy people as they can flash another OS on their Android devices. However, it will be easy to brick the Android phone in case the steps are wrong, or the new OS is incompatible with the device.
Another main reason is rooting. After rooting, you can manage system apps, clean bloatware, block ads, and the like on your Android phone after rooting. However, a rooted device will be more at risk than an unrooted device. For instance, it might be attacked more easily by viruses and malware. Plus, system errors will be increased, so bricking risk also rises.
It is possible to make an Android phone bricking because of changing the firmware in Android. Firmware is a piece of software to communicate with the hardware on a device, such as operating systems. If you modify the firmware on your Android phone and then it gets corrupted, your phone will become bricked probably.
Hazardous app installation and physical damage can also brick your Android device. There are many apps with viruses on the internet, and they can break your phone security system, steal your information, and turn your phone into a brick. Additionally, if you break your phone and damage the important hardware, your device may be bricked immediately.
Note: What is the difference between a bricked phone and a flashed phone? Flashing an Android phone is to install a specific operating system on your Android device. Thus, a flashed phone means that this device has been changed to another ROM. In a nutshell, a flashed Android phone has a custom ROM but is not always bricked. If you flash your phone successfully, your phone can perform better after flashing.
See also: Look for a way to recover deleted photos from a Google Pixel phone? Click this link to get 3 effective solutions.
Part 3: How to Recover Data from a Bricked/Flashed Phone?
So how to get data from a bricked Android phone? Luckily, you can use this Bricked Android Data Recovery software. Although the device is bricked, it can recover data from a flashed Android phone. What's more, it can retrieve multiple Android data types, like contacts, photos, SMS, videos, WhatsApp messages, and so on. Therefore, you will not lose your data even though the phone is bricked.
Up till now, this software can extract data from Samsung Galaxy S6/S5/S4, Samsung Galaxy Note 5/4/3, and Galaxy Tab Pro 10.1. You can run it on Windows 11/10/8/7/XP to start the recovery.
Download this recovery software for free.
Here's how to recover files from a bricked Android phone using this program:
Step 1. Choose Broken Android Data Extraction
Install the software on your computer, and connect your bricked Android phone to the computer via a data cable. Then access the program and choose the "Broken Android Data Extraction" feature on the left panel.
Step 2. Enter the Download Mode
- Tap the "Start" icon, and select the model and other information of your Android phone on the interface.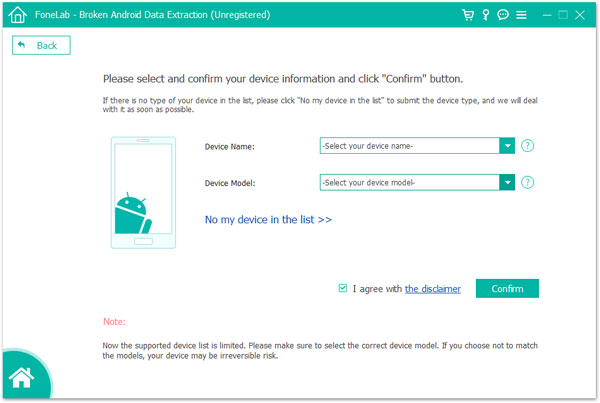 - Next, follow the guide to enter the Download mode, and tap the "Start" icon.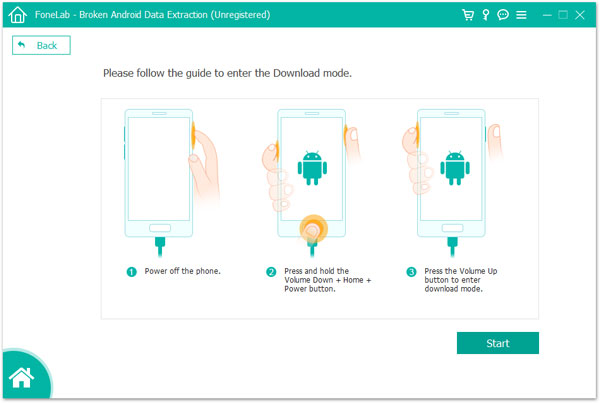 Step 3. Retrieve Data from the Bricked Android Phone
The software will scan the data from your bricked phone. After that, please choose the category on the panel, tick the files you want to retrieve, and hit the "Recover" button to transfer the data to your computer.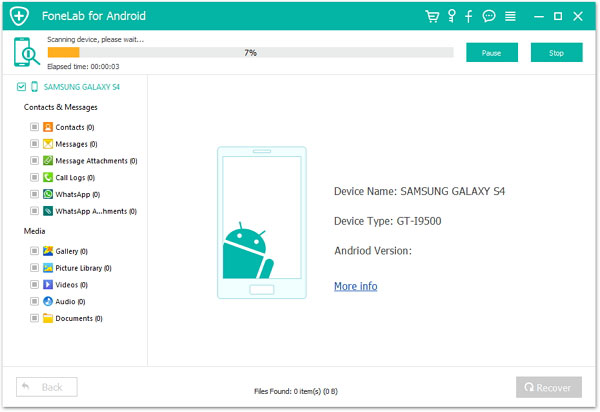 Further reading: Do you have an SD card? You can back up your Android data to an SD card without hassle.
Part 4: How to Prevent Your Android Phone from Bricking?
Bricking an Android phone is a sort of severe damage for your device to a great extent. So, how can you prevent your Android phone from bricking? Perhaps you have known something useful from those reasons of bricking in Part 2. If you want to learn more effective measures, please don't miss this part.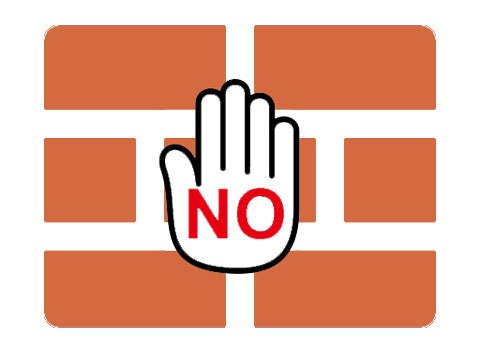 Enter the Recovery mode on your Android phone before flashing it, and install a custom recovery. The recovery program is helpful to restore a device to factory default settings, which can keep your phone from bricking.
Make sure the custom ROM is compatible with your Android phone. If you don't know if the ROM works smoothly on your device, please do not flash it.
Install apps from reliable websites. Of course, it is best to install apps from the built-in app store. When installing apps from other locations, please check if the website is safe.
Clear caches and implement virus scan regularly. It is necessary to clean junk data and scan viruses with a security app. In general, the security app is pre-installed on Android devices, so you can handily use it to examine for your Android phone.
At last, please remember to back up the data on your Android phone. If your phone is bricked, you won't lose your data if you have a backup.
Final Words
Nobody can surely recover data from a bricked Android phone, even if there are useful bricked Android data recovery programs in the app market. Thus, please protect your Android phone carefully to avoid bricking. Besides, backup is the most effective way to prevent data loss.
Related Articles
Wonder How to Back Up Android to Mac? Here Are 6 Ideal Answers!
How to Recover Deleted Videos from Mi Phone | 5 Secure and Effective Solutions
How to Delete Contacts on Android Phone? 5 Smart Methods for You
How to Transfer Files from Android to Android in 2023?
[Fast Transfer] How to Transfer Your Photos from iPhone to Android Effectively?
3 Ways to Recover Deleted Text Messages on Motorola or Other Android Phones