Summary
Accidentally dropped your Samsung mobile phone to the ground and feel hopeless to get all the contacts recovered from the broken Samsung phone? Don't fret. It is highly possible to retrieve contacts from the broken Samsung phone. What's more, we have provided 4 detailed and reliable solutions in this article. You can select one method to get contacts off your broken Samsung phone.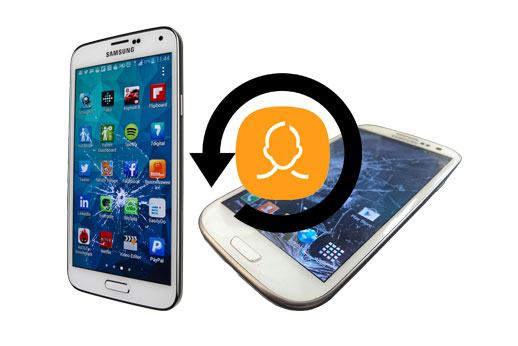 Part 1: How to Retrieve Contacts from Broken Samsung Phone with Samsung Data Extraction
This Samsung Data Extraction software can help you access your broken Samsung phone, and extract your contacts and other files from the device. Even though the phone's screen is totally damaged and you fail to unlock the device, this software can extract data without hassle, including internal storage and the SD card installed on Samsung.
Additionally, it supports multiple Samsung devices, such as Samsung Galaxy S6/S5/S4, Samsung Galaxy Note 5/4/3, and Samsung Galaxy Tab Pro 10.1.
Highlights of this Samsung data extraction tool:
- Effectively recover contacts, messages, message attachments, call logs, WhatsApp, videos, documents, and more.
- Help you fix your dead phone for these situations: black screen, system crash, virus attack, phone freezing, etc.
- Fast scan out your files from your Samsung phone and SD card.
- You can preview your Samsung files on the interface before performing the recovery.
- Allow you to save the recovered data to your Windows computer.
Download the data recovery software for free below.

Here's how to retrieve contacts from broken Samsung Galaxy via this software:
Step 1. Installation
After downloading the software, please install it on your PC. Then launch it and connect your broken Galaxy phone to the computer via a USB cable.
Step 2. Enter Download Mode
- Choose the "Broken Android Data Extraction" tab, and click the "Start" icon to select the correct name and model of your Samsung device. Then tap the "Confirm" button.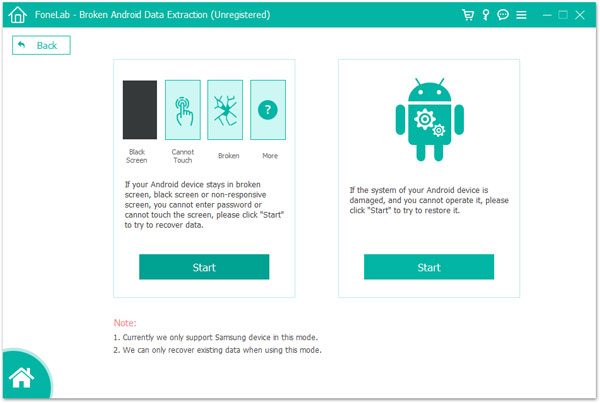 - Follow the guide on the interface to enter the Download mode, and hit the "Start" icon to fix your broken phone.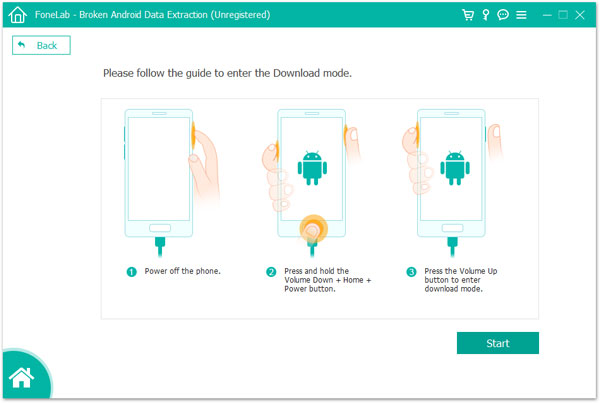 Step 3. Recover Contacts from the Broken Samsung Phone
After that, the program will scan your data from the broken device. Next, click the "Contacts" category, and select the contacts you want to retrieve. Then click the "Recover" button to save them to your PC.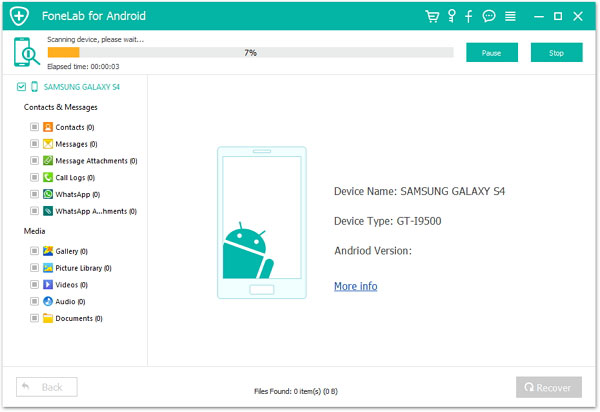 Bonus:
Your Android contacts disappeared suddenly? Don't worry. You can get help from this full guide.
Click this link to get effective solutions to unlock the pattern lock on Samsung.
Part 2: How to Recover Contacts from a Broken Samsung Phone Using Google Account
If you have backed up your Samsung contacts to your Google account before the screen was broken, you can breezily restore your Samsung contacts to another phone from the backup. Also, you can log in to Google Contacts to check your backup contacts at any time.
Guide on how to transfer contacts from the broken Samsung phone to another device via Google backup:
Step 1. Check You Backup Contacts
Please visit Google Contacts on your computer, and sign in with the Google account backed up your Samsung contacts. Then you can view your backup contacts on the interface.
Step 2. Add the Google Account to Another Mobile Device
To restore your contacts to another smartphone, you can go to Settings > "Accounts and backup" > "Backup and restore" option. Then turn on the "Back up my data" feature, and click the "Backup account" to type your Google account.
Step 3. Sync Your Contacts
Tap on your Google account, and click the "Sync now" icon to restore the contacts to this mobile phone.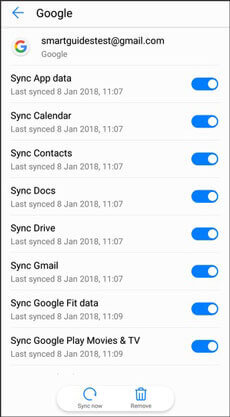 Read also:
Is it feasible to transfer contacts from Android to Outlook? Of course, you can refer to these 3 approaches.
Wonder fix the unresponsive touch screen on your Samsung phone? Then, this guide will help you.
Part 3: How to Get Contacts Off Broken Samsung Phone via Samsung Account
Maybe you backed up your Samsung contacts to your Samsung account but you forgot? Why not take a look at your Samsung account? However, you cannot restore the contacts to other non-Samsung phones or tablets. Please note that you will restore all backup data from your Samsung account to your new Samsung device, not just your contacts. By the way, if you have forgotten the password, please reset your password first.
Here's how to recover contacts from a broken Samsung phone via your Samsung account:
Step 1. Add Your Samsung Account
Take out another Samsung device, run the Settings app, and you can see the "Samsung account" at the upper. You can now enter your Samsung account directly.
Step 2. Restore Samsung Contacts via Your Samsung Account
Choose the "Accounts and backup" > "Backup and restore" option, then tap the "Restore data" icon to transfer the backup data to this Samsung phone, including your contacts.
Learn more:
How to efficiently transfer data to Samsung Galaxy? Let's check it out.
If you desire to share all contacts on your iPhone, you can click this link to get the guide.
Part 4: How to Get Contacts from Galaxy with Broken Screen via AirMore
If your broken Galaxy phone just fails sometimes, you can use AirMore, a management tool on the website. As long as you make a connection between your broken Samsung phone and the AirMore website, you can wirelessly export your Samsung contacts to your computer. Furthermore, you can import the contacts to another Android device as well.
Here's how to get contacts off the broken Samsung phone via AirMore:
Step 1. Launch AirMore
Please open the AirMore web on your computer, and click the "Launch AirMore Web to Connect" icon. Then you will see a QR code.
Step 2. Establish the Connection
Install AirMore on your broken Samsung phone, open it, and tap the "Scan to connect" icon to scan the QR code for the connection.
Step 3. Export Contacts from the Cracked Samsung phone
Click the "Contacts" icon, and tick the contacts you want, then click the "Export" icon to transfer them to your computer.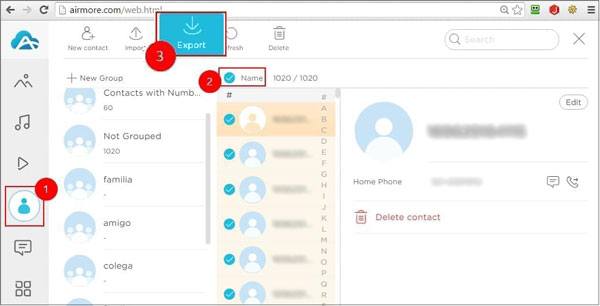 Note: How can you prevent a Samsung phone from accidentally breaking the screen? As we know, the screen is the most fragile part of a mobile phone. In case you drop your phone accidentally, the phone screen will probably be cracked. To protect your Samsung phone, we extremely recommend you to put on a screen guard and a phone case, which can play a good buffering effect. And, please select an all-inclusive smartphone case for your phone, because it is more useful than those thin cases.
Conclusion
It is possible to retrieve contacts from a broken Samsung phone, but which tool you can choose depends on the damage degree of your phone. If your device is totally black screen without any response, please use the Samsung data extraction tool.
Related Articles
How to Back Up and Restore Contacts on Android Phone/Tablet [4 Methods]
How to Import CSV Contacts to Android Phones [Fabulous Tips]
[Proven] How to Back Up Android Contacts to Mac with 3 Fast Ways
Checklist on How to Transfer Contacts from Samsung to OPPO? (6 Easy Ways)
How to Recover Lost Contacts on Huawei Smoothly: Use 5 Ways to Make It
How to Transfer Contacts from iPad to Android Smoothly | 6 Wise Methods