Summary
Many accidents can make our Samsung phones damaged, and dropping into water is among these. Are you scouring an effective method to cope with your wet phone? And wonder how to recover data from the water-damaged Samsung phone? Believe it or not, it is not a big deal, because I went through the situation some time ago, and I solved it successfully.
Thus, today I want to share my practical tips and approaches with you, and hope that they can save your phone and recover the lost data.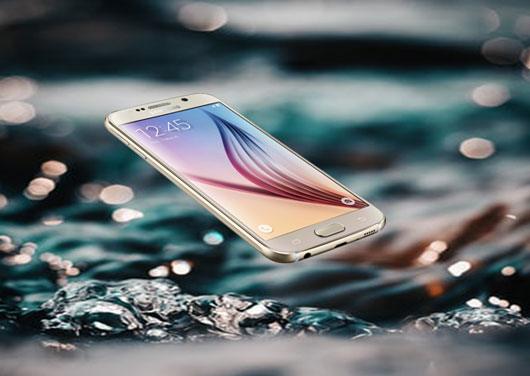 Part 1: How to Cope with Your Phone When It Got Wet
When encountering your Samsung phone fall into the water, you'd better know what you can do and cannot do. Time is your phone's life. If you perform the wrong measures, you will miss the best moment to save your phone. Also, although the smartphone is waterproof, there is no guarantee that your phone is intact.
1.1 Things You Could Do
Step 1. Swiftly Get It Out from Water
Your Galaxy S6 fell in the water? Please take it out as soon as possible. The longer your phone stays in the water, the greater the damage caused. Thus, while ensuring your own safety, you need to quickly get the phone out of water.
Step 2. Turn It Off
After that, please switch off the mobile phone without delay. Even though you are playing games or having a call, you'd better stop it. If your phone has automatically turned itself off, don't turn it on, although you want to check whether the phone can work or not. This step is to protect the phone from a short circuit.
Step 3. Dry It Up
Please use an absorbent towel to dry the wet Samsung phone. Then remove the screen guard, battery, SIM card, SD card, card slot, and back cover. By the way, if the battery is non-removable, please let it go.
Step 4. Cover It with Uncooked Rice
Now, to dry the phone inside, you can cover it with uncooked rice. In general, this process will cost at least one day. It is necessary because using a towel cannot dry the body inside. Also, you can use a hairdryer to make it dry. But please use the cool air to blow the phone.
See also: Looking for an efficient way to move Samsung data to Realme? Don't worry. You can get 4 practical approaches from this article.
1.2 Things You Couldn't Do
So, what things can't you do for the wet Samsung phone? Let's take a look below.
Please don't turn on the phone until you dry it up.
Avoid using paper to dry your phone because the particles of the paper will possibly clog up your phone.
Don't dry your phone with sunlight, since the heat of the sun will hurt the phone parts.
Do not shake your wet phone, for shaking will make the water get further into the device.
At last, after covering it with uncooked rice, please do not get it out until the process is over.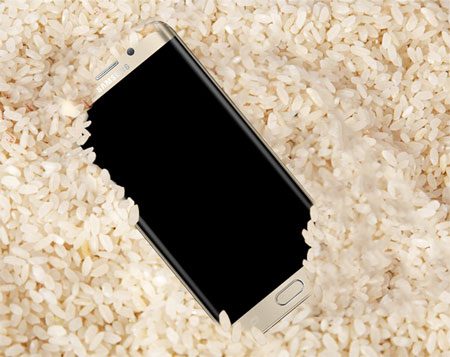 Bonus: Is it simple to transfer Samsung files to Mac? Certainly, it is. Please learn about the practical solutions here.
Part 2: How to Recover Data from Water Damaged Samsung Phone
After drying your Samsung phone, you can whether you can switch it on. In case you lose data, please don't panic. You can recover data from the water-damaged phone with the following solutions.
2.1 Recover Data via Broken Samsung Data Recovery (Cannot Turn On the Phone)
Wonder how to recover photos from water-damaged Samsung S6? It is a piece of cake. Even though you cannot turn on the phone, this Broken Samsung Data Recovery Software can recover multiple data types from your water-damaged Samsung phone, including photos, contacts, call history, WhatsApp files, and more. What's more, it can also fix system-crashed, frozen, locked, and black-screen Samsung devices.
Main characteristics of this Samsung data extraction tool:
- Effectively extract data from the damaged Samsung phone for water drown.
- Recover messages, call logs, SMS attachments, audios, videos, pictures, etc., from Samsung internal storage.
- Extract data from SD cards without hassle.
- Allow you to preview and select data before performing the recovery.
- Save the recovered data to your computer without leaking information.
- Support Samsung Galaxy S6/S5/S4, Samsung Galaxy Note 5/4/3, and Samsung Galaxy Tab Pro 10.1.
Download the Samsung data extraction tool for free below.

Here's how to recover data from water damaged phone that won't turn on via this software:
Step 1. Install the Program
After downloading it, please install and launch the software on the desktop.
Step 2. Link Samsung Phone to PC
- Link your damaged Samsung phone to the PC via a USB cable, and click the "Start" icon.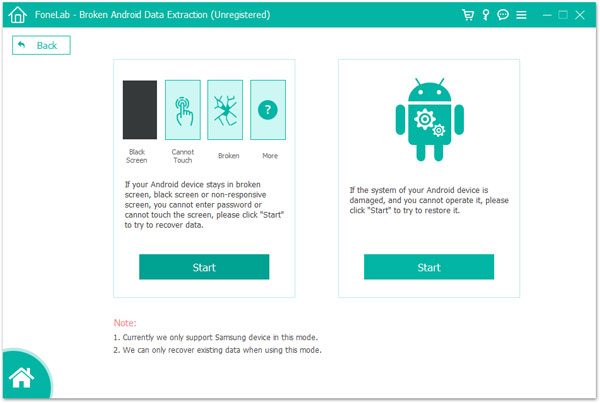 - Then select your device name and model, and tap the "Confirm" button.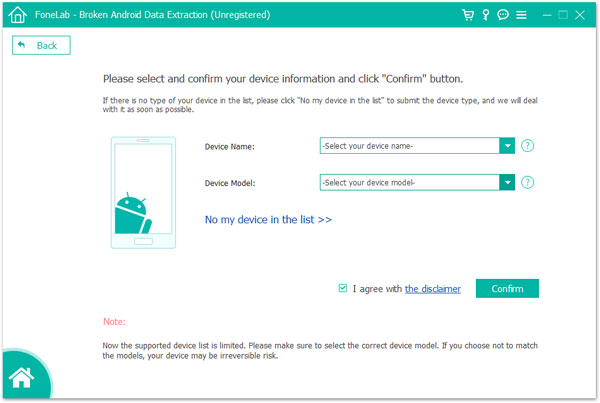 Step 3. Recover Data from Water Damaged Phone
- Please follow the prompt to make your phone enter the Download Mode. Next, the program will fast scan your data. After that, you can choose a category and select the files you want.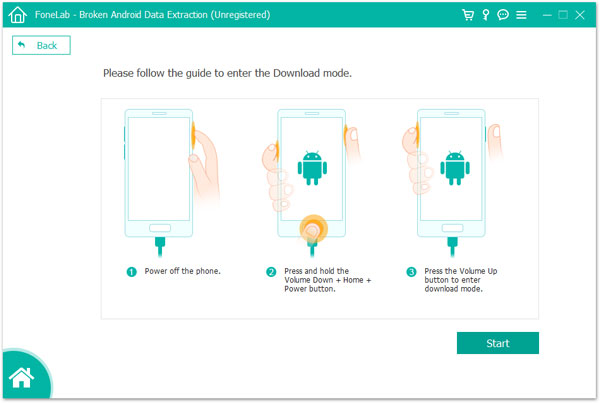 - Finally, tap the "Recover" icon to begin the procedure.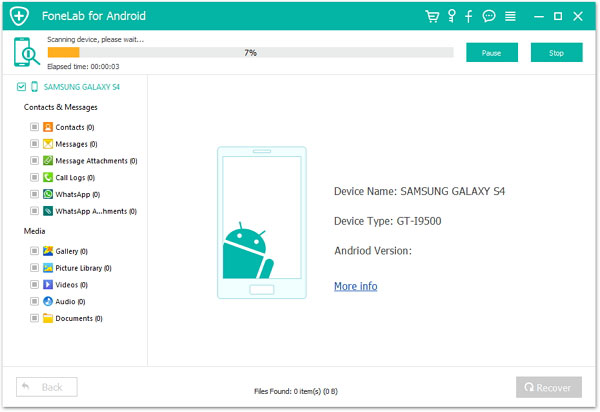 See also: Want to smoothly recover deleted contacts from your Samsung phone? Please open the link and use these proven methods in this article.
2.2 Get Data Back from Samsung Cloud Backup
There is no doubt that regular backup can rescue your data. But have you backed up your Samsung data to Samsung Cloud before dropping the phone into the water? If yes, you can breezily restore your contacts, calendars, notes, music, APK files, wallpapers, and more from the Samsung Cloud backup.
Guide on how to fix water damaged Galaxy S6 by recovering data via Samsung Cloud:
Step 1. Go to Samsung Cloud
Open the Settings app, and click the "Cloud and accounts" option. Then you can choose Samsung Cloud.
Step 2. Restore Data to Your Samsung Phone
To restore the backup data, you can tap the "Restore" option, and select file types on the screen. At last, hit the "RESTORE" button to get your files back.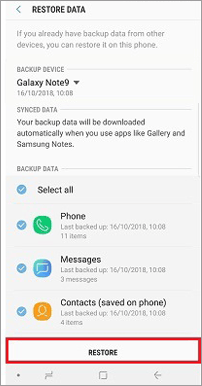 Tips:
What if you haven't fixed your water-damaged phone but want to regain your backup files? That's easy. You can visit the Samsung Cloud website on the computer, and log in with the Samsung account that stored your files. Then you can download the data to your computer without effort.
Samsung Cloud failed to back up data? Don't worry. You can fix it with these effective tips.
2.3 Restore Files via Google Backup
Many Samsung users also like to back up data via their Google account. As long as you add your Google account to your Samsung phone, it will automatically upload various files to Google Drive. When you lost data, you can synchronize it from your backup directly.
Here's how to restore files via Google backup when Galaxy Note 5 got wet:
Step 1. Enter Google Account
After drying up your Note 5, please go to Settings, and choose "Cloud and accounts" > "Backup and restore" option. Then turn on the "Back up my data" icon, and tap the "Google account" > "Add account" to enter your Google account.
Step 2. Sync the Backup Data to Your Phone
After that, please click your account, and you will see all kinds of data on the screen. Then, please tap the "More" > "Sync now" icon to restoring the backup data to the Samsung device.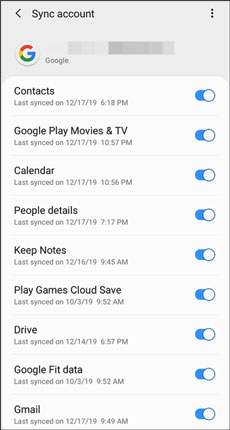 Conclusion
See? You needn't worry too much, even if your Samsung Galaxy S6 fell into the water. These 3 effective ways can help you recover your data from your phone. More powerfully, this Samsung data extraction program can recover your data from the damaged phone without backup. Let's try it to regain Samsung files. Of course, there are still other useful recovery approaches. If you have any nice suggestions, please write them down in the comments area.
Related Articles
How to Effortlessly Recover Deleted Photos from Galaxy S7 with 4 Methods
Transfer Contacts from Samsung to Sony Xperia in 4 Ways [Lightning-fast]
Samsung SD Card Data Recovery: Recover Data from Samsung SD Card (Latest & Proven)
How to Free Up Space on Samsung Tablet: Make it Faster Than Ever Before
Back Up Galaxy S10 - 6 Methods on Samsung Backup and Restore
Excellent Guide on How to Wipe a Samsung Phone Completely and Fast