Summary
To edit contacts on Samsung phone, this article is about to show you a professional Samsung Contacts Editor to help you modify contact information, add new contacts, delete unwanted contacts, import/export contacts to/from Samsung Galaxy S23/S20/S10/S9/S9 Plus/S8/S8 Plus/S7/S6 and etc.
With the popularization of computer and mobile phone, people are more and more in need of sharing files between the two devices. Do you often transfer files between your Samsung mobile phone and computer? As you know that we are able to copy media files that are stored on our memory card to computer at will, because Samsung smart phone uses the Android OS, which is an open-source operating system. However, if you save files on your internal memory of your phone or the SIM card, they will be forbidden to be accessed directly unless you turn to a third-party program.
Part 1. Samsung Contacts Editor - The Best Tool to Edit Samsung Contacts
According to consumers' requirements, a great many of them want to manage and edit Samsung contacts on computer. In this situation, I'd like to introduce you this Samsung Contacts Editor (Windows/Mac), which enables you to:
- Change the existing contact info;
- Add new contacts to contact list;
- Add a contact to contact group;
- Remove unwanted contacts from contact list;
- Export contacts from Samsung to computer;
- Import contacts from computer to Samsung phone.
...
Besides, the One-Click Backup & Restore feature of the program allows you to backup or restore contacts or anything else with one simple click. And it supports to work with contacts in different formats.
- When exporting contacts, the supported output formats include *.csv, *.html, *.vcf, *.bak, *.xml and more;
- When importing contacts, the supported input formats include *.vcf, *.bak, *.json, *.xml and more;
- When editing contacts, you can modify everything about your contacts, including phone number, contact name (first/middle/last name), nickname, address, email, website, organization, note, group, etc. You can click "Add Field" to add more information for the contacts.

Apart from this, this Samsung Contacts Editor also enables you to manage other Samsung data after previewing them with details, including text messages (SMS), call logs, apps, photos, videos, music, books and more. It is known to all that computer has a larger screen than mobile phone, so that it will reduce the operational errors if we can modify Samsung contacts on PC by running this program. And backing up contacts is of importance for businessmen who have saved some vital phone numbers and info of big clients on their Samsung phone. What's more, this program can also work as a SMS assistant, then you are able to send text messages to any phone number on your contacts.
This program is fully compatible with almost all Samsung devices, including Samsung Galaxy S23/S20/S10/S9+/S9/S8+/S8/S7/S6/S5/S4, Samsung Galaxy Note 20/Note 10/Note 8/7/5/4, Samsung J3/J3 Pro, Samsung Galaxy A9/A8/A7/A5 and etc. If you own a Samsung mobile phone, this Samsung Contacts Editor must be your best assistant. As a matter of fact, this program can not only be helpful for Samsung users, but also suitable to all Android mobile phones, such as LG, HTC, Sony, Motorola, and so on.
Now you can download the free trial version and give it try on your computer.
See Also:
2 Ways to Transfer Contacts from Galaxy to Computer Effectively
Unlock Samsung Tablet without Losing Data [Updated Tutorial]
Part 2. Steps to Edit Contacts of Samsung Galaxy on Computer via Samsung Contacts Editor
Note: This Samsung Contacts Editor program has two versions( Windows & Mac), you should download the right one according to your computer system. Then follow the instruction to launch it on computer.
Step 1. Link Samsung Phone to Computer
At first, connect your Samsung cell phone to computer via USB. Then open the program after downloading and installing it on PC successfully. After that, you need to open USB debugging on your phone( see picture).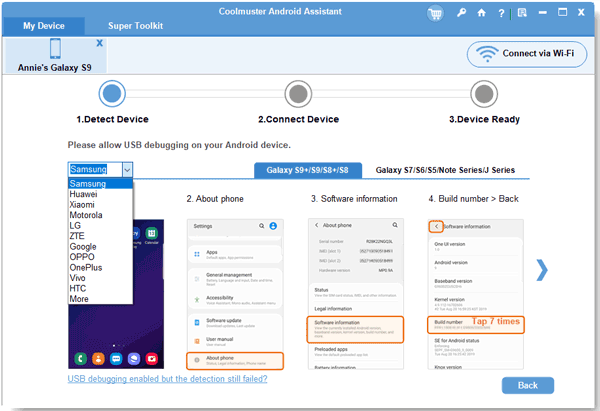 After finishing enabling USB debugging on your Samsung phone, please press "USB debugging open" and "Next" to continue. Then this program will install USB driver on your computer. A few minutes later, it will start to scan the whole data of your Samsung device, and you can get an interface as follows soon.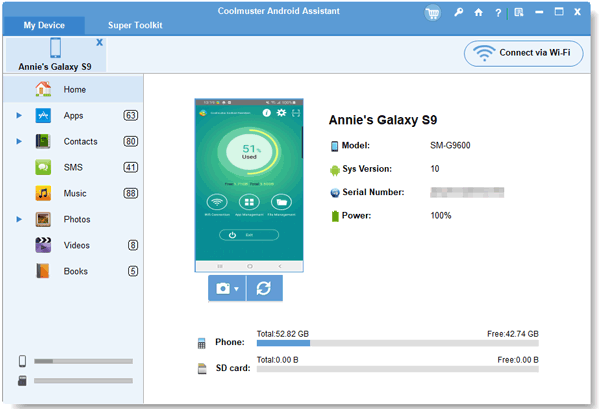 Step 2. View Samsung Contacts
Then touch the "Contacts" tab, here you can preview the whole contacts on your phone. In addition, there are several options listed on the panel, if you want to add, delete, edit, export or import contacts, just click the corresponding icon.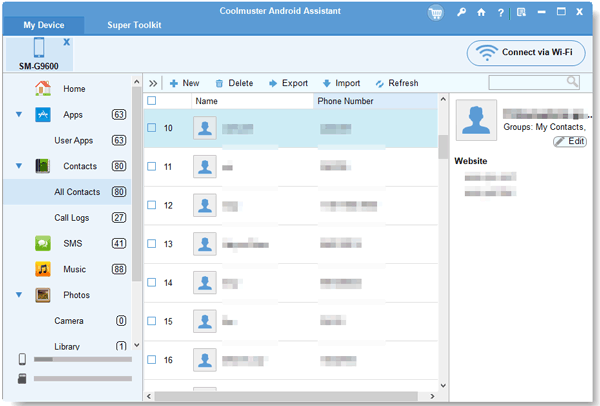 Step 3. Edit Samsung contact information.
To change contact info of your Samsung phone, please select an contact and click "Edit" button on the right panel. Then you might revise or add content for the selected contact according to your will.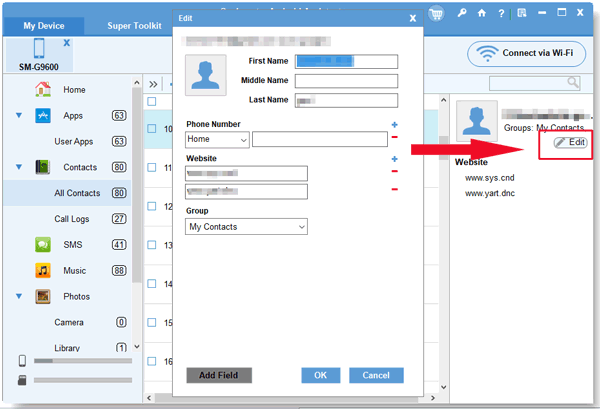 You May Also Like:
How to Print Contact List from Samsung Phones?
Effectively Recover WhatsApp Contacts from Android
Part 3. How to Edit Samsung Contacts through Contacts App on Samsung Phone
The Contacts app on Samsung phone is also another way to edit contacts for Samsung phone. On the Contacts app, Samsung also allows users to add contacts, modify and delete contacts here as the other Android phones. It is easy to operate but it doesn't offer a way to backup Samsung contacts for users. Anyway, you can refer to the following steps to edit Samsung contacts on Contacts app if needed.
Here's how:
Step 1. Launch Contacts app on your Samsung phone, then scroll on the contact list to search for the contact that you want to edit.
Step 2. Locate one contact and tap on it. This will bring you to the settings page to deal with the selected contact.
Step 3. Tap the settings button (three dots) at the upper right corner, and select "Edit" option on the pop-up menu.
Step 4. Now you are on the Edit page, you can change the contact name, phone number, group name and more here.
Step 5. Tap "Done" or "Save" button to finish it. Then the contents that you have edited for the contact will be saved.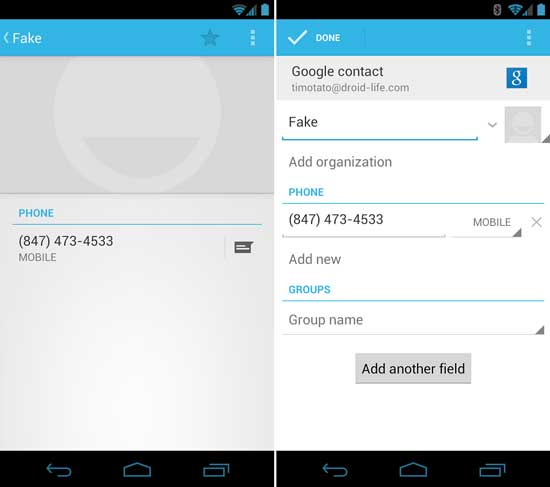 The Bottom Line
Comparing the above 2 methods, this Samsung Contacts Editor is quite multifunctional and easy to operate on computer, right? If you are a Samsung user, this functional and effective program could be the best file manager. Now it's time for you to download and run it on your Windows/Mac computer.
Related Articles:
How to Edit Android Phone Contacts on Computer
How to Transfer Samsung Galaxy Contacts to HTML File?
How to Transfer Contacts from Samsung to Computer
How to Transfer SMS from Samsung Galaxy to Computer?
Smoothly Transfer Contacts from OPPO to Samsung [5 Proven Ways]
Transfer Data to Galaxy with Original Quality: You Can Transfer Everything