We always share something interesting with our friends using a piece of screenshot. The screenshots we send could tell our friends what happens on our phone screens as we see. So it is good for you to learn how to take a screenshot on your phone. This tutorial is about how to screenshot on Samsung, which has a great number of users all over the world.
Part 1. How to Screenshot on Samsung Galaxy with Hardware Buttons?
Like many other Android phones, you can screenshot on Samsung Galaxy devices with hardware buttons. You can also use this way to screenshot on Samsung tablets. Here are two ways to take a normal Screenshot.
You can either hold down the Volume Down button and the Power button at the same time, or press the Home button and Power button simultaneously. You can choose a convenient way to take a screenshot up to your device.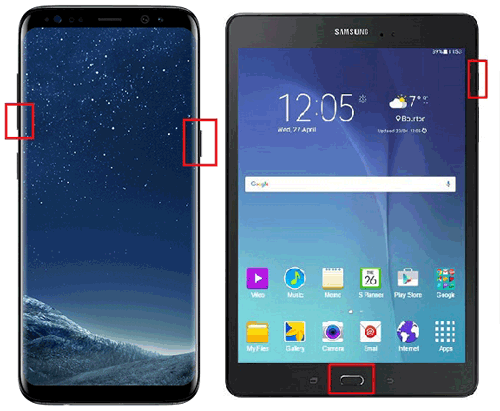 Additional Tip:
Sometimes we need to take a full page screenshot, which contains more than what we can see in a screen. If you have a Samsung Galaxy S8, you can take a long screenshot with scrolling capture. In this way, you need to enable the relative feature in Setting app. See how it works.
Step 1. Please go to Settings > Advanced features > Smart capture > slide "ON" to enable the feature.
Step 2. Capture a normal screenshot, and you can see a menu bar at the bottom of the screen. Please tap on "Scroll capture" to take a full page screenshot.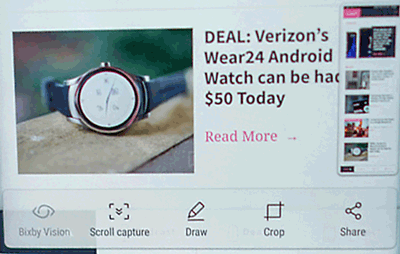 Part 2. How to Take A Screenshot on Samsung with Palm Swiping?
This is a cool method for Samsung Galaxy only. You can take a screenshot on Samsung using a palm gesture. Please notice that you need to enable the palm swipe feature on your Samsung device at first. This way can also work on some Samsung tablets.
How to enable palm swiping on your Samsung?
You can go Settings > Advanced Features/ Motions and Gestures > slide on "Palm swipe to capture".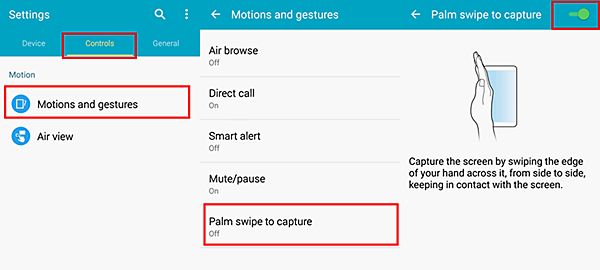 How to screenshot?
Choose a screen that you like to retain, then swipe your hand across the display from left to right or vice versa. After that, the Samsung phone will give a shot. You can use palm swiping to capture each screen without a on-screen keyboard.
Now, you can open the Google Photos or Gallery app to check, edit and share your screenshots.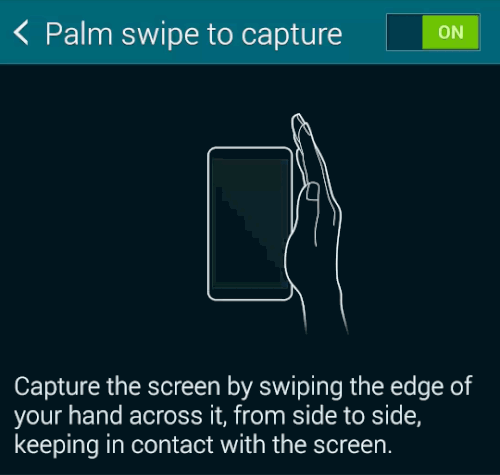 Part 3. How Do You Screenshot on A Samsung in Batches Effectively?
If you need to capture many screens and do not want to press the buttons or slide your hand for many times, you can use Samsung Screenshot Assistant - Samsung Messages Backup to take screenshots on computer.
Samsung Messages Backup is a multifunctional Android assistant aiming to help users manage their Android devices on computers effectively. With it, you can not only take screenshots, but also manage your Samsung files, print text messages, backup and restore your phone easily.
Besides, it supports almost all Samsung phones, like Samsung Galaxy S23/S20/S10/S9+/ S9/ S8+/ S8/ S7/ S6/ S5, Samsung Galaxy Note 20/Note 10/Note9/ Note8/ Note7/ Note6/ Note5/ Note4, Samsung Galaxy A9/ A8/ A7/ A6 and so on. It is also friendly to other Android brands, such as Xiaomi, Huawei, HTC, LG, etc.
See how to take screenshots with Samsung Screenshot Assistant - Samsung Messages Backup:
Step 1. Please download the program to your computer. Here are two free trial versions for Windows/ Mac:
Step 2. Run the program and connect your Samsung device to computer via a USB cable. Please enable USB debugging. The interface will give a simple guide.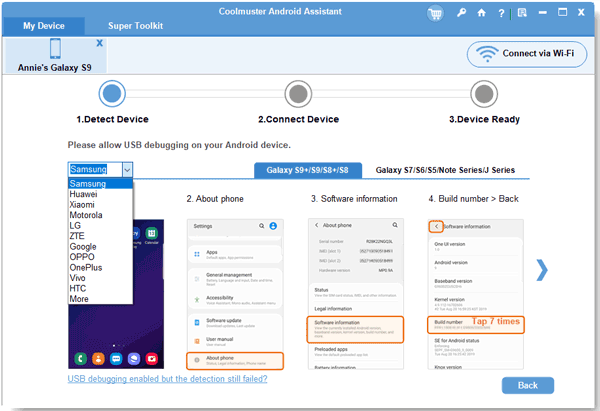 Step 3. Once your Samsung Galaxy is detected, you can enter the main interface shown as below. The screen of your phone will be displayed on the interface. You can slide your finger on your phone to choose the screen you want to take, and then click the camera icon from the main interface on computer.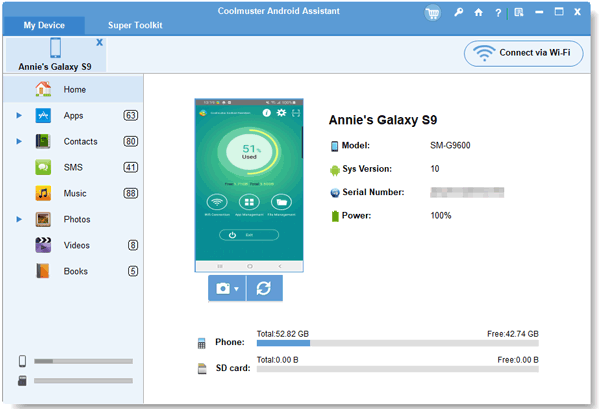 Step 4. Choose a local folder to store the screenshots.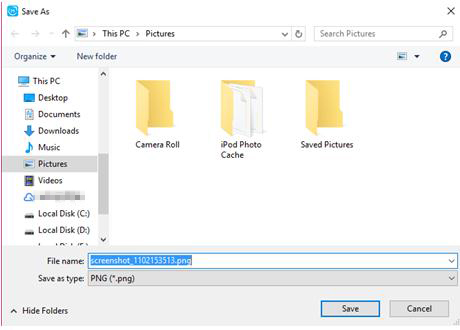 Know more about Samsung Messages Backup:
How to Sync Samsung Phone to Computer
Part 4. How to Screenshot on Samsung Tablets?
To capture a screenshot on tablet, you can use hardware buttons and palm swiping mentioned above. What's more, you can use this free app - Screenshot Easy to screenshot on your Samsung tablet. This app can also work on your Samsung phone, you can use it to take a screenshot on your mobile phone.
With scrolling capture function in it, you can easily take a long screenshot for a full web page.
To use this app on Samsung tablet, you need to download Screenshot Easy app from Google Play store.
Step 1. Install and run the app on your tablet, please allow the terms if prompted.
Step 2. Before taking a screenshot, please turn the "OVERLAY ICON" on and you can see a small camera shape on the top-left of the tablet screen when you minimize the app.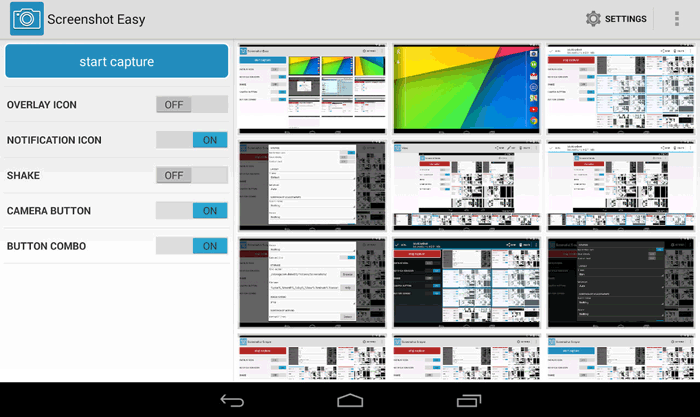 Step 3. Now, you can tap on "START CAPTURE", select the screen you like take a screenshot, and tap the small camera shape on top-left. It gives a shot, which can be checked in the app after several seconds.
Step 4. Tap on the "STOP CAPTURE" to complete the work.
You can store the screenshots to Gallery and share them to your friends.
Final Thoughts:
You can use hardware buttons and palm swiping to capture a screenshot on Samsung conveniently. Meanwhile, there are free apps on Google Play will also help to make a screenshot.
If you need to screenshot in batches, manage your Samsung phone, backup and restore your Galaxy in a professional way, you can pick a free version of Samsung Messages Backup to have a try. Developed by a technical team, the program is effective and safe for Android data management.
Related Articles:
How to Take A Screenshot on Android [3 Solutions]
How to Backup Samsung Apps on Computer (PC&Mac)?
How to Recover Lost Screenshots on Samsung Phone [Solved]
How to Backup and Restore Android Phone/Tablet on Computer? (4 Ways)
Easy Way to Transfer Contacts from Samsung to Samsung