Summary
Broke an iPhone screen by accident? If so, you will have to buy a new iPhone. Anyway, it is a painful thing. But luckily, you can get your data back from the broken iPhone, and transfer the data from the broken iPhone to the new iPhone. In other words, you will not lose your memorable photos, interesting videos, and other important files.
With this guide, you can get effective solutions to move your data from the broken iPhone to another iPhone, and we've displayed their steps below. You can follow the steps to make it effortless.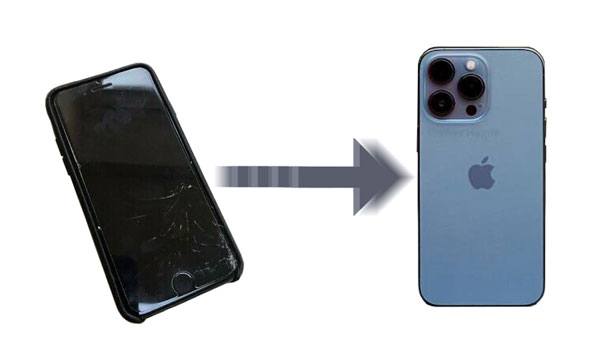 Part 1: How to Transfer Data from Broken iPhone to New iPhone in 1 Click
Can you transfer data from a broken iPhone? With the help of this Phone Transfer software, you can copy almost all data from an iPhone to another, even if the screen is broken. With it, you can simultaneously transfer contacts, photos, music, TV shows, movies, ringtones, and so on. There is no quality loss in the data migration. Therefore, you can regain your data on the new iPhone breezily.
Key features and highlights of this phone data transfer software:
- Transfer data from a broken iPhone to another iPhone without hassle.
- Fast detect and recognize your mobile devices.
- Support various data types, like music, audiobooks, podcasts, phone numbers, etc.
- Allow you to transfer files from iOS to iOS, Android to Android, iOS to Android, and vice versa.
- Support most generations of iPhone, other iOS devices, and Android devices, such as iPhone 13 Pro/13/12 Pro/12/11 Pro/11/XS/XR/X/8/7, iPad Pro, iPad Air, iPad mini, iPod touch 7/6/5/4, Samsung, ZTE, LG, Sony, and the like.
Download the data transfer software for free below.
Here's how to transfer data from an iPhone with a broken screen to a new iPhone via this program:
Step 1. Open the Transfer Software
After downloading the package on your computer, please install and open it.
Step 2. Connect iPhones to the Computer
Connect the broken iPhone and the new iPhone to the computer with their USB cables. Then tap the "Trust" option if prompted. The program will recognize your devices.
Step 3. Copy Data from Broken iPhone to New iPhone
- Make sure your new iPhone is the "Target Device", or you can click the "Switch" icon to change. Then check the categories on the middle panel, and tap the "Start to copy" button to start the procedure.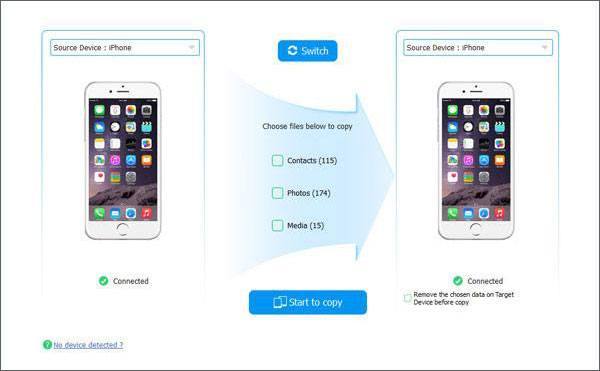 - Once done, you can view the data on your new iPhone.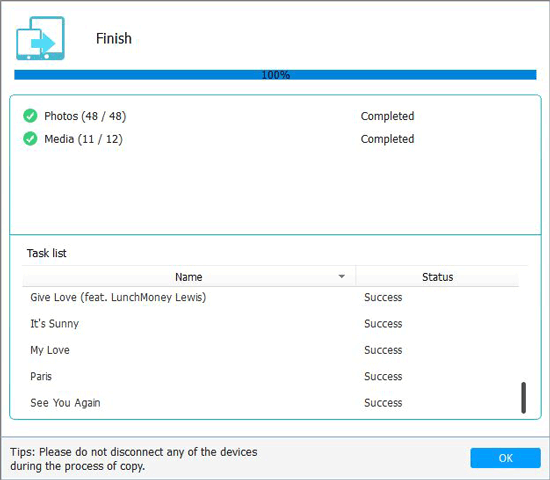 Bonus: You can also move iOS data to a OnePlus phone without effort. Let's learn these 4 methods.
Part 2: How to Transfer Data from Broken Screen iPhone to New iPhone via iCloud Backup
Have you backed up your broken iPhone with iCloud? If yes, fortunately, your data will remains intact on your iCloud account, even though the iPhone is severely damaged. But what if you haven't performed the backup with iCloud? In this case, you can try backing up the data on the iPhone with the cracked screen. If it doesn't work, please skip this section.
Guide on how to sync data from the broken-screen iPhone to a new iPhone via iCloud backup:
Step 1. Set Up Your New iPhone
Take out your new iPhone, and turn it on. Ensure you don't finish the setup on it. If done, please go to Settings, and find "Erase All Content and Settings" to erase the new iPhone.
Step 2. Restore Data from iCloud Backup
- After erasing the iPhone, please start the setup, and choose the "Restore from iCloud Backup" option on the "Apps & Data" screen.
- Then log in to the iCloud account storing the backup data from your broken iPhone. Next, complete the setup, and you will get your data.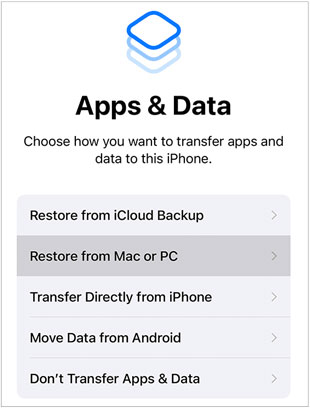 Read also: Expertly Move Data from Android to iPhone after Setup [6 Methods]
Part 3: How to Transfer Data from Broken iPhone to iPhone via iTunes
Some people like to back up data to their computers with iTunes. If you back up the data with iTunes before you damage your old iPhone, you can restore the iTunes backup file to your new iPhone. But the restored data will overwrite your current data on your target device. By the way, if you have authorized your Apple account to be used on the broken iPhone, you can back it up even though the screen is broken.
Steps on how to import data from the broken iPhone to a new iPhone via iTunes backup:
Step 1. Launch iTunes
Run iTunes on your computer, and connect your new iPhone to the computer via a data cable.
Step 2. Restore the Data to the New iPhone
- After the connection, tap the iPhone icon at the top left, and choose the "Summary" option. Then click the "Restore Backup" icon.
- The program will transfer the data to the connected iPhone.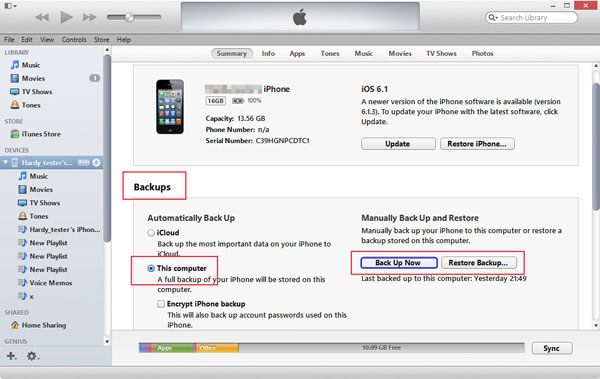 Part 4: Ask Apple Team for Help
If the previous methods are invalid for your broken iPhone, you can ask Apple Team for help. Please take your broken iPhone to a nearby Apple Store, and elaborate on your situation. They will try to recover your data. There is a possibility that you can switch to a new screen without losing any data.
Bonus: What if your iPhone cannot be turned on? If so, you can charge your iPhone, and then restart it. Then attempt to turn it on. In case it still isn't switched on, you can use iTunes to restore the iPhone.
Conclusion
Hope that you will complete the data transmission from the broken iPhone to the new iPhone. The fastest way is to use the Phone Data Transfer program in Part 1. You can give it a shot. As long as you connect both iPhones to your computer, you can begin the transfer with ease.
Related Articles
How to Transfer Contacts from iPhone to iPad Adroitly [4 Ways]
How to Transfer Data from iPhone to iPhone After Setup - 3 Useful Ways
[5 Best Ways] How to Transfer Music from iPhone to Android in Ease
Fixed: Fast Solve It If Contacts Didn't Transfer to New iPhone
iPhone to Sony Transfer Guide: Swiftly Transfer iPhone Data to Sony via 6 Ways
How to Transfer Music from iPhone to iPod without a Hitch? Try 5 Methods Here