Summary
Android internal storage is larger and larger than before, but you also have more and more files to store on the Android phone. And one day, you will find your Android internal storage is full, which will make your Android phone slower than before. Therefore, you'd better learn about these 4 tips and you can free up your Android storage easily.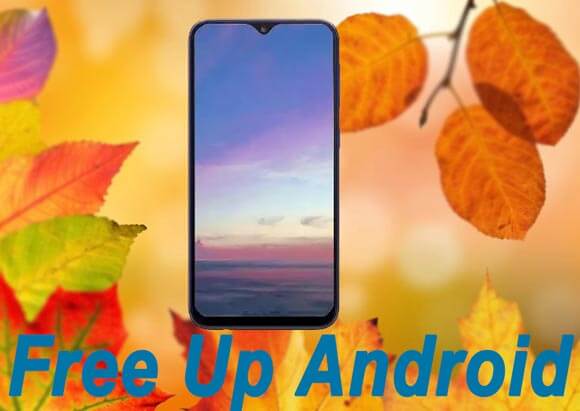 Part 1: Clear Storage When Android Phone Memory is Full (Recommended)
As the Android phone memory gets full, you would like to clear it and get back the storage space on your Android. However, you need a excellent clear software to free up your Android phone. This Android Eraser - Samsung Data Eraser will meet your expectations. Let's see its features below.
Key features and highlights of this Android Eraser:
- Erase internal storage of the Android phone completely.
- Support many kinds of data types, such as contacts, text messages, videos, photos, call logs, call logs, apps, music, etc.
- Protect your personal information from leakage.
- Easy to connect and clean up, and you can make a stable connection via a USB cable.
- Three erasing level you can choose.
- Wipe out almost all the Android phones, such as LG G9/G8/G7/G6/G5, Motorola G Stylus/Moto G Powerful/Razr/E6/E6 Play/E5G8 Play/G8, ZTE Axon 10 Pro/Axon 9 Pro/Blade 10/Blade 20/Blade Z Max/Blade Max View/Blade 10 Prime/Blade A7 Prime/Blade A5, Huawei Mate Xs/Mate 30 Pro/Mate 30/Mate 20 Pro/Mate 20 X/ Mate 20/Mate X, OPPO A31/A91/A9/A5RENO/Reno2 F/Reno2 Z, Samsung Galaxy S20/S10/S9/S8/S7/S6/S5, Sony, HTC, Motorola.
Download this Android Eraser below.
1.1 Release Android Phone with Android Memory Eraser
This Android Memory Eraser is a professional erasing application which can free up your Android internal memory immediately. And it will wipe out your Android phone without trash left. Thus, choosing it to release the Android device when its memory is full is the best decision.
Tutorial on how to release Android phone with this Android Memory Eraser:
Step 1: Preparing
First, you need to download and install this Android Memory Eraser on your computer. Then launch it and you will see the primary interface as below.
Step 2: Connect via USB Cable
Then please connect your Android phone to the PC with a USB cable and enable USB debugging on the phone. The app will detect your Android phone in no time.
Step 3: Erase Android Storage
- Next, click the "Erase" icon and import the "delete" word on the blank. You can choose the security level on the page as well. Then you need to confirm to tap on the "Yes" option on your Android phone.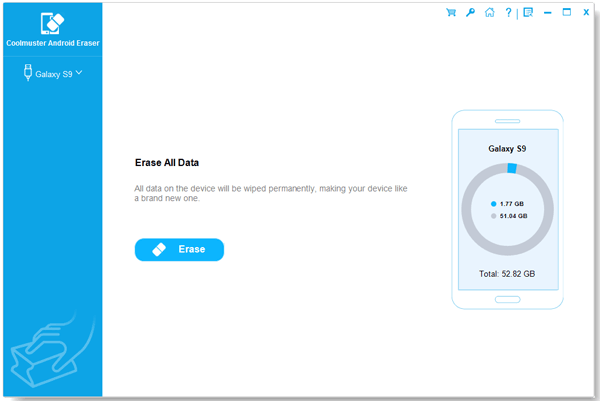 - Finally, this Android Memory Eraser will start cleaning the Android device quickly.
See also: Too many photos on Android phone? Don't worry. You can transfer photos from Android to laptop in 6 ways from this article.
1.2 Free Up Android Phone with Android Memory Manager (Without Deleting Files)
This method to free up your Android phone is without deleting files, so you needn't worry about you would lose your precious files on Android phone. This is a professional Android backup app and you can backup all the data from Android phone to the computer in 1 click. And you can restore the data from the PC to the Android phone instantly.
Here's how to free up Android phone with Android Memory Manager:
Step 1: Download and Install
Please download and install this Android Memory Manager on the PC in advance. And double-clicking on it to enter, you need to choose the "Android Assistant" module.
Step 2: Make a Connection
Then please make a connection between your Android phone and the computer via a USB cable. And please turn on the USB debugging for enabling it. The software will enter your Android phone.
Step 3: Backup Android Data on PC
- Now, you need to tap on the "Super Toolkit" on the top menu and hit on the "Backup" option on the left. There will be a pop-up page on the screen.
- Please select the data you want and tap on the "Back Up" icon at the bottom. It will prompt you to select a backup place and begin to backup the selected data. Finally, you will release the Android internal space.
Further reading: To transfer files from Android to Mac, you can make full use of these 7 helpful ways.
Part 2: Move Data to SD Card When Android Internal Storage Gets Full
It is believed that most Android phone support external storage, and this feature gives a choice for users to insert an SD card on Android phone easily. So, you can move the data from your Android internal memory to the SD card without hassle. On the contrary, if your Android phone doesn't have this feature, you can also transfer the files from your Android to the SD card with the following steps.
Steps about how to move data to the SD card when your Android memory is full:
Step 1: Insert SD Card to PC
First of all, please insert your SD card into your PC with a SD card reader, Then the computer will receive it as a hard drive.
Step 2: Link Android to PC
Next, please link your Android phone to your computer using an Android cable, and then allow your computer to check your phone if prompted.
Step 3: Move Files from Android Device to SD Card
- Finally, navigate to your Android phone in this way: Clicking the "This PC" icon on the desktop and you will find the Android device under the "Devices & drives".
- After entering, please drag the desired files from the Android internal storage to a folder which is on your SD card.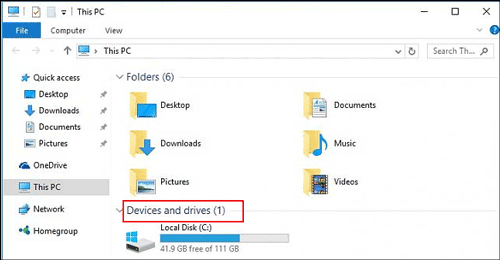 Read also: A large video will take up almost all the space on Android, so you need to transfer video from Android to PC in 6 simple methods.
Part 3: Factory Reset When Android Device Turns Full
Remember factory reset? It is a basic function on your Android phone, and you can delete files on the Android phone via factory reset when the Android device is full. With it, you needn't install other apps on the Android phone or computer at all. To a certain degree, it is the easiest way for you.
Do factory reset when Android device turns full, here's how:
Step 1: Go to Settings
On your Android device, please go to the "Settings" app on the home page.
Step 2: Backup and Reset
Next step, you need to tap on the "Backup & reset" option.
Step 3: Do Factory Reset
Thirdly, you need to find the "Factory reset" option on the screen with scrolling. Tap on it and your Android phone will begin to factory reset.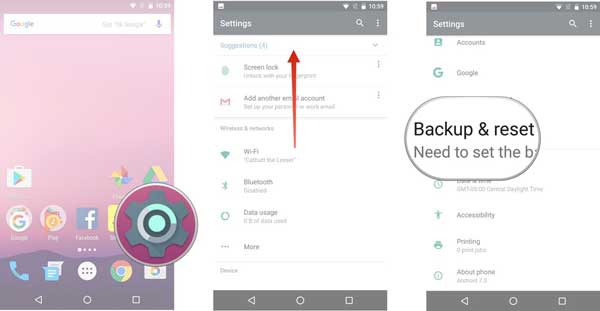 Check if you need: If you want to wipe Android phone before selling, let's click these 3 ways here.
Part 4: Move Files to Google Account on Settings While my Phone Memory is Full
If you are a Google user, you will understand your Google account can help a lot while your phone memory is full. It is an efficient way to backup the data from the Android device without data losing. And you can get 15 GB free space on Google. Besides, you can choose to upgrade your plan on Google official website.
Guide on how to move files to Google account on Settings while the phone memory is full:
Step 1: Go to Settings
Please go to the "Settings" app first, and click on the "Backup & reset" category.
Step 2: Add Google Account
Then click the "Account" option and add your Google account on it. If needed, you need to input your Google password.
Step 3: Backup Data from Android Memory
Once added, go back to the "Backup & reset" and tap on the "Backup" option. At last, you can select to turn on the features about the data and click the "Backup" icon. When finished, you can delete the files from your Android phone to free up the storage.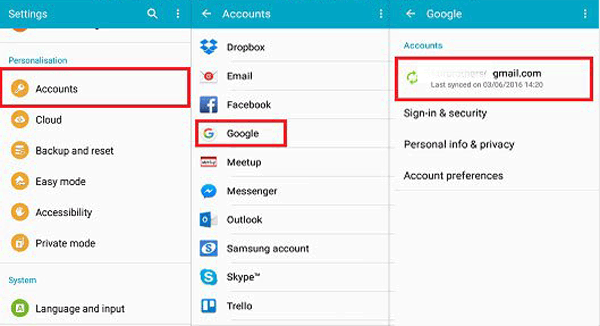 Why is your Android phone memory full?
In general, if you store too many files on your Android device, the Android phone will become full quickly. Then your Android phone will be slow. But sometimes the Android phone's memory becomes full but you don't reserve too much data. Why is the Android phone memory full?
Actually, if you installed a lot of apps on the Android phone but then you uninstalled them. However, their data still exists on the Android internal storage. If you wipe out all the data of them, you will free up the storage.
Conclusion
In fact, you can delete your Android phone by yourself easily, but if you don't have any good tools to free up your Android phone, it will be difficult for you to achieve your aim. So, why not try the best Android Memory Eraser - Samsung Data Eraser? Please leave your opinions on the reviews part.
Related Articles
Excellent Guide on How to Wipe a Samsung Phone Completely and Fast
4 Effective Ways for Backup SD Card on Android [Best Guide]
How to Backup Android Phone before Factory Reset without Losing Everything
Samsung File Transfer for Mac - How to Transfer Samsung Files on Mac?
4 Best Samsung Backup Apps and Software in 2020
How to Backup Samsung to PC Easily? - 6 Ways You Can't Miss