Summary
It is inevitable to transfer data to a new iPhone, and the data migration is no longer painful to complete because Quick Start and Move to iOS can directly move data to the new gadget. Everything seems good, but in reality, there is iPhone transferring data stuck.
This issue is not unusual. Many Apple users have encountered it when the transferring process is almost finished. So, we are going to discern why the data transfer is stuck and how to fix it.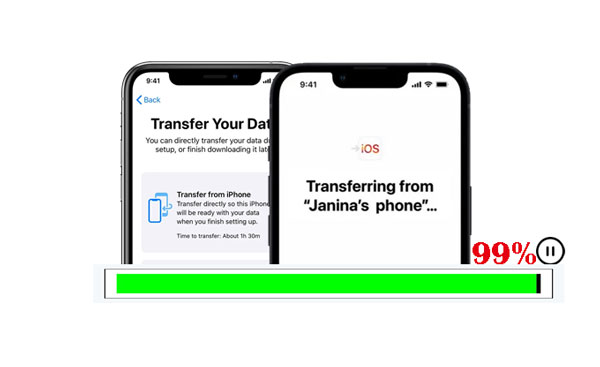 Part 1: Why Does My iPhone Get Stuck in Transferring Data?
First of all, it is important to understand why an iPhone gets stuck in the data migration, which is the key to working it out in the next step. Generally, the following factors are the main causes of an iPhone getting stuck in transferring data.
- Old operating system: The OS on your old device is too old to work for the transfer.
- Poor network connection: The network your iPhones are connected to is often unstable.
- Quantities files to transfer: If you plan to transfer many files and they are in a large size, the transfer process will take a long time or even get stuck.
- Inadequate storage space: Even though the memory space is sufficient on your new phone, it may get stuck in transferring data due to the old phone's full storage.
So how long does it take to transfer data to a new iPhone? In fact, it always depends on how much data you select and how fast your network is, which varies from several minutes to multiple hours. But mostly, people complete the transfer within an hour.
Bonus: What if your Android phone is stuck in Recovery Mode? Let's browse this informative guide to fix your mobile device.
Part 2: How to Fix the iPhone Transferring Data Stuck Issue?
Then how can you fix it when your iPhone transfer is stuck on 1 minute remaining? Let's check it out.
2.1 Check the OSes of Your Phones
Have you updated the OSes to the latest on your iPhones? When you start the setup on your new iPhone, it will prompt you to perform a software update if the current OS is old. In this case, do not skip this step, which will influence the data migration.
Of course, you need to check the OS on your current device. Go to the Settings app, and tap "General" > "Software Update" to install the latest OS. After that, try transferring data again.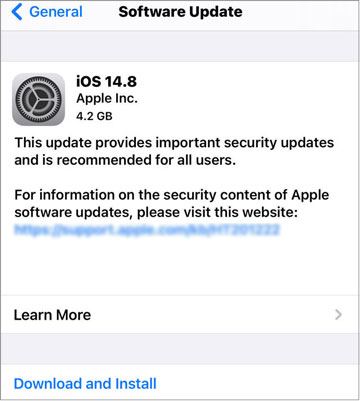 You might need: Why is Samsung Smart Switch stuck at 99%? Click this link if you want to fix this issue,
2.2 Restart Your Mobile Phones
Restarting devices is usually helpful when minor system bugs occur. Therefore, please restart your iPhones if they are stuck on transferring data.
Please press and hold the one Volume button and the Power button simultaneously, and release it when you see the slider appears on the screen. Then drag the slider to turn the device off.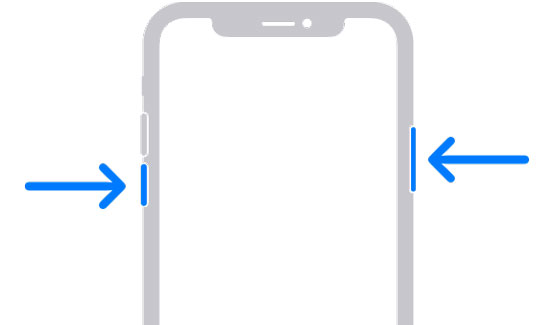 If the phone is frozen, you need to force restart it: press and fast release the Volume Up button, press and fast release the Volume Down button, and press and hold the Power button until the Apple logo shows up.
Guess you like:
[Helpful Guide] Transfer Files from Android to iPhone with 8 Tips
6 Strong Methods on How to Transfer Contacts from iPhone to Android
2.3 Reset Your iPhone
In case restarting is ineffective, you can reset your current iPhone. Open the Settings app, and go to "General" > "Reset" > "Reset All Settings" option. It will remove the network settings, keyboard dictionary, location, privacy, and Apple Pay cards but not your media data. But if you choose the "Erase All Content and Settings" icon, all the data on your iPhone will be erased.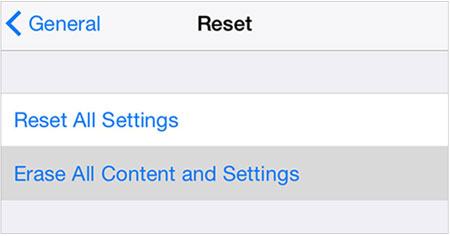 2.4 Make Sure the Operation Is Correct
A wrong step in operation will lead to the failure of the data migration. When using Quick Start, please make sure both iPhones are near each other, and type the Apple ID you are using on your old device. Next, check if Bluetooth is switched on. Please proceed carefully.
2.5 Change Your Connection
When you connect your iPhones via a network, but the network is poor, you can change to a wired connection by using an Apple cable and an adapter before carrying out Quick Start. Reversely, you can choose the Wi-Fi connection if you have failed with USB.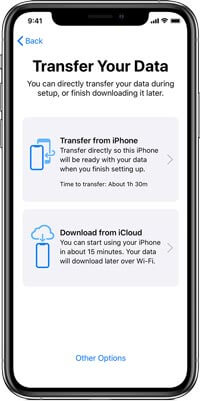 2.6 Switch Off Low Power Mode
Low Power Mode is great for reducing unnecessary power consumption, but it will impact the performance of your iPhone, especially when you connect your iPhone to Wi-Fi. Thus, we recommend you to turn it off before you complete the data transfer.
Please open Settings, and choose the "Battery" option. Then toggle off the "Low Power Mode" icon.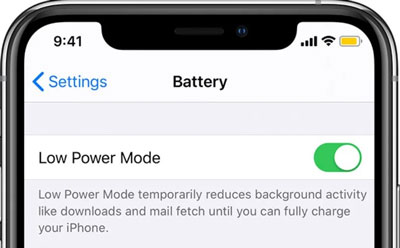 Read also: How can you easily transfer your messages to a new iPhone? This guide will teach you 4 efficient ways.
Part 3: Use Another Transfer Tool If the iPhone Data Transfer Is Stuck
What can you do if the data transfer is still stuck on your iPhone after trying all the methods mentioned above? Don't worry. There is another useful transfer way, which is also convenient. Furthermore, you will not meet the stuck issue anymore. It is iOS data transfer software - Samsung Data Transfer.
As long as you launch this program on your computer, you can select data types and start the transfer in simple clicks. There is no data or quality loss in the procedure. With this direct transfer program, you can copy your contacts, notes, books, bookmarks, and calendars between iPhones.
Key features of this one-stop transfer software:
- Directly transfer iOS data to a new iPhone without any stuck issue.
- Support most iOS devices, such as iPhone 13 Pro/13/12 Pro/12/11 Pro/11/XS/X/XR/8/7/6, iPad Pro, iPad mini, iPad Air, iPod touch.
- Allow you to transfer photos, videos, music, and more, from iOS to Android.
- No limit on quantity.
Download this software below.
Here's how to transfer data from one iPhone to another with this program:
Step 1. Install the Program
Please download and install the iOS transfer program on your computer. Then run it on the desktop.
Step 2. Connect iPhones to the Computer
Use two Apple USB cables to connect your iPhones to the computer, and tap the "Trust" option on both phones if prompted. Then the software will recognize the mobile phones immediately.
Step 3. Transfer Data Without Getting Stuck
Make sure your new iPhone is the "Destination" device. If not, click "Flip". Then check the data types you want to transfer on the panel. Finally, click the "Start Copy" icon to begin the process.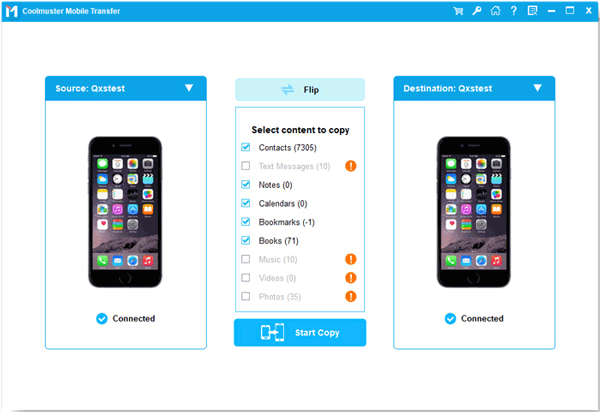 When the transferring procedure is over, you can view the data on your target iPhone.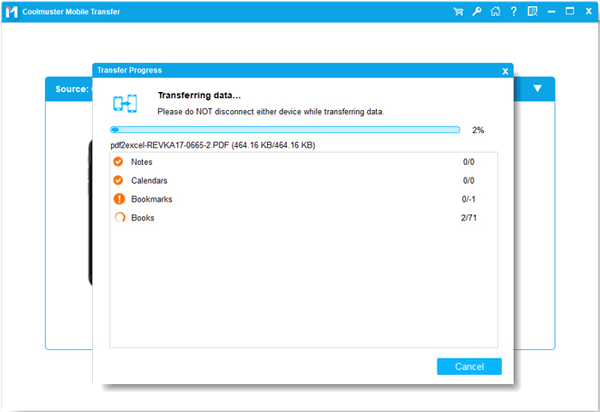 Conclusion
There are multiple solutions to solve the iPhone transferring data stuck problem, so don't worry too much when you face it. Certainly, you can use another powerful transfer program to replace Quick Start or Move to iOS. For instance, the iOS data transfer software - Samsung Data Transfer, is an excellent helper in copying data. With it, the transferred data will not overwrite your existing files on your receiver, and it has a stronger capability to transfer more files.
Related Articles
Share Contacts on iPhone without Trouble (5 Fabulous Approaches)
How Do I Sync My iPhone to My iPad with 5 Reliable Methods?
How to Transfer Data from Android to iPhone 13 (Support the Latest iOS)
How to Transfer iBooks from iPhone to iPad with 5 Hassle-free Methods
Fast Back Up WhatsApp from iPhone to PC with 4 Approaches [Updated]
How to Transfer Data from iPhone to iPhone After Setup - 3 Useful Ways