Summary
WhatsApp is one of the most frequently used social apps around the world. We can chat with our friends, and share interesting images, videos, etc., via WhatsApp. In other words, we have stored many data on WhatsApp. It is vital to back up WhatsApp from iPhone to PC, which can protect our important data from loss.
But how can we efficiently transfer WhatsApp data from an iPhone to a PC? It seems necessary to learn some backup methods. Don't worry about that because we can directly obtain 4 tips below. Let's get started.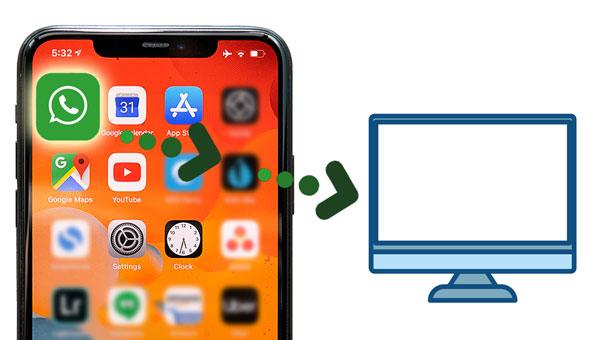 Part 1: How to Back Up WhatsApp from iPhone to PC in 1 Click
Want to back up WhatsApp messages from an iPhone to a PC in 1 click? Luckily, there is a method that can make it, using the WhatsApp Backup software. This tool can transfer almost all WhatsApp data from an iOS device to a computer, including text and audio chat history, stickers, pictures, videos, attachments, and more.
More importantly, it can back up all the data with original quality, and allow you to view your backup WhatsApp files on your computer. Plus, you can restore the backup data to any iOS device.
Key characteristics of this WhatsApp backup program:
- Back up WhatsApp from iOS to PC or Mac without any hassle.
- Support many iOS devices, like iPhone 13 Pro, iPhone 13, iPhone 12, etc., and the latest iOS 15.
- Support various data types, such as images, videos, documents, text messages, voice messages, and more.
- Fast copy WhatsApp data from one iPhone to another.
- Enable you to back up WeChat, Kik, LINE, and Viber from an iPhone to a computer.
You can download this WhatsApp backup program below.
Back up WhatsApp to a computer via this software:
Step 1. Install the Software
After downloading the WhatsApp backup software, please install it on your computer. Then launch it and choose the "WhatsApp Transfer" tab.
Step 2. Establish the Connection
Click the "Backup WhatsApp messages" option, and connect your iPhone to the computer via a USB cable. Then the program will detect and recognize your iPhone.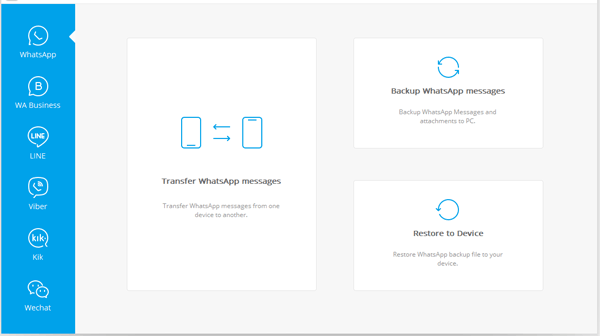 Step 3. Start the Backup Procedure
After the connection, the software will automatically transfer the WhatsApp data from the iPhone to the computer.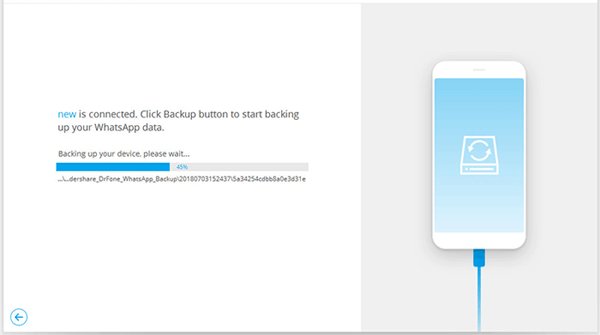 Read more: Why does WhatsApp backup get stuck on a smartphone? You can fix it with this tutorial.
Part 2: How to Back Up WhatsApp Messages from iPhone to PC via iTunes
Using iTunes can save WhatsApp chat on PC as well, but it cannot back up WhatsApp messages only. Its backup feature will transfer all iPhone data to a computer. Therefore, once you want to restore your backup WhatsApp files to your iPhone, you need to restore all kinds of device data, and the restored data will replace the existing data on the iPhone.
Here's how to back up WhatsApp messages from an iPhone to a PC via iTunes:
Step 1. Open iTunes
Please connect your iPhone to the PC via USB, and open iTunes on the desktop. If prompted, please tap the "Trust" option on your phone.
Step 2. Back Up WhatsApp to PC
Click the iPhone icon, choose "Summary", and select the "This computer" option as your backup location. Then click the "Back Up Now" icon to begin the process.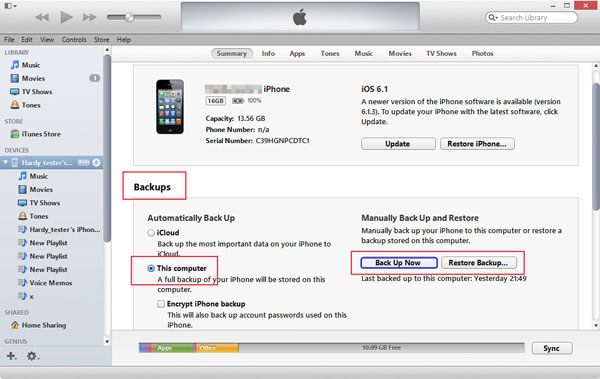 Read also: It is easy to back up text messages from a Samsung Galaxy phone to a PC, since this article will guide you step by step.
Part 3: How to Save WhatsApp Chat in PC via Email
Do you remember the "Email chat" feature on WhatsApp? It enables you to send your WhatsApp chat to any device via email, so long as you can receive an email on that device. Thus, it requires your iPhone and PC to be connected to an available network. But it is troublesome if you need to save many WhatsApp chats to your PC.
Guide on how to send WhatsApp WhatsApp chats from an iPhone to a PC via email:
Step 1. Send WhatsApp Chat via Email
- Launch WhatsApp on your iPhone, and open a chat you want to back up on the screen. Then click the "More" > "Export Chat" > "Attach Media" or "Without Media" > "Mail" option.
- Type your own email address, and click "Send".
Step 2. Receive and Save the WhatsApp Chat on PC
Please log in to your email account on your PC, and open the "Inbox". Next, you can click the email embracing your WhatsApp messages. Now, download the file to your computer.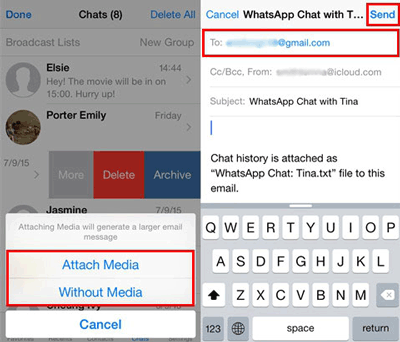 Further reading: You can now expeditiously export photos from Mac to an Android device. Let's check it out.
Part 4: How to Back Up WhatsApp to Computer via iCloud
If you want to use a cloud server to back up your WhatsApp data, you can pick iCloud. But you cannot view or download the backup file to your computer from the iCloud website. If you log in to your Apple ID on the iCloud Drive, you can only know the file size but not download the file.
In a nutshell, it doesn't work to back up WhatsApp to a computer via iCloud. Nevertheless, you can store your WhatsApp data to the iCloud server on your iPhone: open WhatsApp, and click Settings > Chats > Chat Backup > Back Up Now.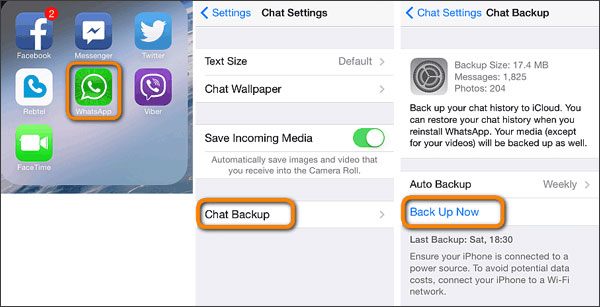 Bonus: Is it possible to back up WhatsApp from iPhone to Google Drive? Certainly not. You cannot find the "Back Up to Google Drive" option on an iOS version of WhatsApp. But you can install Google Drive on your iPhone to enable the photos and videos backup function. Then it will automatically sync your WhatsApp images and videos that you saved to Camera Roll to Google Photos.
See also: How can you transfer WhatsApp backup from Google Drive to iCloud? Maybe these ways can give you support.
Conclusion
You have learned how to back up WhatsApp from an iPhone to a PC, right? If you have any queries, please drop them in the comments area. We will reply to you as soon as possible. But we still recommend the WhatsApp Backup software, a powerful tool to transfer all WhatsApp files from an iPhone to a computer. And the point is that you can view your backup WhatsApp data on the computer. How convenient it is!
Related Articles
How to Recover 1 Year Old WhatsApp Messages without Backup (Android and iOS)
Fixed: Why Samsung Cloud Backup Failed? And How to Fix It without Hassle?
[Fast] How to Transfer WhatsApp from Old Samsung to New Samsung via 4 Methods
How to Transfer Photos from Android to PC Windows 10 [Handy Guide]
How to Back Up Viber Messages on PC Swiftly | 5 Effective Solutions
Quickly Transfer Outlook Contacts to Android with 4 Methods