Summary
Moving from an android to an iPhone has not been a walk in the park. Several users are worrying about their Android data being incompatible. While this may a time happen, it is very rare. Luckily, with the Move to iOS application, it is easier to transfer your data to iPhone. But, you may still encounter the problem every time. If you face issues like Move to iOS not working, then worry no more as this guide solves all your problems.
Here, you will know why Move to iOS might fail to work and fixes that can help. So, stay tuned as we surf through!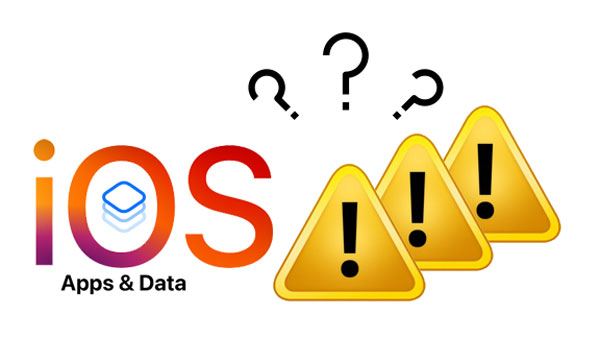 Part 1: Why Move to iOS Is Not Working?
Move to iOS is a wonderful tool for transferring Android gadgets to iPhone data. This application enables new iPhone users to transfer all Android content such as videos, pictures, contacts, and documents to the iOS gadget.
But, sometimes, the Move to iOS app may not work. For instance, some people have reported facing the Move to iOS not working issue frequently. There might be several reasons why the app may fail to work. Some of the common reasons include:
Reason 1. Unstable Wi-Fi
This app only functions when there is a Wi-Fi connection. Thus, you must have a stable and strong Wi-Fi connection.
Reason 2. Low Battery
If your phones do not have enough power, then Move to iOS can be interrupted due to low battery.
Reason 3. Insufficient Transfer Space
To successfully transfer your data from Android to iPhone, you must ensure your iPhone has sufficient storage space.
Reason 4. The firmware Is Outdated
This app needs an iPhone device that runs with iOS versions of 9.0 or later. As for Android, it should be using a version of 4.0 or later.
Note: Before you think of troubleshooting, make sure you have used the Move to iOS app properly. Improper usage of this tool might be one reason it's not working.
Bonus: What about Android File Transfer not working? If so, you can follow this guide to repair the software.
Part 2: Move to iOS App Still Not Working? How to Fix It
If the Move to iOS not working problem still persists, you should look for a way to fix it. Here, we have compiled some important ways to help solve the problem. But, if they do not work too, there is a sure way to solve the issue. So, just hang on as we take you through them.
Tip 1. Restarting Your Android and iPhone Devices
Even though it may be surprising, a simpler solution like restarting your devices may instantly fix the problem. If you reboot your Android and iPhone devices, the cache will be cleared automatically, thus preparing them for the data transfer.
To restart an Android gadget, do the following:
Long press the "Power" button, then click the "Restart" option.
Wait for some time for the device to reboot automatically.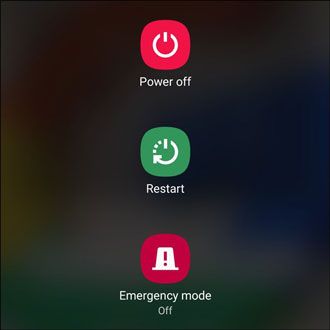 As for an iPhone device, do the following:
Power off your iPhone and turn it on manually for it to restart.
After the devices have rebooted successfully, check to make sure the issue has been resolved.
See also: Select a tool from this article to transfer groups of contacts from an iPhone to an Android phone.
Tip 2. Confirm If There Is a Wi-Fi Connection on Your Devices
Remember, the Move to iOS app only works if both of your devices are connected to Wi-Fi. So, check the "Network Settings" on Android and on iPhone to ensure they both have internet access. If Wi-Fi isn't working properly, you should reboot your Wi-Fi router to reset the network connection, and you will easily transfer your data using the Move to iOS without being interrupted.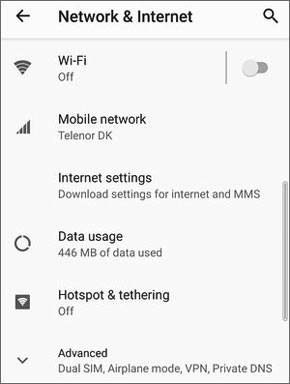 Tip 3. Check the Compatibility of the Devices
If your gadget isn't compatible with the application, then it may fail to connect to your phone. Just like other applications, Move to iOS needs minimum system requirements to operate properly.
An android device should run on a 4.0 or higher version and iPhone on 9.0 or higher version. If any of the devices does not meet the required software minimum, then the app might not connect, and you will have no otherwise but to find another alternative.
For android phones, navigate to "Settings" > "About Phone" to confirm the phone's current version.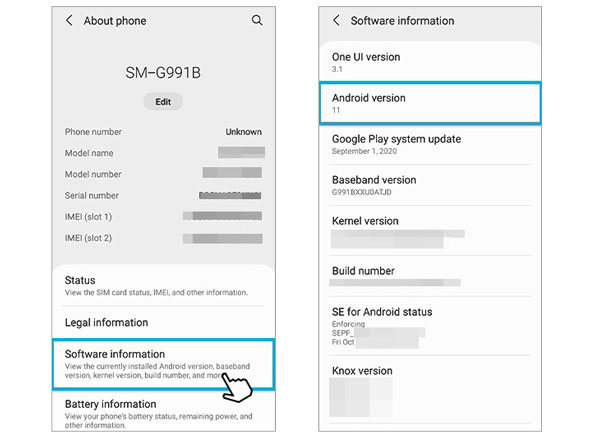 As for iPhone users, go to "Settings" > "General" > "About".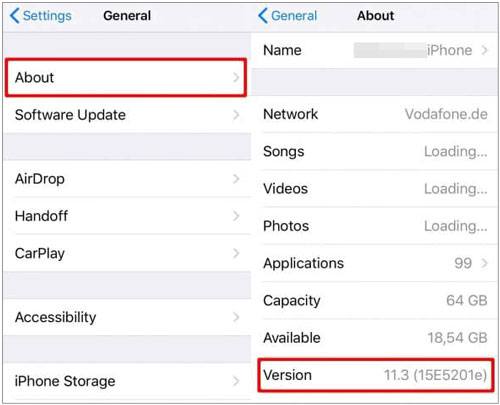 Guess you like: This guide will show you 5 effective ways of Android backup and restoration. If needed, you can check it out.
Tip 4. Switch On Airplane Mode
In most cases, your phone's network connectivity might interrupt the functioning of the Move to iOS app, which makes it stop working. That is why it is always a good thing to switch on the Airplane Mode on the devices before connecting to the software. Because a Wi-Fi connection is required, turning on airplane mode means no other internet connection will hinder the data transfer.
To enable the Airplane mode on an iPhone, swipe and launch the "Control Center" > "Airplane Mode" button.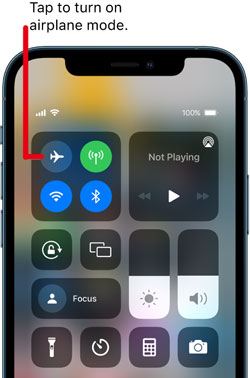 To enable the Airplane mode on an android, pull down the notifications window and tap the "Airplane" feature.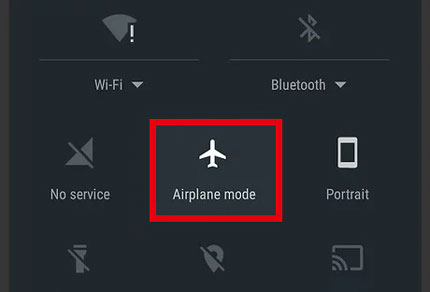 After activating the Airplane Mode, you may now easily connect the devices to your Wi-Fi and begin transferring your data using the Move to iOS app.
Tip 5. Ensure the Connection Optimizer Is Turned Off
If you own an Android device with version 8.0 or above, it will have the Connection Optimizer feature pre-installed. This feature is made to automatically switch between the Wi-Fi and cellular internet to offer an optimal speed. But, since the Move to iOS only operates over a Wi-Fi connection, the Connection Optimizer will mostly interrupt the whole data transfer procedure.
Therefore, before connecting the devices, ensure you disable the Connection Optimizer feature on an Android device. To disable the Connection Optimizer, do the following:
Step 1. On the Android gadget, navigate to "Settings" and tap the "Connections" icon.
Step 2. Go to "Mobile Networks" > "Connection Optimizer".
Step 3. After that, turn off the "Connection Optimizer" setting as you turn off the cellular connection.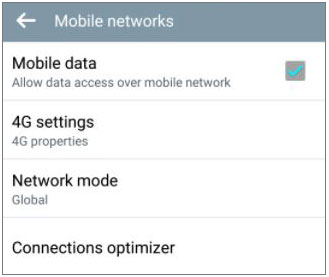 Tip 6. Ensure Your iPhone Has Enough Storage
If still none of the above fixes are helping, the issue might be less space in an iPhone device. Basically, an iPhone must contain sufficient space that can accommodate all data you are transferring from an Android device. And if the space is small, you may delete some files from your iPhone or transfer only important files like Whatsapp and contacts from your Android device.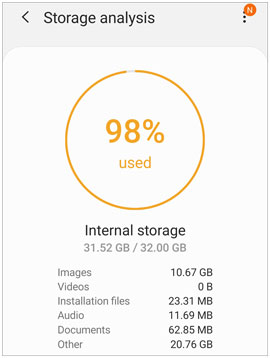 You might like: When Samsung Smart Switch is broken, you can fix it with these easy methods.
Tip 7. Download and Install Latest Firmware
Also, ensure both of your devices have the latest firmware installed. Each Android and iOS update includes bug fixes, and if the issue you are experiencing is known already, it might well be fixed.
Tip 8. Check the Apps Installed on Android and iPhone Devices
Also, you must check if you have applications installed on devices that may interrupt the transfer process. The apps might be why the Move to iOS isn't working.
Further reading:
Part 3: Bypass Move to iOS Not Working by Using a Move to iOS Alternative [Ultimate Way]
Do you know that using this Move to iOS alternative - Samsung Data Transfer, is a sure way of bypassing the Move to iOS not working issue? This software is efficient and reliable in solving transfer issues between Android and iOS devices.
The good thing is that you can also use it between Android to iPhone transfer seamlessly. So, you can calmly switch from Android to iPhone without much worry of data transfer.
The reason why it is loved and recommended too is that it does all the process in just one click. What's more, it's compatible with almost all iDevices versions. Besides, you may also easily transfer various types of data between Android devices.
Here is how to use this software to move data from Android to iPhone:
Step 1. Download and Install the Transfer Software
Download and install Coolmuster Mobile Transfer software on the computer. Launch the software by double-click, and an interface will be displayed. Then choose the "Mobile Transfer" feature.
Step 2. Connect Your Android and iPhone Devices to the Computer
- Connect both devices to the computer using USB cables. Then enable the USB debugging on Android, and tap the "Trust" icon on the iPhone. The software will detect your devices and display them on the interface.
- Ensure they are placed in their needed sections. The Android phone should be in the "Source" area and the iPhone on the "Destination" section. Or you can tap the "Flip" icon to change their locations.
Step 3. Transfer Data from Android to iPhone
Choose items in the middle place of the program, and click on the "Start Copy" button at the center of the bottom screen. After some time, your data will be transferred to the iPhone.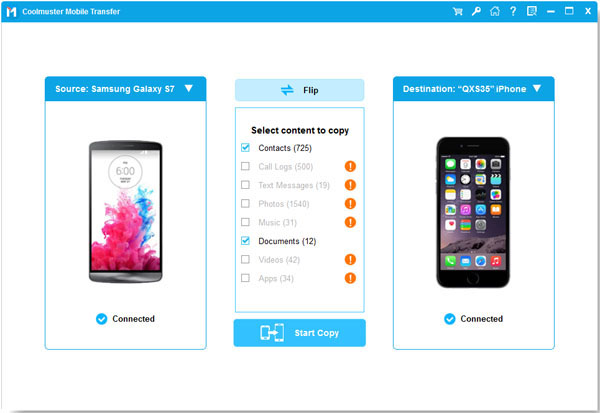 Final Words
Sometimes, moving data from Android to iPhone using the Move to iOS app can be unsuccessful due to various reasons. But, this guide has made things easier since you know why the Move to the iOS program might not work and ways to solve that. Besides, you also know a reliable tool - Samsung Data Transfer, to bypass the "Move to iOS not working" problem and say goodbye to Android and iPhone transfer problems.
Related Articles
How to Transfer Music from Android to Android? 5 Ways to Fix It
Reliable Android Phone Repair Software - Fix Android System Issue
Best Ways to Recover Deleted Contacts from Android Phone in 2022
How to Transfer Text Messages from Android to Computer in 7 Powerful Methods?
How to Find Android Recycle Bin and Recover Deleted Files Easily
My Text Messages Disappeared on My Android - Find the Cause and Fix It