Summary
The recycle bin on a PC allows you to retrieve deleted data with a single click. However, given that most people currently use smartphones, it is only reasonable that they desire an Android recycle bin or trash folder on their mobile. They could come in handy in a range of situations like mistakenly deleting essential files and documents.
So, is there a recycle bin on the Android device? This article is all about clearing the confusion. Read on to learn more!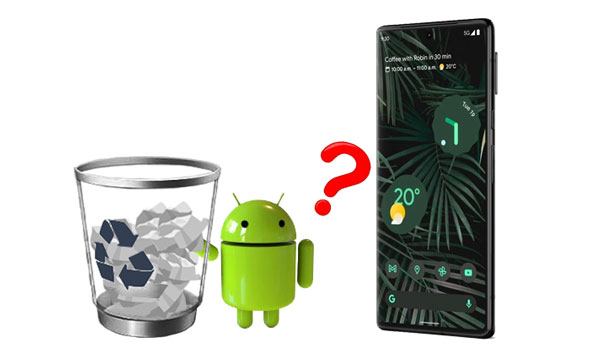 Part 1: Hot FAQs of Android Recycle Bin
1. What Happens to Deleted Files in Android?
The deleted files are not instantaneously erased from your SD card or Android device. They will end up in the Recently Deleted folder, such as your deleted photos and videos. If you do not empty it, it will linger in the Android trash folder for about 30 days. After this period, the videos and photographs will completely disappear.
However, there is on trash bin for other deleted files on most Android phones. If you erase other sorts of files, you cannot see or access your deleted files, although they are still on your Android device.
The spaces held by these irreversibly deleted files will be identified as empty, making room for new data. Once new data overwrites the deleted files, they are permanently removed from your Android smartphone.
Tips: What is the best Android data recovery software at present? This list is worth reading.
2. Where Do Deleted Files Go on My Android Phone?
Many of you might still wonder where deleted data goes if your Android device lacks a recycle bin. As you may be aware, the Android operating system lacks a dedicated trash folder for deleted data.
Once you delete something from your Android mobile, it does not go anywhere. In fact, it is kept in its original location in your phone's internal memory.
The data will not be replaced or removed till fresh data takes over the spot. For this reason, you can still recover the deleted file even if it is hidden from you on your Android system.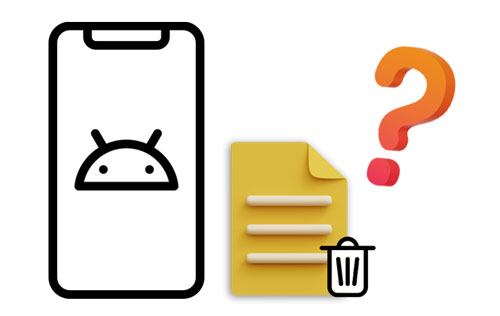 3. Is There a Trash Bin on Android Phones?
Unfortunately, no recycle bin retains all deleted files for Android phones. The main explanation is most likely the Android phone's limited storage.
Unlike a PC, an Android phone typically has only 32GB to 256GB of storage, which is insufficient to accommodate a recycle bin. If there is a recycle bin, your phone's space will quickly be consumed by useless files.
Read also:
You can recover your deleted text messages on your Android phone in 3 effective ways. Let's check it out.
Want to transfer Android files to your computer seamlessly? Follow this guide to make it.
Part 2: How to Recover Deleted Data on Android Phone?
Way 1. Restore Deleted Data from Trash Bin on Android
If you delete your photos or videos only from your Android phone, you can directly restore them from the gallery trash bin. But please note that you cannot restore your deleted photos or videos once they are stored in the trash bin over 30 days.
Here's how to access the recycle bin on the Android Gallery app to restore data:
Step 1. Launch the Android Gallery App
Please open Gallery on your Android device, and click the "Menu" feature like three-dot at the top. Then you will find the "Recycle bin" option.
Step 2. Restore Photos and Videos from Trash on Android Phone
Touch a photo or video you want to recover, and click the "Restore" icon. Then it will appear on the original album.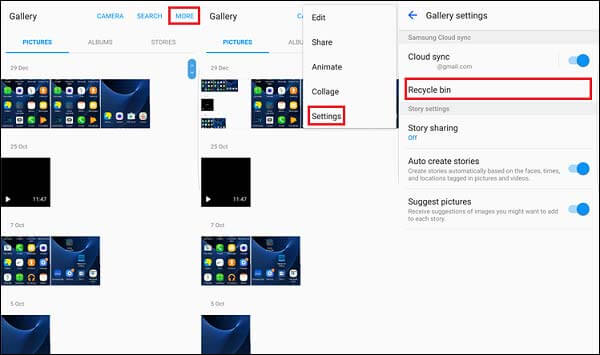 By the way, even though there is no inclusive Android trash folder for other Android files, you can use a third-party file manager on your Android phone, which allows you to restore other files from the recycle bin. For example, you can install Cx File Explorer on your phone. It is a useful file management app for Android, and it has the "Recycle Bin" feature to save various deleted files.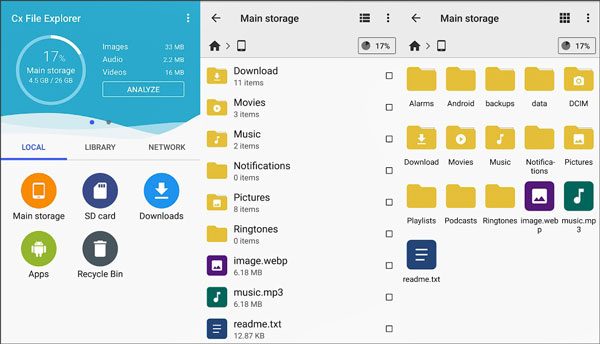 Learn more: How to Change GPS Location on Android Device Quickly (Solved)
Way 2. Recover Android Deleted Files with Android Data Recovery
Using a third-party data recovery application is the simplest and most effective way to recover deleted files. Without wasting time looking for a specialized Android trash folder or recycle bin, the proficient recovery program - Samsung Data Recovery allows you to easily recover accidentally deleted information, including contacts, photos, SMS, music, documents, videos, and call logs.
Essentially, this recovery software can manage retrieval on Android internal and external storage, and it only takes four simple steps to get your data back. These include:
Step 1: Download and Launch the Software
The program is entirely compatible with both Mac and Windows computers. Please download and install the version you want on your computer. Then run it on the desktop.
Step 2: Connect Your Android Phone to Computer
- Using a USB cable to link your Android phone to your PC, and enable USB debugging on Android. Then the connection will be set up, and you can select the data types you want to recover and tap the "Next" icon on the interface.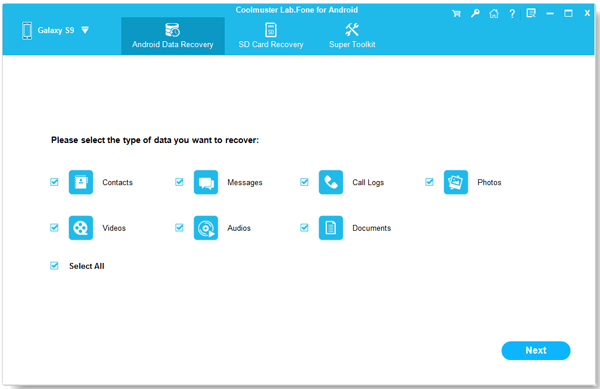 - Please select between "Deep Scan" and "Quick Scan" modes. After choosing, tap the "Continue" icon to analyze data on your phone.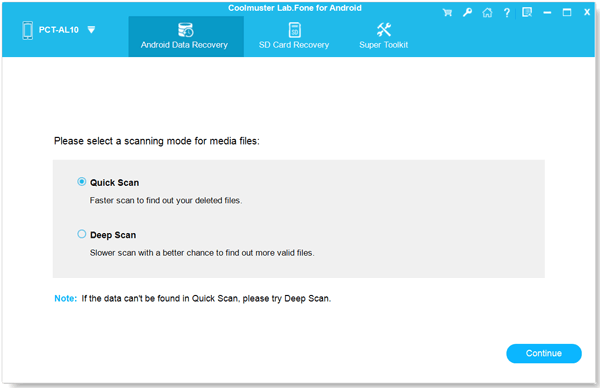 Note: Rooting your Android mobile is required to scan all files from the internal storage. If you want to recover deleted files from your SD card, you needn't root.
Step 3: Select and Recover Target Files on Android
- Following a scan, all current and deleted files, including images, contacts, movies, songs, texts, etc., on your Android mobile will be sorted into relevant categories on the left.
- Tap on every folder and review the specific items on the right window. If necessary, switch on the "Only display the deleted item(s)" button to review deleted files only.
- At last, tap the "Recover" icon to save your deleted files on your computer.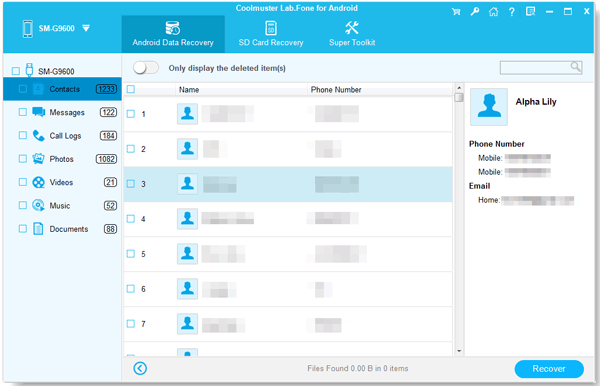 You might need: Wonder more information about Samsung Galaxy recycle bin? Please browse this full guide.
Part 3: Get an Android Recycle Bin If You Don't Have One
There is undoubtedly no comprehensive Android recycle bin on your phone. Nonetheless, with various file management tools for Android devices, you can install one from the app store. Then, you will not have to fret about accidentally deleting files. You can effortlessly retrieve them with a few clicks.
Conclusion
This guide has certainly responded to the questions you might have, such as "what happens to deleted files on my Android phone" or "is there a trash bin on Android." It has gone ahead to explain to you the various options to recover deleted files on your Android. Feel free to try these techniques to recover data from your Android in seconds.
Even if you cannot restore your deleted items from a trash bin, you can recover them with this powerful Android file recovery tool - Samsung Data Recovery. It can find your deleted data from your phone and memory card by scanning every location thoroughly.
Related Articles
HTC Data Recovery: How to Recover Deleted Data from HTC Phone [4 Ways]
Recuva Software for Android: Useful Review and 5 Recuva Alternatives
How to Recover Deleted Videos from Mi Phone | 5 Secure and Effective Solutions
[9 Options]Best Video Recovery App for Android: Easily Recover Android Videos
How to Transfer Music from Android to Android? 5 Ways to Fix It
How to Back Up Android Phone before Rooting With Ease | Check the Full Guide