Summary
"My text messages disappeared on my Android phone. And I don't think I deleted them because there is some important information on the text messages. Why do my text messages disappear on Android? I have no idea to find out the reason and how to recover the lost SMS. Who can help me, please!"
Have you ever encountered such a situation? If yes, did you think it was ridiculous and mysterious? In fact, many situations will result in missing text messages on Android. Calm yourself down, and read this article. It will tell you the reasons, SMS recovery ways, and how to fix SMS loss.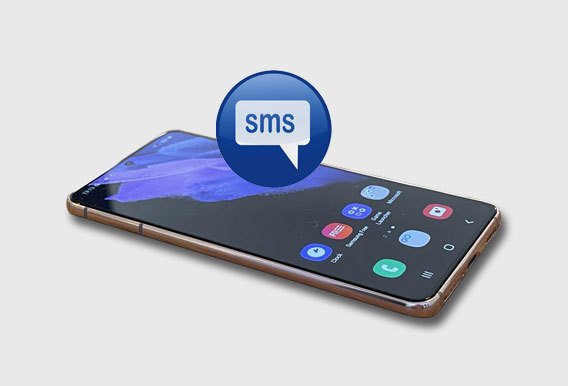 Part 1: Why Do My Text Messages Disappear on My Android?
"Why did all my text messages disappear on Android?" "Why are my text messages deleting themselves on my Android?" Recently, many people have raised these questions on the forum. Now, let's work it out.
Generally speaking, if you forget to lock the screen before putting your Android phone into your pocket, your phone may delete SMS due to accidental touch. Or someone else uses your smartphone and clears your text messages by mistake, but you didn't know it.
If you can exclude the aforementioned cases, maybe these reasons make your SMS disappear, including Messages app bugs, system errors, app and OS updates, factory reset, etc. You can try to recall what happened to your mobile phone before you lost the messages.
You may need:
When your photos disappeared from your Android phone, what will you do? If you want to get useful solutions, please click this link.
Want to get your deleted text messages back from your Android phone? Then you can use these 4 ways.
Part 2: Where Did My Text Messages Go on Android?
After knowing about the reasons, the next step is to find out where the disappeared text messages went on Android. Commonly, when you delete a message on the Android device, it is still on the device, but you can't see it because it is removed from FTA (File Allocation Table). Once the new data use its space, the new data will overwrite the deleted message, and you cannot recover it anymore.
Read also:
Where are your contacts stored on Android? Want to export them easily? Let's check it out.
OneDrive failed to sync your data? If so, open this guide to fix OneDrive with easy tricks.
Part 3: How to Recover Text Messages That Disappeared on Android?
"My younger sister played my Android phone yesterday, and then all my text messages disappeared on my Android phone. She said that she eliminated my SMS accidentally. My God! How can I find the deleted messages?"
If you want to recover the text messages that disappeared on Android due to mistaken deletion, you can check your backup first, such as Google backup, local backup, and other backup apps on your Android phone. It is easy to restore your text messages from the backup.
In case you don't have backed up your text messages, you'd better use a professional recovery program, such as this Android message recovery tool - Samsung Data Recovery, to recover the SMS as fast as possible. This software can find deleted SMS from Android internal memory, and display it on the interface. Also, it can recover deleted contacts, photos, documents, music, and more.
By the way, please stop using the Android phone before recovering the messages, since having a call, go to the Internet, downloading files, and more, will probably create new data to cover your lost messages. Then you cannot recover the SMS anymore.
Highlights of this Android SMS recovery software:
- Recover Android text messages, call logs, contacts, photos, videos, songs, and documents without backup.
- List the deleted and existing messages in different colors, so that you can select and recover them without hassle.
- Transfer existing text messages from Android to a computer for backup.
- Recover SD card data without root, including pictures, movies, audios, and more.
- Quick Scan and Deep Scan modes are supported.
- Effectively work for most Android phones and tablets, like Xiaomi Redmi Note 10T 5G/Redmi Note 10 Pro/Redmi Note 8/Poco M3 Pro 5G/Redmi K40 Gaming/Mi 11 Ultra, Samsung Galaxy S21 Ultra/S21/F22/M32/A22/F52, Sony, OPPO, Vivo, ZTE, Motorola, OnePlus, and the like.
Download the Android SMS recovery program for free below.
Tutorial on how to recover text messages on Android without backup:
Step 1. Install the Recovery Software
Please download and install this recovery program on your computer. Then launch it and connect your Android device to the computer using a USB cable.
Step 2. Select Data Types
- Once connected, you can tick off the "Messages" category and tap the "Next" icon to select a scanning mode. Then it will remind you to root your device.
- Please note that rooting aims at helping you recover deleted SMS from internal storage. If your messages are stored on the SD card, you can tap the "Continue" button to go on.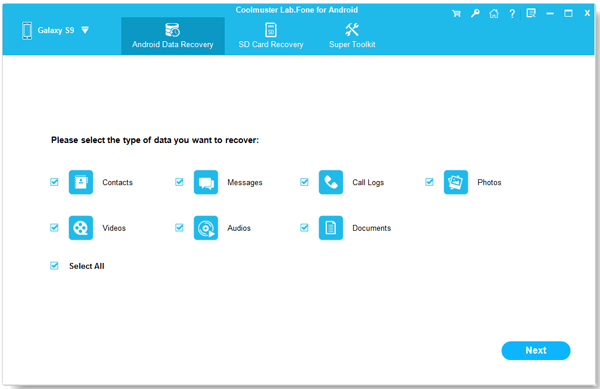 Step 3. Recover Missing Old Text Messages on Android
- The program will scan out deleted and existing text messages (Deleted messages are in red). Please enable the "Only display the deleted item(s)" button to select the messages you want easier.
- Finally, click the "Recover" icon to save your disappeared SMS from Android to your computer.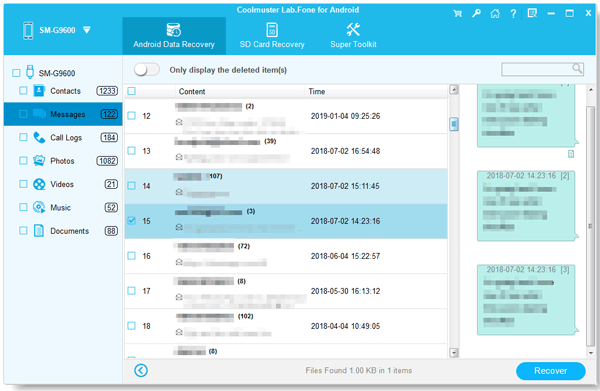 Further reading:
These 7 powerful methods can help you transfer text messages from your Android phone to your computer with ease.
If you want to recover deleted data from an Android device, please don't miss this recovery guide.
Part 4: How to Fix the Issue of Missing Text Messages on Android?
Are you worried that your text messages will disappear on your Android phone again? Normally, you are concerned about this issue. No one wants to go through losing important SMS once more. Thus, this section will help you with 7 practical tips to avoid missing text messages on Android.
1. Clear Caches on Android
The caches on your Messages app might be the real reason for the disappeared text messages. In this case, you can clean the caches on your Android phone.
Open the Settings app, and click the "Apps" option.
Choose the Messages app, and click the "Clear cache" icon.
Open your Messages app, and check whether your text messages show up.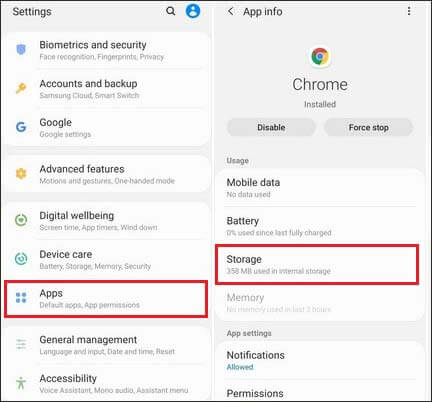 2. Restart the Android Device
Sometimes temporary system errors will lead to some bugs. If so, you can restart your Android device.
Press the "Power" button until you see the popup.
Tap the "Restart" option to reboot your cellphone.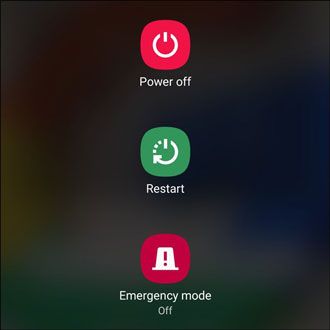 See also: With these 5 approaches, you can swiftly transfer music between both Android devices.
3. Update the Messages App
If the version of your Messages app is too old, it will not work well. Hence, it's time to update it now.
Go to App Store and click the "My apps and games" icon.
Find the Messages app, and click the "UPDATE" icon to begin the procedure.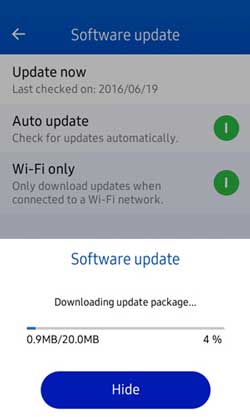 4. Check Message Settings
Always find that your old text messages disappeared suddenly? Maybe you enabled that feature but you forgot it.
Open the Messages app, and click the "Menu" icon.
Hit the "Settings" > "More settings" option, and turn off the "Delete old messages" icon.
5. Update the Android OS
It is necessary to update the Android OS. Universally, there is safety and operation vulnerability on the old OS, so that you need to install the new OS to make up the bug.
Go to Settings, and click the "About phone" option.
Choose the "System updates" icon to download and install the latest OS on your Android phone.
Bonus: Samsung Kies is out of date. Here are 6 excellent alternatives to Samsung Kies that you can utilize.
6. Factory Reset the Android Device
If you still cannot fix your missing text messages with the previous methods, you can choose to factory reset your smartphone. Performing a factory reset can restore your Android device to the original manufacturer settings. Thus, it will remove all the information on your phone. Of course, please remember to back up data first.
Launch the Settings app, and choose the "General management" option.
Then click the "Reset" > "Factory data reset" > "Reset" icon.
Enter your passcode for confirmation, and tap the "Delete all" button.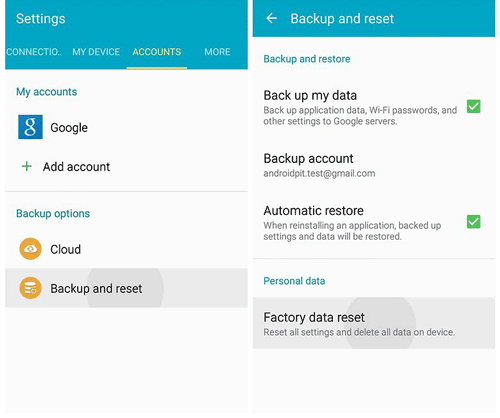 7. Switch to Another Messages App
Do text messages still disappear from the Android phone? Well, you can switch to another messages app.
Go to Google Play, and search for a messages app, such as Google Messages, and Verizon Messages.
Install it on your Android phone.
To set it as default, you can go to Settings > Apps > Choose default apps > SMS app, and select the messages app you downloaded as the default app.
Part 5: How to Keep Text Messages on Android from Being Lost?
Want to keep your text messages on Android from loss? The best way is to back them up. You can back up your messages to Google Drive with your Google account.
Here's how to back up Android text messages to Google Drive:
Step 1. Enable the Backup Feature
Go to Settings, and select the "Accounts and backup" > "Backup and restore" option, and the "Back up my data" icon.
Step 2. Input Your Google Account
Then click the "Backup account" option to type your Google account.
Step 3. Upload Text Messages to Google Drive
Next, turn on the Messages option only to upload your Android messages to Google cloud storage.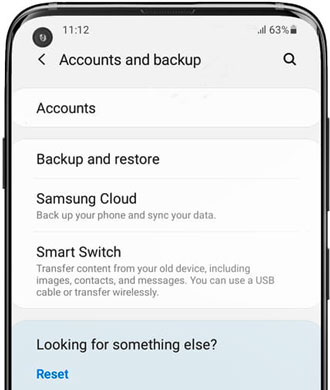 Conclusion
Why do my text messages disappear on Android? Where did them go? And how can I recover them? This article has solved these questions one by one in the previous parts. Lastly, we want to kindly remind you to use this reliable recovery software - Samsung Data Recovery, to recover your messages before the new data replace your messages.
Related Articles
Effortlessly Transfer Text Messages from Android to iPhone [3 Ways]
Solved: Where is Samsung Galaxy Recycle Bin and How to Recover Deleted Files?
How to Send Text to Multiple Contacts without Group Message on Android? (Solved & Simple)
Android Internal Storage is Full: How to Free Up Android Space [5 Tips]
How to Import CSV Contacts to Android Phones [Fabulous Tips]
How to Transfer Messages from Android to Mac Easily? 4 Helpful Tips Here