Summary
"I found 99% of my photos have gone, and I am unable to find the lost albums and pictures in my File Manager. I tried what I can. Any ideas?"
It is possible that all photos disappeared from the Android phone in our daily life. So, have you met this case? And how do you deal with it? If you are annoyed with it, this blog will give you support. It has offered 5 methods to recover the disappeared photos on Android. You can make a selection according to your requirements.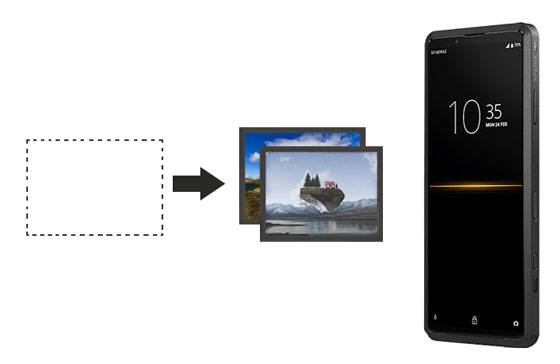 Tips 1: Why did my Android photos disappear from the gallery?
Your photos disappear possibly due to the OS update, OS or Gallery app malfunction, mistakenly touching when your phone is in the pocket, etc.
Tips 2: Where did my photos go?
When Android photos disappeared, they wouldn't be removed completely. That means the photos are still stored on your Android phone. Perhaps they are in the recycle bin of the Gallery app, or somewhere in the internal memory. Thus, you can recover them. However, when they are expired, or overwritten, you will lose them forever.
Part 1: Fix Photos disappeared from Android Phone with Photo Recovery Software
"My gallery pictures disappeared, please help!" That's also my heartfelt wishes as my downloaded pictures disappeared from Android. But I found an effective and reliable photo recovery program - Samsung Data Recovery. It recovered my Android missing photos with high quality. Thank goodness! If you also want to try this software, please learn about its features in advance.
Main features and advantages of this Android photo recovery software:
- Effortlessly recover deleted photos from Android internal and external storage.
- Fast recover deleted contacts, videos, documents, and so on, from Android.
- Quick Scan and Deep Scan modes are available.
- Recover data in a read-only way.
- Support to back up existing and deleted files to your computer.
- Recover SD card without root.
More importantly, it can work with most Android handsets, including ZTE Axon 10 Pro/Axon 9 Pro/Blade 10, LG V60/V50/V40, Sony Xperia 5 II/Xperia 5/Xperia 1 II, Samsung Galaxy S21/S20/S10/S9, OnePlus, Huawei, OPPO, Vivo, HTC, etc.
Download the photo recovery program for free below.
Follow the steps to recover Android gallery missing photos:
Step 1. Connect the Android Device to the Computer
Download and install the recovery software on the computer. Then connect your Android phone to the computer with a USB cable.
Step 2. Select File Types
Select the "Photos" category and tap the "Next" icon. Then choose a scanning mode on the interface.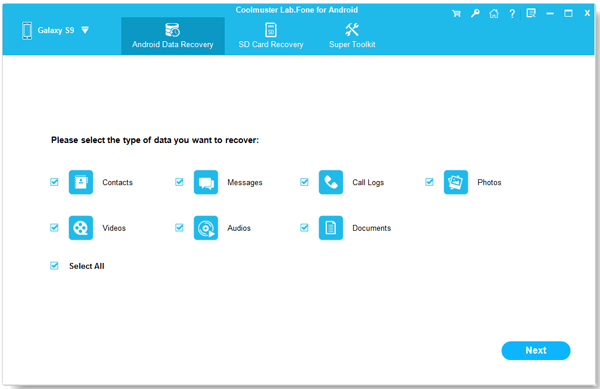 Step 3. Recover Disappeared Android Photos
You can select the photos you want to recover by ticking the checkboxes, and click the "Recover" button to begin the recovery.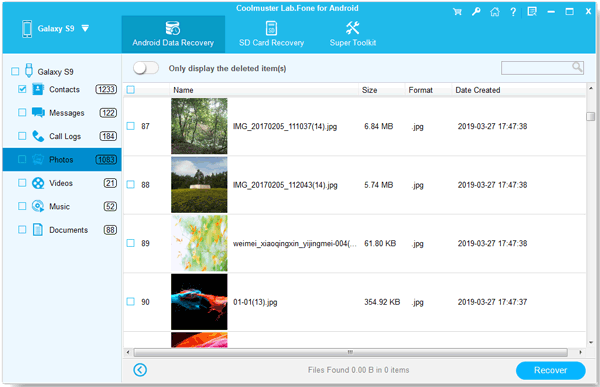 Bonus: Want to restore lost photos on LG? Please try these 3 easy methods in this article. You will get your photos back soon.
Part 2: Restore Android Gallery Missing Photos via Gallery Trash
Have you enabled the cloud backup feature on your Android handset? If yes, you can probably restore them even if the photo album disappeared from Android. Furthermore, it is easy to check your missing photos via the gallery trash bin. Now, please check the guide below:
Open your Gallery app on Android.
Tap the "More" > "Settings" > "Recycle bin" option. Then you can view your lost images.
Select and restore them immediately.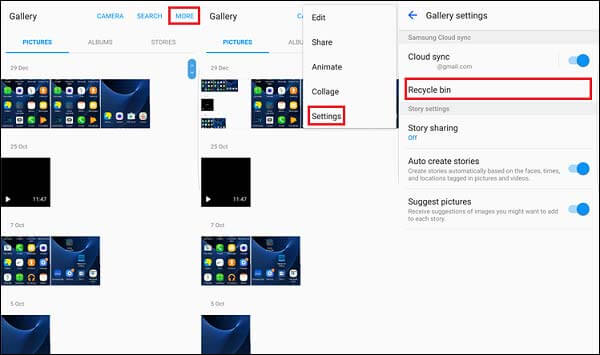 Read also: Lost photos from your SD card by accident? Calm down. You can recover deleted photos from the SD card on Android without effort.
Part 3: Find Android Missing Photos with Google Photos
Google Photos is a common photo backup utility for Android. It can keep your photos and videos safe on the cloud storage. What's more, it will store your deleted photos for 30 days in its Trash folder. Therefore, you may get the pictures missing from the gallery with Google Photos.
Open the Google Photos app on Android, and make sure you log in to the account that has backed up your Android photos.
Then click the "Menu" > "Trash" option.
Select the photos you want and press the "Restore" button.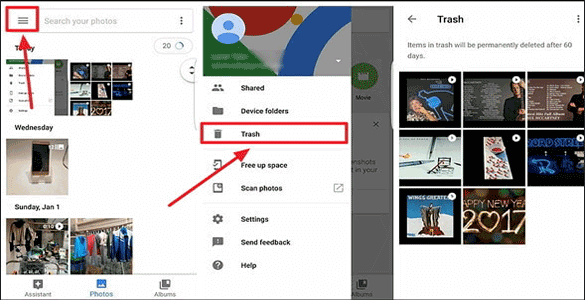 Further reading: Remove your useful documents by mistake? Let this post help you. It prepared 4 recovery tools so that you can conveniently recover deleted documents on Android.
Part 4: Fix Android Photos Disappeared Manually
Sometimes deleting specific files on your Android phone can fix your pictures that disappeared from your phone. Here are 2 ways to help you restore your photos manually.
4.1 Clear cache when all my photos disappear from my Android phone
Every Android phone will generate caches when your use the phone. Some caches can cause a small glitch for the Android OS, and then you cannot view your photos on the Gallery app. As long as you eliminate the caches, you will regain your images.
Run the Settings app.
Select the "Apps" > "Storage" > "Clear cache" icon.
Clear all background apps and reboot your Android device. Then your photos will be back.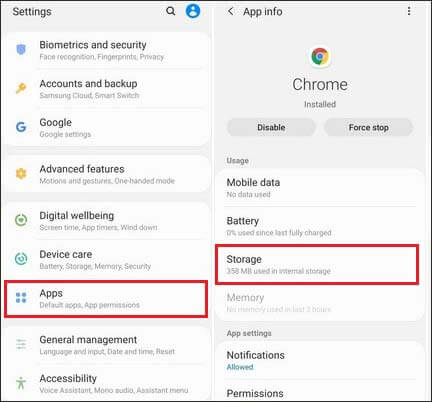 See also: Forgot to save an important call log to your Contacts app? Luckily, you can recover deleted call logs with these 3 simple solutions.
4.2 Delete the .nomedia file as Android photos disappeared
Clearing caches doesn't work? Well, you can try to delete a file called .nomedia. Since the Gallery app skips to read this file, the pictures saved in it will be omitted. In this case, you can move your photos from this file, and delete it, or rename it directly. Let's see the tutorial.
Go to File Manager, and search for the .nomedia file.
After finding it, please rename it to another name.
Reboot your Android phone and check your Gallery app.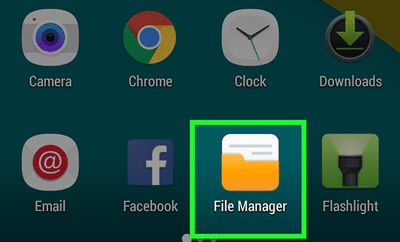 Maybe you need: Here are 3 options to retrieve contacts from the SIM card. If needed, please check it out.
Part 5: Restore Android Photos Disappeared from Gallery Using Local Backup
Most Android devices have the built-in local backup function. If you have performed a backup of your photos, you can restore all the photos that disappeared from your Android phone using the local backup.
Launch Settings, and choose the "Accounts and backup" option.
Tap the "Backup and restore" > "Restore from backup" icon.
Then select your backup photos and hit the "Restore" button. Your photos will be retrieved on your Gallery app.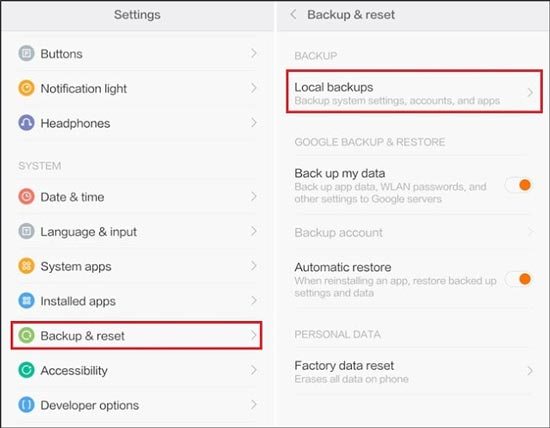 Bonus: It is simple to recover files from locked Android phones with broken screens, as long as you master these approaches.
Conclusion
As long as you get the hang of these 5 approaches displayed above, you can fix the photos disappeared from the Android phone without trouble. Even though you don't back up your pictures before losing, you can use this professional photo recovery software - Samsung Data Recovery, which can quickly recover your photos with high quality. Seize this opportunity to have a try.
Related Articles
How to Recover Deleted Audio Files from Android Phone Effortlessly in 2023? (Latest Guide)
[Best Guide]How to Delete Photos from Android Phone Permanently in 4 Ways
[Fast Transfer] How to Transfer Your Photos from iPhone to Android Effectively?
4 Proven Ways on How to Transfer Photos from Computer to Android (Step-by-step)
[Updated] How to Transfer Photos from ZTE Phone to Computer with 4 Practical Ways
How to Transfer Photos from Android to Laptop with 6 Awesome Methods in 2023