Summary
It is not a must to do routine maintenance for your Android device. But brushing it up from time to time is a great idea. That way, if there is any issue, chances are it will be fixed before it gets too serious. And that's where the best Android phone cleaner app comes into play. An android cleaner is a type of application designed to wipe out junk files and temp files left after using an Android device.
It will also delete apk installers/files, caches, and other useless files to free up space and make your device run faster and smoother. In this guide, you will get to know the best 9 options of Android cleaners that will help you clean your device easily and efficiently.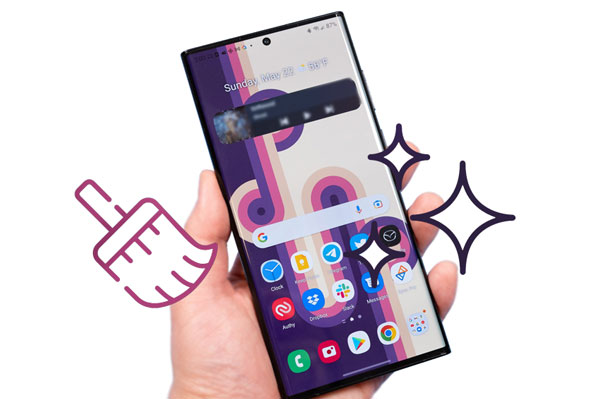 Part 1: Necessity of Android Phone Cleaner App
Android is a great platform, but it's not perfect. As you use your Android device, more and more junk files will accumulate and slow down your phone significantly. This calls for a good cleaner to eliminate junk files. Below are the reasons why you should consider using an Android cleaner:
1. Improves Device Performance
If your Android device is operating slowly or it becomes warm after a few minutes of use, it could be junk files and unwanted apps taking up too much space. Android phone cleaner apps will help you eliminate these unwanted files, thus improving your phone's performance.
2. More Free Storage on Device
Whenever you run an app on a smartphone or tablet, some temporary files such as cache, temp files and others will be generated. The longer these files stay in your phone, the faster they accumulate. Eventually, they may cause significant performance deterioration due to insufficient space. An android cleaner comes in handy to remove these files, thus freeing up more storage space on your Android device.
3. Uninstall Multiple Apps at Once
The best thing an Android cleaner app does is to clean many apps all at once. This saves you time as you won't keep on selecting an app to delete one by one. Plus, you won't need to keep repeating the process as you can pick multiple apps to uninstall them in one go.
Part 2: Best Android Cleaner Apps (9 Options)
Cleaning your device is mandatory, but finding the right app to use can be tough. After looking at the many Android cleaner apps, we have come up with the 9 best apps that you can choose from. This is a comprehensive list of the best Android cleaner apps that can be downloaded on your device. Try these top Android cleaners, and you'll never have to worry about your phone getting slow again.
1. Android Assistant (Android Version)
The mobile version of Android Assistant is a powerful storage manager that helps optimize space in an Android device to improve its performance. It has rich features such as managing files, apps, and many more.
The app is one of the best cleaners we have seen so far, since it works like a charm, all thanks to its practical features and user-friendly interface. For instance, it can help you clean useless data, uninstall apps, access the file manager to delete unwanted files, etc. With this app, you can easily free up memory on your device.
Main features of this best Android cleaner:
- Directly show you how much space you used on the interface.
- Clean your Android phone to free up internal storage in 1 click, including caches, temp files, thumbnails, and more.
- Allow you to manage your music, images, movies, and documents from internal and external storage.
- Fast remove the apps you don't want at a time.
- Compatible with many Android phones and tablets, such as Samsung Galaxy S22 Ultra/S22/S21/S20/S10/S9/S8/S7, OnePlus 10 Pro/10/9/8/7/6, Xiaomi 12 Ultra/12/11/10/9/8, Honor, Sony, Google, Realme, OPPO, and so on.
Download the best app to clean an Android phone for free.

How to use this data cleaner for Android:
Step 1: Download and install the cleaner app on your Android device. Then open it.
Step 2: Click the middle circle from the main interface to clean junk files from your Android phone.
Step 3: Click "File Management" and choose the file type you want. Once done, select unused files, and tap the "Clean" icon to eliminate them.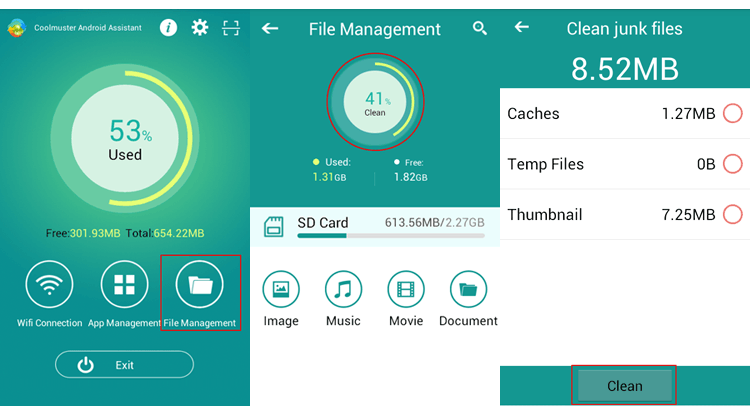 See also: How can you permanently delete photos from an Android phone? Click this link if you have no idea.
2. CCleaner
CCleaner is one of the most commonly used Android cleaner apps that clears clipboard content, browser history, and application cache. Furthermore, it aids in faster start-up and offers great performance. The app is well designed, and anyone can use it.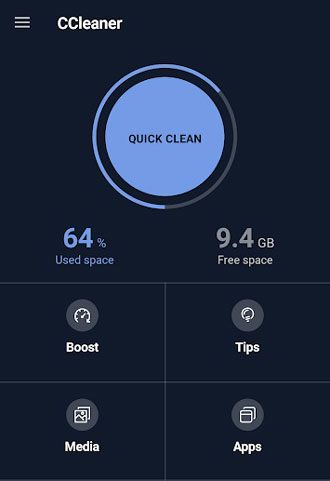 Main features:
- You can analyze the performance of your battery.
- Customize the features the way you want.
- Optimize internet speed on your device.
- Boost security.
- Follow the standard privacy protection.
You might like: Want a powerful Android data eraser to wipe all information from your Android phone? Let's try these data-erasing tools.
3. Files by Google
Files by Google is a powerful Android cleaner app that finds files, clears storage and backup data to the cloud. You get to see all your device's data in detail, and you can access it anytime. Apart from that, it also prompts one to clear junk files to improve the performance of the device.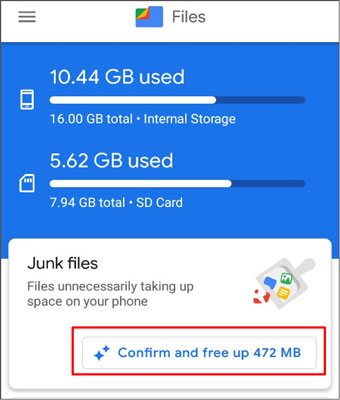 Main features:
- Free up storage space quickly.
- Scan files before clearing any junk files.
- Manage your files on the phone without the hassle.
- Offline data sharing feature with other nearby phones.
Learn more: Is it feasible to wipe a SIM card on Android? You can learn from this tutorial.
4. Smart Phone Cleaner
Smart Phone Cleaner is one of the popular Android cleaners that optimizes and boosts your Android phone's performance. The app is easy to use as it removes unwanted files and then rebuilds them for improved speed and performance. It's a must-try Android cleaner if you want your phone to work faster.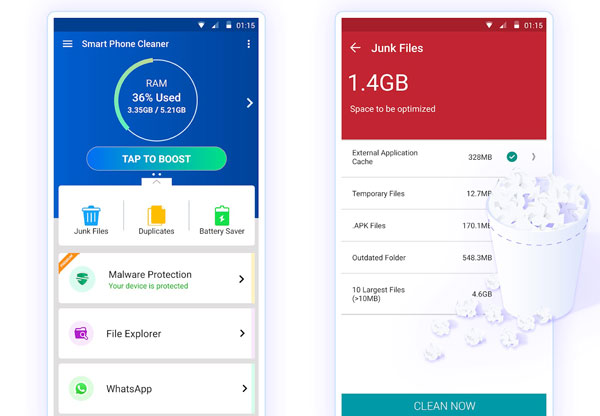 Main features:
- Junk and duplicate file cleaner.
- Malware protection.
- Do not save browsing history, cookies, caches, and any online information.
- CPU Cooler to cool temperature.
- Hibernate applications in your Android phone to put the battery at a lower power state.
- Allow you to view and manage WhatsApp data.
Perhaps you need: Is the memory full on your Android device? Here are 5 methods to free up phone memory effectively.
5. Droid Optimizer
Droid Optimize is a powerful Android cleaner app that ensures your device runs smoothly by finding junk files and deleting them. The app then reclaims the free disk space and performance while keeping your privacy.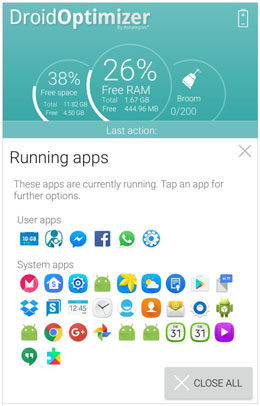 Main features:
- Automatically stop the background and foreground applications.
- Clean the phone automatically.
- Preserve the phone energy
- Improve battery life.
6. SD Maid
SD Maid is a well-designed Android cleaner app that removes unwanted data from Android phones. Besides, it manages any installed system and user apps. The app also goes through the phone and deletes duplicate documents, music, and photos.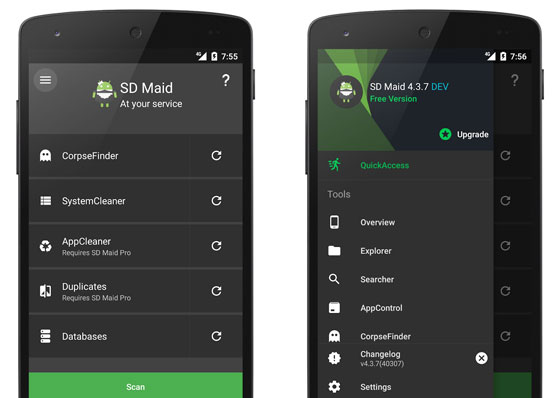 Main features:
- Detect files from uninstalled apps.
- You can run the app on a schedule automatically.
- Help you manage installed, system, and user apps.
- Auto-scan the phone for junk files and adds them to a list.
- Analyze the phone's performance and offers an option to optimize it.
7. AVG Cleaner
AVG cleaner is one of the top Android cleaner apps that identifies junk files and removes them to free up space. Apart from that, it also serves as a file manager, photo analyzer that clears duplicate or bad pictures and a memory booster. Its analytics show how specific apps are draining the battery and usage.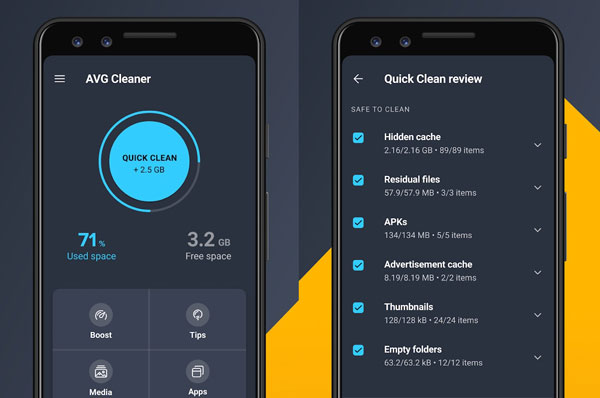 Main features:
- Hibernate the applications running in the background.
- Show you the system info of your Android phone in detail.
- Support automatic cleaning.
- Analyze storage in your phone.
8. Ace Cleaner
This is a simple yet effective app that can clean your Android device easily. Ace Cleaner is one of the best cleaners you can get as it cleans cache, junk files, and pop-ups. Besides that, it's a battery saver as well as a booster that ensures your phone works efficiently. With its amazing features, you can delete any files you find not useful from your device.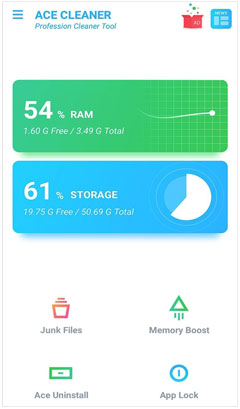 Main features:
- Ace boost that stops applications that starts automatically.
- Battery saver.
- An app lock that's integrated.
- Cool the CPU on your Android phone.
9. KeepClean
KeepClean is a free Android cleaner app that comes with great features. It's also known as one of the best multipurpose cleaners that can speed up your device and improve its performance. With KeepClean, you get to keep your device clean, fast and efficient. It is a good RAM optimizer as it scans your phone as well as the RAM to identify junk files and free up RAM. Plus, you can schedule the cleaning sessions so that you don't waste time doing it manually.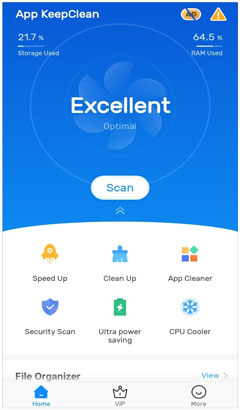 Main features:
- Easily clear junk and unwanted files.
- Monitor the temperature of your phone.
- Scan RAM to and junk files.
Concluding Words
There is no doubt that Android cleaner apps have improved our lives. They make everything easier. The mobile version of Android Assistant is one of the coolest Android cleaner apps with its advanced features. It's easier to use, and you can clean all junk files and unwanted apps without a hassle.
Related Articles
How to Wipe Android Phone before Selling It [Safely & Completely]
Best Samsung Cleaner App to Free Up Space on Samsung Phone and Tablet
How to Remove Duplicate Contacts in Android Smoothly | 5 Ways [Updated]
Transfer Files from Android to USB Flash Drive with or without OTG
How to Back Up Android Phone before Rooting With Ease | Check the Full Guide
Transfer Photos from Android to Mac Wirelessly [6 Fabulous Methods]