Summary
Who doesn't love listening to Music? It's an exhilarating experience that can bring peace and tranquility and even aid you in times of stress. After a long day of work, you only need a little music to help you unwind. Music can help us remember the past, and even dream about a better future. However, what if you're on the go and there is no way to play CDs or listen to music from your laptop?
Well, this tutorial will show you how to put music on Android so you won't have to be in the cold silence anymore. Putting music on an Android phone can be surprisingly easy if you have the right tools to help you. Please read on to learn the ins and outs of putting music on Android.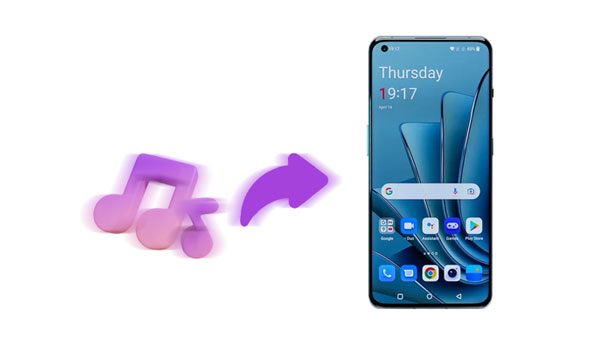 Part 1: How to Add Music to Android in 1 Click
If you want your work easier, use this Android music manager - Samsung Messages Backup. It can easily put music on your phone from your computer via a USB cable or Wi-Fi. Furthermore, the selective and all-in-one music transferring modes are supported. At the same time, you can preview your music on the interface.
Also, you can delete those songs you dislike directly on your computer, and create new playlists to save your music according to your preference. This software is perfect for music lovers who want to get music on Android easily and without fuss.
Key highlights of this music manager:
- Smoothly transfer music files from a computer to an Android device and vice versa.
- Swiftly copy your files from your Android device to a flash drive.
- Back up your music and other data to your computer in 1 click.
- Move your songs to another playlist with ease.
- Support most music formats, including MP3, WMA, WAV, M4A, and more.
- Widely support most Android phones and tablets, such as Samsung Galaxy S23/S22/S21/S20, OnePlus 11/10/9/8/7, Google Pixel 7/6/5/4, Vivo, OPPO, ZTE, Motorola, Sony, etc.
Download this software to transfer your music.
How do I put music on my phone with this program? Here are the steps:
Step 1: Download the software on the computer and install it. Launch it, and then connect the Android phone using a USB cable. Enable the USB debugging on the phone to allow the software to recognize the device.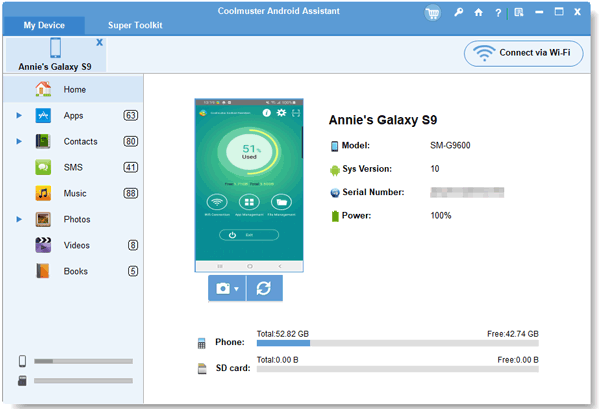 Step 2: Choose the "Music" category on the panel, and you can preview your songs on the interface.
Step 3: To put your music on your Android phone, you can tap the "Import" icon on the top menu. Then select the songs you want from your computer or other drives, and hit "Open". Once done, you can see the music files on your smartphone.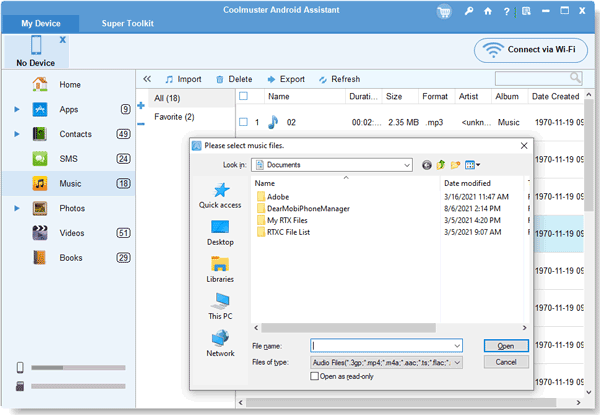 Bonus: Safely Transfer Files from Android SD Card to PC without Trouble [5 Ways]
Part 2: How to Put Music on Android Using USB Cable
The first and easier way to put music to an Android from a computer is via a USB cable. If you have a Windows or Mac computer, adding music to your Android phone will be as easy as pie. All you have to do is to connect your device to the computer and start transferring songs of your choice to the phone.
Normally, a computer has ports where you can insert the USB cable, flash drives, etc. With the USB cable connected to the PC, you can now connect the Android device to the same computer to establish a connection. However, ensure the cable you use can transfer files because not all cables can. You should use the device's original USB cable. Follow the steps below to put music on Android using a USB cable.
2.1 On Windows Computer
Step 1: Connect the Android to a computer with the USB cable. Once done, it will start beeping as it recognizes that you have plugged it in a new device. Make sure you choose the right file transfer option. Tap on the "Media device (MTP)" option.
Step 2: Click on "Windows Logo" at the lower left corner of your screen. Afterward, open "File Explorer".
Step 3: Head to the "Music" folder on your computer where you stored your songs, and choose your desired songs. Then copy and paste them to a folder belonging to your Android phone.
Step 4: Please wait for the transfer process to finish, and view the music files on your mobile phone.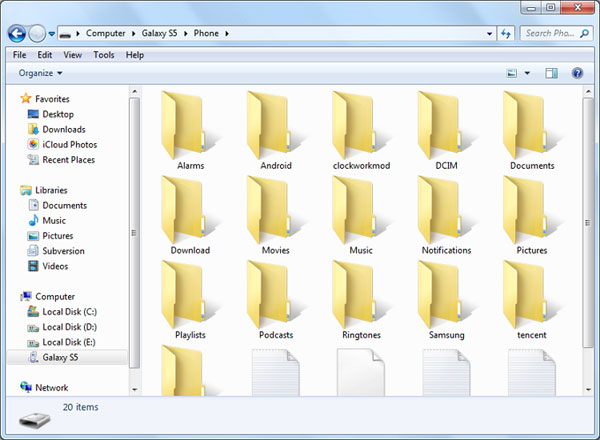 See more: [Easy and Safe] Transfer Music from iPod to Samsung Phone and Enjoy It Directly
2.2 On Mac Computers
Step 1: Install Android File Transfer on the Mac computer, and connect the device to Mac using a USB cable.
Step 2: Remove the notification panel from the device's screen, then click "MTP".
Step 3: Choose those files you want to transfer from the computer, and place them in the "Music" folder on the Android phone in the Android File Transfer interface.
Part 3: How to Get Music to Android Devices Via Spotify
One of the best ways to add music to your Android device is by using music streaming services such as Spotify. Spotify is an awesome free software you can use on your smartphone to add music to the device. It gives you millions of tracks anytime, so you can listen to any song whenever you want.
If you have a free Spotify account, you can stream and play your songs online and still keep them in the online server, such that whenever you wish to listen to them, you may easily do so without downloading them. But a free account has ads; so, if you wish to listen to songs ads-free, you must sign up for a Premium account. Here are the steps to put music on an Android device via Spotify.
Step 1: Open Play Store and search for "Spotify" in the search bar at the top. Click the app and press the "Install" button. After installing it, open it from the Home screen.
Step 2: Now, sign up for the Spotify app by clicking on the "Sign up free" button. Enter your email address, a valid one, username, and password. Check the email for confirmation. Next, click on the search icon that resembles magnifying glass and input the artist's name or the song you want in the search bar at the top part of the screen.
Step 3: Click on it to show its title page, shuffle, and play buttons. Hit the "Shuffle" icon, a green circle button near the "Play" triangle button. Doing this will play all similar songs with artists on shuffle.
Step 4: Create a playlist with your favorite tunes on Spotify by first searching for the song. Then click on the "Add to playlist" option from the title page. Click on the three-dot menu to add them to a playlist. Hit "Add to playlist" again, and your song will be added immediately.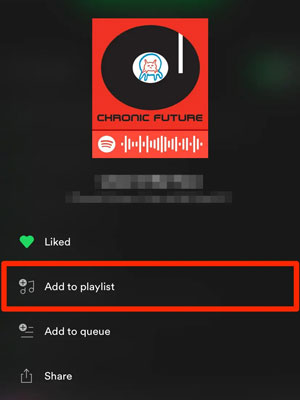 Further reading: It is easy to move music between Android devices, even though you switch to a new Android phone.
Part 4: How to Put Music to an Android Using AirDroid
If you do not want the hassle of using wires while transferring files between devices, then the AirDroid app comes in handy. AirDroid is an app that lets you connect devices wirelessly and move files the way you want. The app works on many devices, such as iOS, Android, and computers. Just set your devices with the same network and follow the below steps:
Step 1: Download the AirDroid app on Android and computer. Open the application on your phone and look for the connection button.
Step 2: Look for the network's IP address connected to your phone and enter it into a browser on the computer.
Step 3: Tap "Accept" on the mobile device to connect the two devices. Now drag and drop songs you wish to add to the phone from the computer to the AirDroid. Then you can save the songs to your cell phone.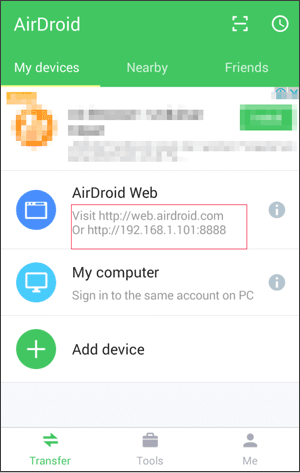 Part 5: How to Get Music on Your Phone via Dropbox
Dropbox is a cloud storage service that lets you store and share files between devices. You can create folders to organize your files in this cloud-based storage. If you have a Dropbox account, you can easily get music on your Android device from a computer. It has many excellent features for music lovers, and the way to sync music to Android using Dropbox is quite simple. Just follow the steps below:
Step 1: Install the Dropbox app on the computer. After successful installation, open the application and click "Create Account" if you haven't done so already.
Step 2: Log into your Dropbox account, then click the "+" icon at the bottom part of the page. Click the "Upload files" tab and select the files you want to transfer from computer.
Step 3: Click the "Upload" option to get them to the Dropbox account. Log into the Dropbox application on your device with a similar account used on the computer. Then choose the files you wish to download from Dropbox.
Step 4: Click on the three-dot menu near the "Download" file to begin the download process.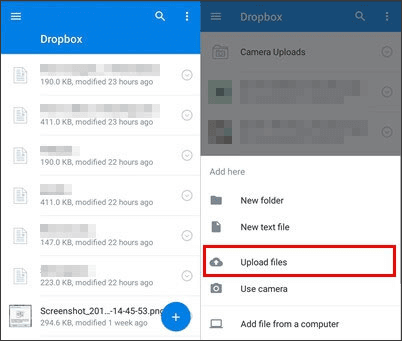 Conclusion
These are reliable ways to sync songs between devices, and it's easy for you to follow the steps. You can use the one you like. But if you want to manage all the music on your Android phone or computer conveniently, Samsung Messages Backup is a highly practical management tool. You can add songs to Android from a computer, and back up your music to your PC or Mac. Plus, it can transfer other Android data without a hitch.
Related Articles
Transfer Music from/to Computer - Samsung: 4 Helpful Methods to Make It Easy
How to Transfer Music from iPad to New iPad with Ease? | 6 Viable Ways
Transfer Music from Mac to Android -- 5 Simple Ways Enough
[Updated] How to Transfer Music from iTunes to Android with 5 Useful Ways
Quick Guide: How to Back Up Android Phone in Different Ways [Easy]
How to Add Contacts on Android Phone with Easy Clicks [5 Ways]