Summary
A Samsung file manager can help us find out images, music, documents, APKs and other formats of files. It allows us to manage Samsung files effectively. With the help of it, we can also easily recognize the unnecessary files and clean them in time to free up the space of Samsung device.
Part 1. Manage Samsung Files on Computer with Best Samsung File Manager
Samsung Galaxy has a large number files stored in the SD card and internal memory. It may be a waste of time to manage files on your Samsung device directly. We recommend a professional Samsung File Manager - Samsung Messages Backup to help users manage their Samsung device on computer effectively.
Samsung Messages Backup is developed for Samsung and other Android users to manage their cell phone and tablet data on computer. With it, you can perform a quick Android file management without any other software on Mac. It captures all the Samsung data and sorts them intuitively into folders that you can easily find out an item.
The main features of Samsung Messages Backup
1. Take screenshots on PC with 1-click.
1. Backup and restore the whole Samsung phone data to PC with one click only.
2. Quickly transfer contacts, SMS, call logs, music, pictures, videos, etc. between Samsung to PC without data loss.
3. Add, delete and edit contacts on PC.
4. Send/ reply messages on your PC.
5. Delete, recover, import and export call logs.
6. Install/ uninstall apps from computer directly.
7. Transfer the contacts between your Samsung and Outlook.
How to manage Samsung files with professional Samsung File Manager - Samsung Messages Backup?
Please download the correct Samsung Messages Backup on your computer. Here are two free trial versions for Windows/ Mac.
Then, please install and run the program on your computer. Connect your Samsung device to computer via a USB cable and enable USB debugging as prompted.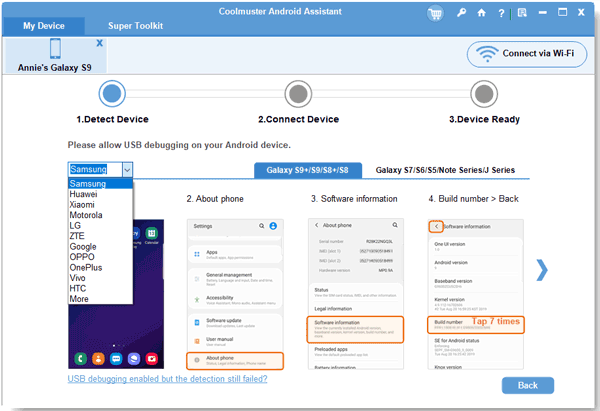 Once your device is detected successfully, you can enter the main interface of the program. From the main page, you can take a screenshot by clicking the small camera icon under the present screen of your phone.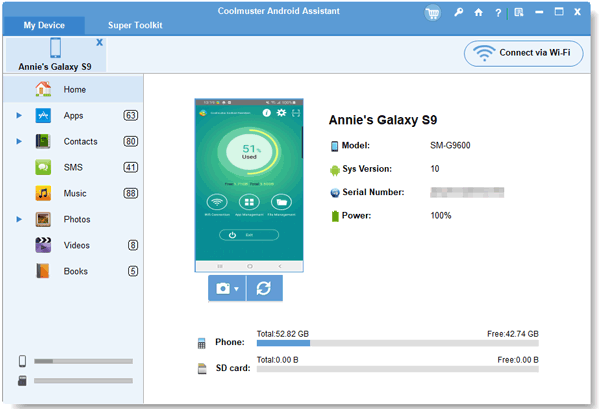 Manage contacts:
Please go to Contacts > All Contacts. You can see New, Delete, Export, Import, Refresh and Edit.
If you want to add/ edit a piece of contact, you can tap on the New/ Edit to type info, like name, phone number, email, address and so on. But if you like to delete/ export /import contacts in batches, you can select the items and simply click Delete/ Export/ Import, follow the easy prompts to complete.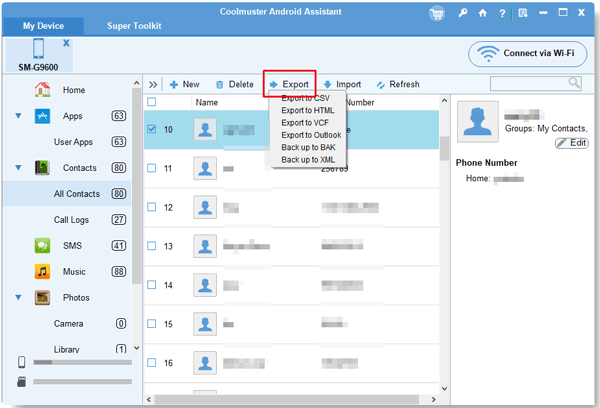 The Export & Import functions are both support files in csv, html, vcf, bak and xml formats. You can also export contacts to Outlook.
Manage SMS:
Like export/ import contacts, you can also transfer SMS between your Samsung device and computer. Especially, you can click New button to write a piece of text message to send to your friend on computer directly.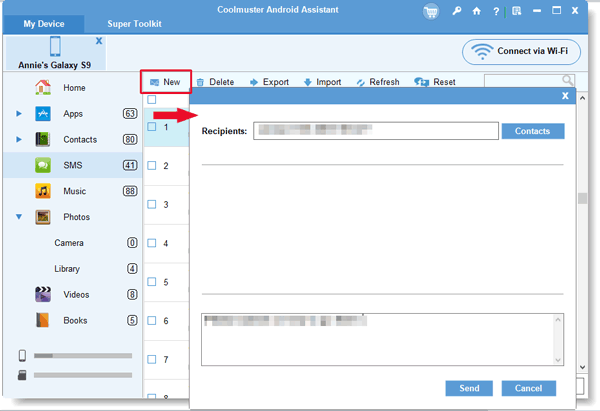 Manage apps:
Please go to Apps folder. From here, you can easily install, uninstall and export apps selectively or wholly on computer.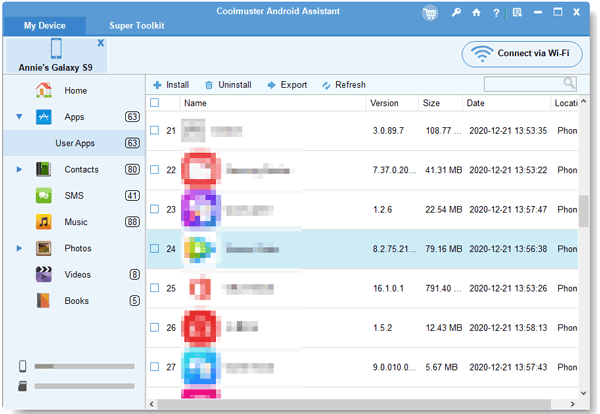 Manage media files:
From the user-friendly interface, you can manage media files intuitively, such as music, photos, videos and so on. The program supports you to add a new file from computer to Samsung phone, and delete/ export files from Samsung phone on computer directly.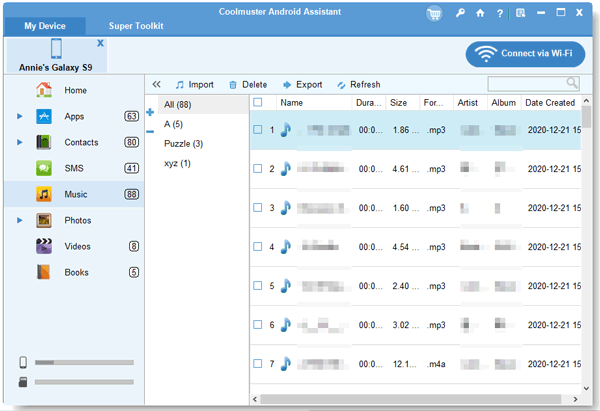 One-click backup:
You can simply click Super Toolkit on the top menu bar, tap on Backup to transfer all of Samsung data to computer with one click.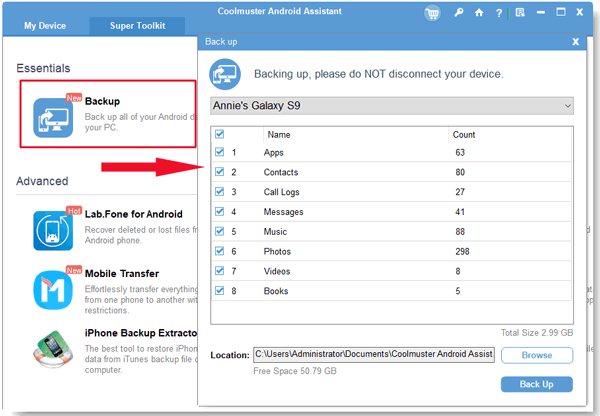 One-click restore:
To restore your Samsung phone, please click Super Toolkit > Restore > select the backups that contain the files you need. You can tick the Clear data before restoring on if needed, then click Restore.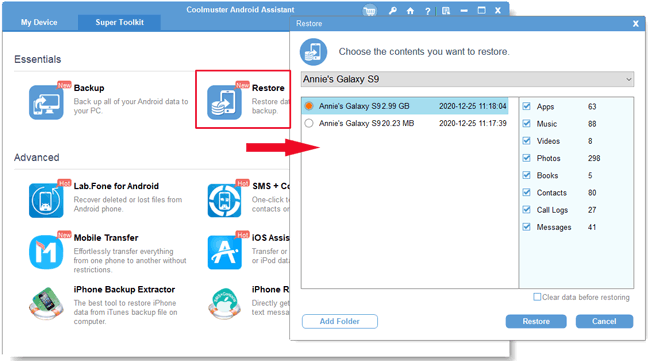 The program is friendly to almost all Samsung devices, including Samsung Galaxy S23/S20/S10/S9+/ S9/ S8+/ S8/ S7/ S6/ S5, Samsung Galaxy Note 20/Note 10/Note9/ Note8/ Note7/ Note6/ Note5/ Note4, Samsung Galaxy A9/ A8/ A7/ A6 and so on. It is also supports other Android brands, such as Xiaomi, Huawei, HTC, LG, etc.
See also: Click it to get 5 easy and safe methods to transfer data from an iPhone to Samsung Galaxy S20.
Part 2. Manage Samsung Files with Samsung Gear Manager - Samsung My Files
Samsung Galaxy has its own gear manager - Samsung My Files. You can find out a file on Samsung phone and tablet more easily and manage your files conveniently.
It offers 15 GB free storage for users. You use it to free up your Samsung device space by deleting unnecessary files and backup files to Samsung Cloud or Google Drive.
How to use it?
Step 1. Open the app drawer, you can find My Files easily on the app screen. Then, tap on the app to run it.
Step 2. Here you can see RECENT FILES, CATEGORIES, PHONE/ TABLET and CLOUD.
RECENT FILES - Show you the files you used and downloaded recently. You can check them.
CATEGORIES - Sort the files into different types, such as images, audio, videos and so on. It makes you easier to find a file.
PHONE - Display the total memory and the used memory of internal storage and SD card. You can view your Samsung built-in folders from internal storage.
CLOUD - Show cloud storage related to the cloud storage apps you have used on your phone. You can select the cloud storage to check its files.
Step 3. Find out a file. You can type the name of a file or folder into the search bar on the top of the screen, and the app will scan all the files on your Samsung and find out the file you wanted.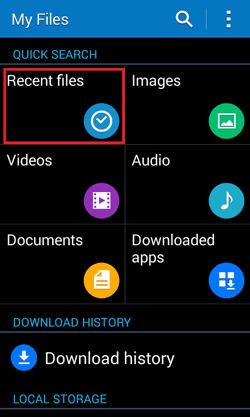 Conclusion
Even though there are many third-party apps can help manage Samsung files, Samsung Galaxy has its own Samsung My Files pre-installed in Samsung device. You can also download this app from Google Play store. My Files can help perform a quick management. It is unnecessary to download another third-party app.
However, if you need to manage Samsung files in batches, or print out text messages for legal purposes, Samsung Messages Backup is more powerful and effective.
Related Articles:
Easily Manage Samsung SD Card Files on PC/Mac
How to Manage Media Files on Samsung Galaxy Effectively
Android App Manager - Manage Android Apps at Ease
How to Manage Android Phone Contacts on PC/Mac