Summary
With the development of electronic technology, mobile phones and smart watches are playing more and more important roles in our life. Samsung is one of the brightest brand which released Samsung Note9, rocking the mobile market in 2018. As Samsung has many users all over the world, have you ever concerned about how to transfer data from Samsung? The topic today will give effective tips for you.
Part 1. Samsung Data Transfer - Samsung Messages Backup Moves Every Item to PC
No one would like to transfer files manually in an old Samsung, because the data in the mobile phone would be bigger and bigger as you used it for a period of time. To mention here, Samsung Messages Backup is an useful Samsung data transfer, designed for you to manage the items in your phone effectively. Before showing you how to use it, you may want to know the features of Samsung Messages Backup.
The Key Features:
1. Backup and restore the whole Samsung phone data to PC with one click only.
2. Quickly transfer contacts, SMS, call logs, music, pictures, videos, etc. between Samsung to PC.
3. Add, delete and edit contacts on PC.
4. Send/ reply messages on your PC.
5. Install/ uninstall apps from computer directly.
6. Delete, recover, import and export call logs.
7. Transfer the contacts between your Samsung and Outlook.
Here are two free trial versions for Windows/ Mac:
The program supports Samsung Galaxy S9+/ S9/ S8+/ S8/ S7/ S6/ S5, Samsung Galaxy Note9/ Note8/ Note7/ Note6/ Note5/ Note4, Samsung Galaxy A9/ A8/ A7/ A6 and so on. It is also friendly to other Android brands, such as Xiaomi, Huawei, HTC, LG, etc.
The Usage Guidance:
1. Download and launch the software on your computer, connect your Samsung to PC via a USB cable/ wifi. You need to download Android Assistant (Android Version) on your Samsung if you use wifi to connect your phone to PC. What's more, please enable USB debugging on your phone.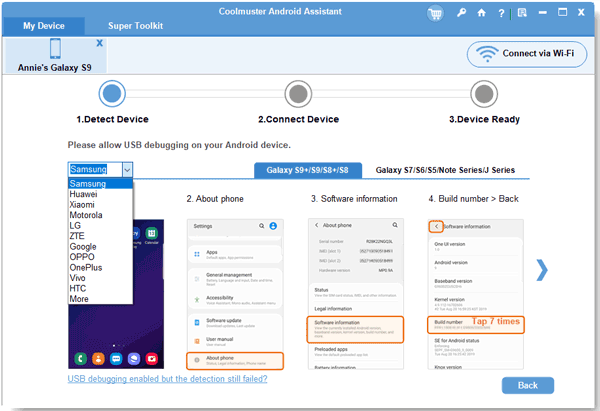 2. Once connected successfully, your Samsung will be recognized well. It will show an interface on computer. Then you can manage your files on computer without hassle.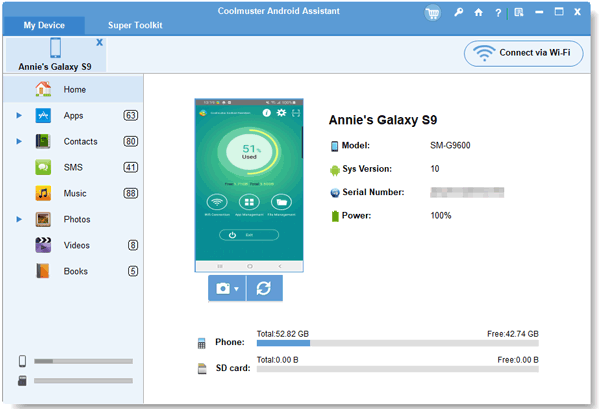 2.1 How to manage apps? The menu bar showing on the top includes "Install", "Uninstall", "Export" and "Refresh". Select the apps you want to export, please click "Export" and you will be asked to choose a location on computer for files saving. Meanwhile, you can install apps from computer to Samsung by clicking "Install". If you want to uninstall the selected apps, just tap "Uninstall" to remove data from Samsung phone on computer directly.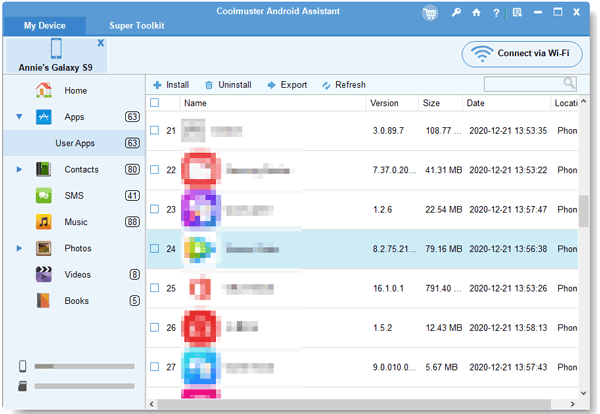 Check if You Need:
How to Transfer Apps from Samsung to Samsung?
Swiftly Transfer iPhone to Samsung S20 without Data Loss
2.2 How to edit contacts in Samsung effectively? There are 5 functions for managing contacts: "New", "Delete", "Export", "Import" and "Refresh". Please unfold "Contacts" and tap "All Contacts", and then you can see a long listing of all contacts saved in your phone. Choose one of them you want to edit, and click "Edit" on the right panel to start your work on computer. If you have many contacts to edit, the program will surprise you that how timesaving it is to edit contacts with Samsung Messages Backup. You may see a screen like this: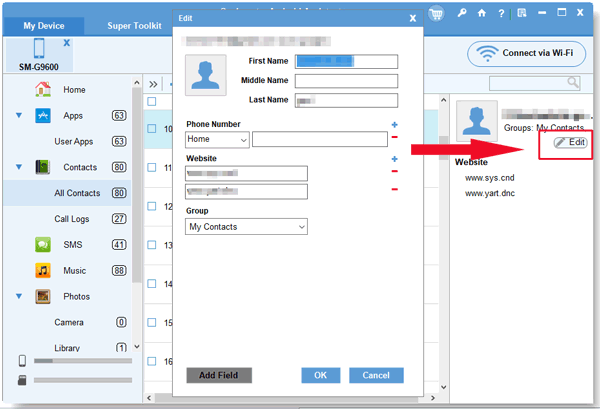 Read More:
How to Recover Lost Contacts from Rooted Samsung Phone
How to Print Contact List from Samsung Phones?
After that, click "Refresh" and now, you can export the important contacts to computer. What's more, if you want to export contacts to Outlook, please export the data as form of "Export to Outlook". Easily, you can create/ delete contacts on your Samsung by clicking "New"/ "Delete". All the operations are completed on computer.
2.3 How to move messages in batch out of Samsung phone? Select all the messages you don't want to keep on and you may see detailed information on the right panel, tap "Delete" to transfer data. Also, you can write a new text message and send it on computer directly by clicking "New" and backup important messages to computer by clicking "Export". If you have any message to transfer to Samsung, please tap "Import" to select data on your computer location and move it to your phone freely.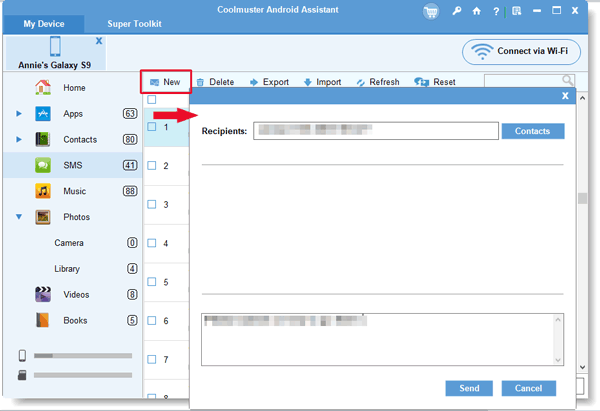 2.4 How to transfer music and photos from Samsung? Samsung Messages Backup transfers songs and pictures without loss. The functions of "New", "Delete", "Export" and "Refresh" are easy to carry out. As a convenient method to transfer files, you can manage your Samsung data in batch on computer.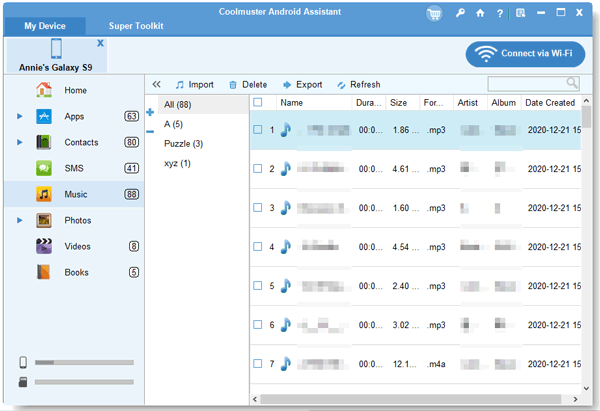 Above all, to transfer files from Samsung, you can choose the items that you want to backup flexibly and export them to computer.
You May Like:
Easy Way to Transfer Music from Samsung Phone to iPod
3. Moreover, if you want to backup the whole Samsung phone, one-click backup would be the best way. Please turn to "Super Toolkit", tap "Backup" to save all the data from Samsung to computer, and you can also restore the backup data to any Android device.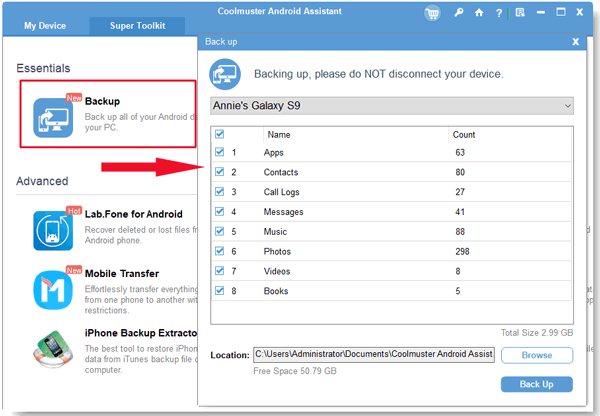 Part 2. Transfer Data from Samsung with Smart Switch
Samsung developed Smart Switch to help user transfer files. This app supports Android, iOS, Blackberry and Windows phone. It is free to use, but it may take up 15 minutes to scan your Samsung phone. Let's check up the following procedure.
1. Download Smart Switch on your Samsung and the received device. The app has been installed on Galaxy S9/ S8/ S7/ Note9/ Note8.
2. Connect your Samsung to the data receiving device via a USB cable/ wifi. Please notice that wifi connection requires Android 4.0 or higher and wired transfer requires Android 4.3 or higher.
3. Launch Smart Switch on both devices, and the program will scan your Samsung for several minutes depending on how much data on your Samsung.
4. Choose the items you want to transfer and Smart Switch would do the rest.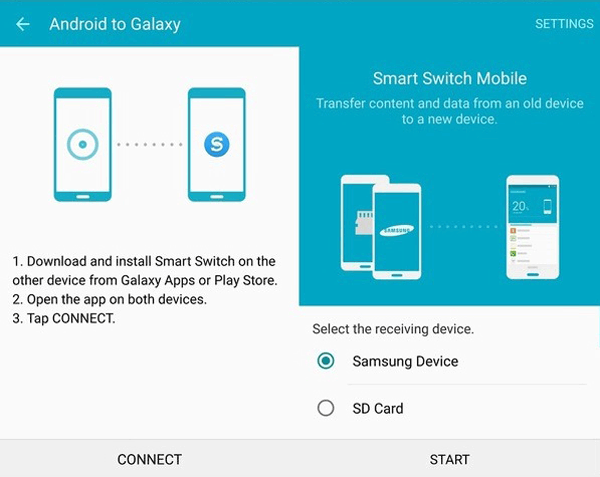 Part 3. Transfer Files with SHAREit on Samsung
SHAREit, which is meant to transfer files between Android phones, is a free app on Google play store. Now, please ensure that your Samsung and the receiving Android phone are connecting in the same wifi. Do as follows to transfer data from Samsung to Android phone.
1. Download SHAREit from Google play store and launch it on both two mobile phones.
2. Tap "Send" on your Samsung and tap "Receive" on your Android phone.
3. On your Samsung, select the items you would like to transfer and click on "Send".
4. The files would be transfer automatically and you can find them on your Android phone.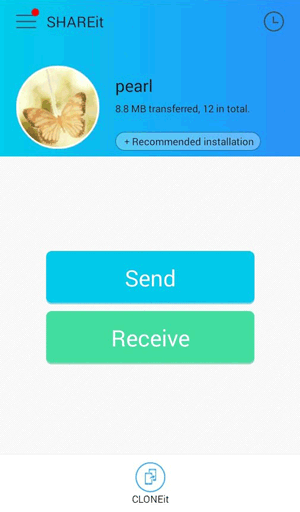 Part 4. Transfer Data from Samsung with Samsung Kies
Samsung Kies is a tool released by Samsung for Android files transfer. With it, you can backup basic data to computer. However, there are some drawbacks of it. For example, it sometimes can't connect Samsung phone, and it takes a long time for files transfer. Since it is a free tool, you may try as follows:
1. Download Samsung Kies on computer.
2. Connect Samsung phone to computer via a USB cable.
3. Launch Samsung Kies and click "Backup & Restore", then choose "Data Backup".
4. Select the data you want to transfer to computer and tap "Backup" button.
5. If you want to restore the data from computer to Samsung, tap "Restore Data" on Samsung Kies interface, and the listing of backup data would be shown on the screen. Please select the data you want to recover and click "Restore" to start data recovering.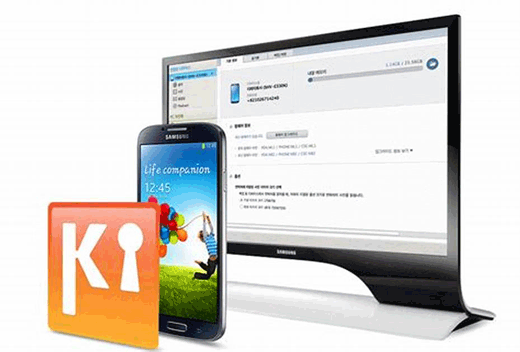 Related Articles:
How to Transfer SMS from Samsung Galaxy to Computer Effectively?
How to Transfer Files from Samsung Galaxy S9/S8 to Note 8/7
Backup & Restore Samsung Galaxy with Kies
How to Transfer Contacts from iPhone to Nexus 6?
How to Backup Samsung Galaxy to Cloud?