Summary
Music brings life to what we do daily. Music always accompanies us throughout, from when we wake up to the hours spent at work. It's a memory refresher. Since music is a significant part of our lives, we must keep that part of life intact no matter what.
But sometimes, songs can get lost, not because we want them to. It can be due to deleting them accidentally, corrupt, or being tampered with by a virus, which can be very frustrating. But be relieved as this article will show you the best ways for Samsung music recovery.
Part 1: Is Samsung Music Backed Up?
Samsung is well known for its cloud backup feature. Hence, it's not hard to believe that your songs are backed up on your Samsung device. Furthermore, backup is the easiest way to restore your deleted music on a Samsung phone.
Apart from cloud backup, you can back up your music from Samsung to a computer without hassle. Whenever you need the songs, you can get them back to your phone.
Part 2: Can You Recover Deleted songs on Samsung Music?
It's entirely possible to retrieve the deleted songs on Samsung music. Here are superb ways to achieve that.
2.1 Recover Deleted Songs on Samsung via Samsung Data Recovery (Without Backup)
Is it possible to retrieve deleted music on my Samsung device even if I didn't back them up? Samsung Data Recovery is the desktop app to get that done in seconds. It's one of the most loved tools by Android users as it comes in handy when you wish to retrieve your songs.
It recovers not only music files but also other data, like deleted contacts, pictures, and more. You can preview your files and then easily save them to your computer.
What this recovery software can do:
- Effectively recovers your music from a Samsung mobile device without backup.
- Recover deleted data from an SD card without root, including music, videos, images, and more.
- List your deleted and existing files on the interface.
- Allow you to transfer desired files from Samsung to a computer.
- Recover deleted contacts, SMS, call logs, documents, and other file types.
- Support most Android devices, such as Samsung Galaxy S23/S22/S21/S20/S10/S9/S8, Google Pixel 6/5/4/3, ZTE, OnePlus, OPPO, HTC, Honor, Motorola, etc.
- High rate of success in data recovery.
- Allows you to preview files before recovering.
Download this Samsung Data Recovery program below.
How to recover deleted songs without backup:
Step 1. Launch the Recovery Software
Download and then install the program on your computer. You'll see the first interface, where you'll have to click on the "Android Data Recovery" module.
Step 2. Connect your Samsung Device Using a USB Cord
- Please connect your mobile device to the computer via a USB cable, and enable the USB debugging feature on Samsung. Then the program will now start recognizing your device.
- Once done, all files in your phone will be shown in the main interface. Then check the "Audio" option, and click "Next".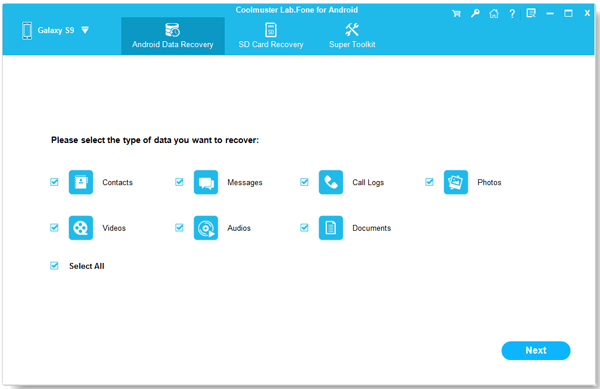 Step 3. Recover Samsung Music
- Choose a scanning mode, tap "Continue" and it will remind you to root your smartphone to access the deleted files on the phone.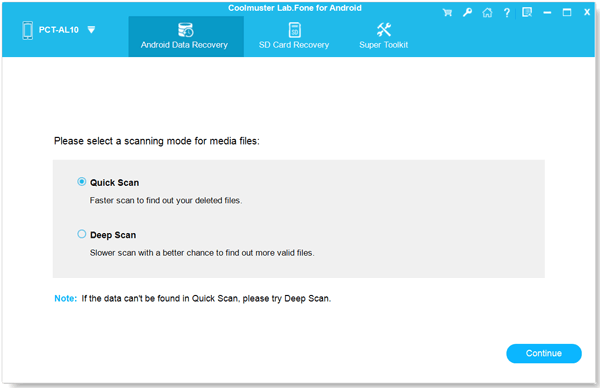 - Then choose the "Music" category, and select the music files you wish to recover from the right panel. Once done, click the "Recover" button to save your songs to your computer.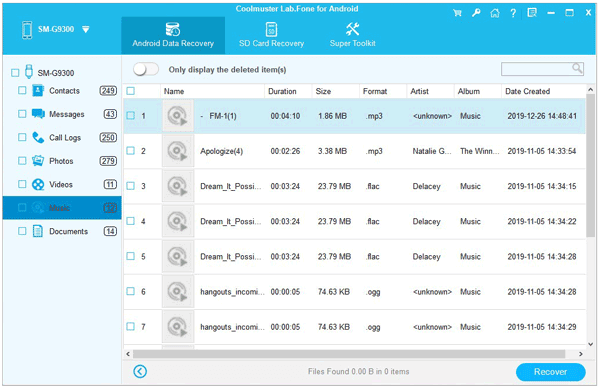 See also: How can you transfer music between Samsung phones? Here are 4 methods you can utilize.
2.2 Restore Deleted Music from Samsung Cloud
You can also recover any deleted songs from your Samsung cloud. Samsung Cloud is a cloud storage service that enables you to back up files to Samsung servers. It can help you back up data like call logs, messages, apps, contacts, and many more. To restore deleted music from Samsung Cloud, do the following:
Step 1: Go to your Samsung phones Settings and click your name from part of the screen.
Step 2: Proceed to "Samsung Cloud" and then to "Restore". Then select the device to backup and check the specific songs you wish to restore.
Step 3: Tap "RESTORE NOW" to start the recovery process.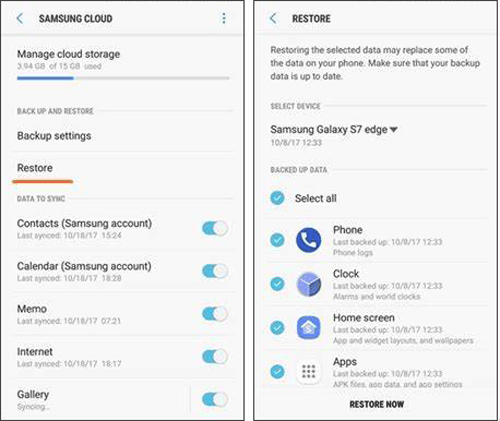 2.3 Retrieve Music on Samsung via Gmail Account
It is also possible to recover songs on your Samsung device with the help of a Google account. Usually, when you save files online with a Google account, they are saved directly to your Google Drive. If you have backed up your songs with a Google account, then all you need to do is to use the following steps to retrieve them:
Step 1: Sign in to your Google account on the Samsung device and open Google Drive on the computer or phone.
Step 2: All the deleted files are found in the "Trash" folder in your Google Drive and stay for 30 days before they are automatically deleted permanently.
Step 3: Retrieve your erased audio files from the "Trash" folder by tapping on the icon for the trash folder, then click "Restore".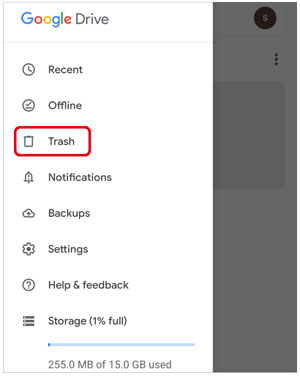 You might like: [Total Guide] How to Transfer Contacts from iPhone to Samsung? - 7 Ways
2.4 Get Music Back on Samsung via Third-party Music App
You can also get help from a third-party music app like Spotify to easily recover your deleted music. Spotify is one of the best applications that lets you listen to songs from almost any device connected to the internet. This keeps your local device free from overload and works efficiently throughout the day. The app works by first downloading the music on your device and then syncing it up with your device. Do this to retrieve deleted songs with Spotify:
Step 1: Go to the Spotify Account page and sign in. If you're using a desktop client, click on the icon next to the profile name to get the drop-down menu. Tap on the "Account" button to proceed to the Spotify account section.
Step 2: For Spotify web players, tap on your name at the bottom of the interface and click "View account" to get to the account page. Then you'll see various options for your account from the web interface. Tap on the "Recover playlists" option from the left panel.
Step 3: The playlist you deleted will be shown, including the date it was deleted, the playlist's title, the number of songs, and the restore button. Tap on the green icon showing "Restore".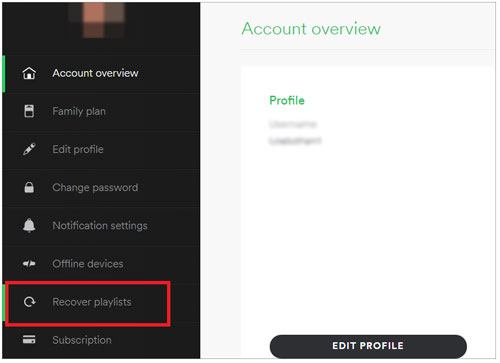 Bonus: How Can You Protect Your Music on Samsung Phone from Loss?
It's easy to lose data from your phone, with all the viruses and malware floating around the internet. So, it's good to know how to protect your essential information from getting lost.
Back up your music files. Backup all your important files, whether they are stored in the internal storage or external SD card to the computer or Samsung cloud.
Do not use unknown apps. Some applications can inflict viruses on your smartphone and erase all essential files, like music albums. So, if you aren't familiar with some apps, don't download them.
Know what Software upgrade or downgrade does to your device. Updating your phone regularly is a good idea because it can solve various bugs and outdated issues. But sometimes, it can erase your data, so bear in mind the precautions.
Recap
As you can see, it's easy to recover deleted songs back to your device. Every time you unknowingly delete a song, just go through this step-by-step guide to recover it. Even if you don't have a backup, Samsung Data Recovery, has got you covered. It can help you recover music files as long as the data hasn't been overwritten.
Related Articles
[2023] Back Up Android to SD Card Swiftly: 4 Easy Approaches Here
Repair Samsung Tablet Frozen Issues | A Full Tutorial with 7 Methods
[Easy and Safe] Transfer Music from iPod to Samsung Phone and Enjoy It Directly
How to Quickly Transfer Data from OnePlus to Samsung: 4 Best Ways You Can Try
[Updated] How to Transfer Music from iTunes to Android with 5 Useful Ways
How to Transfer SMS from Samsung Galaxy to Computer Effectively?