Summary
If you're wondering how to retrieve hidden, personal photos from the Private Safe of your OPPO device this article is just what you need. Likely, many of you may not be familiar with Google Photos' feature, which lets users hide their most confidential pictures from the main gallery. These privately kept pictures will only be accessed using authentication such as passcode, face unlock, or use of fingerprint.
Even though they are secured with authentication, they can still be deleted when you access the folder. You may have deleted them accidentally, which raises the question: How can I recover deleted private photos in OPPO? Well, you shouldn't worry about that. Read this article to the end to learn how to recover deleted photos from Private Safe on OPPO.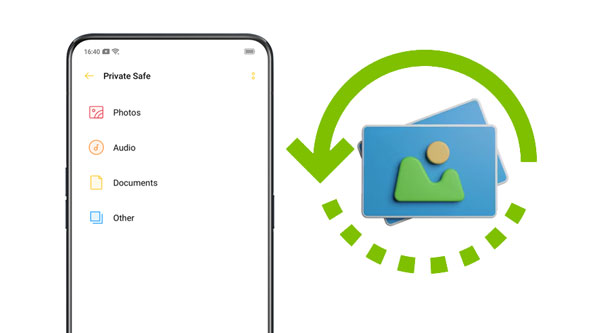 Part 1: What Could Lead to Deletion of Private Safe Photos on OPPO?
Has your Private folder disappeared from your OPPO phone, or have you noticed files in it are missing? There are a few potential culprits that could be behind this. Here are the probable causes:
1. Mistakenly formatting an OPPO phone can lead to deleting all your photos.
2. Certain Android applications, such as Clean Master, can erase important pictures from your OPPO. Therefore it is essential to check that the app you are using does not have this malicious capability before downloading and running it on your phone.
3. You may unintentionally delete the photos in the Private Safe of your OPPO phone when swiping through the phone.
4. Interruptions during the transfer of files between your phone and computer. Any interruption during the process, such as a system shutdown or loose USB connection, may lead to irreversible data loss. So, all connections should remain steady throughout the transfer.
If you are in an unfortunate situation where your Private Safe photos on OPPO have been deleted, fear not. We will provide several ways to deal with such a situation. So, how do I recover deleted photos from Private Safe? Keep reading to know that.
Part 2: How Can I Recover Deleted Private Photos in OPPO?
At last, the ultimate solutions to restoring your accidentally deleted videos on OPPO have arrived. Whether you have a backup of your data or not, we will share these most easy methods that can help bring back those valuable memories. Take away your worries and read on for more information.
Way 1. How to Recover Deleted Photos from Private Safe on OPPO via Android Recovery
If you're looking for a surefire way to recover your accidentally deleted photos from Private Safe on an OPPO phone, This photo recovery - Samsung Data Recovery will be your ideal choice. This tool can recover deleted photos from Android internal storage without backup, including the devices running Android OS 4.0 and upper. Thus, most OPPO devices are supported. In addition to photos, it can recover deleted contacts, text messages, documents, and more. As long as your deleted photos haven't been overwritten by new data, it is possible to get them back.
Check the main features of this OPPO recovery app:
- Recover deleted photos from OPPO internal storage.
- Effectively recover deleted SMS, books, music files, etc.
- List your deleted and existing photos on the interface, and allow you to select what you want directly.
- Securely retrieve deleted data from Android SD card without rooting.
- Enable you to transfer your existing files from OPPO to your computer.
- Compatible with most Android phones, including OPPO Find X6 Pro/Find X6/X5/Find X3/Find X2/Find X, OPPO R21/R19/R17/R15/R11, Realme, OnePlus, Samsung, Google, ZTE, Vivo, Xiaomi, and so on.
Download this photo recovery software.
Steps on finding private photos in OPPO and restoring them with this OPPO private safe recovery tool:
Step 1. Install and Launch the Program
Start by downloading the recovery software on a PC. After successfully launching it, you should be presented with a toolbox; just hit the "Android Recovery" option. Then link your OPPO phone to the computer with a working USB cable and ensure USB debugging is on.
Step 2. Choose the Photos Category
- Afterward, click "Allow" and "Confirm". Now tick the "Photos" option and click "Next".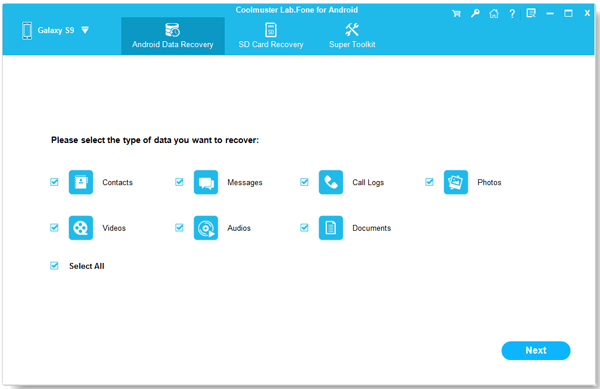 - You may now select either "Quick Scan" or "Deep Scan" mode. After choosing the mode, click "Continue" to start scanning.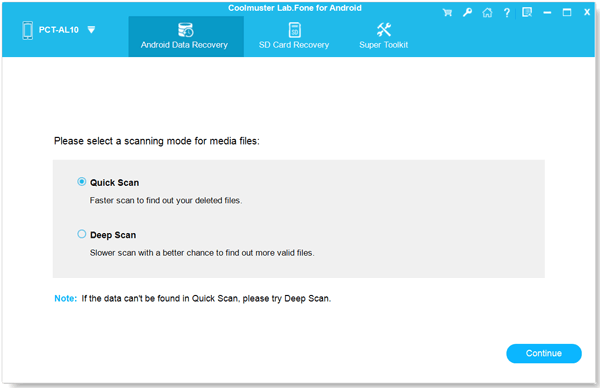 Step 3. Recover Deleted Private Photos in OPPO
You will see the number of pictures on the left of the screen. Just click "Photos" and preview the images on the right. If you're looking for deleted pictures, enable "Only display deleted item(s)" before proceeding. After selecting those desired photographs, click on "Recover".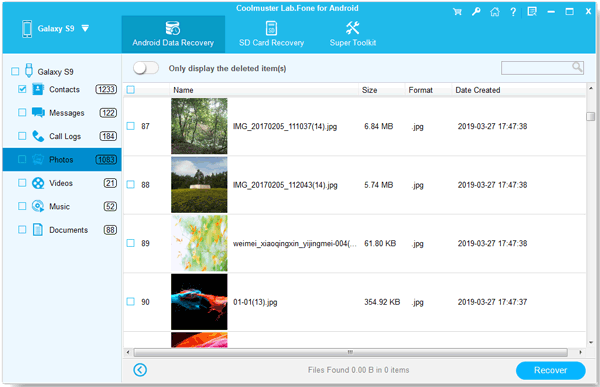 Learn more: How to Recover Deleted Screen Recording Video on Android via 3 Easy Methods
Way 2. How to Find Private Photos in OPPO Cloud
OPPO has ensured that its users will not worry about losing their data by designing a wonderful feature known as OPPO Cloud. It is a convenient and effective feature that will help you recover files, provided you did a backup before the deletion. This amazing feature makes it easy to securely store your files on the cloud, making it a perfect option for those who often switch between devices. Here is how to restore photos from OPPO Cloud conveniently:
Step 1: Make sure you have backed up your private photos to OPPO Cloud. Then open the Settings app.
Step 2: Choose "OPPO Cloud", and sign in with your OPPO account.
Step 3: Click the "Photos" option, and enable the "Auto Photo Sync". Then your backup photos will be synced to your OPPO phone, and you will get your private pictures back.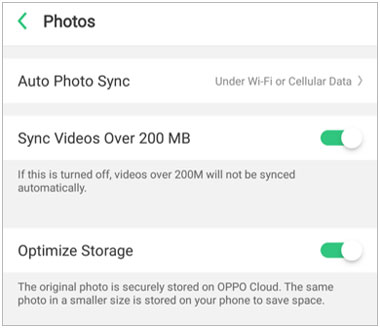 Way 3. How to Recover Deleted Photos from Private Safe on OPPO via Local Backup
With an OPPO phone local backup, you can successfully restore lost data from the Private Safe. But you must have done the backup before you deleted the files. It's very simple, and you will get back your pictures with simple clicks on your device. Here's how to recover deleted photos from private safe OPPO A5S:
Step 1: Start by opening the Settings app and choose "Additional settings", then click on "Back up & reset". Then choose "Back up & restore".
Step 2: Now, choose "Local backup", and select one backup file.
Step 3: Tick off the "Photos" option, and hit "Start". Then your deleted photos will be back to your OPPO phone.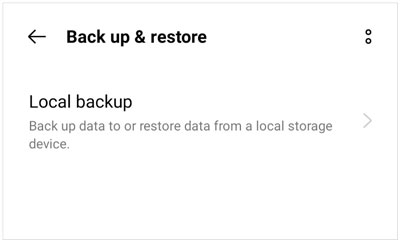 Guess you like: Want to get out of recovery mode on your Android phone? Follow this guide to exit it fast.
Way 4. How to Recover Photos from OPPO Private Safe Using Google Photos
If you're searching for a reliable way to restore deleted photos and videos from your OPPO phone, Google Photos is the perfect solution. It's a helpful feature that enables OPPO users to back up their images if they have a Google account.
Not only can you view all of your pictures and clips in one place if anything gets removed from the folder, but it also stays safe within the Trash folder on Google Photos, where it will be stored for 30 days. So, in that period, you can retrieve your pictures if they are accidentally erased. But, Google Photos pose a risk of data leakage. Here's how to recover deleted photos from private safe on OPPO A3S:
Step 1: Launch Google Photos application and log in to your Google account using the correct credentials.
Step 2: Click the "Menu" icon and choose "Trash". Then you will see your deleted photos. Find your private photos, and click "Restore" to retrieve your desired pictures.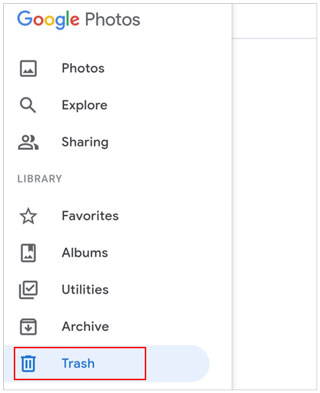 See more: How to Recover Deleted PDF Files on Android | 3 Approaches and Extra Tips
Way 5. How to Restore Deleted Private Pictures from Android Gallery Using Dropbox
If you're using Dropbox to store your photos, rest assured that if any photos are accidentally deleted, they can still be recovered. This cloud storage service makes saving and syncing data across all your devices effortless. Follow these steps to restore your pics:
Step 1: Launch the app on the device and log in to your account.
Step 2: Check your uploaded photos on Dropbox and download the pictures you want to your OPPO device. If there is no target files, please go to "Deleted files" and locate the photos you wish to recover.
Step 3: Select the three dots menu for options and hit "Restore".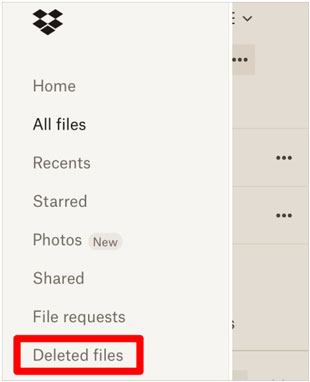 Part 3: FAQs about Private Safe on OPPO
Q1. What's a Private Safe on OPPO?
It is a folder that protects the personal or sensitive files on your OPPO phone. You can securely hide pictures, audio, videos, notes, chats, and more in the Private Safe folder. This folder is locked by either a passcode or biometric authentication, becoming an essential mobile security feature.
Q2. Where's the Private Safe Folder on OPPO?
Although a Private Safe folder can be difficult to locate on your OPPO phone, you can find it through the Settings or Files app. To access the Private Safe in your OPPO, head to "Settings" > "Privacy", and look for "Private Safe". Input your privacy passcode and select any available folders with Images & Videos, Audio, Documents, and Other Files. Then clock on the plus (+) icon in the lower right corner to add items.
Conclusion
Losing your private files from an OPPO phone can be a stressful experience. But understanding how to recover deleted files is the only way out. We have discussed multiple methods of retrieving any private photos that have been lost from your device. With these techniques, you'll be able to restore those precious memories without any problem. It doesn't matter whether you have a backup or not, the method shows you all that.
If you don't have any backup, consider using the practical photo recovery program - Samsung Data Transfer. It's user-friendly, fast, and boasts a higher success rate in getting back your missing photos with ease. Download it now and see how restoring those precious snaps is as easy as pie.
Related Articles
How to Recover Deleted PDF Files on Android | 3 Approaches and Extra Tips
How to Retrieve Text Messages from Old Phone Number without Difficulty
How to Transfer Data from OPPO to Vivo: 5 Deft Methods Can Help You
Transfer Contacts from OPPO to Samsung Efficiently [5 Proven Methods]
How to Transfer Data from iPhone to OPPO Expediently | List 5 Ways to Help You
OPPO Backup and Restore with 3 Useful Guides (Make It Faster)