Summary
"I switched to a new mobile phone a few days ago, but now I have lost my important text messages. In my case, how can I get messages from my old phone or old phone number? Those messages are very important to me. Please help."
This case is common in most online discussion communities. But luckily, some effective solutions can work out this issue. Now, let's see how to retrieve text messages from an old phone number or an old phone.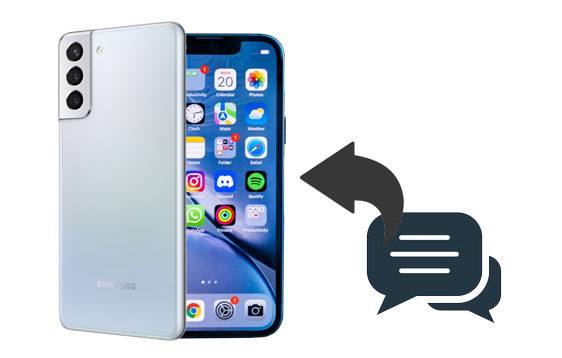 Part 1: How to Retrieve Text Messages from Old Phone Number via Backup?
Quite a few people back up their data regularly. If you are one of them, then congrats because you have a better chance of getting your text messages from your old phone number than those who haven't backed up messages. Subsequently, we will talk about how to retrieve text messages separately based on Android and iOS users. Please jump to the part according to your smartphone.
1.1 For Android
For Android devices, you can restore your text messages from an old phone number via Google backup or the SMS Backup & Restore app. Just select the way that you have backed up your SMS.
1. Get Text from My Old Number on Android via Google Backup
As long as you have logged in to your Google Drive account on your old Android phone with your old phone number and enabled the Google backup, you can restore the backup data to your current device with the same account. But you need to reset your phone in advance.
Step 1: Go to the Settings app on Android, and click the "System" > "Reset options" > "Erase all data (factory reset)" option to reset your Android gadget.
Step 2: After finishing the resetting process, please set up your phone.
Step 3: When getting the "Choose what to restore" screen, please select the "SMS messages" option, and tap the "RESTORE" icon to import the backup SMS to your Android phone. Then continue to complete the setup. Your messages will appear on the Messages app.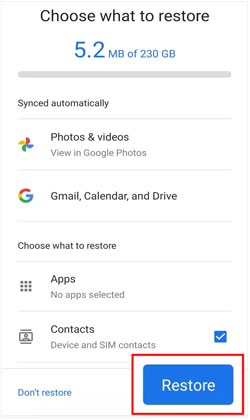 2. Retrieve Messages from an Old Phone via SMS Backup & Restore
What if you have used SMS Backup & Restore to back up your SMS on your old phone? Well, there are two situations. One is that you have backed up your messages to a cloud server, like Dropbox, Google Drive, and OneDrive; the other is that you have done it on your old phone's local folder, and the backup file is still on the old device.
If you have met the second one, please go to your old phone, restore the SMS to your old phone, and back up the messages again. But this time is to back them up to cloud storage. After that, go on to finish the following steps.
Step 1: Install SMS Backup & Restore on your new Android cellphone.
Step 2: Tap "Menu" on the top left, and choose the "Restore" option. Then select the location where you backed up your SMS, such as "GOOGLE DRIVE".
Step 3: Opt for the backup file you want, and click the "RESTORE" > "OK" > "YES" icon. The app will restore the backup messages to your current device.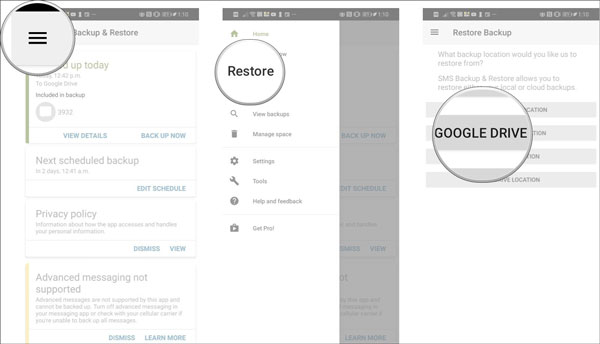 See more:
Want to print your text messages from your Samsung phone? You can follow this guide to make it easier.
Deleted your contacts from OnePlus? Don't worry. You can recover the contacts with ease.
1.2 For iOS
There is no doubt that iOS users can restore and access old phone number messages using iCloud or iTunes backup.
1. Restore Messages from Old Phone Number on iOS via iCloud Backup
There is an iCloud backup feature built-in every iPhone and iPad. If you have enabled it before you lose your messages, they probably exist on your iCloud account. Whether you want to restore them to your old iPhone or new iPhone, you can do it with your Apple ID. However, in order to get them back, you're required to reset your iPhone first.
Step 1: Open the Settings app on your iOS device, and choose the "General" > "Reset" > "Erase All Content and Settings" option to start resetting your iPhone.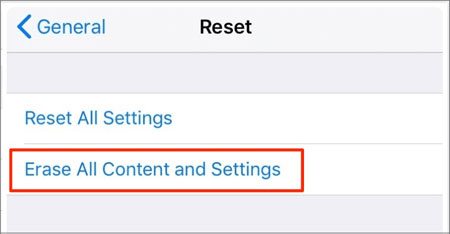 Step 2: Follow the on-screen instructions to set up your iPhone, and choose "Restore from iCloud Backup" on the "App & Data" screen. Once done, you will regain your messages on your iPhone from the old phone number.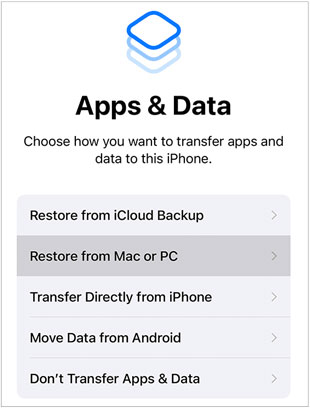 2. Get Old Phone Numbers and Messages back via iTunes Backup
Using iTunes backup is useful to get your old phone numbers and messages back. But it will cover all existing data on your iPhone.
Step 1: Make sure you haven't removed your iTunes backup on your computer, and launch iTunes on the desktop.
Step 2: Connect your iDevice to the computer via a USB cable, and tap "Trust" on the screen.
Step 3: Click the iPhone icon > "Summary" > "Restore Backup" icon. Then the program will restore your backup contacts and messages to your connected device.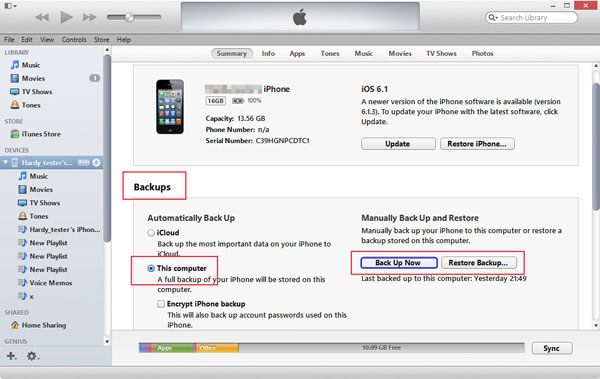 Bonus: How can you restore deleted WhatsApp messages? Don't panic. You can get 3 powerful recovery methods.
Part 2: How to Recover Messages from Old Phone via Android Data Recovery (for Android Only)
No backup? That's OK. We find an effective program for Android recovery - Samsung Data Recovery. It can recover deleted text messages from an old phone without backup. As long as the new data hasn't overwritten your deleted messages, this software can recover them from the internal storage.
Plus, it can recover deleted contacts, photos, documents, and so on. What's more, it is compatible with most Android devices, including Samsung Galaxy S22 Ultra/S22/S21/S20/S10, Sony Xperia 1 III/1 II/10 III/10 II, Honor 60 Pro/60/50 Pro/50/50 SE/X20 SE/Play5, OnePlus, ZTE, Xiaomi, Vivo, etc.
Main features of this Android data recovery software:
- Recover messages from an old phone without backup.
- Allow you to preview your deleted and existing SMS before the recovery.
- Support multiple file types, like contacts, call logs, videos, music, photos, and documents.
- Recover deleted files from an SD card without backup.
Download this program for free below.
Here's how to recover your messages from your old phone via this software:
Step 1. Install the Android Recovery Program
Install the software on your computer, and choose the "Android Recovery" tab.
Step 2. Choose the Messages Option
Connect your old phone to the computer with a data cable, and enable the USB debugging mode. Then the software will fast recognize your phone, and you can select the "Messages" and other file types on the interface.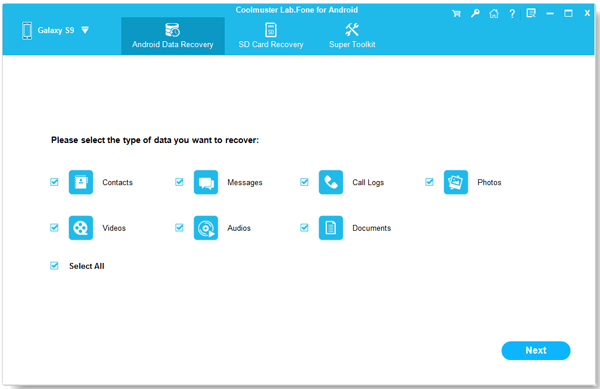 Step 3. Recover Your Messages from Your Old Phone
- Select a scanning mode you want, and it will remind you if you haven't rooted your phone. You can tap the "Continue" icon to skip this step, but you will only view your existing SMS but not those deleted ones.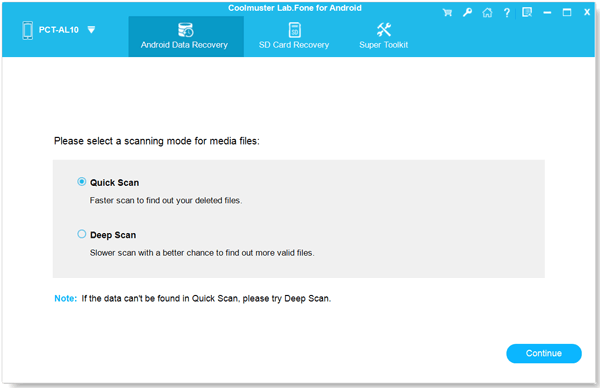 - Once done, it will scan out your messages on the old phone and display them on the interface. Please check the messages you want to restore, and tap the "Recover" icon to save the messages to your computer.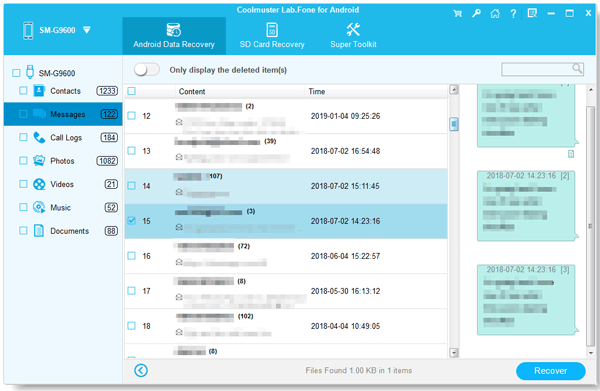 Note: Root is needed when you want to recover deleted data from your Android phone internal storage. But as for your SD card, you needn't root it.
Tips: You can use these 4 seamless ways to transfer text messages from an LG phone to a computer.
Part 3: How Can I Get Messages from My Old Phone by Asking Mobile Carrier?
You can also ask your mobile carrier for help. Some carriers will keep your text messages for 90 days, but others for 60 days. Anyway, you can call your carrier for these questions, and they will tell you what to do. Another way is to browse your carrier's official website, and chat with them online.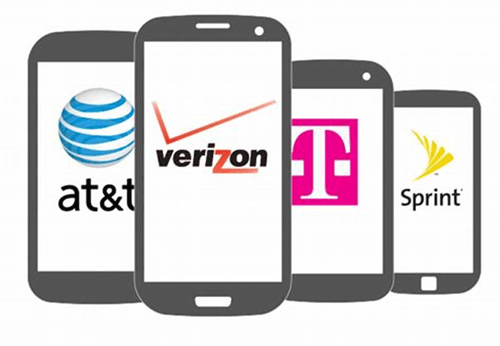 Conclusion
You have already known that you can retrieve text messages from your old phone number and old phone. It is easy to restore your SMS via backup. Even though you don't have a backup, you can recover the messages from your old phone with Samsung Data Recovery, but it is for Android devices only. As you see, no matter which way you choose, some conditions need to be met. Thus, protect your SMS carefully, and back them up in time.
Related Articles
My Text Messages Disappeared on My Android - Find the Cause and Fix It
Export Text Messages from Android to PDF Handily (Advanced Tutorial)
3 Ways to Quickly Transfer Messages from iPhone to Samsung (Latest)
[Effective] How to Retrieve Deleted Messages on Huawei Phone with 4 Options
How to Transfer Messages from Android to Mac Easily? 4 Helpful Tips Here
[2022] Back Up Android to SD Card Swiftly: 4 Easy Approaches Here