Summary
One of the important features people look for when buying a smartphone is camera quality. It's one of the amazing aspects of any Android smartphone. We all like taking videos and pictures and wouldn't want them to be awful. But, sometimes we find these fine videos missing on our devices. Obviously, this happens due to accidental deletion or firmware errors.
Now that it's gone beyond reach, thinking of restoring these files seems to have gone to waste since you've already deleted them. But don't lose hope yet. We're here to help you retrieve deleted screen recordings. Go ahead and learn how to recover deleted screen recording videos on Android.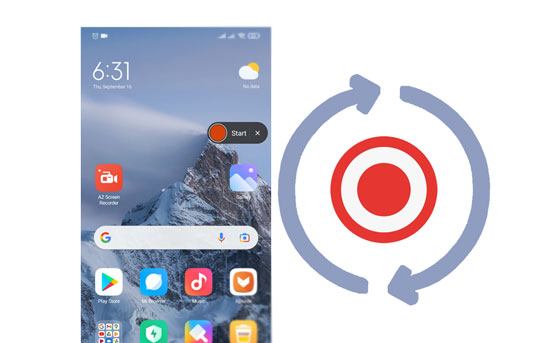 Part 1: Why You Lost Android Screen Recorded Videos
We know everything happens for a reason and your screen recorded videos getting lost is also due to one reason or the other. These are four possible reasons why these screen recordings got lost on your phone;
1. Accidentally deleting the videos: You might have deleted the videos by mistake while creating more space on your device.
2. Installed malware or virus on your device: Malware and virus are unwanted programs that can cause serious damage to your phone including your personal files. It may end up corrupting your device, thus deleting your important videos.
3. Hardware damage, such as water can destroy your Android phone's hard drive, tampering with your personal files.
4. Formatting the device: Formatting or factory resetting your phone particularly when it is full, puts the existing data at risk of getting automatically deleted. Formatting means deleting all the existing data and files on your device.
Part 2: How to Recover Deleted Screen Recording Video on Android (3 Ways)
Now that you know why your screen recorded videos are lost, you should look for solutions. The good news is that you don't have to worry anymore, as there are several ways to recover recorded video on Android. The following are the universal methods for recovering deleted screen recordings on an Android phone.
Method 1. Recover Recorded Video on Android Fast (Without Backup)
The easiest and fastest way of recovering screen-recorded videos on an Android device is to use a powerful Android recovery tool known as this Android recovery software - Samsung Data Recovery. This tool is dedicated to restoring deleted files on an Android phone without backup, including videos, contacts, call logs, documents, and music.
The software has a powerful scanning algorithm that detects deleted files and helps you scan your entire device. This tool is also compatible with over 6000 Android devices, including tablets and phones. Moreover, it has a higher data recovery rate, making it one the top tool to recover Android data.
Its top highlights:
- Recover deleted videos from Android screen recorder on an Android device.
- Effectively get deleted contacts, SMS, photos, and other Android files back from Android internal memory.
- Help you restore deleted videos and other media files from SD cards without rooting.
- Higher rate of success in data recovery.
- Transfer your current Android videos to your computer for backup.
- Support most Android phones and tablets, including Samsung, OPPO, LG, Vivo, Google, etc.
Download this video recovery software.
Here's how to recover deleted videos from the screen recorder app on Android:
Step 1. Launch the Program and Connect Your Device
Install and then launch the software on the computer. Choose "Android Data Recovery" from the list and connect the phone to the same computer with a USB cord. Make sure USB debugging is enabled on your Android.
Step 2. Select the Video Category
Hit "OK" afterward to allow the program to recognize the device. After that, you'll see the primary interface. Choose the "Video" option from the category, and hit "Next".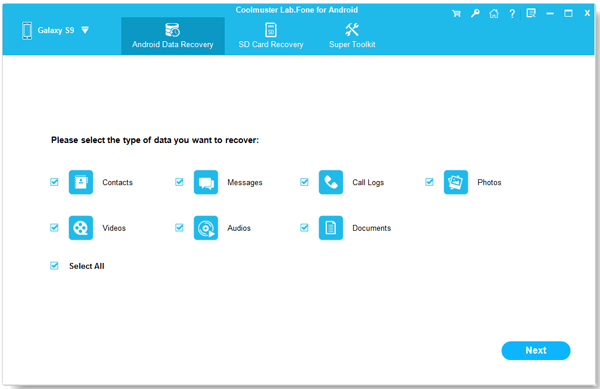 Step 3: Recover Deleted Screen Recording Videos from Android
- You have two recovery mode options to scan your videos. Choose either "Quick Scan" or "Deep Screen" to start scanning the deleted videos. It's recommended you choose the "Deep Scan" mode for more deleted files.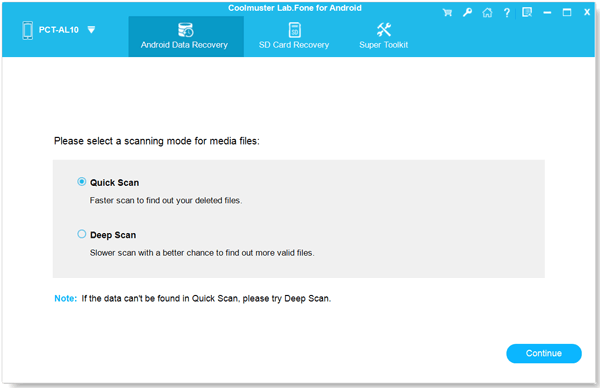 - The tool will start scanning your deleted videos immediately after you choose the scan mode. Just choose the "Videos" option from the interface on the left and proceed to select the specific video files to be recovered, and hit "Recover" to start the restoration process.
Learn more: How to Transfer Files from Android to Android in 2023 [Proven]
Method 2. Recover Deleted Videos from Screen Recorder with Recently Deleted Folder
Another great way of restoring your lost screen recorded videos on an Android phone is to restore them from recently deleted files. Normally, there is a folder that keeps the recently deleted files. When you delete a file on Android, it doesn't get completely removed from your phone. Instead, it remains in the "Trash" for some time and then automatically moves to a folder called Recently Deleted Folder, where you can recover it.
Here is how to restore the screen videos from Android using the recently deleted folder:
Step 1: Firstly, open your "Photos" application on the device and head to the "Recently deleted" album.
Step 2: Look for the videos you deleted recently from the album.
Step 3: Check it and hit "Restore" to restore it to the photos gallery.

These steps can help you only if the deleted videos are still in the folder that temporarily keeps all recently deleted files on Android devices. If they aren't in this folder, you have to recover them from a backup.
Method 3. Recover Deleted Videos from Screen Recorder App with Backup
If you can't find the screen-recorded videos in the folder for recently deleted files, it's time to check them from the backup if you have one. One thing to remember here is that you can only restore deleted videos from backups if you have really made one. This method wouldn't work if you forgot to back up the video. However, if you are a person who does regular data backup, proceed with these methods and get your screen-recorded videos back in no time.
1. Restore from Google Photos Backup
Google Photos is a free photo app and cloud service developed by Google. It lets you back up, organize and share your photos and videos securely in the cloud. The app automatically backs up every photo and video you take on your Android device to Google Photos for safekeeping. This will make it easier to restore any of your lost videos from Google Photos backup. Just follow these steps, and you'll be able to get the video back with ease.
Step 1: Head to Google Photos application on an Android phone and open it.
Step 2: Click on the "Menu" option at the upper left part of the screen and click "Trash".
Step 3: Next, choose the video files you would want to restore and hit the "Restore" button.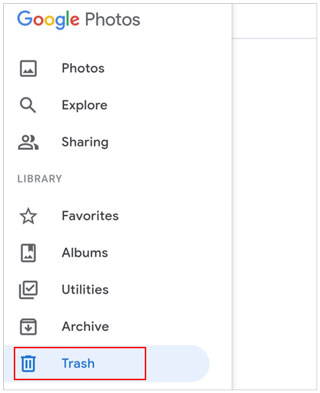 To be on the safer side and be sure you can always find your data in Google Photos, set your device to automatically sync the videos and photos with Google Photos. This way, you will not even worry when you find your screen-recorded videos missing, you just open the app and restore all your needed files.
2. Recover from Dropbox
If you always use Dropbox as your backup, you can also restore a deleted video from there. Dropbox is a cloud storage app that lets you sync and saves some of your important files to the cloud. Even though the free storage space is quite small, only 2GB, you can decide to upgrade your plan and get more space for all of your files. When you want to restore some of your accidentally deleted screen videos, you can easily do so using the steps below:
Step 1: Open the Dropbox on your Android.
Step 2: You will see all files you backed up in Dropbox. Then choose the "Deleted files" option on the left.
Step 3: Next, choose the deleted videos and hit "Restore" to download them.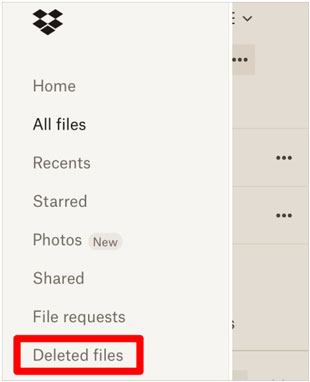 Read also: Fantastic Android SMS Recovery Apps | Easily Recover Deleted Texts from Android
Bonus: Back Up Android Data to Avoid Data Loss
Our phones store very important files that we can't afford to lose. Just save these files to your computer or SD card so that you can easily access them whenever you need them. Backing up your important data regularly helps you to avoid losing them. Besides, when you accidentally delete them from your device, you know where to restore them from.
Conclusion
Many reasons could cause the loss of screen-recorded videos on an Android device. Whatever the reasons, it's essential to know how to recover the videos when they get lost. The above are methods to use to restore the videos back to your phone. Samsung Data Recovery is the best tool to help you restore your deleted/lost videos from Android phones and tablets easily and quickly. It is compatible with a wide range of Android devices. Thus, you can use it for different brands of Android mobile devices.
Besides, regular data backup is highly recommended too. A lot of valuable data can be lost if your data gets accidentally deleted. So, performing regular backups and restoring the important files on your Android phone would be a wise idea.
Related Articles
Recover Snapchat Photos on Android in 4 Effortless Ways (Detailed)
How to Recover Deleted PDF Files on Android | 3 Approaches and Extra Tips
How to Put Music on Android Devices Seamlessly (5 Methods)
Tutorial on Texting from Computer to Cell Phone (Hassle-free)
Android Data Recovery on Mac: A Full List with 7 Reliable Tools
Android SIM Unlock Guide: Fast Unlock SIM Card on Android