Summary
WhatsApp is the most popular messaging platform globally, with millions of active users. It is the best app to chat and share media files, including videos, music, audio, photos, etc. But your device's storage is limited, and it's only a matter of time before you start getting low-storage notifications. You can decide to delete those large videos to create more space.
But you may realize later on that you have deleted an important video. This can be stressful, and you may want to recover it instantly. Luckily, there are various ways to recover deleted WhatsApp videos. So, if you are in the same situation, we've got you covered.
Despite the lack of an effective WhatsApp feature to restore media files, you can still employ workarounds to get back your precious files. Follow this guide closely to learn everything.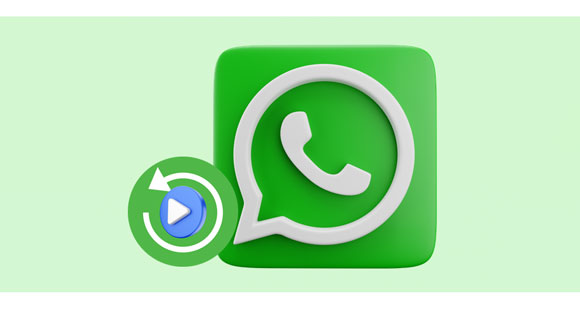 Part 1: Can I Recover Deleted WhatsApp Videos?
Before we take you through the methods, it is important to know if restoring a deleted WhatsApp video is actually possible. The answer is yes.
Restoring deleted videos on WhatsApp is feasible. You can use an effective recovery tool for your device, use the gallery app, or get them from a backup if you have made one.
Part 2: How to Recover Deleted WhatsApp Videos from Android Phone
Now, you know it is possible to retrieve any deleted WhatsApp videos, and there are several methods to do so on an Android device; it is time we show you the detailed steps to do video recovery from your WhatsApp. Below are the most effective methods when doing whatsapp video recovery on Android:
Way 1. How to Recover Deleted WhatsApp Videos on Android via Android Data Recovery
Data loss can occur unexpectedly, but that doesn't mean you've lost them for good. You can still restore them with Android Data Recovery, a practical recovery program for Android devices. The tool will help you undelete not only WhatsApp videos but also photos, contacts, audio, call logs, messages, and more effectively. Its two scan modes will help scan all existing and deleted files and displays on the screen.
The tool is compatible with nearly all Android models, including Xiaomi, HTC, Samsung, Google Pixel, LG, Sony and more. You can view your deleted and existing data before recovering them.
Key features of this Android WhatsApp recovery program:
- Restore deleted WhatsApp data, like videos, music, and more from Android devices.
- Support the recovery of Android contacts, messages, photos, videos, and more as well.
- Back up existing and deleted Android data to PC.
- Its Deep Scan mode can help you recover more deleted Android files.
Download this Android recovery software.
Guide on how to recover deleted videos from WhatsApp on Android with ease:
Step 1: Download and install the recovery tool on your computer. After that, launch it, then plug in your Android device using USB. Ensure USB debugging is enabled.
Step 2: After the software recognizes your device, you can now view all files on your files on the interface. Choose "WhatsApp" from the left panel, then "WhatsApp Attachments". From there, click on "Next" to scan your WhatsApp data.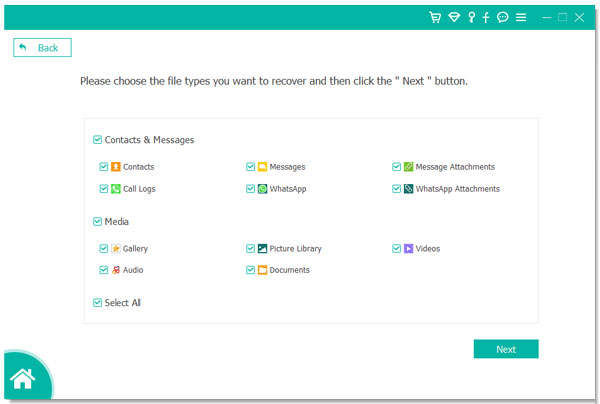 Step 3: After successful scanning, all the data will be displayed on the screen. You can also select deleted WhatsApp videos on the interface, and tap "Recover" to save your videos on your computer. If there is no target file, please click "Deep Scan" to find more deleted data from your mobile device.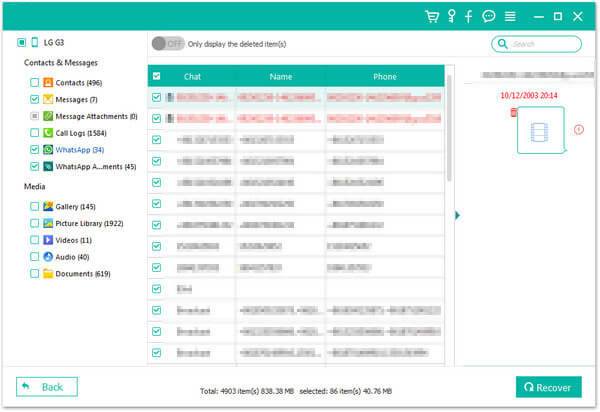 Read more: WhatsApp Backup & Restore - How to Back Up And Restore WhatsApp from Android?
Way 2. How to Recover WhatsApp Media on Android from Gallery
Another simpler way to retrieve deleted WhatsApp videos on Android is through the Gallery application. If you have enabled auto-download for your media files on the WhatsApp account, your videos, and pictures will be saved automatically on your phone's Gallery app.
However, this approach is only useful if your video was deleted from the Gallery app and not on WhatsApp. Follow these to retrieve erased WhatsApp videos through the Gallery application:
Step 1:Open the Gallery application on an Android device. When in the Gallery, locate the "Albums" tab and find the "Trash bin" or "Recently deleted" folder, and choose the WhatsApp video you deleted.
Step 2: Click on the video to open it and then tap "Restore". If you can't find your video, you should try another approach.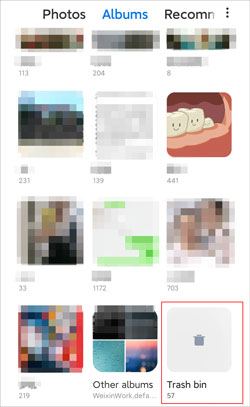 Way 3. How to Recover Deleted WhatsApp Videos from the Local Storage
WhatsApp application is programmed to keep WhatsApp data like videos and photos to the phone's SD card or internal storage. In that case, you will be able to restore your files. Here are the steps:
Step 1: On the Android device, open "File Manager".
Step 2: Access the "WhatsApp" folder, and check if the video was saved in the "WhatsApp Media" folder.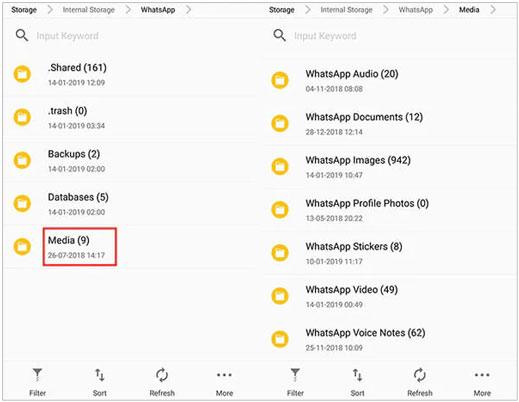 Further reading: Do you want the best WhatsApp recovery app? These options are available for trial.
Way 4. How to Recover Deleted WhatsApp Videos with Google Backup
Here, you can use Google Backup to restore lost/deleted WhatsApp videos. Normally, WhatsApp automatically makes data backups at a particular time. So, if the lost video is in the backup, you can easily retrieve it. Here are the steps:
Step 1: First, you are required to uninstall the WhatsApp application from your Android. After removing the app, you can now reinstall it from Play Store.
Step 2: Launch WhatsApp on your phone. Verify using your number.
Step 3: After the verification is complete, you will get a prompt to restore your data. Tap "Restore", and WhatsApp will begin restoring your data, including any previously deleted videos.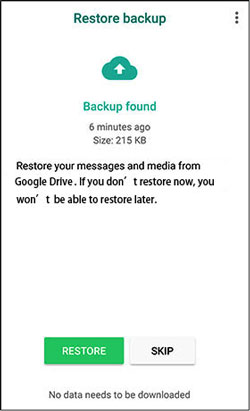 To use this solution, you must have signed into your Google Drive account and linked it to your device.
Way 5. How to Recover WhatsApp Deleted Videos on iPhone via WMR Data Recovery App
WMR is an Android application that has the ability to restore erased files on an Android device. The application is unique because it has an outstanding "Delete For Everyone" feature. Let's say someone sent you a video, and you accidentally deleted it; the WMR program will automatically restore the deleted file using this feature. Here's how to get deleted whatsapp videos:
Step 1: Open Play Store and type in "WMR" in the search bar. The application plus the install status tab will display on the screen.
Step 2: Click "Install" and wait as the installation procedure completes. After it completes, tap "Open" to launch the application.
Step 3: Once you launch the application, it will display a disclaimer. Click "Accept".
Step 4: Select "WhatsApp", and you will see a "Multimedia Files" option. Tap on "ENABLE", and now you can recover your deleted WhatsApp videos conveniently.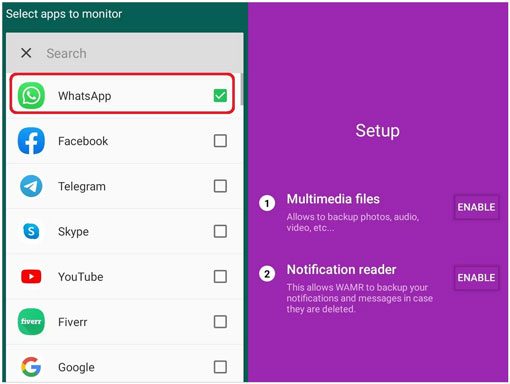 Read also: You can sync your Android data to your PC without trouble. Let's check it out.
Part 3: How to Recover Deleted WhatsApp Videos on iPhone
If you are an iPhone user, you will also want to restore WhatsApp videos. Here are the ways to use it:
Way 1. How to Recover Deleted Videos in WhatsApp via WhatsApp Backup and Restore
There is a way that you can back up and restore your WhatsApp videos and all other WhatsApp data in 1 click - using WhatsApp Backup and Restore. As its name suggests, it can transfer WhatsApp media and messages to a computer for backup, and enables you to restore your WhatsApp backup to your iOS device without data loss.
Thus, you won't need a cloud backup if you choose this program. All your WhatsApp videos will be saved on your computer, which is safer and easily accessible.
Key features of WhatsApp Backup and Restore:
- Back up and restore WhatsApp videos on your computer without a hitch.
- List and display your WhatsApp history on the interface after the backup.
- Allow you to selectively restore your WhatsApp data.
- Directly transfer WhatsApp media files and texts between iOS and Android devices.
Download this iOS recovery program.
Here's how to download deleted video from WhatsApp on an iPhone via this program:
Step 1: Launch the software after installing it on your computer, and choose "WhatsApp Transfer". Then connect your iPhone to the computer via a USB cable.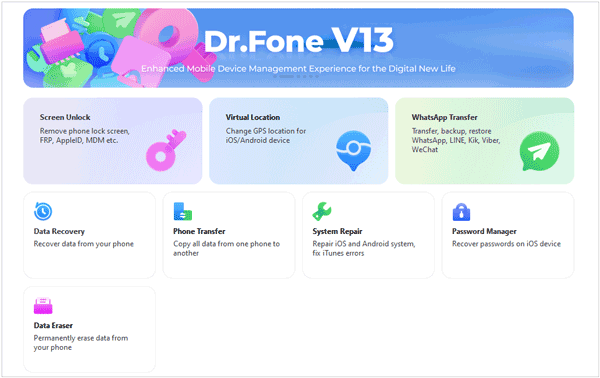 Step 2: Choose "Restore to Device", select the backup file you want to restore, and tap "View".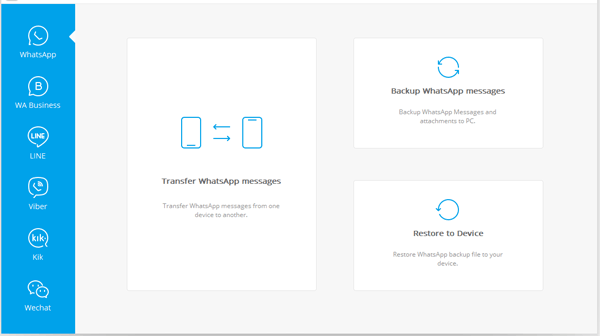 Step 3: Select your videos, and click the "Restore to Device" button. Then it will remind you the existing WhatsApp content will be wiped if you continue. Please click "Continue" to go on. Then the process will be start.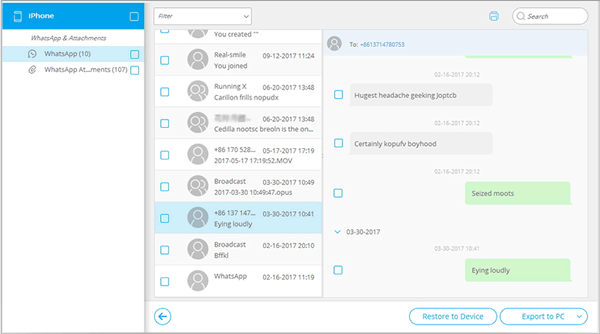 Way 2. How to Get Deleted Videos from WhatsApp Using Photos App
iPhone will keep the deleted data for up to 30 days before they are permanently deleted. Therefore, you can easily recover deleted WhatsApp videos before the 30 days are over. Here's how to view deleted WhatsApp videos:
Step 1: Launch the Photos application on the iPhone.
Step 2: Click "Albums" and "Recently Deleted".
Step 3: Choose the respective videos you want to recover and tap "Recover".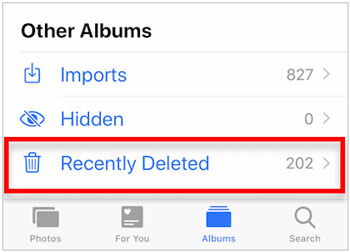 Learn more: WhatsApp Download Failed on Android and iPhone? Fast Figure It Out
Way 3. How to Retrieve Deleted Videos from WhatsApp from iCloud Backup
iPhone owners can back up their WhatsApp data on iCloud effortlessly. This enables them to recover their lost videos quickly and conveniently. Here's how to restore WhatsApp videos:
Step 1: Firstly, ensure that you have created an iCloud backup. Next, open "WhatsApp Settings" and "Chats". From there, choose "Chat Backup".
Step 2: Next, confirm your number.
Step 3: Click "Restore Chat History", and the restoration process of your formatted videos to iPhone will begin automatically.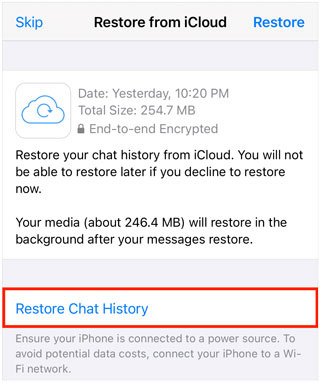 Way 4. How to Recover Deleted Videos on WhatsApp from iTunes Backup
You can restore deleted WhatsApp videos via iTunes backup. It is an ideal solution for iPhone users who didn't create an iCloud backup. However, for this method to be useful, you will have to restore your entire iPhone.
Step 1: Connect the iPhone to a PC with a lightning cable.
Step 2: Open "iTunes" and choose your device.
Step 3: Right tap on your device and click "Restore from Backup". After the process for backup is finished, all the deleted videos will be restored on your iPhone.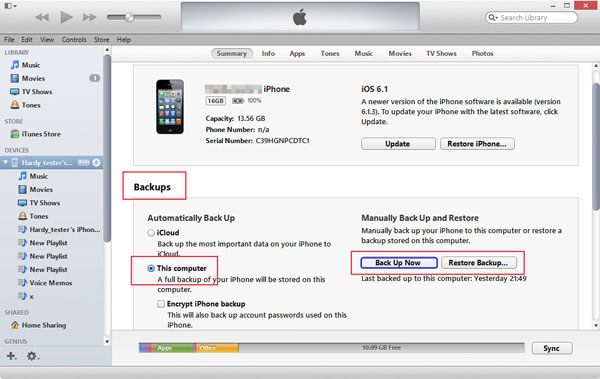 Conclusion
If you mistakenly deleted an important video from your WhatsApp, you should act fast and retrieve them. This is a common problem that many people face. The methods discussed above will provide you with tips on how to restore WhatsApp videos.
Hopefully, you can recover lost and deleted WhatsApp videos on your smartphone. It is also important to note that the methods that require the usage of backups will necessitate you to have previously created the backups, or else they will not be useful.
Therefore, Android Data Recovery is practical to restore WhatsApp videos on Android. It scans all files and recovers them without any backup. Additionally, WhatsApp Backup and Restore will give you a brand-new and safe experience to protect your important WhatsApp data.
Related Articles
How to Retrieve Deleted WhatsApp Messages on Android (4 Updated Solutions)
How to Transfer WhatsApp from iPhone to Samsung with 4 Ideal Methods
WhatsApp Backup Stuck on Your Android or iOS Device? Safe and Effective Fixes
How to Recover Audio Files from WhatsApp: Easy Methods for Data Retrieval
How to Transfer WeChat History to New Phone Smoothly [3 Helpful Methods]
How to Change Your Location on Snapchat with Ease? (Android and iOS Supported)