Summary
WhatsApp is known as the leading cross-platform messaging app that allows you to send text messages and images, as well as make voice calls. It's available for download on all smartphones. This is a must-have app for smartphone users. However, you may still encounter errors as you use this application.
One of the most common WhatsApp errors is the "WhatsApp download failed" problem. If you have ever experienced such a problem, it could be due to network problems, bugs in the system, or any other issue. If you are unable to use WhatsApp on your iPhone, iPad, or Android device, there are a couple of things you can try.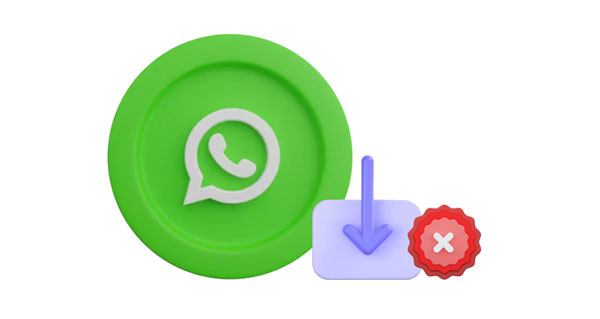 Part 1: When Does "WhatsApp Download Failed" Error Happen?
Normally, you'll see this error message appearing on your phone's screen saying, "Download Failed: The Download was unable to complete. Please try again later." This error can be quite persistent and mostly appears when downloading a video or a photo sent to you. Besides, it also appears when you are trying to view your friend's WhatsApp status.
But, don't despair when you see this error on your device's screen. It's a minor problem that shouldn't give you sleepless nights. Read on to know how to solve it when the download was unable to complete on WhatsApp.
Part 2: Possible Fixes for WhatsApp Download Failed Problem
Did WhatsApp download fail on Android 11/12/13 or iPhone device, and now you are looking for a possible solution? Here are a few fixes to put into practice:
1. Ensure Your Phone's Time and Date are Set Correctly
You may experience this error if your device's date and time need to be set correctly. However, this problem occurs because the WhatsApp server cannot work with incorrect time and date. You can solve this problem by setting your phone to the correct time and dates. Follow the below steps to set your phone's date and time correctly:
On Android:
Step 1. Launch the Settings Application
Open the "Settings" application of your phone. On some Android versions, you need to swipe down from your screen top and tap on the "Settings" application with a gear-like icon in the top right corner.
Step 2. Go to System Settings
Scroll down your device and tap on the button named "System". You will find this option at the bottom of your Settings page. For Samsung Galaxy, you must scroll down and tap the "General management" button instead.
Step 3. Correct Your Date and Time on Android
Tap on the "Date and time" button on the top of the System page and switch on the "Automatic date and time" by sliding the blue slide bar to on. Doing this will automatically set your phone to the correct date and time.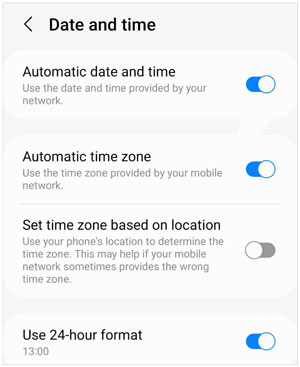 On iPhone:
Step 1: Please open the Settings app on your iOS device, and choose the "General" option.
Step 2: Hit "Data & Time" and enable the "Set Automatically" icon. Then the date and time on your iPhone will be correct.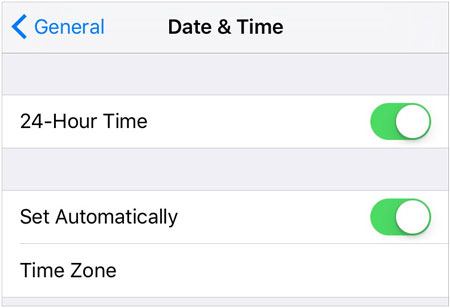 See also: What if you cannot download videos from WhatsApp on an iOS device? If so, you can solve it with these solutions.
2. Ensure You Are Connected to the Internet
The WhatsApp application won't let you download a video, photo, or WhatsApp status if you are not connected to the internet. You can easily solve this problem by connecting your device to the internet. You can use data on your phone's SIM or connect your phone to the internet by following the steps discussed below.
On Android:
Step 1: Look for the "Settings" icon on your phone's home screen. When you find it, tap on it using your finger.
Step 2: Tap on the "Network & internet" option to access the Wi-Fi settings.
Step 3: Tap on the Wi-Fi option and turn it on by sliding the sidebar on the top-right corner of the screen towards the right. Now tap on the available Wi-Fi connection, input the password, and click the "Connect" button.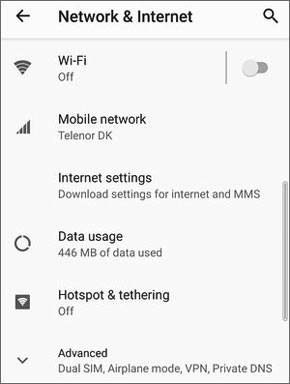 On iPhone:
Open the Settings app, and tap the "Wi-Fi" settings. Then you can check which network your iPhone is connected to. If needed, you can connect your device to another network.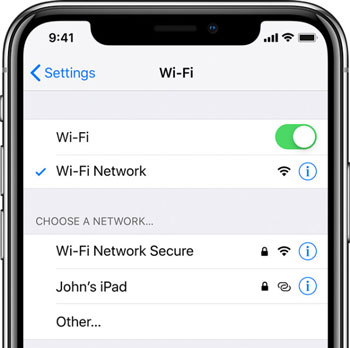 Read more: When Android File Transfer is crashed on Mac, how can you repair it?
3. Ensure There Is Enough Space on Your Phone
Why download is failed in WhatsApp? You may face this problem if your phone needs more space. Ensure your phone has enough space before downloading photos, videos, WhatsApp statuses, and files on your WhatsApp application. Follow the below steps to check if your phone has enough space:
On Android:
Tap on the "Settings" button on your phone, and go to "Device care". Then you can click the "Storage" option as given at the bottom. If the internal storage is full, please free it up by removing your unwanted files.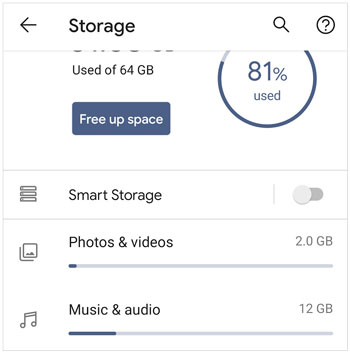 On iPhone:
To know about an iPhone's storage space, you can navigate to the Settings app, and go to "General" > "iPhone Storage". Then the usage will be displayed on the screen.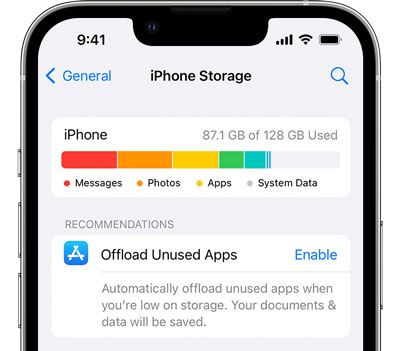 4. Ensure Your SD Card Is Not Set to Read-Only
You may encounter that WhatsApp failes to download files if the memory on your phone is read-only. To check if that is the case, you can try saving any other data on the memory. If it does not save the data successfully, you should know that the memory is set to read-only. What should you do in case you find yourself in such circumstances? The only solution is to format your device's memory. It is also prudent to ensure that you have backed up all your data before you format the memory.
You can use a new memory if the read-only problem does not end even after formatting. If you can save files on your SD card, but the problem persists, you should delete all the WhatsApp data from the device's memory. Doing that will remove all WhatsApp chats and downloaded files. Restart your phone, and the persisting error will vanish.
5. Clear the Cache and Data
Perhaps the download problem on WhatsApp is a snag because of the cache data? Clearing junk and app data makes it function better. Follow the below steps to clear the cache and data for WhatsApp:
Step 1: Launch the "Settings" application on your phone, and scroll down and tap on the "Apps" button.
Step 2: Tap on the "WhatsApp" app, and click the "Storage" option.
Step 3: Click "Clear cache" to remove the WhatsApp caches. Then check your WhatsApp.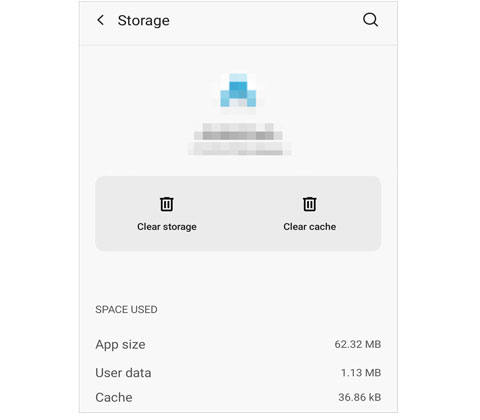 By the way, there is no clearing cache feature on iPhone, but you can reinstall WhatsApp on your iOS device to remove the redundant data.
Read also: Fixed: Why Samsung Cloud Backup Failed? And How to Fix It without Hassle?
Part 3: Fix WhatsApp Download Failed on Android Using Android Repair
Fix any Android problem like a pro using Android Repair. This application helps you to solve problems, such as Android boot loop, WhatsApp failing to download files, bricked Android, and more. This software can figure out many app and system issues. Furthermore, you can fix the problem with simple clicks.
Main features and highlights of this Android system repair software:
- High chance of fixing any android issue, such as failing download media files from WhatsApp.
- Effectively repair Android black screen if it is caused by software issues.
- No skill is needed to fix Android issues.
- Support most Samsung Android phones and tablets.
Download this software to fix the WhatsApp download problem.

Use this software as the Samsung WhatsApp download failed:
Step 1. Launch the Android Repair Software
Install the Android Repair application after downloading it. Then open it, and choose the "System Repair" module.
Step 2. Connect Android to PC
Connect your phone to the computer using a USB cable and then choose "Android Repair" from the available options. Next, click the "Start" icon to go on.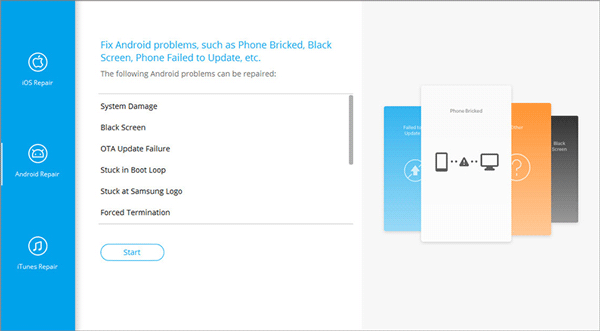 Step 3. Fix WhatsApp Download Iusse on Android
- Choose the right model, name, brand, and all the information about your mobile device and click the "Next" button to proceed to the next step. To confirm the process and proceed, you should type "000000" on the screen that appears and click on the "Confirm" button.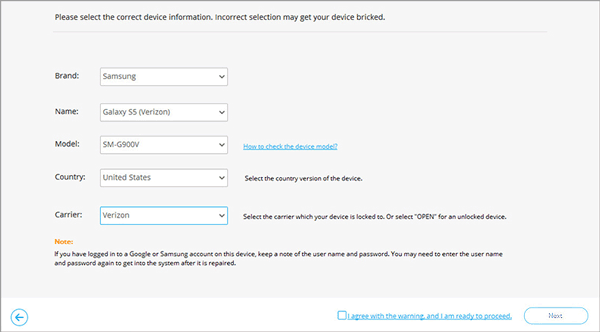 - Boot your phone into download mode according to the instructions on the interface. Finally, tap "Next" to start the process. The software will begin to fix your phone.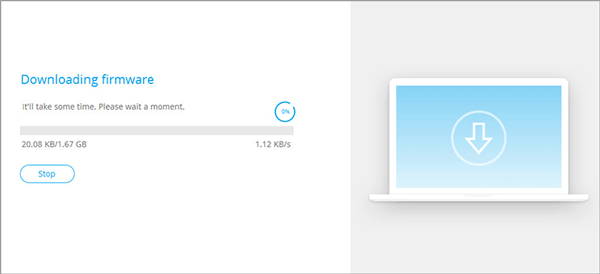 Further reading: How to Unbrick Android Tablet and Phone without Trouble [Reliable Tutorial]
Bonus Tip: Transfer WhatsApp Chats and Media Files Between Devices
WhatsApp Transfer is a great tool to help you transfer WhatsApp chats between different devices. Above all, you can back up your WhatsApp chat history and media files from your Android to a computer. Also, restoring backup is available. More conveniently, this transfer software can copy your WhatsApp data between Android and iOS devices. In other words, you will not lose your WhatsApp data even if you switch to an Android or Apple mobile device. By the way, it can also help you back up LINE, WeChat and more hit social apps.
Download this WhatsApp Transfer tool.
Transfer your WhatsApp chats and media files from Android to a computer:
Step 1: Download and install the software on your computer, and click the "WhatsApp Transfer" option.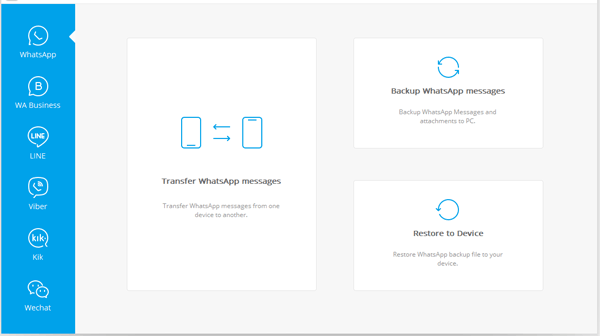 Step 2: Link your Android device to the PC with a USB cable.
Step 3: Hit the "Backup WhatsApp messages" tab to transfer your WhatsApp data to your computer.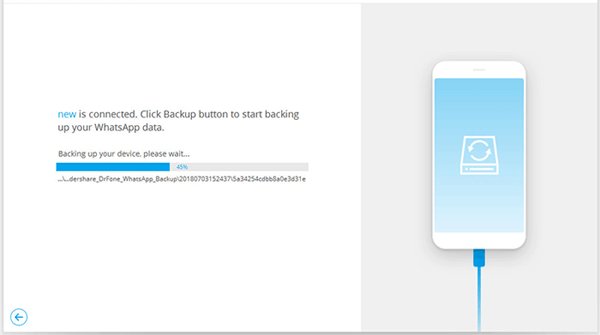 Conclusion
You can use all the methods above to eliminate WhatsApp fails to download media files on your phone again. As you can see, WhatsApp is a great communication tool that can help you connect with family, friends, and colleagues worldwide. Thus, you will not like it when it's showing minor errors that prevent you from using it freely. It's best if you use Android Repair, the most powerful Android repair tool to fix WhatsApp failing to download problems.
Moreover, WhatsApp Transfer comes in handy if you want to transfer your WhatsApp files between devices and keep them safe.
Related Articles
Why Does Android Crash? How Can You Fix the Issue? [Solutions Ready]
Is Snapchat Location Wrong on Smartphone? Correct It with Simple Fixes
Is WhatsApp Restoring Media Stuck on Android Phone and iPhone? Fast Repair It
How to Access WhatsApp Backup Seamlessly | Support Android and iOS
How to Recover Deleted PDF Files from WhatsApp on Android and iOS Devices
How to Print WhatsApp Messages Easily on Android and iOS Devices