Summary
Are you using Samsung Notes to keep your important information? Then it is paramount to regularly do Samsung Notes backup. This is the only way to ensure you keep your important info safe, and in case of unpredictable data loss, you will still have a copy somewhere. You can back up Samsung Notes on a computer or cloud storage.
Samsung's Smart Switch is a user-friendly cloud storage service that makes it easier for users to store and access their data securely. Apart from that, you still have various tools that can help you back up your Samsung Notes, such as Samsung Cloud or third-party applications like Google Drive. So if you're looking for a way to ensure your data is safe and secure, these solutions are the convenient options.
With that said, how to back up Samsung notes? This guide describes how you can keep your Samsung Notes secure by backing them up. Keep reading to understand better.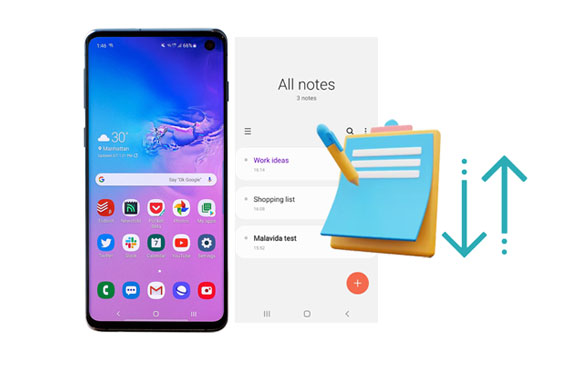 Part 1: Back Up Samsung Notes to Computer with Smart Switch
One best way to back up your Samsung Notes to a Mac or Windows computer is through a Smart Switch app. It's a powerful app that allows you to back up most of your Samsung files to the computer seamlessly. The app is very easy to use and is compatible with Samsung devices since it's a product of Samsung itself. This makes it even simpler for Samsung phone owners to share their files.
If you are looking for a perfect data backup app for your Samsung device, you should consider Smart Switch.
Here's how to save Samsung Notes on a computer via Smart Switch:
Step 1: Start by downloading the Smart Switch app on the computer and install it. Then connect the Samsung device to the same computer with a USB cable.
Step 2: Launch the app and hit "More" and "Preferences".
Step 3: Select "Samsung Notes", then click "OK". If desired, untick other options as well. Then tap "Backup" from the screen to create a notes backup.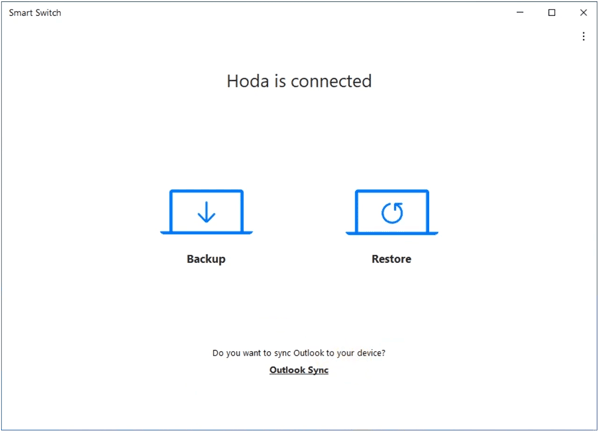 Part 2: Save Samsung Notes to Samsung Cloud
Another way of backing up Samsung Notes is to move them to the cloud. Samsung provides a cloud storage service called Samsung Cloud that allows you to store and access your data from multiple devices. To use this cloud feature, you must have a Samsung Account.
This premier external storage solution makes managing and organizing media files like videos, notes, and music painless. It's one of the most reliable backups you can rely on for consistent storage without any hiccups.
However, Samsung Cloud can only be found on a few Samsung devices, specifically those operating on version 7.0 and later. So, if your Samsung device version is of version 7.0+, you can back up your Notes to Samsung Cloud.
Are Samsung notes automatically backed up to Samsung Cloud? Yes, they are. Let's see the guide:
Step 1: Open the Notes app on your Samsung device, and click the menu icon on the top left. Then choose "All notes", enable the "Sync with Samsung Cloud" option, and click on it.
Step 2: You will launch Samsung Cloud on your phone. Please make sure you have turned on the "Sync on" icon of "Samsung Notes". Then your phone will automatically sync your notes to Samsung Cloud.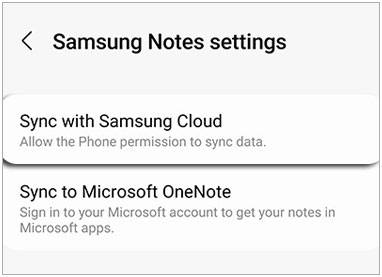 Read also: Does Samsung Smart Switch Transfer WhatsApp Messages? (Ultra Guide)
Part 3: Export Samsung Notes to Google Drive
Most Samsung users rely on a convenient and reliable Samsung Notes app to capture crucial details, like key points of a meeting and planning for trips or schedules. But since this app has no cross-platform support yet, you could risk losing all data stored should your device get damaged. To protect yourself from such an unpleasant outcome, why not consider saving your precious information in Google Drive, the trusted cloud service provider? It's secure and accessible anytime and anywhere.
When you back up your Samsung Notes to Drive, you will not only prevent data loss but also be able to access the notes on any device. This is a plus for you. Besides, there is more storage to accommodate all your Notes files, and you can easily share the notes with other workers or friends. In short, Google Drive is an important storage service to keep all your Samsung Notes.
Here's how to back up S Note files using Google Drive:
Step 1: Go to the Notes app on a Samsung phone, and choose the Notes you want to send to Drive.
Step 2: After that, locate and hit the "Share" button on your screen's bottom. A pop-up containing numerous output formats for exporting Samsung Notes will then be displayed. Pick one and proceed.
Step 3: Tap on Google Drive, then enter your account credentials when needed. Finally, click the "Save" icon to upload your Samsung notes to Google Drive.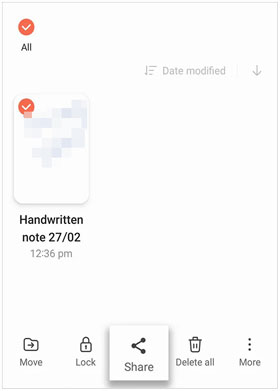 Although Google Drive does have its limitations, like requiring an internet connection to back up files and storage limitations, it's still one of the best ways to keep your Notes safe. As for the storage space, you can easily upgrade to a paid plan.
Further reading: When your Samsung device is overheating, how can you fix it? Open this guide to get useful tricks.
Part 4: Back Up Samsung Notes to OneNote
You can also back up your Samsung Notes to OneNote. Being a cloud storage service, OneNote is a safe place to store your data. It's simple to back up your Samsung notes with this app.
Here's a step-by-step process:
Step 1: On your Samsung device, click on the "Notes" app to open it.
Step 2: Click on "Menu", then proceed to "Settings", and then click "Sync to Microsoft OneNote".
Step 3: To start syncing, you must sign in to your Microsoft account. Then, pick the files that should be synced. There are multiple sync options, so choose the one that best suits you.
Step 4: Finally, hit the "Sync now" button, and all your Samsung Notes will be backed up to OneDrive.
It is important to back up your data to avoid potential losses due to hardware failure or malicious activities. When you back up your Notes to OneDrive, you will have a copy of the files in case of data loss.
Part 5: Manually Backup Samsung Notes Using Share Feature
If you want to manually create a backup of your Samsung Notes, the best way is to use the Share feature. This share option is on the Notes application page, and it lets you move Notes from Samsung to another location of your choice; it can be a Cloud storage or any other media.
Step 1: Open the Samsung Notes application on the phone.
Step 2: Choose the notes to be backed up and press on them. After doing that, a range of options will show up on the phone's screen. Just select "Save as a file".
Step 3: Select your desired file format for exporting. The available formats include TXT, Image, Microsoft and PDF.
Step 4: When you're finished, select your desired place to export the file. The share option makes the whole exporting process simpler. But the only issue is that it doesn't let you transfer many files at the same time.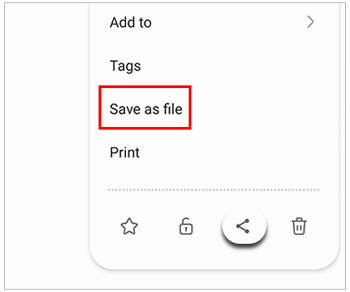 You might need: Samsung Data Transfer - How to Transfer Data from Samsung to Another Smart Device?
Bonus Tip: Back Up Samsung Data to Computer in 1 Click

For those looking to keep the data on their Samsung devices secure, a backup of your Samsung phone to the computer is the way to go. Samsung Backup and Restore is the right tool for Android data backup and restoration tasks. This software allows you to back up and restore contacts, photos, videos, messages, apps, music, and more.
It gives you an easier time backing up your files to a computer due to its intuitive interface that is not complicated in any way. Furthermore, you can effortlessly restore backups from your PC to any Android device. Rest assured, the original quality and file formats will remain intact. It ensures a secure, dependable backup and restores the process, so you won't need to fret about data loss or privacy leakage. Besides, you can transfer your Samsung data via USB or Wi-Fi.
As long as your phone runs Android 4.0 and upper, this backup software can perform well in connection and data transmission.
Download this Samsung backup manager.
Back up your Samsung data to a computer in 1 click:
Step 1: Download and launch the software on your computer, and select "Android Backup & Restore" to access this tool.
Step 2: Next, connect the Samsung device to the computer using a USB cord. Then, enable USB debugging so that the program can detect your phone.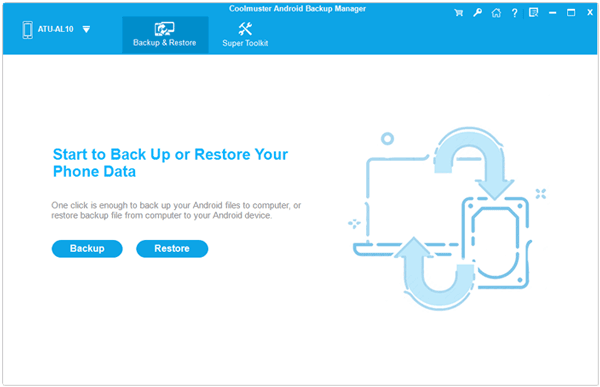 Step 3: When the software recognizes the device, choose the "Backup" option. Next choose the items you want to back up and a place to save them on your computer. Finally, click "Back Up" to securely store your Samsung data on the hard drive of your desktop or laptop.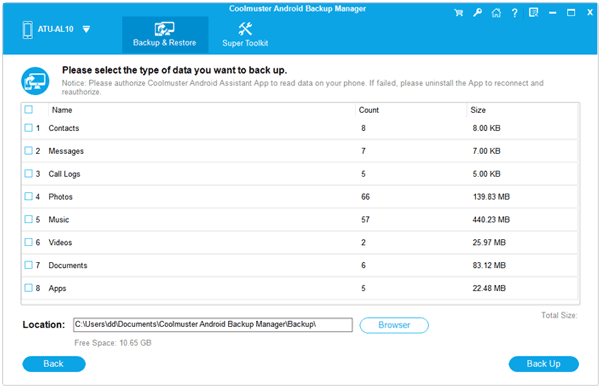 Conclusion
Data backup is the smartest way to protect your information should the unexpected happen. Not only that, but you can also access your saved files without struggling much. There are many places to back up your Samsung notes. You can save them on Google Drive, Samsung cloud, or a computer. But if those options are insufficient and you need something more reliable to back up other data from your Samsung device to the computer, opt for Samsung Backup and Restore. It only takes a few clicks to finish data backup. Try it and get to experience an awesome backup experience.
Related Articles
Is Touch Screen Not Working on Samsung Phones or Tablets? Repair It Now
How to Retrieve Deleted Voicemails on Samsung Galaxy [Practical Tips]
Deftly Transfer Data from Samsung to Sony Xperia Like A Pro [4 Dependable Ways]
Samsung Phone Keeps Restarting? Easily Fix It with 10 Solutions
Seamlessly Export Samsung Calendar in 3 Ways Like a Pro [Proven]
[Easy and Safe] Transfer Music from iPod to Samsung Phone and Enjoy It Directly