Summary
Snapchat is one of the most popular apps today. It has been around long enough to become a cultural phenomenon that people use to keep in touch with friends, loved ones, and family. Snapchat offers a location tracking feature that enables its users to see the real-time location of their followers and friends. However, Snapchat users have recently complained that Snapchat is showing the wrong locations.
Are you a Snapchat user, and you are annoyed by this Snapchat error? Continue reading through this article to learn how to fix the "Snapchat location wrong" problem.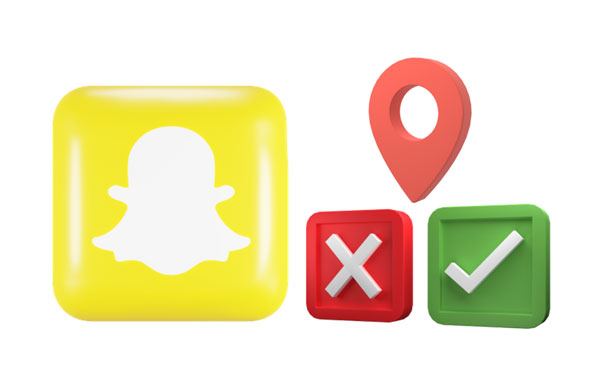 Part 1: FAQs on Wrong Snapchat Location
Q1: Can the Snapchat location be wrong?
Yes, sometimes, when an error occurs to the app and the internet server, the location info might be wrong. Go on reading, and you will know the detailed reasons.
Q2: How is it possible to change my location on Snapchat?
A: You can use a third-party application to change the location of your Snapchat. The application will help you in spoofing your GPS. It will hide your original location and replace it with the new location.
Q3: Why does my Snapchat location say I'm somewhere else?
Your Snapchat application may show the wrong location if you have turned on the Ghost mode, are offline for more than 6 hours, or are using location spoofing software.
Part 2: Why Is Your Snapchat Location Wrong?
"Why does my Snapchat location say I'm somewhere else? And Why is Snapchat showing the wrong location of my friend?" Actually, there are several reasons you might be experiencing the Snapchat wrong location error. Below are a few of the most common reasons why your Snapchat application is showing the wrong location.
1. You are Using a VPN or a Location Spoofing Application
Many social media users have been using VPNs to access blocked applications or content. VPN creates a secure channel through which the Snapchat application at your end is connected to the Snapchat server. A Snapchat application will show the wrong location whenever you use a location spoofing application or a VPN.
2. Glitches on Snapchat Application
Snapchat location feature malfunction can be caused by Snapchat software glitches. It is always prudent to keep your application updated. If the Snapchat application is up to date, but the location is still showing wrong, your device might have an issue.
3. You or Your Friend Are Offline
If you are not connected to the internet, your location will not be recorded by Snapchat. As such, you must ensure that you are connected to the internet at all times while using the Snapchat application. Your Snapchat location information is removed from the Snapchat server after 6 hours.
4. Your Phone is in Ghost Mode
If you are using your phone in ghost mode, then Snapchat cannot update the location of your Snapchat account. Enable your GPS feature on your phone to ensure that your Snapchat application updates your location accurately.
Read also: Want to change your location on Skout? Then you can read this informative guide.
Part 3: How to Fix Snapchat Application Wrong Location on iPhone/Android
Below are some solutions for fixing the Snapchat application's wrong location on iPhone and Android:
Method 1. Restart Your Phone
One of the easiest ways to fix Snapchat location errors is to restart your phone. A phone restart will help solve minor glitches on your phone or device. Restarting your phone will also clear all the storage cache on your phone. This might fix the Snapchat error automatically.
Sometimes your Snapchat may have some bugs that may make it fail to function properly. Restarting your Android or iOS device will help in solving minor software glitches. Try using other fixes if this method does not work for you.
To restart an Android phone, please long-press the "Power" key, and choose the "Restart" option. Then wait for the restarting process to finish.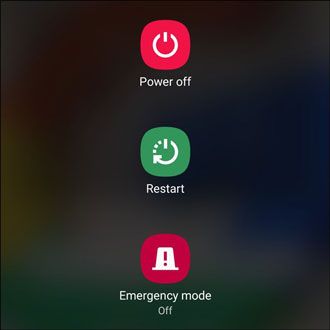 To restart an iPhone, you can press and hold the "Side" button, and drag the Silder to turn off your phone. After some seconds, press the "Side" button to turn it on.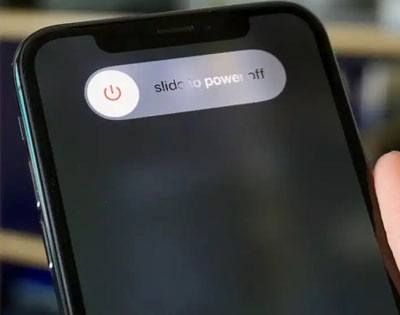 See also: Lost your important Snapchat messages from your Android phone? Maybe you can get them back via these 3 solutions.
Method 2. Uninstall or Update Snapchat
Try updating your Snapchat application to see if the problem will end. Updating your application fixes the existing bugs and improves your application. If errors cause the Snapchat application's wrong location on iPhone/android, updating the application will solve the problem.
If the problem persists, uninstall it and reinstall it. Doing that will delete any conflicting application data and solve the existing problems.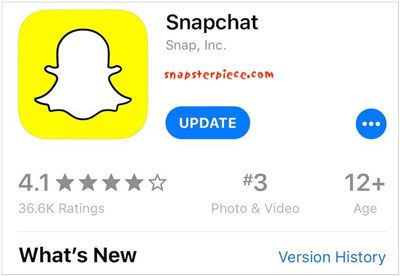 Method 3: Allow Access to Snapchat Location
Snapchat is a social media app that is supposed to allow its users to access their location. However, some people may have disabled access to their location on Snapchat. If you have been denied access to your location on Snapchat, it may give a wrong location reading. Follow the below steps to allow access to your location on Snapchat.
Steps for iOS:
Step 1: Launch the "Settings" application and select the "Privacy" option.
Step 2: Tap on the "Location" button. To enable this feature, you need to enable the "Location Services" option.
Step 3: Test if the Snapchat location feature is functioning correctly.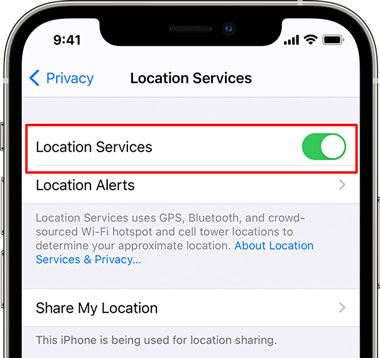 Step for Android:
Step 1: Launch the "Settings" application, and tap the "Location" button.
Step 2: Scroll down to locate the "Location Access" option and turn it on.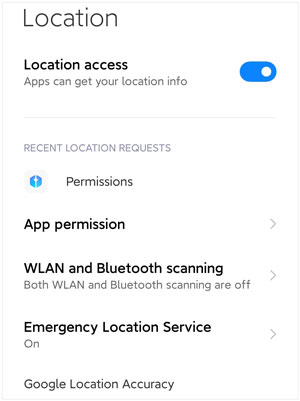 Method 4: Disable the Ghost Mode
Ensure that you have not enabled the Ghost mode option. Your friend cannot view your location if you have enabled the Ghost mode. For the application to work correctly, you need to disable Ghost mode. Follow the following procedures to switch off Ghost Mode:
Step 1: Launch the Snapchat application and tap on your profile icon. Then turn to "Settings" to see the "My Location" optiotn.
Step 2: Click on the "Green Switch" to disable the Ghost Mode feature.
Further reading: Recover Snapchat Photos on Android in 4 Effortless Ways (Detailed)
Method 5: Correct Your Snapchat Location without Hassle
Now you know the possible causes of the Snapchat wrong location problem and their solutions. In some cases, your friend might have faked their location intentionally. You can also change your location to safeguard your privacy and security easily.
Are you wondering if it is possible to change your Snapchat location secretly? You can use a professional location spoofing tool to fake your location. GPS Location Changer is a reliable and powerful location spoofing tool. You can easily use it to change your location to any place.
Key features and highlights of this software:
- Fake your Android or iOS location to any place in the world.
- Natively work with location-based applications like social platforms and AR games.
- Export/import GPX files for saving your best routes.
- Help you pass Pokemon Go by changing locations.
- It is compatible with most Android and iOS versions.
- Simulate GPS movements using a Joystick while playing games.
Download this location changing software.
Follow the steps to change the wrong location on Snapchat on an iPhone via this software:
Step 1. Install the Software on Your Computer
Begin the process by installing the application after you download it. Launch the app and click on the "Get Started" button.
Step 2. Connect Your Mobile Phone to the Computer
Connect your phone to the computer and tap on the "Trust" option, and re-enter the screen passcode to confirm the connection.
Step 3. Load the Map and Choose a Destination
The map will automatically load once your phone is detected by the application. Next, choose the "Teleport Mode" option on the upper right corner of your computer screen. Select your preferred destination or enter the GPS coordinates of your destination in the upper left corner of your screen.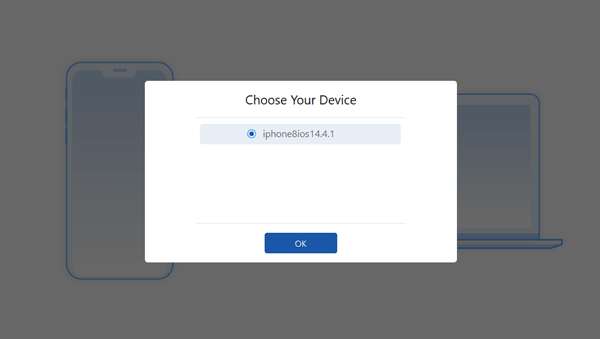 Step 4: Change Your GPS Location
A sidebar showing your destination details, such as coordinates, distance, and name, will appear. Click the "Move" button to change your location to the new place.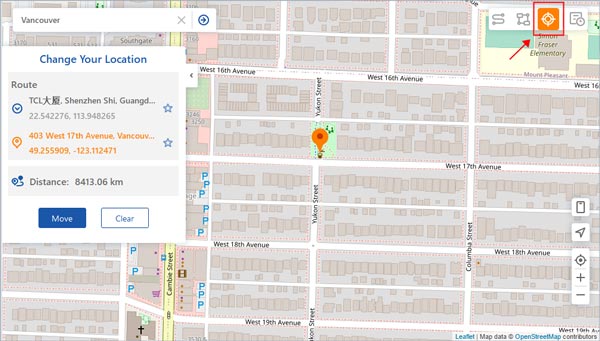 Conclusion
The Snapchat Map is an exciting feature that allows users to find their friends' locations. At times, Snapchat may show the wrong location. There are several possible reasons for incorrect location detection. Fixing this problem is a simple task. You need to follow the steps mentioned in this guide. Additionally, you can use the GPS changer to change your location on Snapchat if you want to hide your real location.
Related Articles
Easily Fake Twitter Location on Your Device [Informative Guide]
Which Is the Best Fake GPS App? Check the List - 10 Excellent Options
Fake GPS Not Root on Android and No Jailbreak on iOS (Ultra Guide)
Huawei Mock Location - How to Fast and Safely Fake GPS on Huawei in 5 Ways
Best iSpoofer Alternatives for Android and iOS [Updated]
How to Recover Deleted WhatsApp Images on Samsung | 5 Functional Approaches