Summary
GPS technology makes it incredibly easy to get accurate directions to home, work, or a store. But unfortunately, this level of accuracy has one big downside, your privacy. Luckily, there are the best fake GPS apps capable of spoofing your location, and keeping your privacy safe. This post will help you know the top 10 tools you can use to spoof your location while keeping it safe and secure.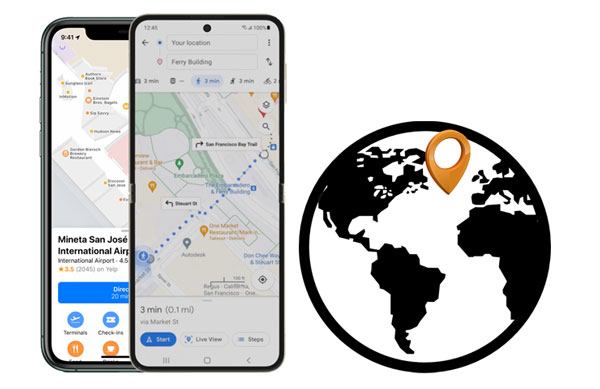 Tool 1. iMyFone AnyTo
Among the most preferred fake GPS apps, the iMyFone AnyTo surely tops them all. This tool is your savior if you are confused about which app to fake your location. You will easily spoof your location without any issues. You can select a location you want around the world. The best thing is that you can do that in just some simple clicks.
Key features of this best GPS Spoofer:
- Works 100% with apps like social media platforms, AR games, etc.
- Fake location on either Android or iOS to anywhere instantly.
- It has a joystick for easier GPS movement.
- Allow you to create routes on the map and play the AR game without going outside.
Pros:
- Fake iPhone and Android locations without a hitch.
- Have a user-friendly interface, and connect your mobile phone to a computer via USB.
- Compatible with most iOS and Android devices, such as iPhone 13 Pro/13/12/11, iPad Pro, iPad Air, Samsung, ZTE, OnePlus, and more.
- Swiftly recognize your mobile device.
Cons:
- The Social Mode cannot support Android OS 11.
- Cannot spoof locations with a network.
You can download this fake location software on your computer.
How to use iMyFone AnyTo to fake your location on Android:
Step 1. Launch the iMyFone GPS Spoofer
Install and launch the app on the computer and tap "Get Started". Then connect your Android phone to the computer via a data cable, choose your device, and tap "OK".
Step 2: Select a Mode
- It will require you to allow USB debugging on the Android device. Once done, choose a mode you want: Gaming or Social. Then the software will install an assistant app on your phone.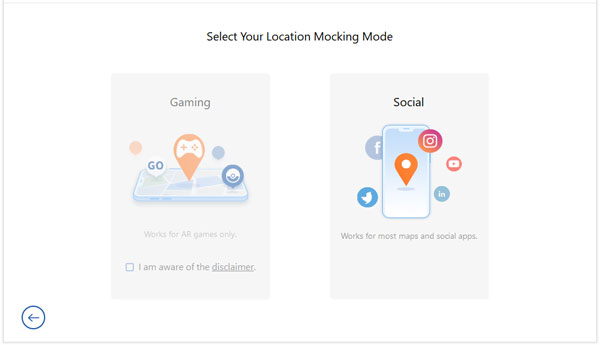 - Please look for the "Select mock location app" on the Android Settings app, and choose the "AnyTo Assistant" option.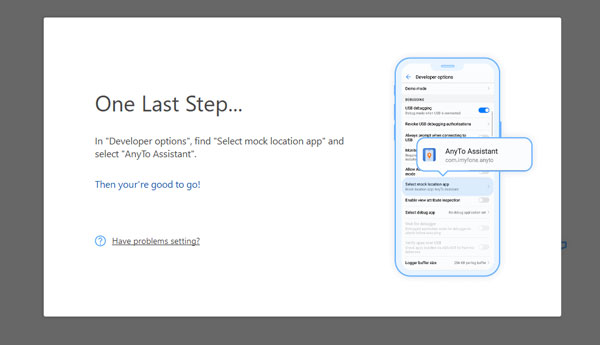 Step 3: Fake GPS on Android
You can choose your desired location on the map now. Please type the location information on the sidebar, and tap the "Move" icon to change your location.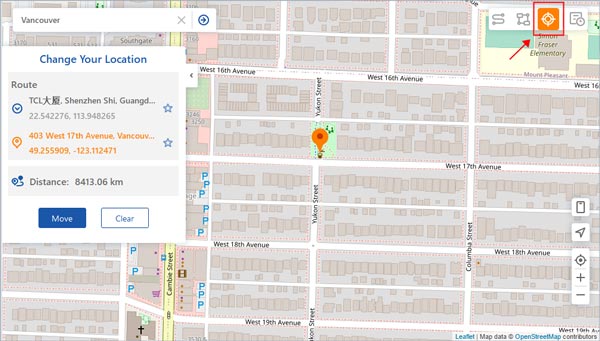 Bonus: Want to spoof Pokemon Go on Android easily? Then you can check this full guide.
Tool 2. Hola
We can't skip Hola as one of your smartphone's best fake GPS apps. This free app for Android offers a convenient way for you to fake your location on your phone. Just disable high-precision location in Android settings, select a location on the map and tap the "Play" button. Many people like this tool due to its chart feature.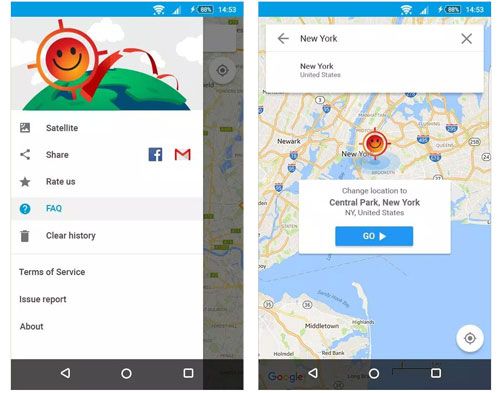 Pros:
- Spoof your position around the world.
- Break the geo-restriction on your dating apps.
- Android and PC versions are available for download.
Cons:
- Offer limited daily use for free.
- Not available on Google Play.
Read also: Which is the best Android data recovery tool? Please take a look at this list of 9 options.
Tool 3. Lexa Fake GPS Location
This Fake GPS Location app is yet another great free app for Android that allows you to fake GPS locations on your phone. Actually, this is a prominent tool that is highly configured to fake your location just fine. The app has built-in features with the location for bookmarking and starts the application on the boot.
Furthermore, it is very simple to use, just select the location on the map or use the search and finally tap the "Play" button to fake your GPS location. So, easily spoof your location with the Lexa app, which has proved to be the best fake GPS app loved by many.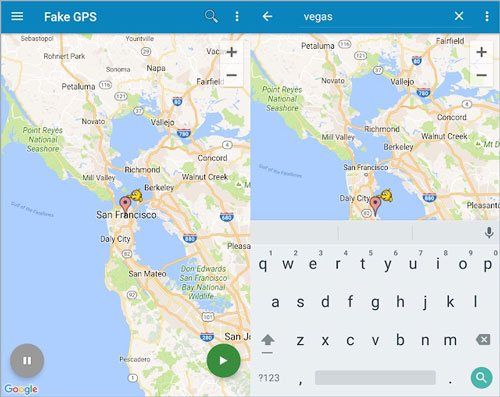 Pros:
- You can directly fake your GPS on your Android device.
- Compatible with many Android devices running Android 4.3 and upper.
- Allow you to input a location you want.
Cons:
- Quite tricky.
- Haven't been updated for a long time.
- Sometimes it will expose your real locations.
Further reading: Want to use a Mock Location on a Huawei mobile phone? That's easy. You can click this guide to get 5 effective ways.
Tool 4. GPS Emulator
GPS Emulator is a free app for Android that allows you to change and spoof your location on your smartphone. Like other apps, it is quite simple to use, select a location on the map or do a search and tap the "green" button to change the GPS location.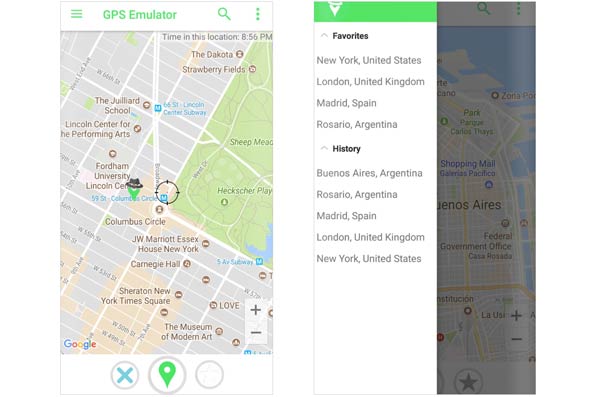 Pros:
- Easily locate to an accurate position.
- Support you to search by city name or coordinates.
- The updated version is more user-friendly.
Cons:
- Cannot spoof your location successfully in one take.
- Contain ads.
See more: You can select a powerful screen mirroring app for Android to a PC. Let's check it out.
Tool 5. Mock Locations
Mock Locations is another free Android app that you can use to change your smartphone's GPS location. Its operation is also simple, but its biggest difference is that in addition to falsifying your location on the phone, you can use it to falsify routes on the map.
This is among the most remarkable and trusted application which changes the reallocation into some fake or random location. If you wish to change your location seamlessly, then use Mock Location.
After installing this application, you will get a free trial for only one day. Besides, in that free trial, you may still use the feature for its premium version. If you are satisfied with how it works, you can then buy its premium version.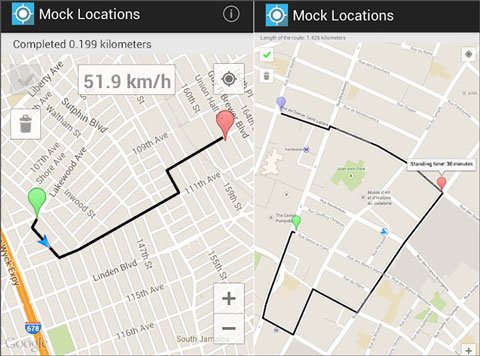 Pros:
- Allow you to use the free trial for 24 hours.
- Enable you to create a route and set a variable speed.
- You can hide this app icon from the status bar via the built-in settings app.
Cons:
- Easily jump to users' real location for games.
- Its joystick is hard to move on the screen.
- Not compatible with low-end devices.
Tool 6. Fake GPS
Another trusted and convenient best fake location app is Fake GPS. This free app is capable of falsifying your GPS location on your smartphone. With this tool, you can easily fake your location worldwide since it supports all kinds of maps.
You can easily set your desired location from around the world in just a few taps. Fake GPS allows you to choose the location worldwide as it supports various kinds of Maps.
One of the best features of Fake GPS is that it also records your complete location history. In Fake GPS, you have an option to add your favorite locations.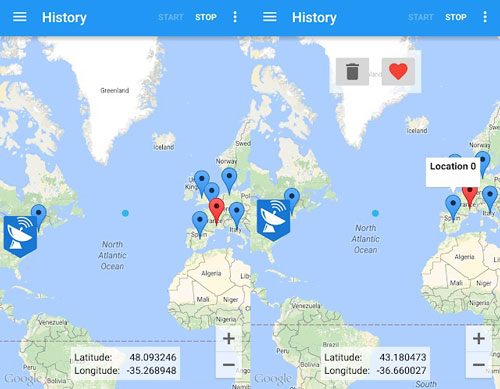 Pros:
- Monitor various locations.
- Track GPS info without a GPS signal.
- You can set a fake location on a map.
Cons:
- The fake location is inconsistent with Google Map.
- It needs an active internet.
Tool 7. Fake GPS Go Location Spoofer App
This intelligent fake GPS app features two approaches for searching the GPS. The first is by name, and the second is by GPS coordinates. As you explore your needed location, just tap on Play, and the app will begin spoofing immediately. It has a free version with limited features.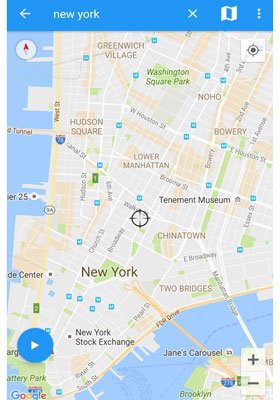 Pros:
- Allow you to add faves and record your history.
- It has a GPS joystick for setting location
- Support GPX file import.
Cons:
- Throw too many timed ads.
- Have few features in its free version.
- The latest edition is not as easy to use as the old one.
Tool 8. Fake Location (Mock GPS)
Another superb fake GPS app is the Fake Location (Mock GPS) app. This is the most trusted tool that can fake your location just fine. The LKR studio generates it, and it has an amazing feature of easy execution that makes it loved by many. Its compass shows your location accurately, just like some professional apps. This application will keep your real location safe by offering a fake one.
Pros:
- Record your searching history, and give you quick access.
- Its user interface is attractive.
- Accurately fix positions, and work fast.
Cons:
- You might be detected by some games to use a false location.
Tool 9. Fake GPS Run
Do you wish to prank your friends and fool them by changing your location? Then opt for the Fake GPS Run app. This app is one of the best for Android users as it telepaths in the virtual space by the virtual method.
It's an ideal tool for coordinating with the applications, as you quickly change the accurate location to the wrong one. Some specific permissions have to be given to the app, like going to the developer's mode and then following other directions mentioned in the app.
The rest is easier as you just have to enter where you wish to be and tap on go now. Then sit back and watch as your location changes virtually.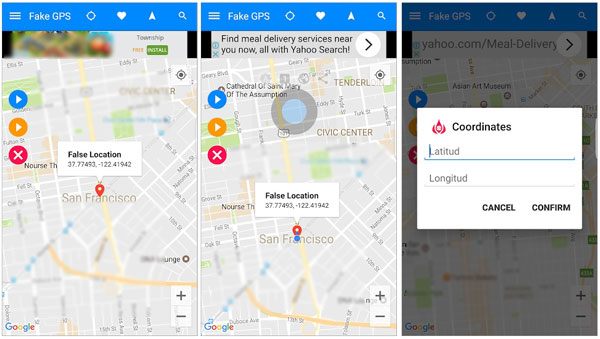 Pros:
- Spoof your location on Android and cheat almost all apps.
- Compatible with Android OS 6.0 and upper.
- It comes with easier instructions to use.
Cons:
- Tool many ads.
- Crash on some Android phones.
- Lack of advanced features.
Tool 10. Fake GPS Location - GPS Joystick
Without mentioning the Fake GPS joystick app, we can't wind up our list. You can download and install this app and start using it right away. This tool will rewrite your current location and offer the fake location to third-party apps, sites, etc. Its joystick feature makes using it fun. This app is commonly used among people since it enables spoofing on Android devices.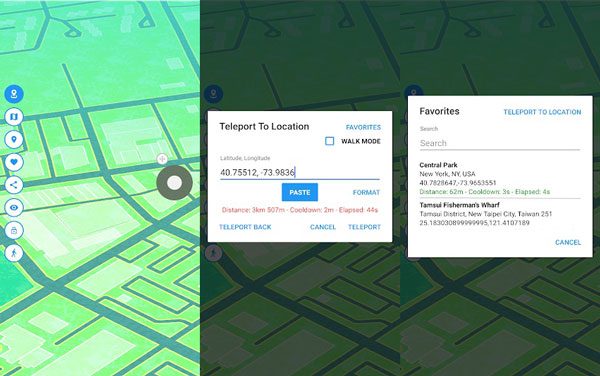 Pros:
- Change your Android phone location quickly.
- Allow you to change your location in any direction using the joystick.
- Provide users with good customer service.
Cons:
- You cannot skip those full-screen ads when starting and stopping faking GPS.
Conclusion
You now know the tools you may use to fake your location with their pros and cons. Hopefully, you will be able to find at least one that suits your needs. Among them all, the iMyFone AnyTo will do wonders in spoofing your location without any ad. So, try it out!
Related Articles
6 Best Android Music Manager For Android and Computer [Recommended]
Android PC Suite: 5 Best Software for Android Files Transfer & Management
The Best Tutorial about Mi PC Suite [4 Great Alternatives]
Titanium Backup Alternative - 10 Helpful Options to Back Up Android Files
How to Delete Apps on Samsung Devices Breezily [4 Simple Ways]
Android File Transfer Alternatives: Can't Miss the 5 Best Apps for Mac