Summary
Nowadays, the introduction of GPS on our mobile devices has become necessary, as almost all apps require access to your current location. But, sometimes, we want to access a service or an app that is restricted in our current location. To do so, we need to fake our location, which means tricking your device into thinking you're in a different area.
However, you can't do that without a fake GPS app, and since there are plenty of them on the market, finding the right one for your needs can be a real hassle. You will find many that need jailbreaking your device.
Fortunately, we are here to make things simpler for you. We will show you the fake GPS apps without rooting or jailbreaking your Android and iOS devices. So, follow this guide closely to know how to hide the mock location without root.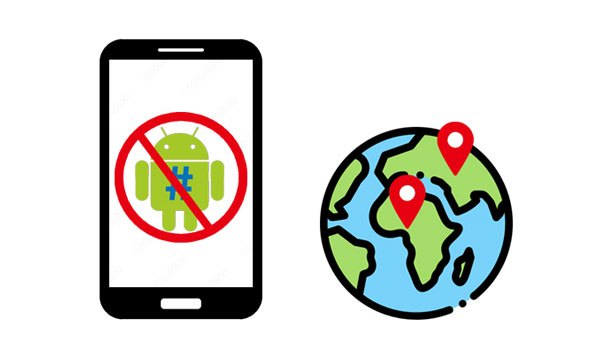 Part 1: Fake GPS with No Root or Jailbreak via iMyFone AnyTo (Fast)
Are you looking for a reliable fake GPS app that doesn't need rooting on your Android device? This Location Changer software is that app. It supports not only Android devices but also iOS devices, so you don't need to root or jailbreak your devices. After entering a location, it will change the location on your mobile device without hassle.
It also allows you to create the route on a map for customizing movement speed. Not only that, but you can also save it to use later. All you have to do is double tap the route on the map, and it will be instantly created. When done, you can save and edit it.
If your AR game requires you to be in a particular location, but you want to chill at home, this fantastic location changer can help you achieve that. Another awesome feature of the GPS faking app is its joystick that allows you to navigate through locations to search for your desired one easily. All you have to do is just tap and drag.
Key features and advantages of the Android Messages Manager:
- Properly compatible with Android OSesand iOSes, including Android 12 and iOS 16 Beta.
- Joystick feature to stimulate the GPS movement.
- Supports location-based applications like AR games.
- Fake your location to any place instantly without mock location.
- Allow you to create and save the routes you like.
Download this fake GPS tool below.
How to fake GPS with no root for Android with this software:
Step 1. Launch the Program on the Computer
Download, install, then launch the program on your computer and tap "Get Started". Then connect your Android phone to your computer via the USB cable, choose your device, and tap "OK".
Step 2. Open USB Debugging for Recognition
To make the software recognize your device, please allow USB debugging on the mobile device. Then select a mode. The program will now start loading the map.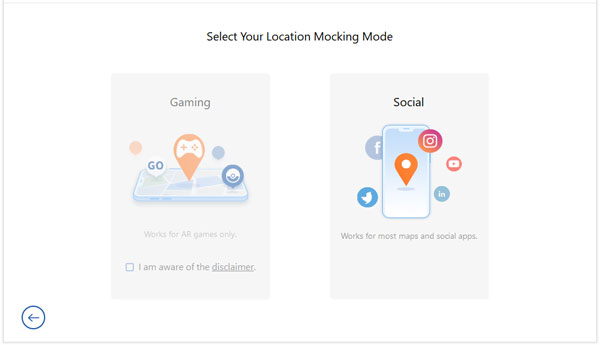 Step 3. Choose a Location on the Map
- If you choose the "Game" mode, you'll get the "You're All Set" pop-up after loading, and now you can launch the game on your phone.
- Please select "Teleport Mode" from the upper right corner (the 4th icon). Zoom in and out as you look for the locations and choose the one you want. Or, you may still enter the GPS coordinates of your desired location in the upper left corner.
- Finally, tap "Move" and your location will instantly change.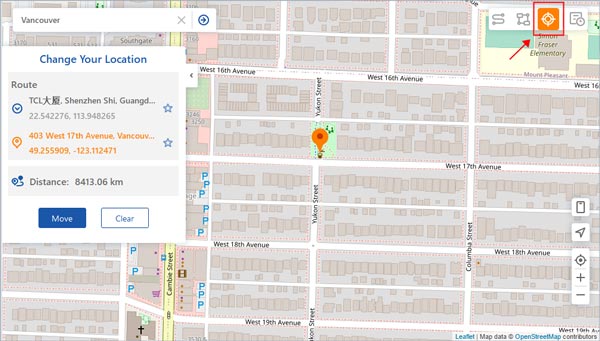 Tips: The "Social" mode is not supported on Android OS 11 and upper.
Part 2: Fake GPS without Root on Android and iOS via Other Apps
Faking the location of an iOS or Android device is mandatory these days. It helps us to access the services that are restricted in our regions. The best fake GPS apps come in handy to spoof the location on our devices.
2.1 Hide Mock Location without Root for Android Devices
Most Android users would want to fake the location of their Android phones without root. There are so many Android apps that offer this function, but here are the best apps to use:
1. Using Floater
This fake GPS application runs from a floating window, enabling easier access to games and apps. A floater is an amazing app that allows you to fake locations anywhere. If you wish to add geolocation to a picture you're taking, this app is for you. The best thing is that you don't need to root your Android phone.
Features:
- Enable you to save your locations to Favorites.
- Use gyro to move the map.
- Set the random speed and accuracy.
- Provide location history.
- Create, save, export, and import GPX/KML routes.
How to use Floater to fake location on an Android device without root:
Step 1: Before using the Floater app, ensure the Developer's options are enabled. After enabling the Developer's options, scroll down to the option for "Select mock location app" and choose "Floater".
Step 2: After that, find "Location" from Settings, and proceed to select "Mode". Next, choose "Device only" mode to hinder your phone from using other locations.
Step 3: Click on the menu showing the three dots and choose "Scanning", and disable the options to ensure the app does not use any source to discover your location. Then open the Floater app on your phone.
Step 4: Select a position on the map, and click the target bottom to manually search for the location. Or, you may use an icon for magnifying glass to look for the location, and click the "Play" button to spoof your chosen location.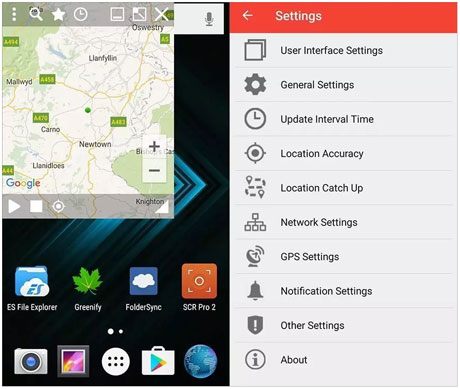 See also: Want to fast spoof Pokemon Go on Android? This guide will give you a hand.
2. Using Fake GPS Location Spoofer
Fake GPS Location Spoofer is another fantastic app on an Android device for faking location. You just have to enter a location, and the app moves you to that particular area. This is the perfect app to use if you want to hide a mock location without root and be in a different place.
Features:
- Support many Android devices.
- Record reports and history.
- Free and no device rooting.
- Integrate with other apps via the share button.
How to change GPS on Android without rooting via Fake GPS Location Spoofer:
Step 1: Install the app from Google Play Store and launch it on your device. Then disable the GPS on your device and click "Location Settings" to proceed to the Location screen.
Step 2: Ensure only the GPS on your device can determine the location by clicking the "Location method" on the Settings menu. Next, enable the "Developer options" from your phone's Settings; return to "Settings", scroll down and tap "Developer options". From there, click "Mock location app" to choose this location spoofer app.
Step 3: You can now fake your location by clicking on the search button in the app and entering your chosen location.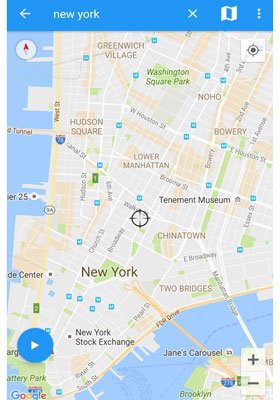 You might need: Is My Phone Rooted? How Can You Fast Check Root Status on Your Android Phone?
3. Using Fake GPS Location
Fake GPS Location app is also a superb fake GPS no root app to fake your location on Android. The app allows you to change the current location to anywhere you wish by entering GPS coordinates manually. This is a free app that supports most Android devices. Change your location before uninstalling the app.
Features:
- User-friendly interface.
- Fake location to anywhere.
- Create GPS spoofing locations in Favorites.
How to use Fake GPS Location:
Step 1: Download the application from Google Play Store, and enable USB debugging on Android. Then select this app on Settings.
Step 2: Open the app, toggle off the access grant permission and click "Continue". You can now spoof your GPS location with your finger. Move the pin to your desired destination on the map and click the "Start" icon at the bottom.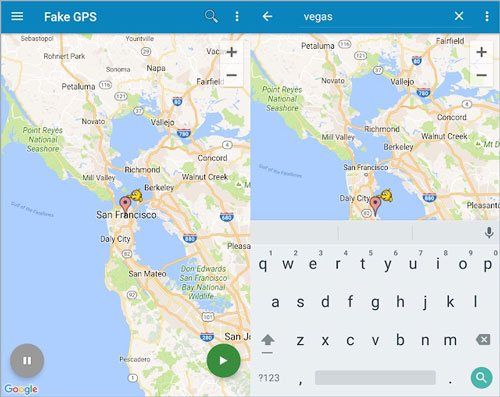 2.2 Fake GPS without Mock Location and No Jailbreak on iOS Devices
It is also possible to fake GPS location on an iOS device without jailbreaking, and many apps help. Here are some of the best apps for iOS users.
1. Using 3uTools
3uTools is among the best apps you can use to fake GPS on any iOS device, thanks to its Virtual location function. The Virtuallocation feature on 3uTools allows you to fake the location of your device without jailbreaking it. This app is for you if you have ever needed to hide a mock location without root.
Features:
- Have advanced features and support almost all iOS devices.
- No jailbreak for virtual location on iOS.
- Allow you to manage your iOS data with multiple features.
How to use 3uTools to fake GPS on iOS:
Step 1: Install 3utools on the computer or laptop and connect your device. Then navigate to "Toolbox" > "Virtual Location".
Step 2: Type in the latitude and longitude of that address you wish to be. Then tap the "Modify virtual location" icon after setting the address. You'll see a prompt pop-up showing you whether it's successful. Your location will now be changed.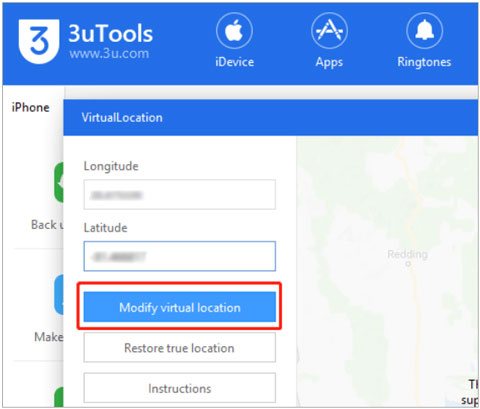 2. Using iTools
iTools is a multi-functional application for all Apple devices. This app also offers a Spoofing location feature which allows you to fake your GPS location to any place you wish. Most iOS users love using this app to change their GPS location. It's an easy app to use and, at the same time, quick.
Features:
- Perfectly fake location on iOS devices.
- Compatible with Windows XP, Vista, 7, 8.1/8, and 10.
- Support the latest iPhone and iPad versions.
How to use iTools to change GPS location without jailbreak on iOS device:
Step 1: Download iTools on the computer and connect your phone.
Step 2: Tap "Toolbox" from the menu bar, and you'll see the "Virtual location" icon from the interface, so click on it.
Step 3: Enter the location you want on the text frame and tap "Move here" to get to the new location. To end the virtual location, tap "Stop simulation".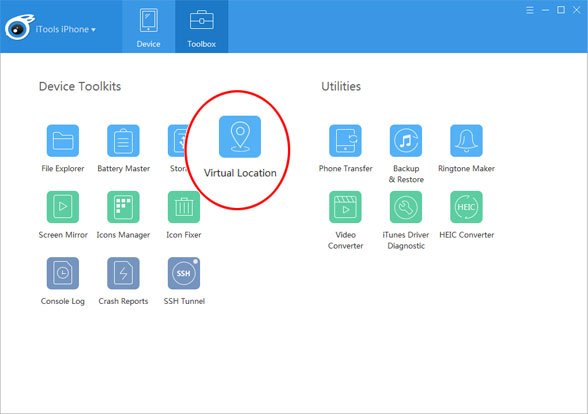 Ending Words
Thanks to these apps, you can fake your phone's location without root or jailbreak. The Location Changer program is an excellent app to fake GPS with no root that works perfectly for you while spoofing your Android or iOS device's location. It has an intuitive interface and advanced features to spoof your location the way it is supposed to.
Related Articles
Best Android Rooting Software: 6 Different Tools You Can Select
[Practical Guide] Transfer Files from Android to iPhone with 8 Tips
Best Android Backup without Root: 10 Tools to Back Up Android Data Easily
[Fast Transfer] How to Transfer Your Photos from iPhone to Android Effectively?
Expertly Transfer Large Videos from iPhone to PC in 7 Ways (Newest)
How to Work Out the iPhone Transferring Data Stuck Issue [Easy and Reliable]