Summary
Parents use cell phones to keep an eye on their kids. Obviously, it's a harmless act, but it's still annoying. Are you doubting that your parents are snooping on your privacy? Nobody is supposed to track your phone, not even your parents. Privacy is essential at a certain age, and no one should spy on your private life.
The biggest question is how to stop your parents from tracking your phone. Continue reading through this article to learn more about how to stop parents from tracking your phone and enjoy your desired privacy.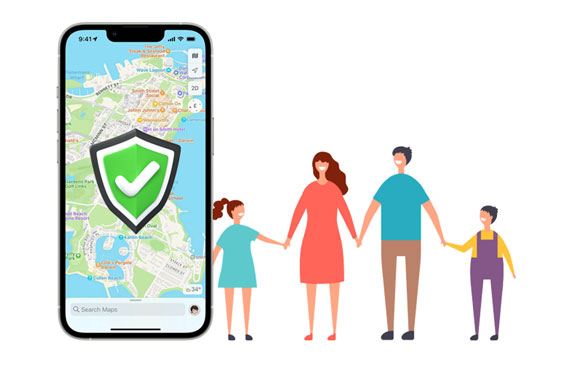 Part 1: How to See If Your Parents Are Tracking Your Phone
Your parents might be tracking your activities without informing you. However, you might suspect that your parents are keeping an eye on you due to questions they might be asking you. There are a few things that you can do to check if there is someone who is tracking your phone.
1. Check If Your Phone Is Jailbroken or Rooted
You will have to check if your iPhone is jailbroken. Your iPhone cannot be tracked without being jailbroken. For the tracking application to work on your iPhone, it must be jailbroken.
The best way to ensure privacy is to know if your iPhone has been jailbroken. If it is not jailbroken, there is no chance of being tracked.
For Android users, you can check if your devices are rooted. Those rooted Android devices will be easier to be spied.
2. Check If "Sileo" or "Cydia" Applications Are Installed on Your iPhone
Sileo and Cydia applications are third-party applications installed into your phone during jailbreaking. However, you should also know that the tracking applications (e.g., Silio/Cydia) icons can be invisible to smartphone users. As such, there are more methods of identifying if your phone is jailbroken.
3. Check If There Are New Applications That Are Installed on Your Phone
You will have to check if new applications are installed on your mobile phone. If you find any newly installed applications, there is a chance of being tracked. Confirm that you have downloaded all the applications on your phone yourself.
Jailbreaking tools have a launcher application to re-jailbreak your phone if the jailbreak is removed. An excellent example of such an application is the "checkra1n". Investigate any new application that you will find on your phone to know if it is related to jailbreaking tools.
4. Run a Jailbreak/Root Checker
Although the first two methods are significant indicators of whether your phone is being tracked, they are only partially effective ways of checking if your phone has been jailbroken or rooted. The most effective way to ensure that your device is not jailbroken or rooted is to run it through a jailbreak scan or root check.
5. Your Phone Battery Is Running Out Abnormally
Tracking applications tend to drain the battery on your iPhone or Android phone at a breakneck speed. If you notice that your phone's battery is draining at a very fast speed, there is a chance of being tracked. Keep calm if your phone is consuming power at a standard rate.
Tips: Want more practical tips to prevent someone from spying on your phone? Open this guide to get useful approaches.
Part 2: Why You Should Stop Your Parent From Tracking Your Phone
Whether it is your father or mother, no one should have the right to track your phone. In addition, you should always protect your privacy. You must expect a certain level of privacy from any individual. Your parents might have the best intention, but it does not give them the right to track your phone. Below are some of the reasons why you should stop your parent from tracking your phone:
1. Exposes Confidential Information to Third-Party Apps
Your parents expose you to a third-party application when they are tracking your phone. These tracking companies can collect all your confidential information, monitor all your activities, and also see what you are about to do. These third-party applications can sell your private information for profit. However, allowing your parents to track your phone will expose your confidential information to a third party.
2. Results in Loss of Trust
Keeping track of your phone will result in a loss of trust between you and your parents. Trust is essential for every relationship to work well. No relationship can exist without trust. Therefore, it can only be achieved if both parties allow each other an opportunity for privacy. Being able to keep personal information private facilitates the building of mutual trust between two individuals.
3. Invades Your Freedom
Your parents will be invading your freedom if they monitor your activities. According to the law, you are considered an adult after turning 18. As a responsible adult, you should protect your privacy. Your parents should not be allowed to invade your privacy by tracking your phone without your consent. Your parents will cross their boundaries if they track your phone without a valid reason.
Read also: Huawei Mock Location - How to Fast and Safely Fake GPS on Huawei in 5 Ways
Part 3: How to Stop Parents from Tracking Your Phone
Have you noticed that your parents might be tracking your phone? You can prevent your parents from tracking your phone by following the below-mentioned instructions:
Method 1: Turn off Your Phone Location Service
One of the most excellent methods of preventing your parents from tracking your phone is by turning off the location service. Your iPhone location can be tracked using your carrier or by using GPS.
Turning off iPhone's Location Service
Although some applications will need the iPhone's location service to be turned on for them to work perfectly, turning off your iPhone's location service can prevent your parents from tracking your location. Luckily, there is a way of disabling the location services for a specific application.
Here's how to stop your parents from tracking your iPhone by turning off your iPhone's location service:
Step 1: Launch the "Settings" application on your phone.
Step 2: Navigate to the "Privacy" button and tap on the "Location Service" option.
Step 3: Disable the location service on the screen.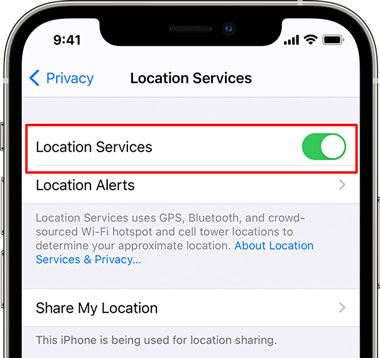 Turning off Android's Location Service
Information such as the restaurants close to you and any other location-based information is revealed to the third-party application when the location service is turned on. As a result, it is advisable to keep the Android location service turned off.
Guide on how to prevent your parents from tracking your Android phone by switching off the location service:
Step 1: Scroll down the home screen on your Android device.
Step 2: Tap and hold the "Location" icon.
Step 3: Then switch off the "Location access" button.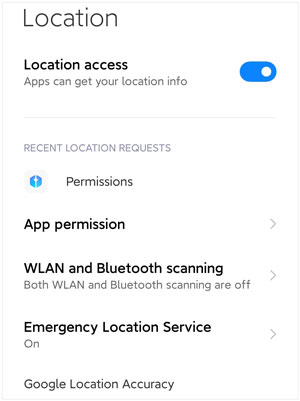 You might need: Easily Fake Twitter Location on Your Device [Informative Guide]
Method 2: Stop My Parents from Tracking My iPhone or Android Phone Safely
Are you tired of being tracked by your parents all the time? Privacy is a fundamental right of every individual. One of the best ways of protecting your privacy is by using a professional location spoofing tool, which is capable of changing the phone's location without being noticed. The best thing about using a location spoofer is that it is undetectable.
GPS Changer is a secure and professional application developed explicitly for faking GPS location. It is compatible with Android and iOS devices and has a user-friendly user interface that makes it simple to be used by anyone. The tracker uses the latest technologies to avoid location detection; therefore, your parents will never detect that you are using a fake GPS location. By the way, you can also fake your GPS for playing Snapchat and other social apps and games with ease.
Highlights of this program:
- You can control more than 5 devices simultaneously.
- One-click only to connect to a new GPS location.
- Allow you to play AR games at home and design routes.
- Teleports to a new location instantly.
- Support Android and iOS devices.
- Easily spoof location on Pokemon Go.
Download this GPS location changing tool.
Here's how to stop your phone from being tracked by your parents via this software:
Step 1. Download the GPS Changer Application
Install and launch the application on your computer and click on the "Get Started" button.
Step 2. Connect Your Phone to the Computer
Use a USB cable to connect your phone to the computer. Unlock your phone and click on the "Trust" button to establish a connection between your phone and computer. Then choose your device and tap "OK".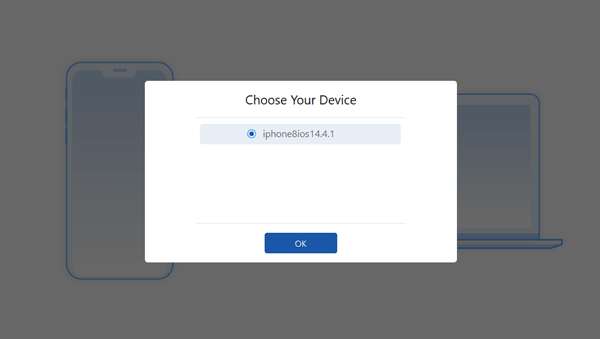 Step 3. Choose a Destination
On the upper right corner of your computer screen, select the "Teleport" mode and enter the destination where you want to go in the upper left corner.
Step 4. Instantly Change your GPS Location
A pop-up showing your destination coordinates, name, and distance will appear. Confirm if the details match your intended destination and click on the "Move" button to relocate to the new destination.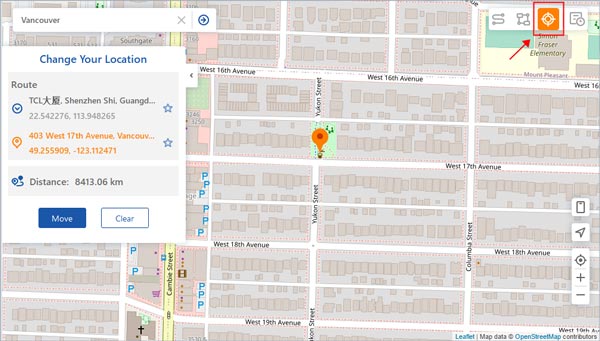 Bonus: FAQs on Tracking a Phone
Q1. Can my parents track my phone if it is off?
Yes, some spy software will track your phone even when it's turned off. As such, your parents will be able to monitor your phone location.
Q2. Do I need to Jailbreak my iPhone or Android to use a location spoofer?
No, you don't need to jailbreak your iPhone or Android phones to use a location spoofer.
Q3. Is there a way of monitoring someone else's phone?
Yes, If you want to monitor an individual's phone, you need to install the "Spy Phone" application on that person's phone. But these apps are not secure and most of them are illegal. Please do not do anything illegal.
Conclusion
Privacy is a fundamental right that every individual should have. You are considered to be a responsible adult after you turn 18. As a responsible adult, you should have the right to monitor your privacy. Your parents should not interfere with your privacy or invade your privacy by tracking your location or keeping an eye on your phone.
You can use a professional location spoofing tool to ensure you enjoy your privacy. GPS Changer is a powerful and easy-to-use application that is capable of faking the GPS location of your Android or iOS device. It has a user-friendly interface that lets you fake the GPS location as soon as you launch the application.
Related Articles
Best Spoofing Apps for Pokemon Go | Support Android and iOS Devices
How to Change Location on Skout for Android and iOS Users? (Ultra Guide)
How to Recover Deleted TikTok Videos from Smartphones and Computers?
FGL Pro Pokemon Go Guide: Use FGL Pro to Fake Pokemon Go & Alternative
Top Phone Transfer App: Fast Transfer Stuff from One Phone to Another
Wonderful iSpoofer Alternatives for Android and iOS [Updated]