Summary
TikTok is one of the most popular apps out there. The app allows people to create and share videos with other people. Its popularity is based on the fact that it is the newest social media app focused on sharing content, and it does so in an engaging way, and that's a trend that is here to stay. However, as people post more and more videos, there are bound to be videos that get deleted by accident. So, the question arises: how do we recover deleted TikTok videos?
If you need help recovering deleted TikTok videos, then worry not! You have come to the right place. Read this guide until the end to discover how to recover deleted TikTok videos.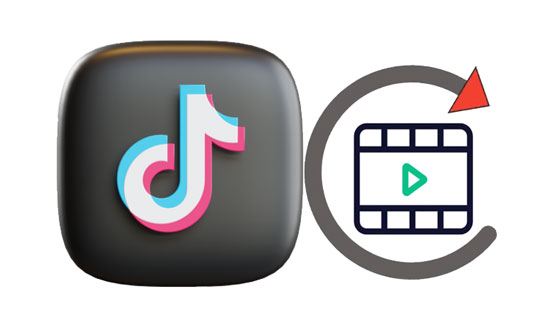 Part 1: Common Reasons For Losing TikTok Videos
There are quite a few reasons why people lose TikTok videos. However, several common reasons haunt TikTok users the most.
Unsaved video: This happens when you've just recorded the video on TikTok, but you didn't share or save it. If you don't save the videos, then they will be deleted.
Network problems: Your device encountered a network problem while you were uploading your videos.
Bugs in the app: Sometimes, there are bugs in the app that would cause the app to behave erratically, resulting in the video being deleted.
Sudden power loss: The video can get deleted when your device suddenly restarts or stops working when uploading the video.
Malevolent applications: Some apps could also cause the video to be deleted if they were deliberate and malicious.
Corrupt video: If your TikTok video has been corrupted, it might get lost.
Part 2: How to Recover Deleted TikTok Videos (5 Secure Solutions)
If you want to learn how to recover deleted Tiktok videos on Android phones, iPhones or computers, then read ahead. By the time you finish this guide, you will know how to do that effectively.
2.1 How to Recover Deleted TikTok Videos on Android Devices
Can you recover a deleted TikTok video from your Android phone? If you don't understand much about the issue, you can learn about 5 solutions in the following.
2.1.1 Recover Deleted TikTok Videos on Android from Gallery
Most modern Android smartphones have a photo gallery application that keeps all images and videos. When you lose a video, there's a good chance that it was saved in Gallery and it didn't get permanently deleted. On the contrary, most file managers will keep all your deleted files in their storage folders. The only thing that you have to do is to find and open the gallery and look for your deleted TikTok videos there.
Step 1: Look for the "Gallery" application on your Android device, and choose the "Albums" tab.
Step 2: Find the "Trash bin" folder, and enter it. Then you will find your deleted images and videos. As long as you deleted your TikTok videos within 30 days and you haven't reset your phone, you will find them in this photo bin.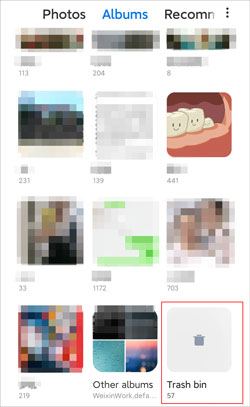 Learn more: How do you transfer videos between Android devices? If you have good ideas, you can share them in the comment area of this guide. Also, you can get useful ways at the same time.
2.1.2 How to Restore Deleted Videos on TikTok on Android with Google Photos
Android provides an in-built photo application called "Google Photos" that allows you to view all your photos and search for specific images. There's a good chance that your videos are backed up in Google Photos. So, inspect first if you enabled the backup in the Photos settings. To retrieve deleted TikTok videos from the Google Photos app, here is what to do:
Step 1: Open the Google Photos application and click on the "Menu" icon at the top-left of the screen.
Step 2: Choose "Trash" and select the videos you wish to recover.
Step 3: Tap the "Restore" tab to recover all deleted videos.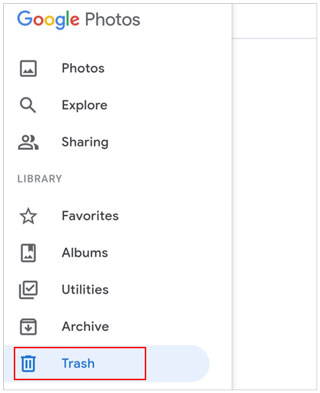 Guess you need: How Do I Recover Deleted Facebook Messenger Messages on Android? (Solved)
2.1.3 How to Recover Deleted TikTok Videos on Android via Android Data Recovery
If you accidentally deleted TikTok videos and hadn't backed them up, you can utilize Android Data Recovery. It can recover deleted videos and other files from Android in one touch. This is the most effective way to get back your deleted TikTok videos without backup. This software has a simple interface that anyone can use. Even if you are not tech-savvy, you will have no problem using it.
Key features of this video recovery tool:
- Restore deleted TikTok videos from Android phones without backup.
- List your deleted and existing video files on the interface.
- Transfer your Android videos to your computer for backup.
- Recover deleted contacts, text messages, photos, and more from Android.
- A faster rate of data restoration.
Download this recovery tool below.
How to use this recovery software to recover deleted TikTok videos from Android:
Step 1: Download and install the software on a PC or Mac and launch it. Then choose the "Android Data Recovery" tab.
Step 2: Plug the device into the computer via a USB cable and let the program detect your device. The app will ask you to enable USB debugging on the device—tap the "OK" icon to proceed to the next step.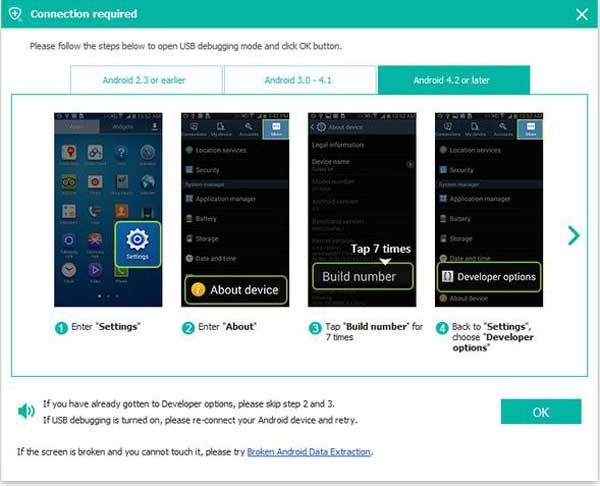 Step 3: After a successful connection, all files available on the Android will be displayed on the program's interface. Choose "Videos" to restore the deleted files. Once done, tap the "Next" icon to scan the videos.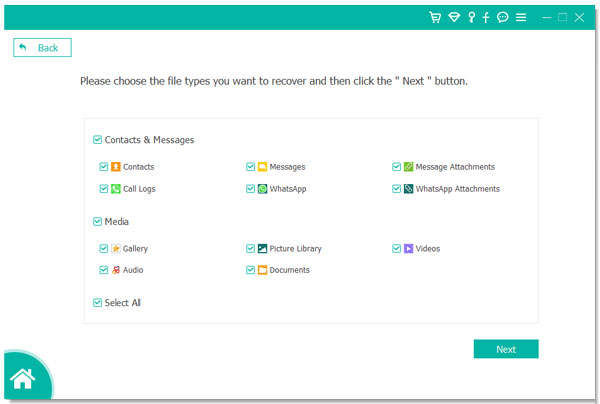 Step 4: After the scanning is finished, you'll be prompted. Tap "OK", and then preview all video files listed from the left section. Choose the TikTok videos you wish to restore, and hit the "Recover" tab to start the recovery procedure.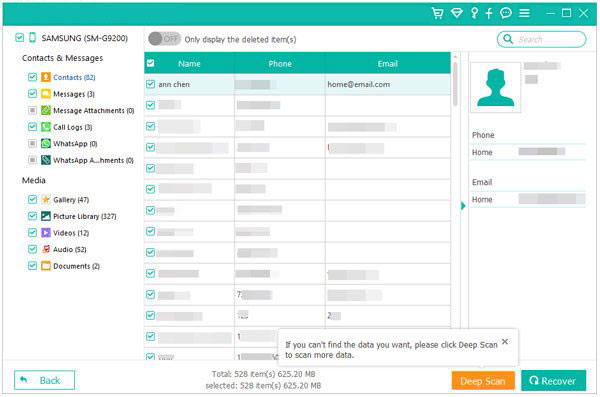 Note: If the standard recovery mode cannot find your deleted TikTok videos, please click "Deep Scan" to scan your device deeply.
2.2 How to Recover Deleted TikTok Videos on iPhone via iCloud
Usually, iOS devices back up data on iCloud, but you should make sure iCloud is enabled in settings first to ensure the videos are saved. To know if iCloud is enabled, you can head to the iPhone Settings for confirmation. Thus, you can get back your TikTok videos on your iPhone from your iCloud backup.
Below are steps to retrieve deleted TikTok videos via the photos application:
Step 1: Go to the iCloud website, and then sign into your iCloud account.
Step 2: Head to "Settings", tap on "Advanced", and choose "Restore Files".
Step 3: Select the TikTok videos you wish to restore and hit the "Restore" button.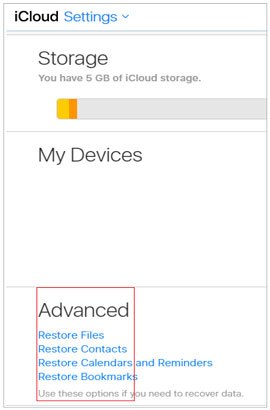 Read also: 9 Google Photos Alternatives: Manage Photos and Videos Easily
2.3 Restore Deleted TikTok Videos from Recycle Bin on Computer
If you've deleted a TikTok using Windows or Mac, there's good news. You can go back to the app and look for your deleted video. You can recover deleted videos from the recycle bin or Trash. Here is what to do:
Step 1: Look for "Recycle Bin" on Windows or "Trash" on Mac, which can be found in the computer's dock.
Step 2: Look for the video file you want to recover and tap on it once. The file should become recovered at this stage.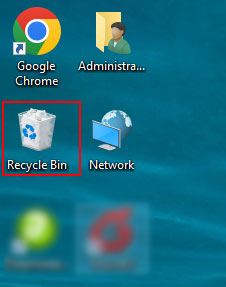 Conclusion
Even though you accidentally deleted TikTok videos, you can get what you need in this article. We've provided an in-depth guide explaining how to retrieve deleted TikTok videos. Follow the methods and steps above, and you'll know how to restore them. Besides, you have Android Data Recovery to recover deleted TikTok videos effectively. This program can help you complete the video recovery without backup.
Related Articles
How to Recover Deleted Audio Files from Android Phone Effortlessly?
Phone Memory Recovery for Android: How to Recover Data from Phone Memory?
Best Android Data Recovery: Recover Android Files without Hassle [9 Tools]
How to Recover Deleted PDF Files on Android | 3 Approaches and Extra Tips
How to Transfer Videos from iPhone to iPad | 6 Functional Methods You Can Get
6 Ways on How to Send Video from iPhone to Android Phone in Minutes