Summary
Smartphone users always have a habit of replacing their gadgets after some time. They're lured by the latest features that come with new models. Who doesn't want to experience the new features that come with updated Samsung devices? No one. All of us love experiencing new things, and new phones aren't an exception.
If you are considering updating your Samsung phone, then know you will want to transfer files from your old phone to a new one. Transferring data between Samsung phones sounds quite complicated, but it's actually easy. If you want to know how to transfer data from Samsung S7 to Samsung S9, then you are at the right place. This guide highlights the simple ways to transfer any data after you have upgraded Galaxy S7 to S9.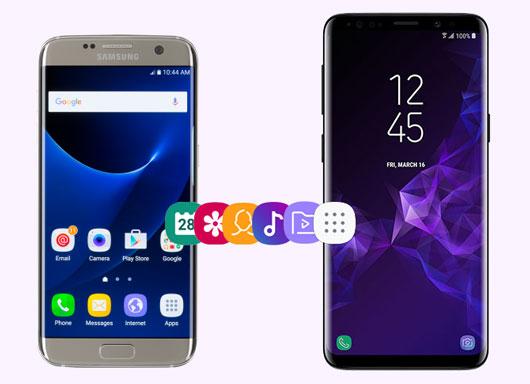 Part 1: How to Transfer All Data from Samsung S7 to Samsung S9 with Samsung Data Transfer
Do you know that you can transfer data between Samsung phones with the Samsung Data Transfer? This software is popular due to its easier and quicker process. It supports contacts, photos, apps, videos, SMS, call logs, music, and more. Furthermore, you won't lose any data on your phone because it can move all files with the original quality and formats.
Besides, this software has fantastic compatibility to work for many Android and iOS devices, such as Samsung Galaxy S21 Ultra/S21/S20/S10/S9/S8/S7/S6/S5/S4, Samsung Galaxy Note series, Google Pixel 6/5/4/3/2, OnePlus, OPPO, Vivo, Xiaomi, Honor, iPhone 13 Pro/13/12/11/X/8/7/6, etc. Thus, it can transfer data between Android and iOS, including photos, songs, contacts, movies, and so on.
Guide on switching from S7 to S9 with this software:
Step 1: Install Samsung Data Transfer on the Computer
First, you must download, install and launch the data software on your computer.
Step 2: Connect Samsung S7 and Samsung S9 to Your Computer
- Using two working USB cables, plug both Samsung phones into the computer. Make sure the USB debugging is enabled on both devices.
- The software will detect the devices automatically once your phones are connected to the computer. You will then see the interface displayed on the screen with Samsung S7 in the source area and Samsung S9 in the destination area.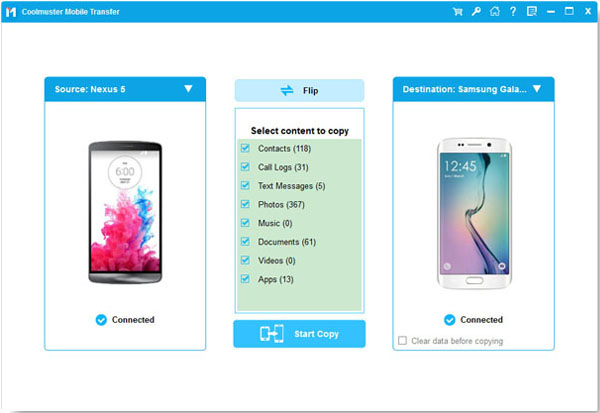 Step 3: Transfer Your Data from Samsung S7 to Samsung S9
Choose all data to transfer and tap the "Start Copy" button to start the transfer process. Wait for some time for the process to complete.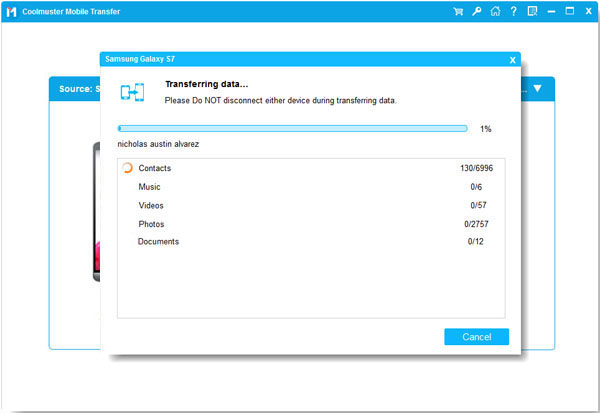 Bonus: Accidentally deleted your valuable photos on Samsung Galaxy 7? Don't worry. You can use this guide to recover the photos on S7.
Part 2: Other Options to Transfer Data from Samsung S7 to Samsung S9
How to transfer data from S8 to S9 with other methods? Apart from using the software to transfer data, you can also use other methods, such as Gmail, Smart Switch, or Copy & Paste option.
2.1 How to Transfer Contacts from Samsung 7 to Samsung 9 via Gmail
The contact list is important content in our phones. So, when you transfer data from an old phone to Samsung S9, you may want to transfer your contacts too. Transferring contacts from Samsung 7 to Samsung 9 using Google Account is an effective way.
Follow the below steps to transfer contacts from Samsung S7 to S9 using Gmail:
Step 1: On Samsung 7, go to the Setting app, choose the "Accounts" option, and click the "Google" icon to enter the Google account. If you can't find the "Google" account here, click "Add account" to enter the Gmail account and password.
Step 2: Turn on the sync option for the contacts on Samsung S7. On the right top corner of the phone, tap on the three dots arranged vertically, then click the "Sync now" option from the pop-up window. You will then be able to sync all your contacts with the google account.
Step 3: Sign in to your Gmail account on the Samsung 9 to access the synced contacts. Do this by going to Settings > Accounts > Add account. Enter the same password to log in. All your contacts from Samsung S7 will be synced and loaded in your Samsung 9 after a short time.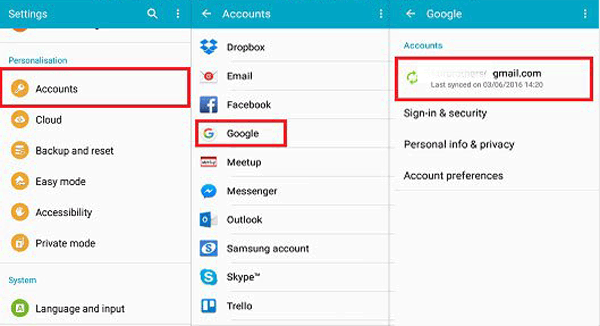 2.2 How to Transfer Apps, Text Messages from S7 to S9 with Smart Switch
Transferring apps between Samsung phones can be done effectively with Samsung Smart Switch. Once the Samsung devices are paired, transferring apps from s7 to s9 becomes easy.
Here is the step-by-step guide to transfer apps from s7 to s9 with Samsung Smart Switch:
Step 1: First, install the Smart Switch app on Samsung s7 and Samsung s9 phones. After that, put the phones close to each other and run the Smart Switch app on the phones.
Step 2: On the Samsung S7, select the "Send data" > "Galaxy/Android" > "Wireless" option. Go to Samsung S9 and select the "Receive data " and "Wireless" options. Then the devices will begin connecting.
Step 3: Select the apps you want to transfer from Samsung S7 to Samsung S9. After that, click "Copy" on your Samsung S7 and click "Transfer" on Samsung S9. Once done, you can close the Smart Switch app on both devices.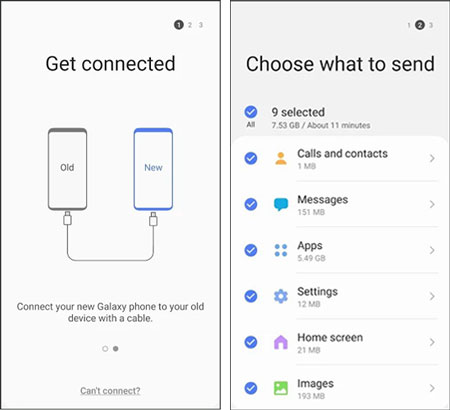 Read more: Want to send music from your iPod touch to Samsung? Check this post and you will know how to make it.
2.3 How to Transfer Photos and Videos via Copy & Paste
This is one of the oldest ways used by Android users to transfer files from Samsung S6 to Samsung S9. Of course, you can also use this way on other Android phones. While using this method, you need to connect your two phones to the computer. After that, you will be able to copy data from S6 and then paste it into the memory location of the Samsung S9.
Below is a simplified step by step process of achieving this:
Step 1: Plug the two phones into your computer using working USB cables. Once you get a notification on the screen, select "Transfer files (MTP)" to make the devices recognizable.
Step 2: After the computer has detected the devices, you will be able to see their device names in My Computer. Double-click on their names which opens them. Then navigate to the "DCIM" or "Pictures" folder on the Samsung S7 device and choose the photos you wish to copy.
Step 3: Drag the chosen photos and videos from Samsung S7 to the folder on Samsung S9's storage.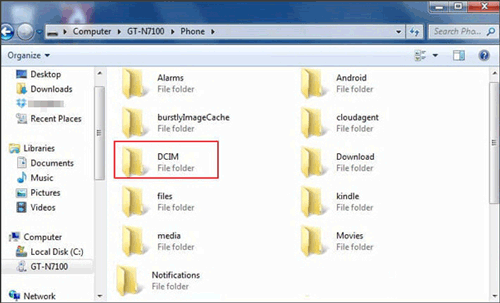 Summing Up
If you have switched to a new Samsung S9 from the Samsung S7 and want to transfer all your data, the above methods are your savior, especially using Samsung Data Transfer, an efficient transfer tool. There is no need to worry anymore about transferring data between Samsung phones as the above-simplified ways are the key to hassle-free transfer!
Related Articles
How to Transfer Files from PC to Samsung Tablet in 4 Nimble Ways [Modern]
How to Transfer Data from Samsung to Lenovo Phone with 4 Fabulous Approaches
[Updated in 2021] How to Transfer Contacts from Samsung to Samsung?
[2 Ways]How to Edit Samsung Phone Contacts on PC/Mac
Samsung Smart Switch Alternative: 6 Equivalents Worth Pursuing
How to Transfer Text Messages from Samsung Galaxy to PC [4 Methods]