Summary
"How do I transfer photos from to my Samsung Galaxy Tab? I want to copy my photos to my tablet so that I can use them anywhere. Is there a way to move them quickly? I don't want to spend too much time on it."
It is not a difficulty on how to transfer files from PC to Samsung tablet. But if you would like to transfer photos, videos, and other big files, you can check the following methods. We have offered 4 different guides, which are helpful to make the transfer faster.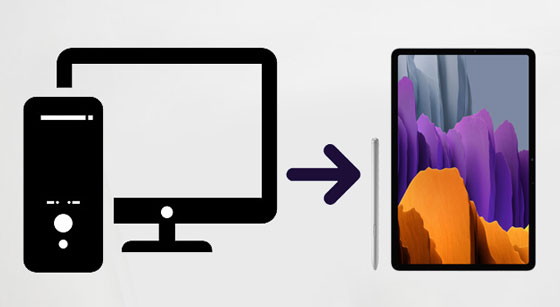 Part 1: How to Transfer Files from PC to Samsung Tablet Using PC to Samsung Transfer
If you want to transfer files from a PC to a Samsung Galaxy Tab in 1 click, you can try this PC to Samsung transfer - Samsung Messages Backup. This software helps you import most file types to your Samsung tablet, such as videos, photos, songs, documents, apps, contacts, and more. Furthermore, it has several features for file management. Let's learn about the program in detail.
Main characteristics of this transfer tool:
- Transfer multimedia files from a computer to Samsung tablets with original quality.
- Manage your Samsung photos with practical functions, like creating albums, moving/copying/removing photos, etc.
- Transfer videos to Galaxy Tab, and move your movies from the tablet to your PC without a hitch.
- Easily transfer contacts, SMS, call logs from a computer to Samsung, and vice versa.
- Swiftly detect and recognize several connected Samsung devices.
- Seamlessly back up and restore your Samsung files on your PC/Mac.
- Wi-Fi and USB transmission modes are supported.
- Work for most Samsung and other Android mobile devices, including Samsung Galaxy Tab S7/S6/S5e/S4/A7/A 8.0/A 10.1, Samsung Galaxy S23/S20/S10/Note 20/Note 10, ZTE Axon 30 Ultra/Axon 30 Pro/S30/nubia Z30 Pro, Xiaomi Mix 4/Mix 3/Mix 2/Mix/Mi 11 Ultra/11/10/9/8, Google, OPPO, HTC, OnePlus, and more.
Download Samsung and PC transfer software for free below.
How to transfer photos from a laptop to a Samsung tablet with ease? Check it out:
Step 1. Launch the Software
After downloading it on the computer, please double-click the package for installation. Then launch it directly.
Step 2. Connect Samsung to PC
Choose the "Android Assistant" tab, and link your Samsung Tab to the PC via USB. Next, follow the prompt to enable the USB debugging feature on Samsung to make the software fast recognize the device.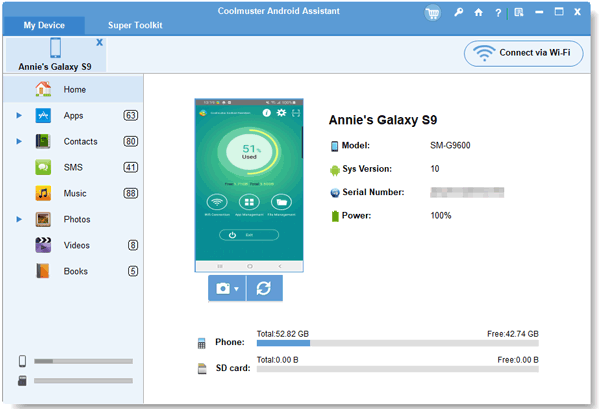 Step 3. Import Photos to the Tablet
To copy the photos to your mobile device, please choose the "Photos" option on the panel, and tap the "Add" icon. Then you can select your pictures from your PC. Finally, click the "Open" icon to start importing the pictures.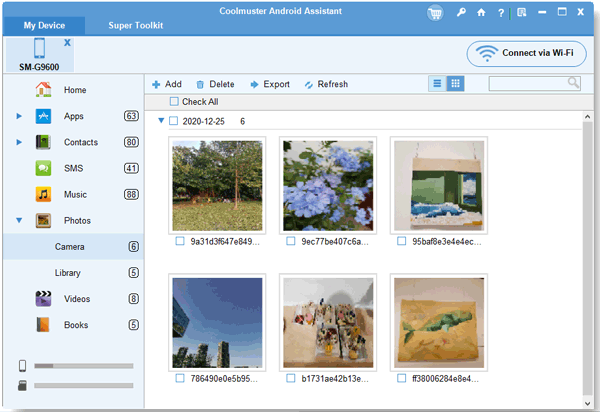 You may also like:
If you don't have a data cable, how to transfer files from PC to Samsung tablet via Wi-Fi? Click this guide on Samsung Wi-Fi transfer, which will show you the steps.
How to transfer files from Samsung tablet to PC seamlessly? There are 5 approaches for your reference.
Part 2: How to Transfer Files to Samsung Tablet via USB (Manually)
Although manual file transfer via a USB cable cannot move files as fast as using a professional program, it is one of the simplest ways to transfer files from a PC to a Samsung tablet. In this way, you can put movies on a Samsung tablet with a Samsung cable. Please note that PTP is only for photo transfer, so you'd better choose MTP.
Here's how to put videos on Galaxy Tab from a PC manually:
Step 1. Prepare a USB Cable
Please prepare a suitable cable for your Samsung tablet, and use it to connect the device to the PC.
Step 2. Set the Developer Options
Then choose the "MTP" or "File Transfer" option on the pop-up screen of your Galaxy Tab.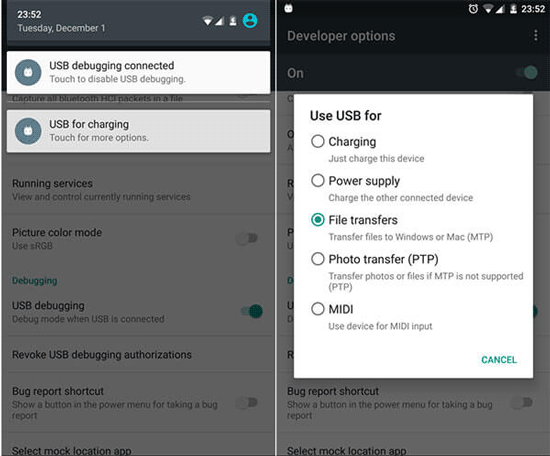 Step 3. Transfer Movies to Samsung Tablet
- After connected, open This PC, and find the videos you desire to transfer. Next, drag and drop them to a folder located in your Samsung Tab.
- Now, please wait for the transfer process. The transfer time depends on how big the file you are transferring.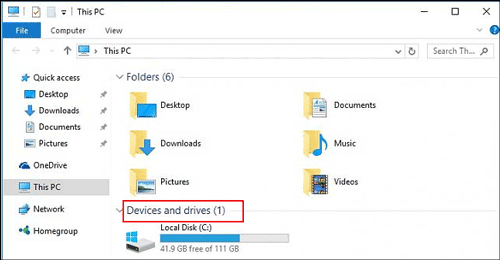 Tips:
How to transfer files from PC to Android without USB? You can utilize these solutions.
With these methods, you can quickly export your large videos from your iPhone to your PC.
Part 3: How to Transfer Photos from Laptop to Samsung Tablet with Your Phone App
Have you used Your Phone app? It is an application to connect your Windows computer and your Samsung tablet without a wire. Even though you need to work on your laptop for a whole day, you can access your tablet to view photos. Certainly, you can send photos from the laptop to the tablet. With it, you can also make and receive calls and messages on the PC.
Guide on how to transfer photos from a laptop to a Samsung Galaxy tablet via Your Phone:
Step 1. Install the App
Please install the app, and turn on Bluetooth on both devices. Then tap the "Android" > "Continue" icon to input your Microsoft account.
Step 2. Make a Connection
Use your Samsung tablet to scan the QR code showing on the laptop, and allow the app to access your mobile device.
Step 3. Send Photos from Laptop to Tablet
Choose the "Photos" option on the interface, then navigate to your photo folder on the laptop. You can now drag and drop the photos from your laptop to your Galaxy tablet.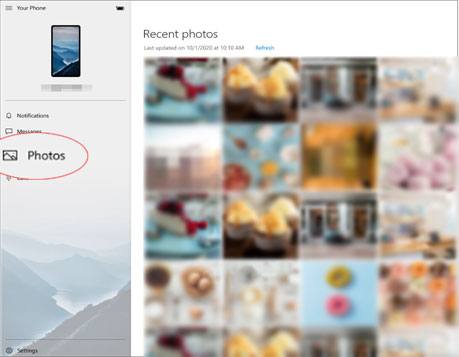 Further reading: Want to recover deleted photos from a Samsung Galaxy S8? Maybe this post will give you a hand.
Part 4: How to Put Movies on Samsung Tablet with Google Drive
As we all know, using cloud services is another useful option to sync files from a PC to a Samsung tablet. Therefore, you can transfer movies to your Samsung tablet via Google Drive. But it will cost plenty of uch mobile data for uploading your movies if you don't connect your PC and tablet to Wi-Fi.
Steps on how to save movies on Samsung Galaxy Tab via Google Drive:
Step 1. Go to Google Drive
Please open the Google Drive web on your PC browser, and sign in with your Google account.
Step 2. Upload Files from PC to Drive
Tap the "New" icon on the upper left, and choose the "File upload" option to select the movies you want from your computer.
Step 3. Download the Movies to Samsung Tablet
Install Google Drive on the tablet, and log in to it with the same Google account. Then you can save the uploaded movies to the local folder on your Samsung device.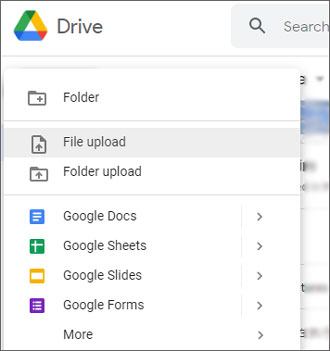 Conclusion
We hope these 4 methods can help you complete the file transfer from your PC to your Samsung tablet. And we strongly recommend Samsung Messages Backup, since it is an efficient tool to transfer kinds of files from a computer to Android devices and the reverse is effective. If you have further queries about this topic, please feel free to leave your messages in the comments area.
Related Articles
How to Transfer Data from Vivo to Samsung Seamlessly: Try 4 Solutions
3 Ways to Quickly Transfer Messages from iPhone to Samsung (Latest)
How to Free Up Space on Samsung Tablet: Make it Faster Than Ever Before
Back Up Galaxy S10 - 6 Methods on Samsung Backup and Restore
How to Transfer Music from Samsung to Samsung Rapidly (4 Approaches)
TOP 5 Samsung PC Suites: What's Not to Miss in 2023