Summary
Understanding how to transfer data from one iPhone to another is crucial if you own an iPhone. Whether you have recently upgraded to the latest iPhone 14 Pro or acquired an older model, such as the iPhone 13 Pro Max, you should learn how to switch iPhones.
Fortunately, transferring data between iPhones is hassle-free, thanks to Apple's thoughtful approach in ensuring simplicity. iPhones are often regarded as some of the best phones in the market, mainly due to their exceptional user experience. There are various ways on how to switch iPhones.
Ensure you back up your iPhone and update it to the latest iOS version before transferring data from one iPhone to another. Once you're done with that, we can proceed with switching from one iPhone to another.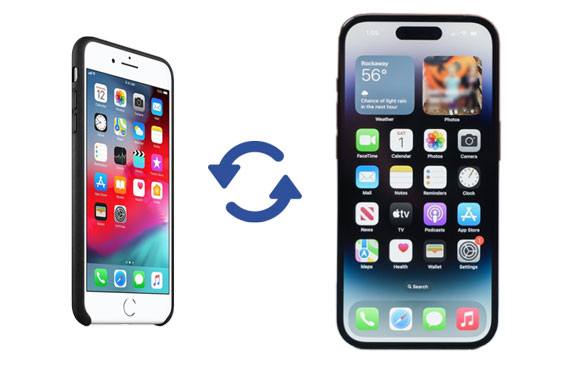 Part 1: What to Do Before Switching iPhones
Apple has introduced a new feature called "Prepare for New iPhone" with iOS 15, simplifying transferring data from one iPhone to another. This feature provides temporary storage space in iCloud for 21 days at no cost, making the process hassle-free.
To avoid paying for additional storage, transfer your data to your new iPhone within 21 days after starting the process. You can request an additional 21 days if you need more time. Follow the below steps to use this feature.
Step 1: Launch the "Settings" application and hit the "General" button. Navigate down the screen and hit on the "Reset or Transfer" iPhone option.
Step 2: You will find the "Prepare for New iPhone" feature at the top of your screen. Tap on "Get Started" to initiate it.
Step 3: Tap on the "Continue" button after you finish reading the information.
Step 4: If prompted, tap on "Turn on Backup to Transfer". Next, choose "Move All App Data with iCloud" and tap "Done". After that, the process of uploading apps and data to iCloud will start. You can track the backup progress by checking the main Settings screen.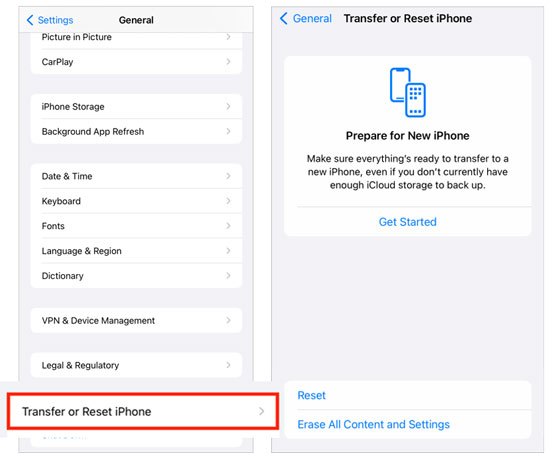 Part 2: How to Switch Over iPhones Using iCloud
Are you looking for a way on how to switch from iPhone to iPhone? You can use iCloud syncing or iCloud backup. But please keep in mind that this method has some drawbacks. The process may take 30 to 60 minutes, and your Wi-Fi network must be fast enough to support the transfer. Additionally, there is a risk of losing data during the transfer, so be careful. Let us see how you can use iCloud syncing and iCloud backup to switch between iPhones:
2.1 How to Swap iPhones via iCloud Backup
Step 1. Back Up Data to iCloud
- Back up your old device's data. For iPhones running iOS 10 or a later version, launch the "Settings" application, tap on your Apple ID's profile, click on the "iCloud" button, select the "Backup" > "iCloud Backup" option, and finally click on "Back Up Now" option.
- If your iPhone has iOS 9 or an older version, launch the "Settings" application, select the "iCloud" option, and hit on the "Back Up Now" button.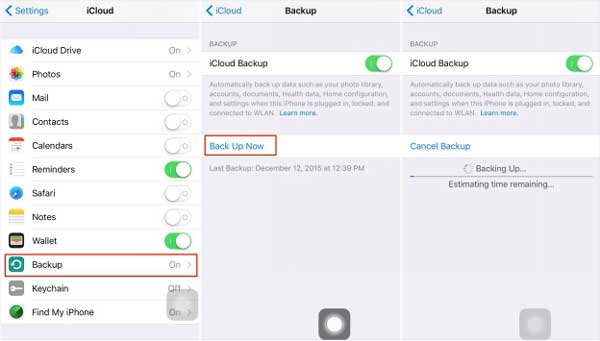 Step 2. Transfer Data When Setting Up Your iPhone
Set up your iPhone by powering it on, selecting your preferred language, connecting it to a Wi-Fi network, and setting up a password. Lastly, select the "Restore from iCloud Backup" option when the "Apps & Data" screen appears. Doing that will transfer data from one iPhone to another using iCloud backup.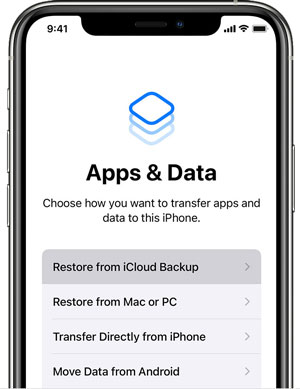 By the way, you can also transfer iPhone data after setting it up. Launch "Settings", tap on the "General" > "Reset" > "Erase All Content and Settings". After that, set up your device again and restore your iCloud backup.
Maybe you like: This guide will teach you to switch from iOS to Android. Open it if needed.
2.2 How to Switch iPhones with Someone Using iCloud Syncing
Transferring data from one iPhone to another using iCloud syncing supports only certain types of iOS data. This includes Photos (only those in Photo Stream), Email, Calendar, Notes, Contacts, and Reminders. Files such as Photos not in Photo Stream, Messages, Ringtones, Music, and Apps are not supported. Before transferring all data from one iPhone to another using iCloud syncing, it's essential to be aware of these restrictions:
- You must sign in to the Apple devices with the same Apple ID.
- The two devices must be connected to the internet.
Now, carry out the step below on both devices:
Step 1: Launch "Settings" on both devices, tap "Apple's ID", and choose "iCloud".
Step 2: Choose the categories you wish to transfer, such as "Contacts", "Calendars", "Reminders", "Photos", "Notes", etc.
Step 3: Now be patient and wait for the process to complete. The transfer duration depends on the size of the data you are transferring and the speed of your network.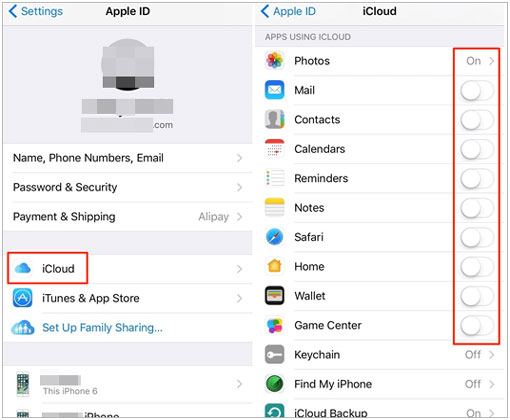 Read also: Expertly Transfer Large Videos from iPhone to PC in 7 Ways (Newest)
Part 3: How to Change to New iPhone Using iTunes
You can easily use iTunes to transfer your data from your old iPhone to your new one. This includes all your purchased content and other data. It's basically restoring your new iPhone from your iTunes backup. But, if you haven't encrypted your backup, iTunes can't transfer your health and activity data. Follow these steps to transfer your data from iTunes to your new iPhone.
Step 1: Begin the process by Backing up your old iPhone using iTunes. Launch the iTunes application on your computer and connect the old iPhone to your PC.
Step 2: Click on the "Device" section, click the "Summary" button, and select the "This Computer" option.
Step 3: Hit the "Back Up Now" button to begin backing up your iPhone data. Connect the new iPhone to the computer and click on the device section.
Step 4: Select the correct backup file from the "Restore Backup" option. Unlock the backup by entering your password when requested if the backup is encrypted.
Step 5: Wait for the restoring process to complete before proceeding with the remaining setup steps on your iOS device. This may take several minutes. It is recommended to keep your device connected to Wi-Fi and charging after setup so that the content saved in iCloud can download to your new iPhone automatically.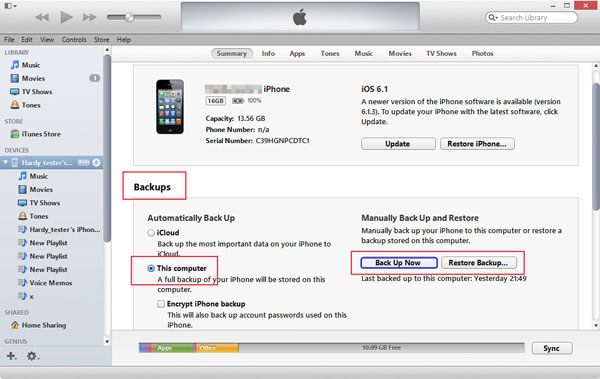 Further reading: Sync Apps from iPhone to iPad in 3 Easy Ways
Part 4: How to Switch iPhones in 1 Click (Fastest)
Are you looking for a convenient way to transfer data from one iPhone to another? If yes, you can opt for this comprehensive transfer software - Samsung Data Transfer. It is a powerful and secure way of transferring data from one device to another without cloud services or networks. With this application, you can quickly transfer contacts, calendars, books, and other files between two iPhones with a few clicks.
Even though you want to copy files from an iPhone to an Android phone, it can help you as well. Your videos, music, photos, etc., will be transferred directly.
Key features of this one-stop transfer software:
- Transfer various files between two iPhones in one click.
- Support different platforms, like Android and iOS devices.
- No data loss or overwriting risk when transferring data from one device to another.
- User-friendly interface that is easy to use and navigate through.
Download this iOS transfer software.
Transfer data with this software after switching to a new iPhone:
Step 1: Begin the procedure by downloading and then install the application on your PC. Launch the application and select the "Mobile Transfer" option from the main window.
Step 2: Connect your iPhones to the PC using lighting cables. Then, click "Trust" on your iPhones, and ensure that your old device is set as the source device and the new one as the destination device. Click the "Flip" button to interchange them if improperly arranged.
Step 3: Choose the items you wish to move from the content list. Then, click "Start Copy" to start the automated transfer process.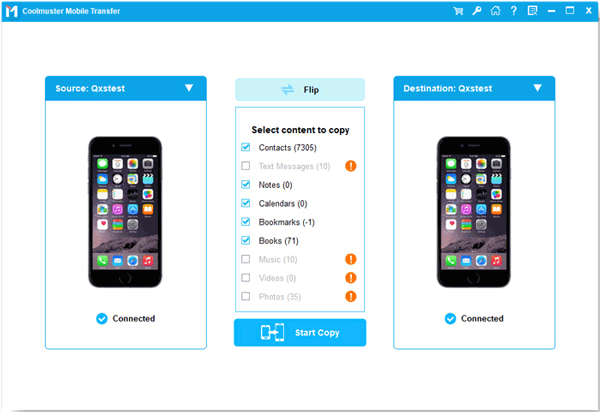 Step 4: After the process is complete, the program will display a message saying, "Transfer is completed", and provide a report on the data transfer results.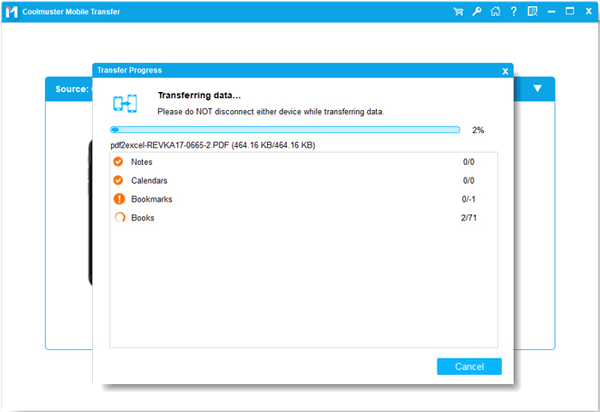 Conclusion
We have discussed four simple methods of switching iPhones. You can either use iTunes, iCloud, or an efficient program like Samsung Data Transfer to copy files from one iPhone to another. Each method has its own advantages and disadvantages. However, if you want a direct transfer tool to work for most iOS and Android devices, Samsung Data Transfer will be recommended.
Related Articles
Fast Transfer Music from iPhone to Computer for Free (Quality Guide)
How to Transfer Photos from iPhone to Flash Drive | No Quality Damage
How to Transfer iBooks from iPhone to iPad with 5 Hassle-free Methods
Transfer iPhone to Samsung S20 with 5 Hassle-free Methods [Easy and Safe]
Fixed: Fast Solve It If Contacts Didn't Transfer to New iPhone
Transfer WhatsApp from iPhone to Huawei with 3 Viable Solutions